Jamaica is undoubtedly a remarkable little island in the Caribbean with warm people, clear blue waters, great food, and happy vibes. No matter what kind of holiday you are looking for, Jamaica will mold itself to be a perfect fit, right from a relaxing modern beach holiday to a cultural trip exploring the influence of a legend like Bob Marley. The island is also home to scenic rainforests, thriving wildlife, and unique treasures of nature that make for extraordinary experiences. So, if you are planning a trip to this Caribbean island, then here is a curated list of the top things Jamaica is famous for that you should keep in mind.
1. Blue Mountain Peak coffee
Blue Mountain Peak coffee is a single origin, well-balanced, rich, and smooth cup of coffee that has a distinct flavor profile. Coffee aficionados are well aware that the unique taste of coffee comes from where it actually grows, the altitude, and climate conditions. Blue Mountain Peak is the highest point in Jamaica. This microclimate and location are what make the coffee grown here so unique and rich. The coffee is from the Arabica species and it has low acidity. The Jamaican Blue Mountain Peak coffee is world-famous and is also exported to other countries. So, while you are in Jamaica or planning to buy exports, make sure you try out the flavors of this world-famous Jamaican Blue Mountain Peak coffee.
2. Reggae music
Reggae music is now a popular genre on playlists world-over, but it has deep roots in the culture and history of Jamaica. The name 'reggae' comes from 'rege-rege' which actually means 'rags'. It started off as the voice of the marginalized and later took on a strong Rastafarian influence. The reggae singers sang about love but eventually, the lyrics became a voice reflecting aspects of their society like extreme violence, poverty, racism, and government oppression. Reggae music has brought to the forefront music legends, and it has also played a pivotal role in shaping the society of Jamaica. So, next time you are grooving to the happy beats of a reggae number, you will enjoy the power and passion behind the lyrics even more.
3. Jamaican rum
The Jamaican rum is a full-bodied, naturally sweet rum with a unique flavor. It is made with a 'wild' and natural fermentation process that gives it a distinct taste. The production of rum in Jamaica started way back in 1655 when the British took over rule of the island. With the boom in rum production, there were around 150+ distilleries in Jamaica, but today only four exist. These four distilleries produce enough rum for the entire island and are exported to around 70 countries across the world. So, don't forget to try out the unique Jamaican rum and enjoy its flavor neat or as the perfect mix for a classic cocktail.
4. Marathons and king of sprint Usain Bolt
Jamaica has become world-famous for many reasons. But, it is the intrinsic culture of running and marathons that has gifted the world an unbeatable king of sprinting - Usain Bolt. Born to humble grocers in a rural town of Jamaica, the talent of Bolt made him successful on the world stage. While the culture of sports has seeped into Jamaican living, he was drawn to track and field where he became a child prodigy. Marathons across the world have become a stage for Jamaicans to show off their running talent and caliber. Jamaica is also home to one of the most unique marathons called the 'reggae marathon'. More than a race, it is the true experience of Jamaican life, bringing together Jamaican music, food, and white sand beaches.
5. Beaches
As the third-largest island in the world, it is no surprise that Jamaica is home to some of the most sought after beaches. Right from vegetated rocky cliffs to pure white sands, each of the beaches has a personality of its own. You can choose the perfect beach to match your vibe right from an all-night party to a romantic relaxing swim. You will also find some of the most luxurious and well-designed beach resorts here, matched with the priceless hospitality of this happy island.
6. Ackee and saltfish
It is safe to say that Ackee and saltfish is the national dish of Jamaica. It is prepared with lobes of ackee and salt cod. It is a staple across the island and is the most popular choice for breakfast or brunch. Interestingly, unripe ackee can be poisonous and potentially fatal because of its high levels of the toxin hypoglycin A. This is the reason it is even banned in a few countries across the world. But, when picked at the right time and prepared correctly, it has a lovely nutty taste. The firm texture of the salt cod matched with the distinct flavors of ackee makes this a favorite among Jamaicans the world over.
If flavors could teleport you to anywhere in the world, then Jerk food is sure to take you to the scenic beaches of Jamaica. Be it local street food or well-plated lavish fine dining restaurants, jerk is the hero ingredient of Jamaican cuisine. When you are visiting the island, you can enjoy personal excursions that help you understand Jerk food better. Scotchies Jerk Centre Ocho Rios is one such tour you can plan that will open your mind and tastebuds to the authentic flavors of traditional jerk food.
Lunch at Scotchies Jerk Centre From Ocho Rios

Duration: 1 hour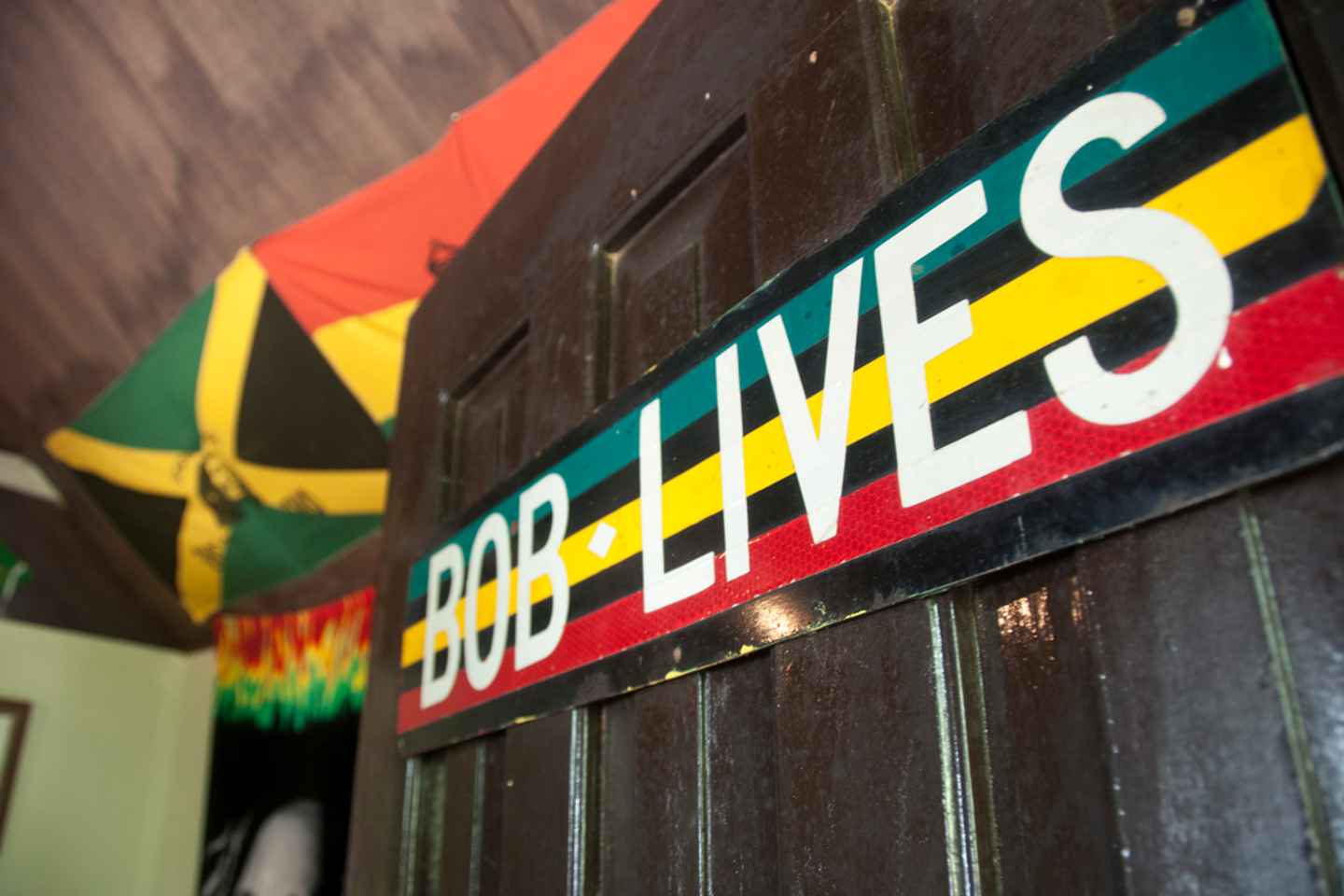 There are many music legends that the world has seen. But only a select few go beyond their stardom and become a timeless force of influence. Bob Marley is one such legend of reggae music who was a man on a mission. He and his songs were an embodiment of a compassionate world not just to his generation, but for time immemorial. To date, this legend is a major highlight of Jamaican culture. In fact, a local tour in Jamaica called the 'Bob Marley Nine Mile Tour' will give you a chance to know about his birth, death, and everything in between. The tour will take you on a visit to his home, burial ground, artifacts like his guitars, awards, and even the rock he meditated on. Knowing of a legend is one thing, but actually exploring what influenced a legend is a once-in-a-lifetime opportunity.
Bob Marley Nine Mile Tour

Duration: 6.0 hour
Dunn's River Falls is world-famous and has already starred in many Hollywood movies alongside stars like Tom Cruise. It is undoubtedly one of the most extravagant treasures of nature that give you a unique experience. Nestled amidst the rainforest, you can climb up these terraced waterfalls on a private tour with a guide. The aided climb will take you atop a summit that presents a sight to behold, which makes the trek up completely worth it. This natural treasure is unique to Jamaica and it is definitely a must-visit attraction.
[PRIVATE] Dunn's River Falls with Entrance Fees

Duration: 4 to 5 hours
Imagine sitting on a traditional bamboo raft and enjoying the tender sounds of the flowing river, panoramic views of the rainforest, and vocal wildlife playing peek-a-boo. Sounds magical, doesn't it? The bamboo river rafting on Martha Brae River is a surreal experience that you can have in the north of Jamaica. A peaceful journey on a handmade bamboo raft with a personal raftsman steering and explaining interesting tidbits along the river is one of the most memorable tourist attractions on the island that one shouldn't miss.
Cruise the Martha Brae River: Private Bamboo Raft Tour

Duration: 4 hour
Home of legends, happy vibes and unique experiences
Jamaica is increasingly becoming a world-famous tourist destination with its unique natural treasures and coveted attractions. But, it has also made its mark on the world map for its cultural expressions and legends. Right from the modern beach resorts, traditional jerk, to the cultural influence of reggae, the Jamaican island has evolved with time while retaining its charming personality. So, if you do get a chance to visit this confluence of culture and hospitality, you are sure to lose your heart to this island the moment you land.
Disclosure: Trip101 selects the listings in our articles independently. Some of the listings in this article contain affiliate links.
Get Trip101 in your inbox
Unsubscribe in one click. See our Privacy Policy for more information on how we use your data