Mark Twain's words about Mauritius are hard to believe until you visit it. After his visit in 1896, he wrote that the Mauritians told him that heaven was made by copying Mauritius. You may think that the proud Mauritians are exaggerating, but staying here will make you feel like you're sitting on the lap of Mother Nature. The beauty of Indian Ocean with its many beaches and waterfalls is like a paradise on earth. Additionally, the hospitality of the Mauritians that originated from many countries will astonish you. Explore beautiful natural attractions such as the seven-colored Chamarel plains and two UNESCO Heritage Sites. You can also try water sports, go trekking, play golf, or enjoy the famous Champs de Mars races. Just off Mauritius' coast are 49 islands, most of which are not much inhabited. Scroll down to know more about the things Mauritius is famous for.
1. Bol renversé
Editor's Note: There's no photo available at the time of writing
Your trip to Mauritius will be incomplete without tasting the mouth-watering bol renversé, which roughly translates to "upside-down bowl" in Creole. A taste of this scrumptious Sino-Mauritian delicacy will make you salivating for more. The dish is composed of a sunny-side-up egg on top, chicken chop suey in the middle, and basmati rice at the bottom. The best thing about bol renversé is that you can replace the chicken suey with seafood suey or even vegetarian suey. However, eating it with the egg's golden yolk trickling down the sides of the chicken suey and basmati rice is a divine experience. Accompany it with green chili paste or tomato salad.
2. Rum
One of the best rums that you can buy for 25 USD is from Mauritius. The sugar canes of this rum were grown in Mauritius' volcanic soil. You can choose among multiple flavors such as vanilla-infused coconut, spices, lychee, coffee, and many more. However, the agricultural rum that is made from sugarcane juice is one of the best. Incidentally, Mauritius is the largest global exporter of sugarcane by-products and plays a significant role in rum supply.
3. Many languages
Editor's Note: There's no photo available at the time of writing
If language is the roadmap of culture, multilingual Mauritius is rich in culture. You will be astonished to learn that most Mauritians are bilingual or trilingual. With people from many countries coming to Mauritius to work in sugarcane plantations, there is ample multicultural exchange. This led to people conversing in multiple languages. Almost all Mauritians speak English or French, which are widely used for official purposes. Nearly 90% of Mauritians speak French-based Mauritian Creole. The other languages Mauritians speak include Marathi, Malayalam, Mandarin, Hindi, Bhojpuri, Telugu, Urdu, and Tamil.
4. Tea
Mauritius is famed for its aromatic tea and plantations. You can buy good quality tea for as little as 10 USD. The island nation's highlands and climate make it ideal for growing some of the world's best tea leaves. Many tea plantations are older than a century, so watching traditional tea-making is an interesting activity to try. Get world-class tea made with fresh and natural hand-picked tea leaves of high quality and taste. These tea leaves are also rich in antioxidants and many nutrients.
5. White beaches
If you want to enjoy the beaches, Mauritius is the right place for you There are many wonderful white beaches on this mesmerizing island. Additionally, it offers many activities that travelers can indulge in such as windsurfing, boating, and kite-flying. The north of Mauritius has the most number of white beaches, which are lined by casuarina and eucalyptus trees. To the east are the pristine, white sandy beaches that slope into the warm azure sea. The west has shallow water with golden sand, and the south has untouched sweeping scenery.
6. Temperate climate
Photo is only for illustrative purposes
You can visit Mauritius any time as it has pleasant tropical weather all throughout the year. You will be surprised to see rain in one part of Mauritius, and clear, sunny skies in another part. With the island's microclimate, the weather can change quickly in no time. Surprisingly, the summer months in Mauritius are from November to April, and winter is from May to October. Though there is not much seasonal difference, the coastal areas are warmer by four to five degrees than the central plateau during all seasons.
7. Dodo souvenirs
Editor's Note: There's no photo available at the time of writing
In crazy remembrance of the iconic native bird Dodo, many souvenirs are available in Mauritius to take back home. The Mauritian people make souvenirs of the world-famous bird. Here, you'll find t-shirts, caps, flip-flops, keychains, paintings, mugs, magnets, and many more. Don't forget to buy one as a remembrance of your fantastic trip to Mauritius.
8. Rougaille
Editor's Note: There's no photo available at the time of writing
Rougaille is a classic Mauritian dish that goes by many names. Since it's a tomato-based dish with lots of spices, it goes well with any type of food. Vegetarians can have it with salads and non-vegetarians can eat it with eggs, prawns, and sausages. This yummy dish is the favorite of most Mauritian people. It is a combination of onions, ginger, garlic, coriander, chilies, curry leaves, spring onions, and many other spices. Don't miss out on this yummy tomato sauce to make your Mauritius trip memorable.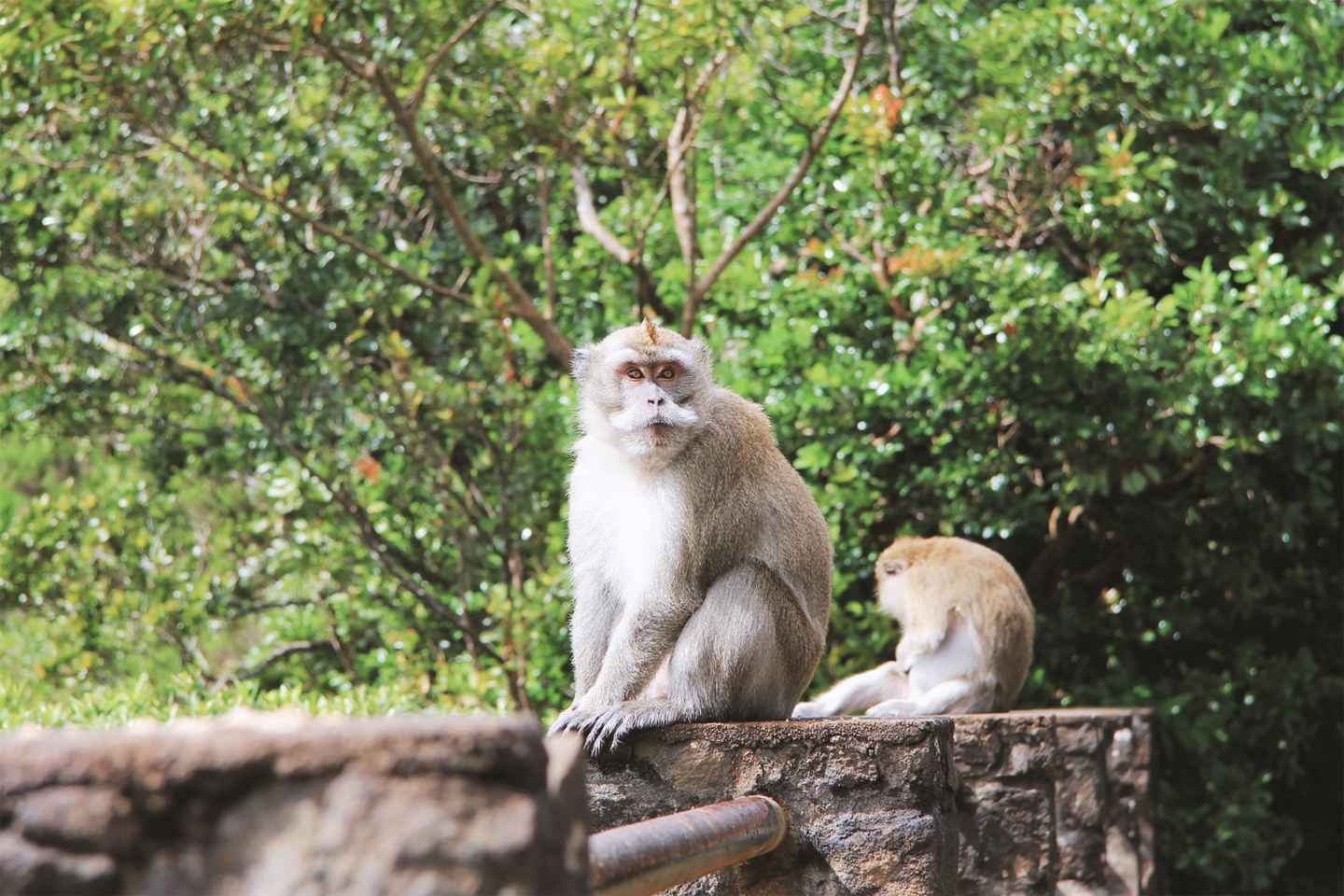 If you wish to see Mauritian plants, birds, and animals, visit Black River Gorges National Park. Covering an area of 67.5 sq km (26.1 sq mi), it has 60 km (37.3 mi) of trails to fulfill your trekking needs. You may choose from the long and hard Maccabee Trail of 10 km (6.2 mi) or the moderate 12-km (7.4 mi) Mare Longue Reservoir. You can trek to the highest point of Black River Peak by taking the 6-km (3.7 mi) return trail for breathtaking views. Get enthralled by animals such as flying foxes and different kinds of birds including parakeet, bulbul, olive white-eye, kestrel, fody, and grey white-eye among others.
Mauritius: Black River Gorges National Park 3-Hour Hike

Duration: 3 hour
Though Mauritius Island is the poster boy for the Republic of Mauritius, there are many other islands around it. You can experience nature's bounty on 49 islands, which are yet to be spoiled by the modern world. Apart from Mauritius, there are three other significant islands: St. Brandon Island, Rodrigues Island, and Agalega Island. Explore other beautiful islands such as Le Souffleur, a hidden treasure created centuries ago by rough sea waves crashing against hot lava rocks.
Mauritius Island Hopping Luxury Speed Boat Day Tour with Lunch

Duration: 6 hours 30 minutes
Spend a relaxing holiday in Mauritius
Soak up the beauty of the sheltered lagoons set within the world's third-largest coral reef. Enjoy the beauty of the azure waters and pristine beaches as you unwind in Mauritius. Disconnect from your troubles and have a healing time in this natural paradise.
Disclosure: Trip101 selects the listings in our articles independently. Some of the listings in this article contain affiliate links.
Get Trip101 in your inbox
Unsubscribe in one click. See our privacy policy for more information on how we use your data