Vancouver, one of the most culturally diverse Canadian cities, is British Columbia's busiest seaport on the west coast. Its well-organized transport system makes it easy to explore its plethora of high-class restaurants offering a variety of international cuisines and one-of-a-kind beverages. Its mountainous surroundings make it a famous location for films and its scenic views inspire music, theater, and the arts. Visit Museum of Anthropology for its distinguished collections of the First Nations. Get to know the artworks of regional artists on display at Vancouver Art Gallery. Immerse yourself in the unmatched innate beauty of their nature parks. This culture-rich city is also rich with rare flora and fauna. Below is our list of the best national parks near Vancouver, Canada which is the most helpful when planning an exciting outdoor trip with your family and friends. Read on and include them in your travel plans.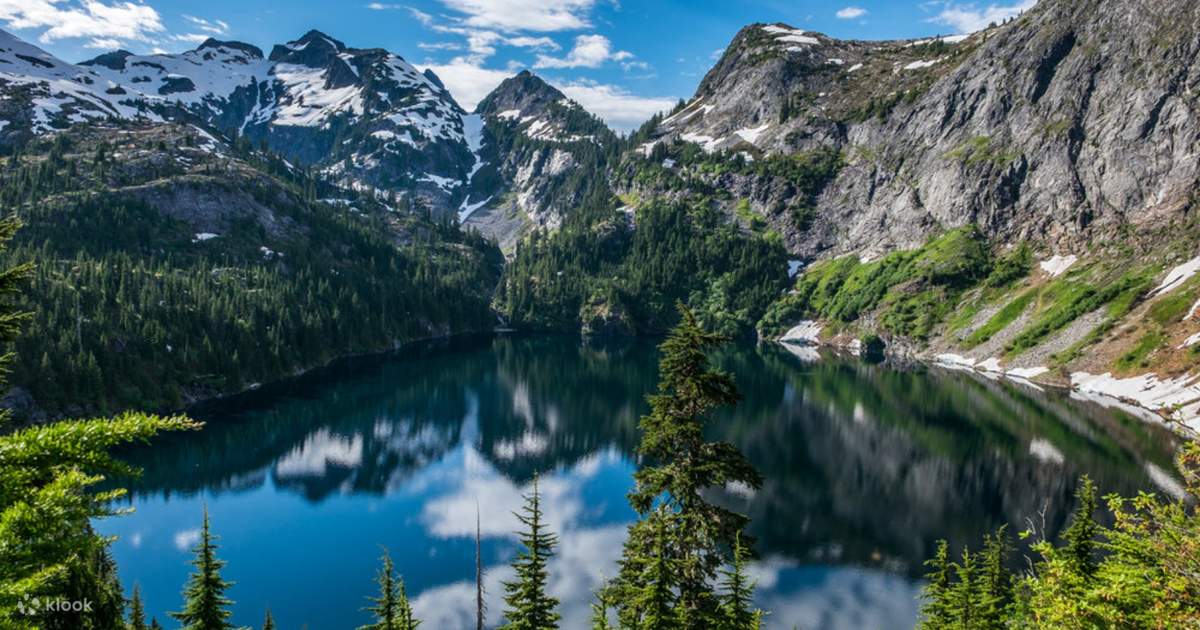 North Cascades National Park is a 200,000-hectare (500,000 acres) American national park located in Washington State's northern side in North America. It is the biggest unit of the National Park Service that encompasses the North Cascades National Park Complex. The North Cascades stretch between the borders of Washington State and British Columbia province of Canada. The portion facing Canada is called the Canadian Cascades and it spans from Lytton town up to the Frazer Canyon eastern mountains where Frazer and Thompson Rivers unite. The scenic park is a vast forest with lakes filled with boats, mountains covered with evergreen cone-shaped trees, and over 300 types of glaciers. It hosts various wildlife that includes over 200 bird species, gray wolves, grizzly bears, and the Stehekin community that lives in the remote northern part of Lake Chelan. It also has several viewpoints and challenging trails.
University of Washington and North Cascades National Park Day Tour from Seattle - Klook Philippines

Duration: 9hrs15 Min Duration
2. Matthews Point Regional Park
Matthews Point Regional Park is a sprawling 25-hectare (61.77 acres) park located in Galiano Island's southern tip at British Columbia's Active Pass. Since it was established in 1999, the park has been the home of diverse bird species and complex ecosystems. It also serves as a popular landmark for its residents and travelers traversing the Active Pass yearly. The park features vertical bluffs with gorgeous views of the Active Pass surrounded by vibrant wildflowers and trees like Garry Oak and Douglas Fir. Enjoy the scenic views of the Gulf Islands and Vancouver as you explore park and hike through its many trails. The Ridge Trail, a 1-km long (0.62 miles) semi-circular trail that starts and ends at various areas of Bluff Road, is among the official trails of the park.
Matthews Point Regional Park

Address: 350 Mary Anne Point Rd, Galiano Island, BC V0N 1P0, Canada

Website: Matthews Point Regional Park
3. Gulf Islands National Park Reserve
Gulf Islands National Park Reserve is a diverse nature park in British Columbia that was established in 2003. It measures 15,321 acres (62.0 sq.km) which is a combination of 8,896 acres (36.0 sq. km) of land and water plus its adjacent marine life of 6,425 acres (26.0 sq. km). The huge park hosts a magnificent variety of marine life, birds, and plants spread over 15 islands and various reefs and islets north of the Salish Sea. The Mediterranean-like weather that surrounds the islands makes it ideal for hiking, cycling, and kayaking. The lush paradise is where these unique eco-systems flourish and where birdlife thrives on its shores and lagoons. The islands are lined with trails that lead to viewpoints and lighthouses on the mountaintops and the relics of their pioneering history and of the First Nations. It is best to visit during the months of June to October when the season is warm and dry great for outdoor activities. During winter, some park access and services may be limited.
Gulf Islands National Park Reserve

Address:195-203 Narvaez Bay Rd, Saturna, BC V0N 2Y0, Canada

Website: Gulf Islands National Park Reserve

Opening hours: Mon – Fri: 8am – 4pm (closed on Sat & Sun)
4. Pacific Rim National Park
Pacific Rim National Park, the most gorgeous and most famous among the parks, measures 511 sq. km (317.52 miles) and is made up of British Columbia's three regions – the West Coast Trail, the Broken Group Islands, and Long Beach. Located on Vancouver island's west coast, it is an hour away by plane to Vancouver and three hours by car on Highway 4 to Nanaimo ferry terminal. Long Beach is situated between the Tofino and Ucluelet Villages of western Vancouver Island. The Broken Group Islands, accessed only by boat, is found in Barkley Sound. Hikers have access to the West Coast trail by obtaining a listing of services from the park management. It is close to Long Beach where the communities of Tofino and Ucluelet have access to services, shopping, and lodgings. Rocky coasts and clement rainforests represent the mountainous landscape. The lovely combination of mist and snow on its terrain is the epitome of the Pacific Coast's untouched beauty. Visit during the months of June to September and enjoy hiking the West Coast Trail or surfing and camping on Long Beach.
Pacific Rim National Park

Address: British Columbia V0R 3A0, Canada

Website: Pacific Rim National Park

Opening hours: 8am - 11pm (daily)

Price: 7 USD
A treat for the outdoorsy
If exploring the wild outdoors is your thing, you will truly love the nature parks in and around Vancouver. It's your opportunity to relax and be one with nature, something you can't do in the concrete jungle. Include these parks in your travel plans when visiting Canada.
Disclosure: Trip101 selects the listings in our articles independently. Some of the listings in this article contain affiliate links.
Get Trip101 in your inbox
Unsubscribe in one click. See our Privacy Policy for more information on how we use your data