The capital of Vietnam, Hanoi is an ancient town with traditional architecture which symbolizes its strong cultural heritage. The region covers an approximate area of 1285 square miles (3,329 sq km) with an average population of 7.782 million inhabitants. The town has major attractions such as the Temple of Literature, the Hoan Kiem Lake, One Pillar Pogado, and Ho Chi Minh Mausoleum which acts as a fundamental infrastructure in Vietnamese history. Tourists can visit the local restaurants, hotels, resorts, and amusement parks offering great customer care services. But are you looking for activities that are off the beaten path? Take a look below for more on the best non-touristy things to do in Hanoi, Vietnam for an interesting vacation.
1. Visit Long Biên Market at night
Visit this vibrant marketplace and experience the reasonable prices of commodities being sold here. Here different items varying in different shapes, sizes, and quality can be found. Located at the northernmost part of the Old Quarter, the market buzzes with energy from people pulling carts, women doing their grocery shopping, motorcycles zooming past, and passersby going to their respective places. Lots of vegetables, piles of fruits, and heaps of herbs and spice are available in this marketplace. At night the place is not as crowded as always experienced during the day.
Biên Market

Address: Số 189 Hồng Hà, Phúc xá, Ba Đình, Hà Nội 119121, Vietnam

Opening hours: 2 am - 12 pm (daily)
2. Drink an egg coffee
Egg coffee is a traditional drink offered by most cafes in Hanoi. The drink is prepared by mixing condensed milk, sugar, some coffee, egg yolks and sometimes cheese. The drink is popular amongst locals and it's usually served hot to preserve the flavor. To retain the temperature, the drink is usually served in small cups which in turn is dipped in a bowl containing warm water. The egg coffee usually varies from hot to cold depending on the customer's preference. Visit one of the various cafes offering this traditional drink in Hanoi and taste this unique coffee.
Egg coffee

Address: 29-31 Hàng Thùng, Lý Thái Tổ, Hoàn Kiếm, Hà Nội, Vietnam

Website: Egg coffee

Opening hours: 24 hours (daily)

Price: 1-5 USD
3. Dine from the hotpots on Phùng Hưng Street
Enjoy a meal in one of the hotpots on Phung Hung Street. This place is known for having the best restaurants in town offering different tasty dishes and great customer care services. Some of the dishes found in this region are pasta, steak with green pepper sauce, beef and chicken vermicelli bowls, peach, lychee tea, and many more! The Phùng Hưng Street stretches approximately 0.2 miles ( 310 meters) with seafood restaurants, vegan restaurants, and Pho Cuon restaurants. Experience the black chicken soup, tasty seafood hotpot, and beef hotpot at one of the restaurants on Phung Hung Street.
Hotpots

Address: 29 Phùng Hưng, Quận Hoàn Kiếm, Hà Nội, Hàng Mã, Hoàn Kiếm, Hà Nội, Vietnam

Website: Hotpots

Opening hours: 24 hours (daily)

Price: Moderate
4. Check out the artworks on the mosaic wall
Enjoy the breathtaking scenic artworks on the mosaic walls along the streets of Hanoi. The artworks represent the ancient history, traditions, and culture of the Vietnamese people. Tourists flock on this region to view the traditional artwork which stretches several miles along the road. The wall painting covers approximately 2.4 miles (3.85 kilometers) and contains diverse themes and ideas from the artists. Visitors are allowed to take pictures of the paintings and tours are also available at an affordable cost.
Mosaic walls

Address: Hồng Hà, Phúc Tân, Hà Nội, Vietnam
5. Feel the serenity by visiting Hoàn Kiếm Lake in the early morning
Catch a glimpse of a spectacular sunrise by visiting Hoàn Kiếm Lake. Here, you can relax and unwind as you enjoy the serenity of Hoàn Kiếm Lake and the breathtaking views of the landscape. Take long walks around the lake or indulge in activities such as jogging, board games, group dancing, and lots of other fun activities! This place is ideal for romantic couples due to its beautiful natural landscape, restaurants, resorts, hotels, and recreational facilities. Visit this astounding region to experience a memorable vacation.
Hoàn Kiếm Lake

Address: Hang Trong, Hoàn Kiếm, Hanoi, Vietnam

Opening hours: 24 hours (daily)

Price: Free
6. Take a swan ride on West Lake
Discover utmost relaxation as you take a swan ride on West Lake in Hanoi. Take a short stop at one of the cafes or restaurants located on the lakeside and take a bite of your favorite meal. Apart from that, you will also enjoy the tropical breeze and the peace of the lake as the sun sets in the horizon. From the lake, there is a breathtaking view of the Buddist Monestry, luxury villas, and resorts. This region is ideal for evening strolls with friends, romantic couples, or families on holiday.
West Lake

Address: Thanh Nien Street, Ba Dinh District, Hanoi, Vietnam

Opening hours: 24 hours

Price: 4.30 USD per hour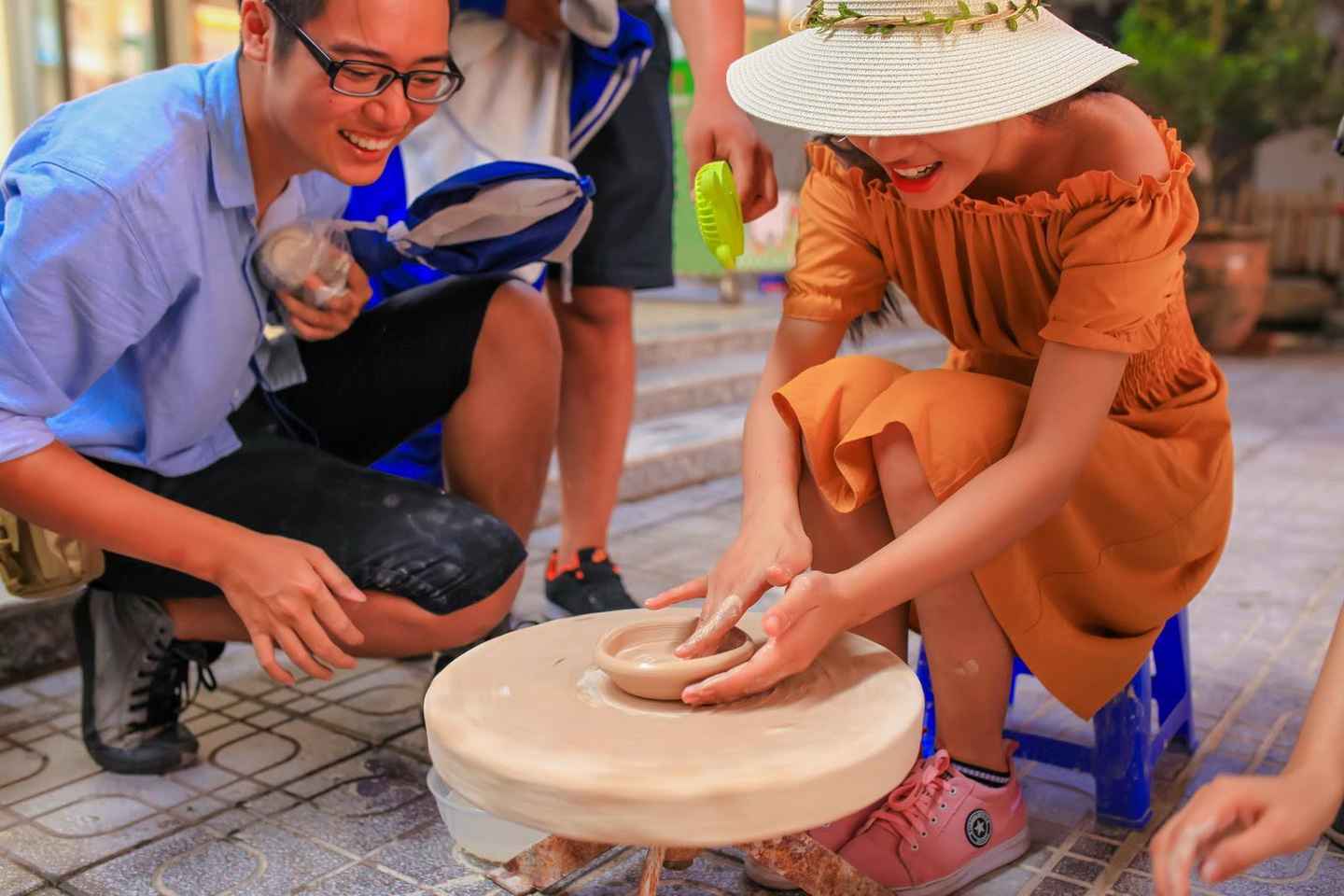 Get to learn the ancient knowledge of pottery making at Bat Trang in Hanoi. Experience how to make a wide range of porcelain products such as a vase, round jar, cup, bowl, dish, lampstand, and many more! A tour guide will be present to assist you in the whole process from pottery making around Bat Trang village. Visitors can also buy ceramic products from the locals at an affordable price.
Bat Trang Pottery ancient village by Motorbike

Duration: 5 hour
8. Check out the cafes for a taste of Vietnamese coffee
Experience the taste of a well-brewed Vietnamese coffee in one of the cafes in Hanoi. There are many varieties of coffee in this region, some prefer consuming cold coffee while others prefer their drink warm. These drinks include Robusta which is the popular beverage among the locals, an egg coffee considered as a traditional drink, and the Vietnamese iced coffee. The cafes offer a serene environment to enjoy breakfast or brunch. Visit one of the cafes in Hanoi, Vietnam for an awesome eat out with family or friends.
Vietnamese coffee

Address: Hoàn Kiếm, Hanoi, Vietnam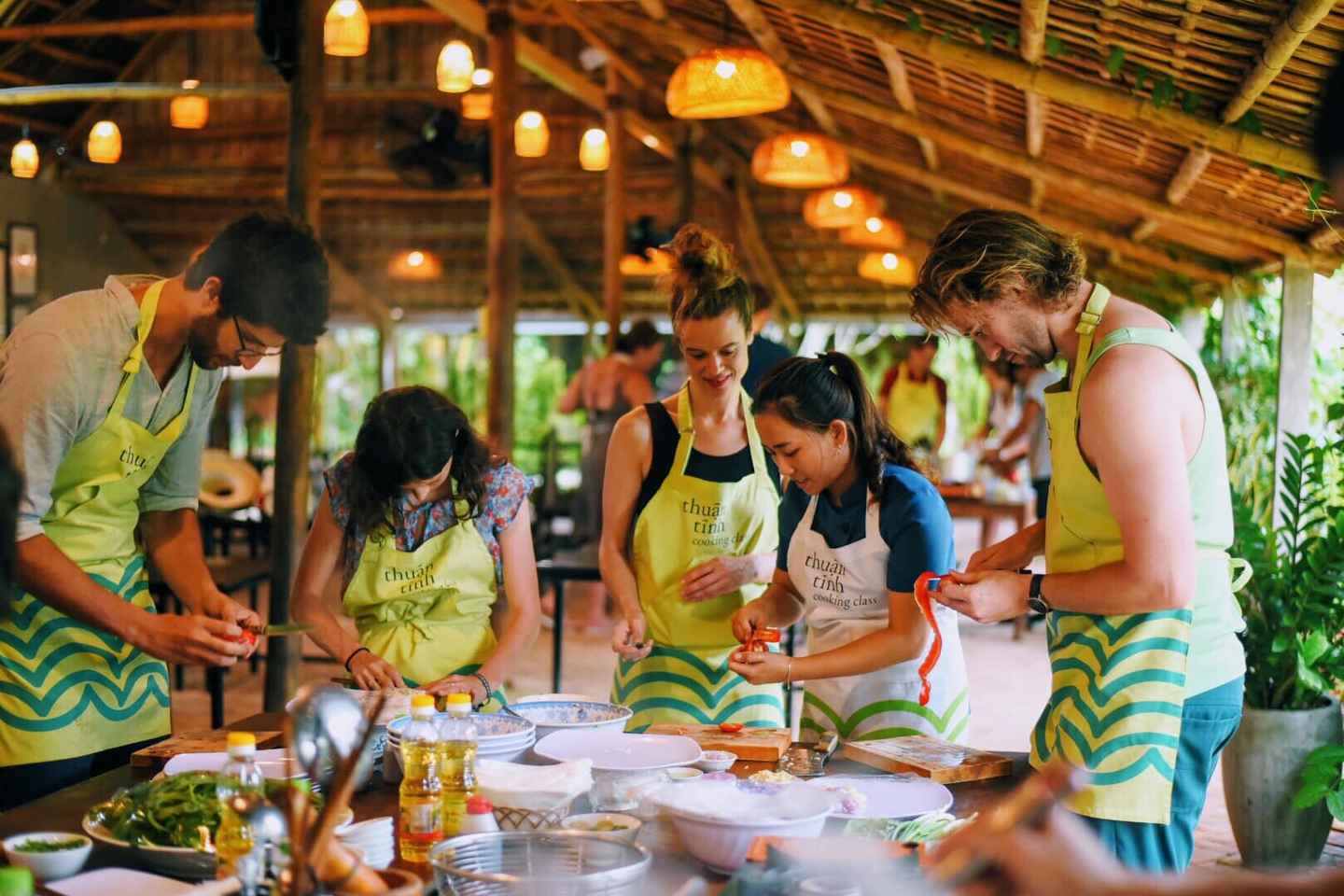 Fresh herbs are mostly used in the preparation of different meals in Vietnam. Vegetables such as cabbage, cucumber, carrots, and coriander leaves accompany most dishes of this region. The herbs such as rice paddy herb, knotgrass, and fish mint are major sources of nutrients in Vietnamese food. Apart from the herbs, starch is also a major constituent of the traditional meals amongst the locals and the food is always prepared and served depending on personal preferences. Visit this local culinary schools to learn how to cook your favorite Vietnamese dishes.
Hoi An: Vietnamese Cooking Class with Coconut Forest Sunset

Duration: 3 hour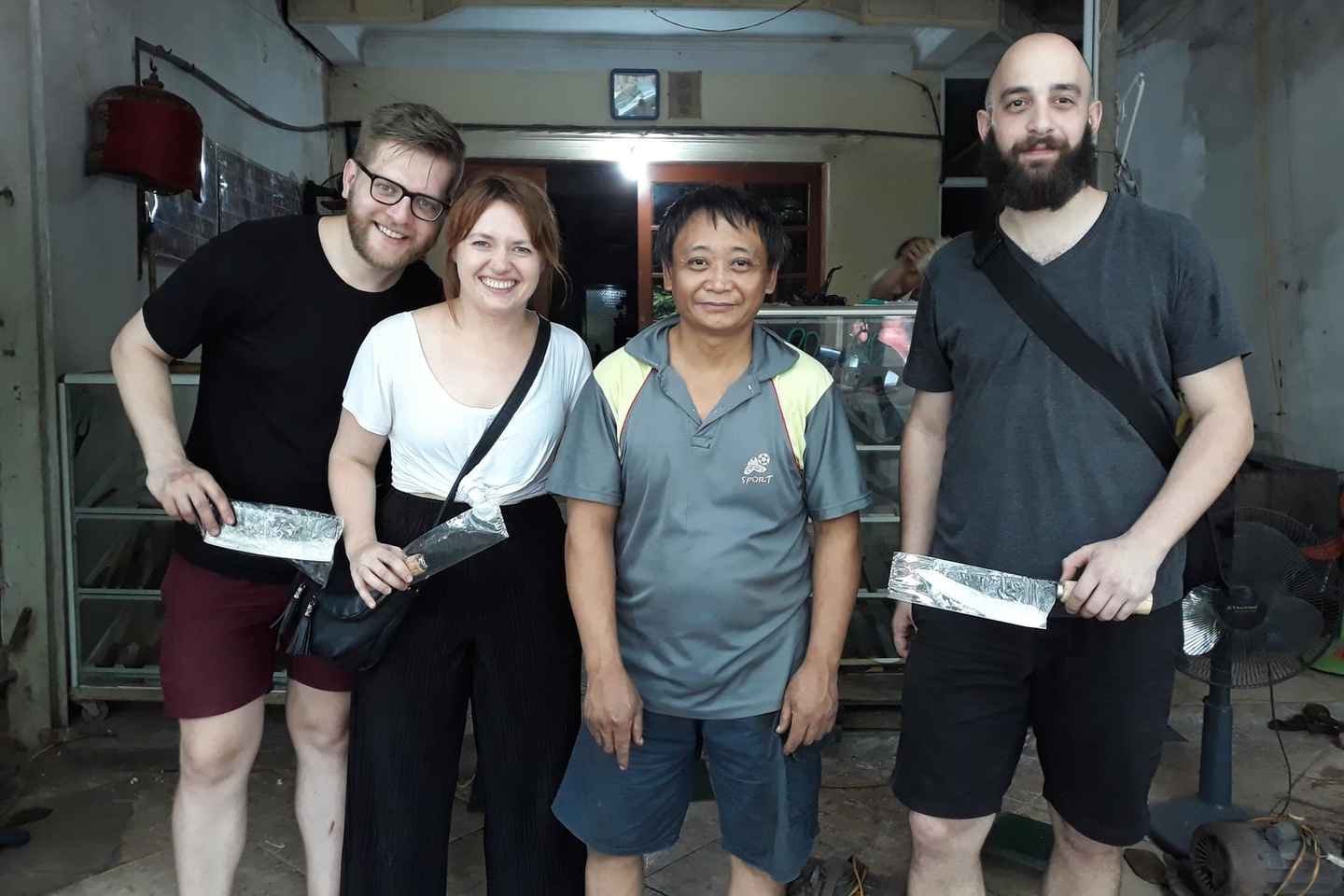 Get first-hand experience in the forging your own Vietnamese hand-made knife. Here, you will be taught how to make a knife from scratch by renowned village blacksmiths and also get a rare opportunity of forging it in the local workshop. You will also get to learn and experience the day-to-day activities of the local blacksmiths. Visitors are protected from any injuries by using safe tools and equipment required in the workshop. Other accessories such as masks and eyeglasses are available. After the long process of knife making, visitors are allowed to take their knives home.
Hanoi: Knife Making in Traditional Blacksmith Village

Duration: 3 hour
Discover Hanoi
Hanoi is one of the best tourist destinations for families or group of friends. Check out the list for the best non-touristy things to do in Hanoi, Vietnam for a memorable holiday.
Disclosure: Trip101 selects the listings in our articles independently. Some of the listings in this article contain affiliate links.
Get Trip101 in your inbox
Unsubscribe in one click. See our privacy policy for more information on how we use your data