Being close to or living in a major city makes it easier for non-tourists to have a good time on a vacation or a long weekend. In the case of those who live in or near Rome, there are plenty of activities that you'll be able to take part in, within a short period of time. When you're not learning how to make the food and paintings that make the city a popular spot to visit for people around the world, you'll be able to visit major attractions and embark on thrilling activities in the outdoors. Check out the list of non-touristy things to do below to ensure that you have a great time in Rome.
Journeying on the water provides a unique experience that hiking and biking don't give you access to, and going on a kayak tour in Castel Gandolfo Lake is sure to give you a fun and relaxing time. Guides will educate you on ancient Roman ports and the roles they played in ancient battles, and you'll be able to visit several villages that have been around for centuries. You can stop at certain points in case you want to spend some time hiking on the hills or swimming in the lake.
Castel Gandolfo's Lake Albano Kayak Tour with Swim Break

Duration: 3 hours
Another way to tour through the air is on a hot-air balloon, and that option is available if you want a bird's eye view of Rome during your visit. This tour will allow you to check out the city before flying over to the Lazio countryside nearby, and you'll be able to view the picturesque rolling hills, vineyards, and castles from the air. You can take 16 people, making it a perfect experience if you're traveling with a large group of friends. The trip will last an hour, giving you enough time to spot plenty of locations.
Lazio Hot Air Balloon Ride from Rome

Duration: 3 hours
Those who have dreamed of re-enacting scenes from "Gladiator" will have the opportunity to learn the techniques learned by real-life warriors, thanks to the Gladiator School of Rome. Participants will be able to learn techniques with authentic weapons, and you'll get to wear a traditional gladiator tunic so that you really feel like a warrior in the Colosseum. The school even provides an entrance to the Gladiator School of Rome Museum, so that you can learn about past gladiators and historic battles. A gladiator tournament is also an option if you want to test out your new-found skills.
Rome Appian Way Roman Gladiator School and Museum Admission

Duration: 2 hours
It can be hard to get your hands on some cool-looking jewelry and many people don't get the chance to learn how to make their own. That is a possibility in this workshop which teaches you how to use mosaic techniques from the 19th century to make a piece of jewelry the way you want it to look. These techniques were even commissioned by the Pope, and this should show you how adept the instructors are in creating pieces of art. You'll be able to make a piece to remember your visit to Rome as well as one for a loved one back at home.
Jewel Micromosaic Workshop in Rome, Italy

Duration: 2 hours 30 minutes
Locals who have dreamed of meeting the Pope in person will want to get tickets to any event where he will be in attendance soon, or within the next few weeks or months. The audience experience in the Vatican City will make you feel like you're a part of something big, and tickets are free, which gives you the chance to save money for any other activities that you plan for the weekend. St. Peter's Square will provide the best views of the Pope's address, and it's best to get to the event super early so that you can get these views since a crowded event is something to expect.
Vatican City Papal Audience Tickets and Presentation

Duration: 3 hours 30 minutes
It's not often that we get to see amazing sites through the air, but Sky Experience makes it possible by taking you paragliding in central Italy. The experts here will let you know the best times to take off and the weather conditions that will affect your trip. You'll be able to soar through the air and check out valleys, mountains, rivers and other parts of Rome's countryside in a matter of minutes. The paragliding locations are only an hour from the city, so you may be able to spot Rome while you're soaring and have someone take a picture of it to show off to people back at home.
Sky Experience - Paragliding tandem flights in Rome

Duration: 5 hours
One of the aspects of Rome that attracts people from around the world is the artwork, which is responsible for the beauty of the Vatican, the cathedrals and other popular attractions in the city. Aspiring artists will be happy to know that there are classes where they will be able to learn how to paint and create similar artwork, and tours of the center of the city are available so that you can learn more about painting, and gain inspiration from what you see. No experience is required with these classes, and this is great if you've never picked up a brush before.
Evening Paint and Sip with tour in the Heart of Rome

Duration: 3 hours 30 minutes
Another fun part of Rome that draws people from across the globe is it's food, as very few countries are able to consistently provide delicious meals like Italy. Visiting the Eternal City will give you the opportunity to make pasta, tiramisu and other great dishes so that you can provide friends and family back at home with special dinners. These classes let you dress up in the same uniform as professional chefs, and you'll also get to learn how to make wine and other drinks that make the dishes much more enjoyable. Italy's custard dessert will also be a joy to cook.
TRADITIONAL PASTA AND TIRAMISU MAKING

Duration: 2 hours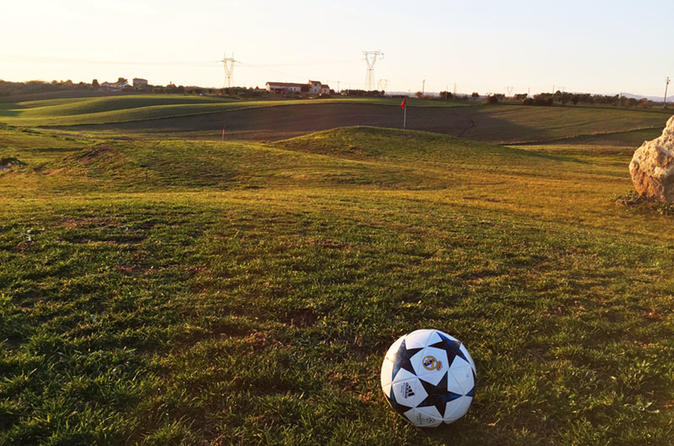 Rome is also a popular destination for footgolf lovers, and this tour allows you to experience this sport if you've never tried it out before. Visitors start the tour off with Italian coffee before the coach explains the history of footgolf in Italy and around the world. The field where you'll play the game comes with nine holes, which is great for beginners and gives you enough holes to practice. The tour will conclude with an award ceremony and lunch that comes with cut meat, pasta and local cheeses to make sure that you don't get hungry for a while.
Footgolf Experience whit lunch

Duration: 6 hours
Painting courses for beginners and experts are hard to miss when you're in Rome. This one is designed for those who have either never painted before, or are keen to get a deeper knowledge of the craft. The building where this course is conducted is located in the center of the Eternal City so that you are surrounded by paintings that can give you inspiration. You'll also get to learn about the best painters in the country and the impact that they've had on this form of art, as well as the possibility to adopt their techniques in your own creations.
Painting Italy - Rome's Introduction To Painting Course

Duration: 2 hours 30 minutes
Experience the best of Rome
Being near Rome puts you in a position that allows you to experience education and entertainment on one day. Classes are available to learn how to create the artwork and food that makes this city famous, and there's the opportunity to meet the Pope if you time your visit right. Tours are available to check out Rome and the surrounding areas from the air, and you can learn how to become a gladiator near the Colosseum. Keep these options in mind so that you get the most out of your visit to the Eternal City.
Disclosure: Trip101 selects the listings in our articles independently. Some of the listings in this article contain affiliate links.
Get Trip101 in your inbox
Unsubscribe in one click. See our privacy policy for more information on how we use your data