Considering that the city of San Antonio is the second most populous city not just in Texas but in the whole Southern United States, it is no doubt that tourists flock to this side of The Lone Star State. From a bustling art scene and rich heritage and historic hotels to River Walk restaurants serving delicious food, it's hard to miss San Antonio in your itinerary. Whether you're wishing for a more peaceful weekend holiday in a luxury hotel or just aiming for that Instagram-worthy shots, you have to get ahead of all the tourists and locals alike to make sure you'll have the best spots. If you're a person who wants to escape the crowd of Texas but still wishes to experience most of the happeings, check out these non-touristy things to do in San Antonio, Texas.
Take a haunted ghost tour and hear grisly tales of notorious Texas events from local guides while walking along the streets of San Antonio. Let the informative and passionate guides meet you at The Alamo and be amused by their lanterns and historic costumes that complete the eerie vibe of this walking tour. Don't hesitate to raise some questions that may trouble your mind during the course of the 90-minute tour, for the guides surely knows the history of San Antonio and the city's hidden sights. Make sure to wear comfortable shoes or you'll be dead on your feet even before finishing the 1.5 miles (2.41 kilometers) walking tour.
Duration: 1 hour 30 minutes
2. Catch a show at the Majestic Theatre
Editor's Note: There's no photo available at the time of writing
Immerse yourself in the magic of live entertainment at the historic Majestic Theatre in San Antonio. This iconic venue offers a captivating experience, showcasing a variety of shows and performances.
From Broadway musicals and theater productions to concerts and comedy shows, the Majestic Theatre hosts diverse performances to cater to every taste. Whether you're a fan of dramatic performances, toe-tapping musicals, or stand-up comedy, there's something for everyone. The theater's state-of-the-art acoustics and intimate setting ensure an immersive and memorable experience. You'll be captivated by the talented performers, their captivating stage presence, and the sheer magic that unfolds on the stage.
3. See spectacular views at the Tower of the Americas
Editor's Note: There's no photo available at the time of writing
Experience breathtaking panoramic views of San Antonio from the Tower of the Americas. This iconic observation tower offers a thrilling adventure and a chance to appreciate the city's stunning skyline. One of the exciting attractions in San Antonio, the observation deck provides an unobstructed 360-degree view, allowing you to admire the city's landmarks, rivers, and surrounding landscapes.
Take your time to soak in the beauty of San Antonio from above. Spot famous attractions such as the Alamo, the River Walk, and the historic downtown area. The view is enchanting during sunset when the city is bathed in a warm glow. For an extra thrill, venture to the Skies Over Texas 4D Theater Ride, where you can experience a virtual tour of the state's diverse landscapes and cultural heritage.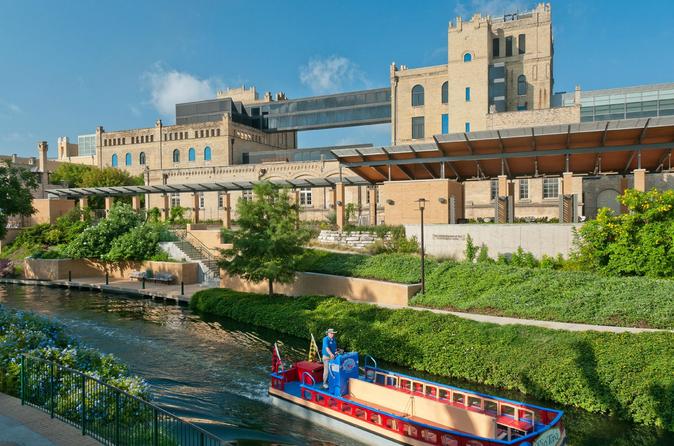 Discover the world's treasures in this complex of buildings that houses the most comprehensive ancient Greek, Roman, and Egyptian art collection in Southern United States. Spend a couple of hours admiring the antiquities and cultural pieces in addition to paintings and sculptures from all corners of the world. Be surprised and impressed by the breadth and depth of the collection even from East Asian art as well as a significant number of pieces from Latin America. Make your way to the restaurant behind the museum for great food after exploring the building and enjoy the lovely view overlooking the San Antonio River.
Learn about the art of glassblowing in Garcia Art Glass Studio that offers an hour of tour and demonstration in a fine art glass studio in San Antonio. After a brief history of the company and details about what the product is all about, experience being the master of glassblowing while having an intimate look at the process of creating glass works. Prepare to get a little sweaty as you enter the hot shop where you will see the glass blowing demonstration showing a piece being made from start to finish. Feel free to browse the gallery after the demonstration and if you have the means, purchase items that may interest you.
Duration: 1 hour
6. Soak up the sun with a margarita on hand in Yanaguana Garden
Let the kids play under the sun in this second most frequented park that has a splash pad, garden area, and a huge playground with new safety equipment for kids of all ages. Admire the collection of mosaic work that perfectly blends with the beautiful plants and trees surrounding the park that are truly worth some space in your Instagram feed.
While visiting this park is amongst the free things to do in San Antonio, you can always opt to top your trip off with a nice treat from the plenty of on-site options. Some also serve a variety of craft beers and margaritas to quench your thirst.
Yanaguana Garden

Address: 434 S Alamo St, San Antonio, Texas 78205

Website: Yanaguana Garden

Opening hours: 7am - 12am (daily)

Price: Free
7. Relish history and wildlife rolled into one at The Quadrangle
You can elevate your sightseeing in San Antonio by simply visiting The Quadrangle. Relax and be close to nature in this urban military fort filled with deer, rabbits, peacocks, and other birds that kids and young-at-hearts will surely love. Considered as the oldest building in Fort Sam Houston, admire the huge interior courtyard park, surrounded by the beautiful stone walls and visit the museum that features a nice exhibit of memorabilia depicting its role during the World War II as an arsenal for the US Army.
Don't forget to bring some seeds to feed the birds as they are tame enough that many will crowd around visitors at the sight of food.
The Quadrangle

Address: 1400 E Grayson St, San Antonio, TX 78208

Opening hours: Mon - Fri: 8am - 1pm; Sat - Sun: 12am - 8pm

Price: Free
Tip from Trip101 local expert

When visiting the quadrangle at Fort Sam Houston, make sure to enter through the Walters Gate. As this is an active US Army base, you will need to present a driver's license before heading onto the installation. You may also need to open your car for a routine inspection, but don't worry this is normal for visitors to the base!
8. Have fun and learn about the environment at the same time at Confluence Park
Know more about Texas ecotypes and watershed dynamics by visiting Confluence Park that teaches environmental education for locals and tourists alike. Featuring beautiful concrete sculptures surrounded by educational interpretive signage, a day touring around this park will not just fill your camera with phenomenal photos but also let you see the importance of conserving and restoring the ecosystem. Aside from kayaking activities, Confluence Park is also a gateway to the hike and bike trail which begins near the Blue Star Arts Complex and ends near Mission Espada, perfect for burning some energy after a day of indulging with San Antonio's delicacies.
Confluence Park

Address: 310 W Mitchell St, San Antonio, TX 78204

Website: Confluence Park

Opening hours: 8am - 11pm (daily)

Price: Free
9. Admire contemporary art at your own pace
Release the inner artist in you while walking around the exhibition rooms at ArtPace that displays the masterpiece of resident artists. Enjoy the vibe and atmosphere that are both uplifting and empowering while feasting your eyes on the marvelous galleries that are contemporary, fun, inspirational, and informative all rolled into one. Tours of the Artpace galleries are self-guided but a gallery attendant will accompany you and walk you around to the various art installations to enrich your visit. Free and adult-friendly, this museum is definitely worth to visit especially if you want to avoid the museums with screaming kids that run wild and usually crowded.
ArtPace

Address: 445 N Main Ave, San Antonio, TX 78205

Website: ArtPace

Opening hours: Mon - Fri: 10am - 5pm; Sat - Sun: 12am - 5pm

Price: Free
10. Kick up your boots for the real Texan giant duo
Take time to park your car and walk towards this famous landmark for a selfie or groupie featuring a pair of 40-foot-tall (12 meters) cowboy boots made from concrete and fiberglass that look like ostrich skin. See real Texas style and snap and picture or two of the world's largest cowboy boot sculpture recognized by the Guinness Book of Records. Located near the North Star Mall, this gigantic sculpture is surely not to be missed before or after a day of shopping when in this side of Texas. If you enjoy seeing interesting things when you're vacationing, kick up your boots and don't forget to take a glimpse of this masterpiece.
World's Largest Cowboy Boots

Address: 60 Northwest Loop 410 #18, San Antonio, TX 78216

Opening hours: 24 hours (daily)

Price: Free
11. Capture interesting photos of bronze sculptures
Avoid the crowded area of San Antonio River Walk and head over to this hidden sculpture garden which is part of the Briscoe Western Art Museum. Visit the courtyard to see the collection of bronze Western-themed statues made by some of the best-known Western artists in the United States. Admire the intricate artwork showcasing Native Americans, European settlers, and animals like horses and snakes. If your feet are getting tired, take advantage of the areas with plenty of seating areas complete with a parasol to rest for a while and to breathe in the fresh air from the surrounding native grasses and desert plants that fit perfectly with the garden's ambiance.
McNutt Sculpture Garden

Address: 210 W. Market Street, San Antonio, TX 78205

Website: McNutt Sculpture Garden

Opening hours: 24 hours (daily)

Price: Free
12. Explore Farmers Market in the Pearl District
Rain or shine, this melting pot of fresh, local, and seasonal produce is up with many treats for locals and tourists alike every weekend. A true representation of South Texas' growing ranching and artisanal food community, take delight of filling your tummy and bringing home a diverse selection of prepared foods and locally grown products. Take time to stroll around the 150-mile-radius (241.4 km) market located directly in front of the historic Brewhouse and now extends through Avenue A along Pearl Parkway. Stop worrying about bulk buying for the market has a "Veggie Valet" station where you can leave your items and continue shopping with ease.
Pearl Weekend Market

Address: 312 Pearl Parkway, San Antonio, TX 78215

Website: Pearl Weekend Market

Opening hours: Sat: 9am - 1pm; Sun: 10am - 2pm (closed on Mon - Fri)

Price: Free
Wave the crowded attractions goodbye
Take the off-the-beaten paths in San Antonio and lead yourself to some of the hidden sightsand gems. Whether you're up for historical discovery or wish to get closer to nature, you will never go wrong with these best non-touristy things to do in San Antonio when in Texas. Hurry! Pack your bags and visit now before the crowd flock to these sites.
Frequently asked questions about the non-touristy things to do in San Antonio, Texas
1. What unique things to do in San Antonio are great for couples?
If you're looking to rekindle the love with your beloved with a trip to San Antonio, make sure to: i) take a scenic stroll at Confluence Park, ii) admire contemporary art at ArtPace, iii) catch a show at the Majestic Theatre, and iv) see spectacular views at the Tower of the Americas.
2. What are the best destinations in San Antonio for nature lovers?
While San Antonio is a bustling metropolis, you can still find pockets of nature within its urban layout. Some of the sites that nature enthusiasts can visit are: i) Yanaguana Garden, ii) Confluence Park, and iii) The Quadrangle.
Disclosure: Trip101 selects the listings in our articles independently. Some of the listings in this article contain affiliate links.
Get Trip101 in your inbox
Unsubscribe in one click. See our Privacy Policy for more information on how we use your data