The city of Rome in Italy has many iconic attractions, including the famous Colosseum and other Roman sites. Rome is home to Vatican City, where the Pope often gives addresses. The city also has a number of beautiful plazas (or piazzas in Italian), or public squares and gardens to enjoy on a visit to Rome. One such square is Piazza Navona, a historic site that was constructed on the location of the original Stadium of Domitian. The stadium was constructed in the 1st century AD and was the site of many "agones" or games that were enjoyed by the ancient Romans, including chariot races and athletics competitions, leading it to be called "Circus Agonalis." These days, more modern pleasures are to be had in Piazza Navona. Keep reading for a guide to Piazza Navona below.
Things to do / Highlights of Piazza Navona
There are a number of interesting aspects to Piazza Navona. Here are some of the things you can look forward to while here.
Fountains
There are three fountains to view in Piazza Navona as follows:
1. Fontata dei Quatro Fiume
Translating in English to the Fountain of the Four Rivers, this is the largest of the three fountains and was designed by Bernini. It features four statues representing rivers located on different continents. These include the River Danube, which runs through Austria and Germany and a number of Eastern European countries. The second is the River Ganges in India, while the third is the Nile River in Egypt. The final river is Rio de la Plata, which runs through Argentina and Uruguay.
2. Fontana del Nettuno
The Fountain of Neptune was constructed in 1576 by Giacomo della Porta and is also dubbed the "Calderari". This fountain is typical of the Mannerist influence of the Italian elite during the mid-16th century.
3. Fontana del Moro
The Fountain of the Moor was also built by Giacomo della Porta and stands at the southern end of Piazza Navona. The fountain represents a statue of a Moor standing in a conch shell in a rose-colored, marble basin who is in a battle with a dolphin, with four Tritons surrounding them.
Saint Agnese in Agone Church
This beautiful baroque church was designed by Borromini and built between 1652 and 1670 on the instruction of Pope Innocent X. The church's location has a legend surrounding it and is said to be the place where Saint Agnes was stripped naked, but by a miracle grew a large amount of hair in order to cover herself and avoid disgrace and shame.
Palazzo Braschi
This elegant palace sits in Piazza Navona and has been turned into a museum, hosting exhibits relating to the history of Rome. There are a number of old photos of Rome as well as beautiful ceilings and a reconstruction of the famous Trevi fountain crafted from cork.
Stadium of Domitian
It is possible to visit the original Stadium of Domitian, underneath Piazza Navona. On touring the site, which is 5 m (16.4 ft) below the square, it is possible to see a number of photographs, artifacts, and 3D reconstructions of the site and learn the history of the stadium itself, which used to host as many as 30,000 spectators around the arena.
Place of festivals and communal gathering
Due to the square being built on the former Stadium of Domitian, the piazza is the perfect place for large social gatherings and a number of festivals and events in the city of Rome. The original stadium was paved over in the 15th century to become the square it is today and is lined with a number of restaurants and bars. Read about the top dining options in the next section.
Where to eat or have a drink in Piazza Navona
Piazza Navona is lined with many eateries, cafes, and bars and is the ideal place to visit for a tasty lunch, dinner, or snack. The following are some of the top restaurants in the square, including some historic cafes in and around Piazza Navona. Here is a selection of four of the best locations to relax and enjoy a drink or a meal.
Antico Caffè della Pace
This bar and cafe was built in the late 19th century and stands in Via della Pace, a short walk from Chiostro del Bramante. The interior features wood and Art Nouveau decor while it has an ivy-clad exterior. The cafe has been used as a film set on numerous occasions and has hosted such stars as Woody Allen and Julia Roberts. Regular visitors here include Monica Bellucci, Madonna, Spike Lee, and Sophia Loren.
Caffè Sant'Eustachio
This quality coffee shop was built in the 1920s and retains its original furnishings, interiors, and flooring to this day. Throughout the cafe, there are deer emblems, which are the icon of St. Eustace. The coffee shop is well-known for its home-roasted coffee beans, blended with natural water from an ancient Roman aqueduct.
La Pace del Palato
This typical Roman restaurant is hidden away in a quiet street just off Piazza Navona and is perfect for a traditional lunch or evening meal. The eatery welcomes locals and foreign visitors and the owner often gives clients tasty samples of the restaurant's cuisine for free. The menu consists of everything from antipasto, to pasta dishes and desserts accompanied a small, but well-chosen wine list.
I Pizzicaroli
This eatery is owned by two brothers from the Umbria region of Italy, aiming to offer their region's flavors to a Roman audience. I Pizzicaroli is the ideal place to enjoy an aperitivo, while sharing a delicious platter of meats, cheeses, and other snacks and is perfect for anyone on a budget. Visitors can also choose from a good range of wines and beers.
Traveler tips for Piazza Navona
Perfect for walking
The Piazza Navona is located in Rione Panone and is easy to navigate on foot and is easy to reach from the Trevi Fountain, 775 m (0.5 mi) away from the square. The Piazza is worth visiting for the beautiful architecture alone. It is also wheelchair-friendly.
Close to other attractions
Piazza Navona is close to many other attractions in the city, including the Pantheon (a 5-minute walk away), Piazza Venezia (10-minutes away on foot) and Castel Sant'Angelo, a 10-minute stroll from the square. The area can be explored on foot or by bus, using the bus routes 30, 60, 62, 81 and 87.
How to get there
On foot
Piazza Navona is easy to reach by walking from other attractions in the immediate area.
By public transport
The Piazza is reachable by bus on a number of bus routes, including 30, 60, 62, 81 and 87. The best way to check bus routes and times is via the ATAC (Rome public transport) network app and using Google maps.
By car
Due to the constant heavy traffic in the city, it is better to walk or take the bus. However, should you wish to drive to your destination, you can get directions on Google Maps.
Piazza Navona information
Address: Piazza Navona, 00186 Rome RM, Italy

Official tourism website: Piazza Navona

Tourism board website: Discover Italy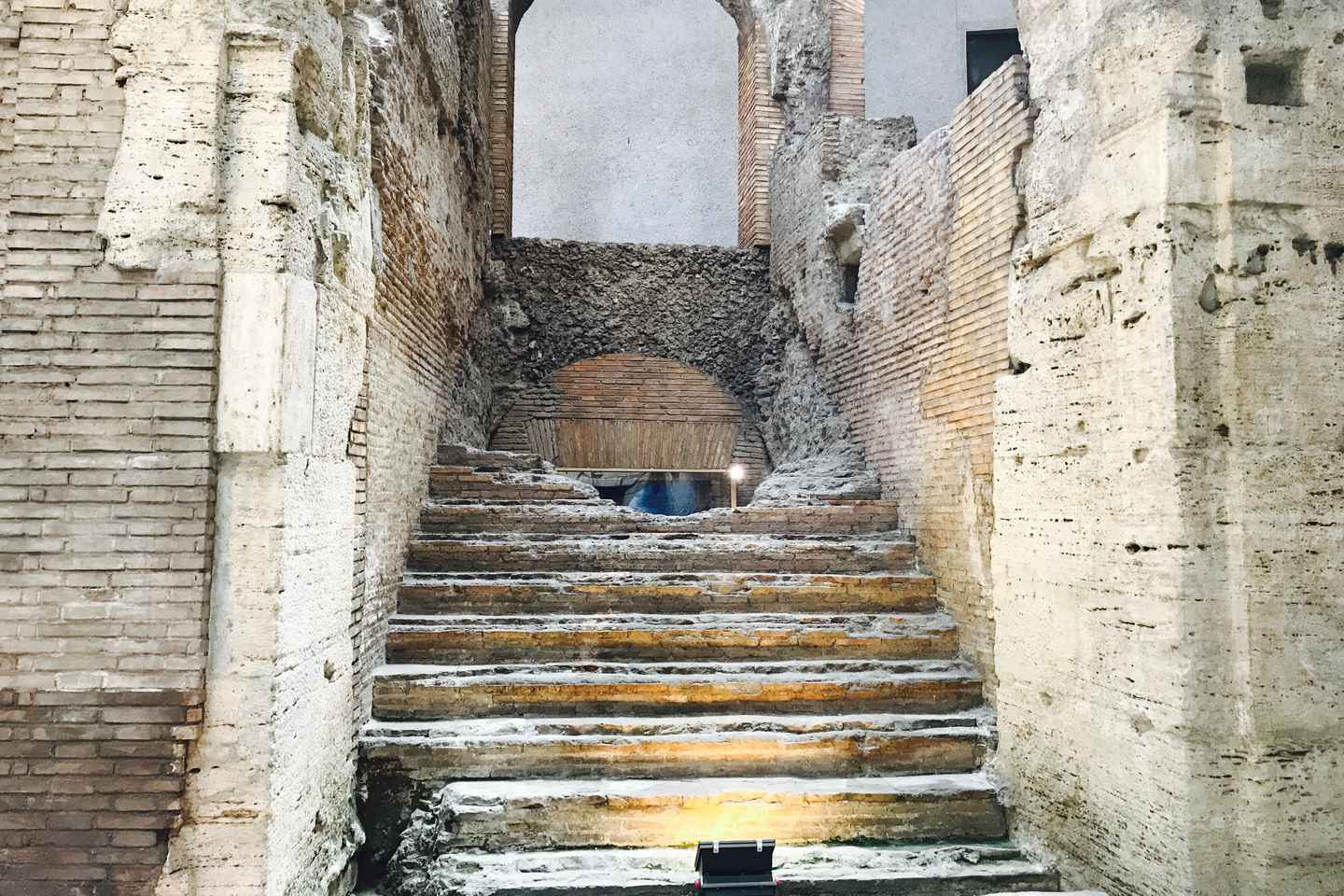 Rome: Piazza Navona 1-Hour Underground Audio Guide Tour
Disclosure: Trip101 selects the listings in our articles independently. Some of the listings in this article contain affiliate links.
Get Trip101 in your inbox
Unsubscribe in one click. See our privacy policy for more information on how we use your data