York is a spectacular city in northern England which makes for a romantic trip to the medieval era. It is often 'love at first sight' in this historic walled city. A melting pot of culture, cuisine, and sports, York is a popular tourist destination and a couple's delight. Of the many stunning sights to take in is the ride through North York Moors National Park on a heritage railway. Dining in the carriage is a great way to start the experience with your loved one. The town has many fantastic sights to offer. The huge castles instantly transport you to the medieval era. The mesmerising lavender fields and the stunning Yorkshire coastline make for a beautiful and romantic walk. Couples can end the day with a massage at the spa or a candlelight dinner. If you are planning a surprise vacation with your sweetheart and looking for romantic things to do in York, you will find this compilation handy.
The majestic walls stand tall in York as a testament to the Roman era. Literally a work of history, the walls have four main gatehouses or 'bars'. These bars were designed to extol taxes and serve as defensive outposts during times of war. The Bootham and Monk bars were originally founded in the 14th century. The Monk bar houses a museum showcasing the life and experiences of Richard III. The other two bars, Micklegate and Walmgate have been restored many times, but still, jog your imagination to a battle-ridden medieval era. At least six reigning monarchs passed through the Micklegate bar. The York City Walls are a haven of history, stories and architecture. Couples can spend an entire day walking through the labyrinthine streets and culture preserved through centuries.
Duration: 90 to 180 minutes
2. A calming date at the Rowntree Park
The Rowntree Park is a beautifully maintained green stretch of peace and quiet. If your romantic trip also includes having your dog along, then this is the perfect spot. Walk around the property and enjoy the light sun in mid-winter as you cross the river through the millennium bridge. Just a stone's throw away from the hustle of the city, this park is as peaceful as it can get. The walkway along the lake is inviting and scenic. The lake also houses baby ducklings that could make for great photos. You can also choose to stop by at the tennis court if you and your partner feel like playing or watching a match. Overall, Rowntree Park is a great pick for couples who want to soak in the scenery and lose themselves in endless conversations.
Rowntree Park

Address: Terry Avenue, York YO23 1JQ, UK

Opening hours: 9.00 am - 9.30 pm

Website: Rowntree Park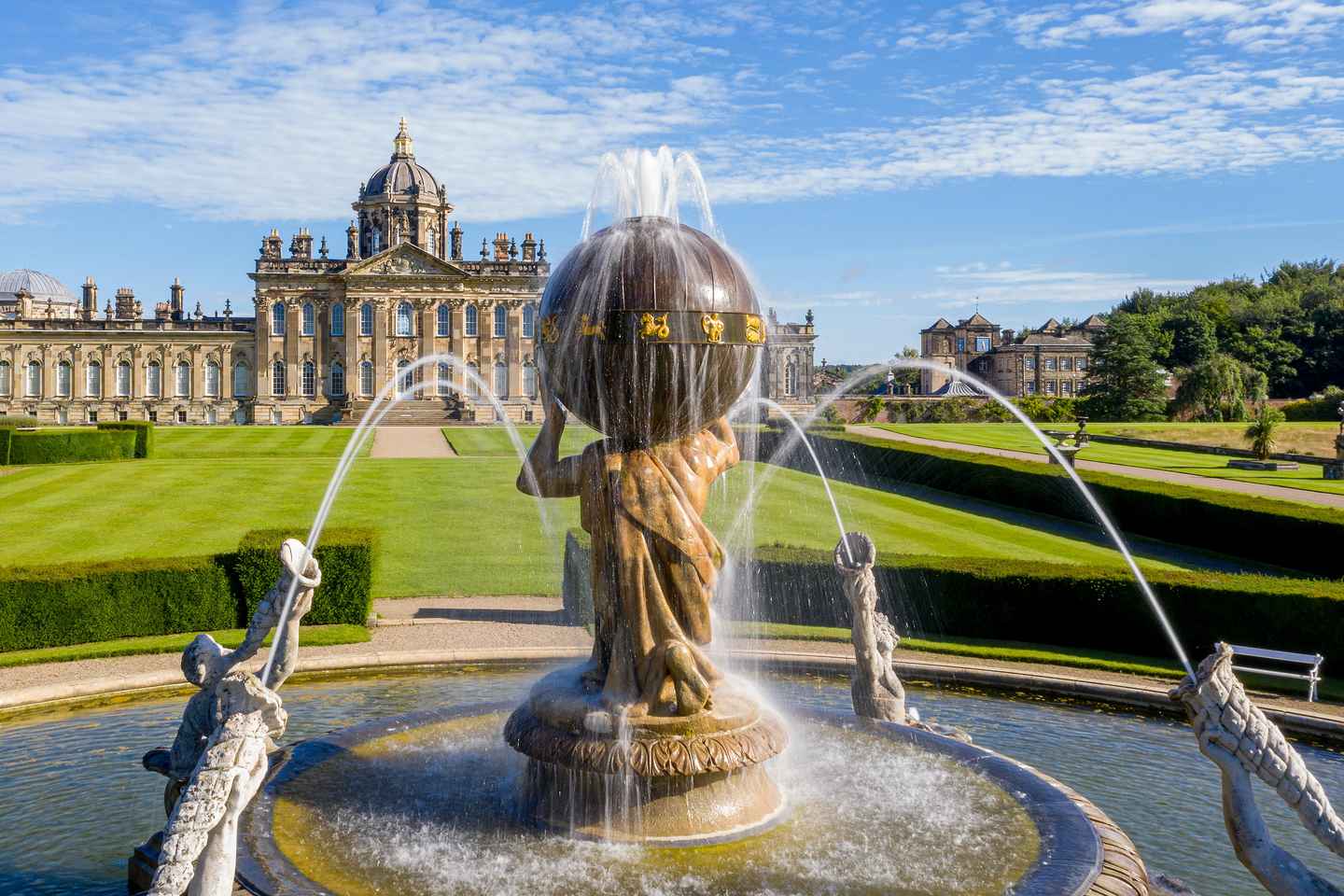 If you are a couple who loves exploring historic marvels, then Castle Howard is a must visit. It is one of Britain's finest houses that was built over 300 years ago. Take an endless walk with no interruptions across the 1000 acres (404.7 hectares) of parkland through the sweeping vistas, lakeside terraces, woodlands, statues and formal gardens. Take your best photos set in the sea of blue and white delphiniums with arbours and heritage roses. You can also take a break and enjoy the cafe or head to the farm shop, gift shop and garden centre to take home interesting souvenirs of the lovely day.
4. Walk through the Breezy Knees Gardens
The Breezy Knees Gardens is a 20 acre (8.09 hectares) stretch of colourful magic. Hold hands and leave the world behind as you explore this surreal garden with plants, flowers and sculptures you have never seen before. Every corner is photogenic and will definitely bring alive your couple photos like no other. As you lose yourselves in the labyrinth of plants, you will definitely lose track of time and conversations. To sum up your experience, you can also head to the in-house cafe and soak in the surrounding with coffee. So, if you are a couple who loves nature, walking and talking - the Breezy Knees Gardens is a perfect date.
Breezy Knees Gardens

Address: Common Lane, Warthill, York YO19 5XS, UK

Opening Hours: 10.30 am – 5.00 pm (May 1st to September 30th)

Price: 7.50 GBP (8.5 USD) per person

Website: Breezy Knees Gardens
5. Rediscover history at the York Castle Museum
The famous York Museum breathes life into history. If you bond over culture, a visit here would be etched in your memories forever. A short walk on the Victorian streets will take you around this 17th-century castle. There is a Victorian parlour and dining room recreated to perfection. The prison cells will send a surreal chill down your spine. Explore the galleries to get a sight of the life at the frontline of the First World War. A section is also dedicated to the history of children's toys. From the moment you step into this giant medieval castle, the charm of a different era takes over. This timeless beauty is a great destination even for couples travelling with kids.
York Castle Museum

Address: Eye of York, Tower St, York YO1 9RY, England

Opening hours: 9.30 am - 5.00 pm

Price: 10 GBP (11.4 USD)

Website: York Castle Museum
Love at first sight
York is a romantic getaway that will instantly teleport you to a medieval era and stay etched in your memories forever. Here, you and your partner are sure to explore the historic marvels that the city safeguards and soak in the evergreen parks and gardens. Hold hands, soak in the scenery, stop by at the cafes and shop for some York souvenirs. After a long day of strolling through the city, don't forget to welcome the night with a candlelit dinner in any of the local restaurants. The city will envelop you with magical vibes that will ensure you fall in love with your partner all over again. This list of handpicked romantic things to do in York are great ideas to consider.
Disclosure: Trip101 selects the listings in our articles independently. Some of the listings in this article contain affiliate links.
Get Trip101 in your inbox
Unsubscribe in one click. See our Privacy Policy for more information on how we use your data