In the sunny capital of the Andalusia region of Spain, Seville, you will enjoy a different kind of attraction and activity by visiting Seville Aquarium. Known as Acuario de Sevilla in Spanish, this massive aquarium gives visitors a glimpse of life in the oceans, seas and rivers from around the world. Spread out over an area of 10,000 square metres (107,639 square feet), this aquarium houses approximately 400 species of fish and other aquatic life in its themed exhibit areas. The theme of the aquarium revolves around the global voyage of the Spanish explorer Ferdinand Magellan, way back in the 1500s. Various sharks, turtles, exotic fish, amphibians, reptiles, colourful coral reefs and other marine life can be seen here. Come and unlock the mysteries of the ocean with our guide to Seville Aquarium.
Things to do / Highlights
Take a guided tour of the themed areas of the aquarium
This massive aquarium has five primary exhibit areas called Guadalquivir, Atlantic, Amazonian, Oceanarium and Indo-Pacific, each housing unique marine, amphibious and reptilian species of the world. On a guided tour, discover all these exhibits and learn about over 7,000 aquatic life living in the aquarium. The highlight of the tour will be the Oceanarium, Iberian peninsula's deepest tank that is 9 metres (29 feet) in depth, where you can see sharks co-habiting with turtles, tuna, grouper and other fish from the deepest oceans in the world. Other attractions on this 90-minute tour include a whale skeleton, monitor lizards, an area where you can touch starfish, and sea urchins.
Experience sleeping with the sharks
A signature experience offered by the aquarium that is very popular with visitors is the Night with Sharks Experience, where you can spend a night in the aquarium surrounded by sharks! During the course of the activity, you will get to discover more about these amazing marine animals as you observe them from up close. See sharks swimming overhead while you tuck yourself in a sleeping bag inside the glass tunnel of the aquarium's gigantic tank. The experience also raises awareness of the threats to sharks and their challenges in surviving the climate change impacting our oceans.
Admire various jellyfish species at the Jellyfish Exhibition
The aquarium also has a special Jellyfish Exhibition where visitors can see over ten species of jellyfish up close. These enigmatic marine creatures are housed in special tanks from where you can observe them in great detail. From the common jellyfish to the exotic inverted jellyfish, there are many interesting species to see here. Some rather interesting ones that you must check out are fried egg jellyfish, moon jellyfish, and blue blubber jellyfish.
Travellers tips
Great rainy day or sunny afternoon option
Spread out over thousands of square feet, this aquarium is a fun attraction that everybody can enjoy. Its immersive exhibits will keep you occupied for hours on end. If you happen to visit Seville on a rainy day, a trip to this aquarium can be a perfect option to pass the time, especially if you are travelling with kids. It is also a great place to escape from the hot sun of Seville for a few hours.
Free entry with City Sightseeing bus tour
If you have purchased a City Sightseeing bus tour pass, your entry to this amazing aquarium is included in it. Take advantage of this great deal and see hundreds of marine species all in one place!
How to get there
Public transport
It is quite easy to reach the aquarium by public transport. You can take bus 3, 6 and 34 and get off at the La Palmera stop. From there, the aquarium is a short, seven-minute walk away. Alternatively, you can take the underground train service and get off at Puerta de Jerez metro station. The aquarium is a 15-minute walk away from there.
Biking
Cycling is a very popular mode of transport in Seville, and the entire city is connected by a network of bike paths. You can ride your own bike to the museum or use the popular citywide bike rental service, Sevici. A bike rack is located near the entrance of the aquarium.
Walking
Since the aquarium is located on the banks of a river, you can take a leisurely stroll on the riverbank promenade or walk through the nearby Maria Luisa Park.
Private car
You can drive your own car or a rental one to reach the aquarium. It is located on the southern area of the city and driving directions are easily available online.
Parking information
A large underground public parking lot is located right next to the aquarium. You can easily park your car there and then walk a few steps to the entrance of the aquarium.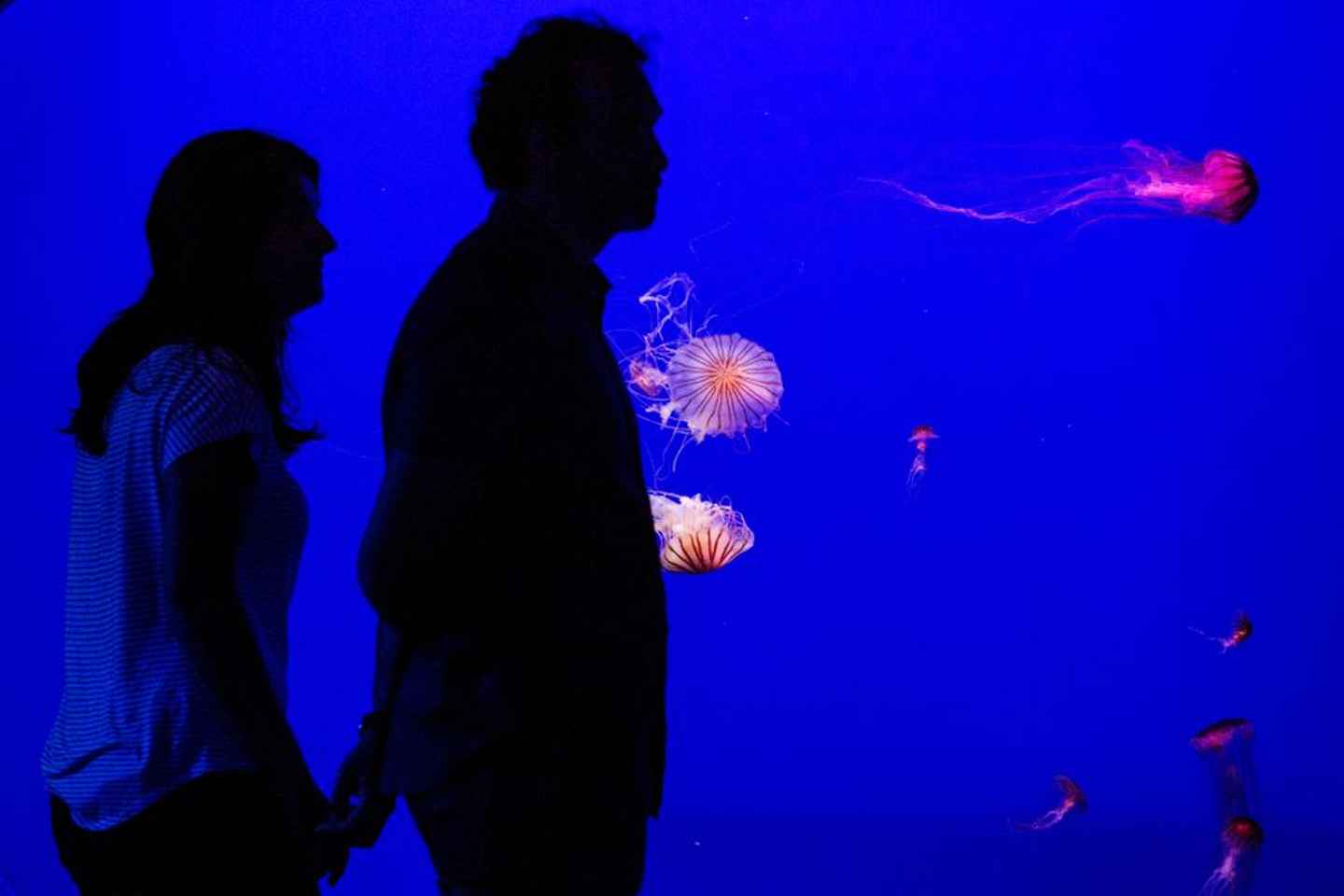 You can book tickets for this attraction online, via third-party websites, or on-site at the aquarium itself. Bear in mind that tickets booked online are slightly cheaper than those booked on-site.
It is also worthwhile to note that ticket prices vary for adults, children of different age groups, senior citizens and people with disabilities. You can save money if you are visiting as a family of four (two adults and two children) by buying a Family Pack that is exclusively available online. Group rates and school rates also differ from individual tickets. A general public guided tour and events like Night with Sharks are charged extra.
Seville Aquarium information
Seville Aquarium

Address: Muelle de las Delicias, s/n, 41012 Sevilla, Spain

Opening hours: September - June: Mon - Fri: 10am - 7pm; Sat - Sun: 10am - 8pm | July and August: Mon - Fri: 11am - 8pm; Sat - Sun: 11am - 9pm

Cost: 20 USD

Official Website: Seville Aquarium

Department of tourism: Visit Sevilla
Duration: 3 hours 30 minutes
Disclosure: Trip101 selects the listings in our articles independently. Some of the listings in this article contain affiliate links.
Get Trip101 in your inbox
Unsubscribe in one click. See our Privacy Policy for more information on how we use your data