We all know Hong Kong as a dazzling, ultra-modern city, with people who are up to date with fashion and technology, and towering skyscrapers. It is worth even a quick visit. There is quite a lot to see and do, even with a short layover, when you are able to get to the city. With fast trains connecting the city and the airport, you will realise that a quick visit is easy and very doable.
So, if you find yourself with about a minimum of 8 hours on a layover in Hong Kong, you can make a quick trip. You could just hop onto the train (refer to sections below) and catch a glimpse of the stunning skyline of the rapidly growing and cosmopolitan city. Food and shopping are things that are certainly a must when you visit Hong Kong, even if it is for a short time.
**Visa Requirements for Entry into Hong Kong**
Nationals of about 170 countries and territories are permitted to visit Hong Kong visa-free for a period ranging from 7 days to 180 days, provided they have valid travel documents. Do check the Hong Kong Immigration Department website to find out if you need a visa or entry permit to enter Hong Kong for a visit or transit.
Frequent travelers to Hong Kong can apply for a HKSAR Travel Pass to make life easier.
Things to do inside the airport for a layover of 8 hours or less
A layover of less than 8 hours is not really suitable for exploring the city. Instead, you can go around the huge airport. Hong Kong International Airport (HKG) is said to be among the busiest airports in the world, ranked at 8th! The airport is built on an island of reclaimed land, Chek Lap Kok. Exploring the airport is one fun thing you can certainly do on a layover. Hong Kong International Airport has a wide variety of restaurants and shops, along with varied choices of entertainment. Here are a few things you can do inside the airport:
Relax at the Plaza Premium Lounge
Do check out the Plaza Premium Lounge at the airport. There are 4 locations:
East - Level 6 Departures East Hall Gate 1 T1
West - Level 7 Departures West Hall near Gate 35 T1
Plaza Premium Lounge (Arrival Hall) - Level 3 Near Airport Express Station T2
Plaza Premium Lounge near Gate 60 T1
Charges range from 62 USD for 2 hours to 103 USD for 10 hours of lounge use. You can use the lounge to catch up on some sleep, have some food, or take a shower.
Apart from resting, you can also have fun at the UA IMAX Theatre
The UA IMAX Theatre is the largest IMAX giant screen in Hong Kong. This movie theater is designed to give the audience the maximum viewing experience. The immersive movie experience is extremely worthwhile, be it a 2D or a 3D IMAX movie. The location is at Level 6, T2. It is open between 11 am and 10 pm from Monday to Friday, and from 9.30 am to 10 pm on Saturdays and Sundays.
Check out the Aviation Discovery Centre
The Aviation Discovery Centre (ADC) traces the history of aviation in Hong Kong via themed exhibits and attractions, such as the SkyDeck and the Cockpit Simulator. You can discover what it is like to be in the field of aviation. It is located at Level 6, T2. The opening hours are 11 am to 10 pm from Monday to Friday, and from 9.30am to 10 pm on Saturdays and Sundays.
Take kids to the Dream Come True Education Park
A fun place for young travelers, kids can enjoy an educational and immersive experience at the Dream Come True Education Park. Children can dress up as a range of professions and role play in a mini world, playing with other children as they learn how society operates. It's open from 9.30 am to 6.30 pm on weekdays, and from 9 am to 8 pm on Saturdays, Sundays, and public holidays. You'll find it at Level 6, T2.
Play golf at GreenLive AIR
Get your swing on at GreenLive AIR. With 9-hole and 18-hole indoor simulated golf courses, pass your pre-flight time perfecting your technique and having fun. Even better? Because it's inside you don't need to worry about the weather! It's located on Level 6 of T2. The opening hours are between 9 am and 9 pm daily.
Shopping in malls located close to the airport
Do this if you have about 4 hours to spare, though do check out the visa requirements before planning to head out of the airport.
Shopping and Hong Kong are synonymous, and it would be a shame if you didn't pick up anything from the shopping heaven that is Hong Kong. Purchases are tax free, and you will certainly love the experience. There are a couple of malls located very close to the airport: Citygate Outlets and Maritime Square.
Citygate Outlets: This mall offers year-round discounts from 30-70%. You could also enjoy a spa treatment, eat some lovely food, or even watch a movie, depending on how much time you have. You can reach this mall from the airport via the S1 or S64 bus.
Maritime Square: This mall has an ocean theme and is the first of its kind in Hong Kong. There are more than a hundred shops and restaurants, all that you need for a one-stop experience. You can get to this mall using the Airport Express; get off at Tsing Yi Railway Station. The journey takes about 35 minutes one way.
All malls in Hong Kong are open from after 10 am until 10 pm. So plan accordingly!
Don't worry if you don't have the time to leave the airport though; you'll find a wide array of stores across the airport, with goods including fashion, fashion accessories, watches, and jewelry, toys, travel accessories, gifts, food, books, and more.
With a layover of more than 8 hours, you can confidently make a quick trip to the city. All you need to do is get to the city by the fastest means of transport possible so that you don't waste time travelling. There are fast trains from the airport that help you reach the city in about half an hour.
Transportation
Octopus Card: You could think about purchasing the Octopus Card, which will help you do away with the need to carry change when in the city. The Octopus Card can be used to pay for your train / bus tickets, and certain shops also accept payment by Octopus Card. You can return the card at the Airport Station before you head back to catch your connecting flight, where you will be given back your deposit. The deposit is 50 HKD (approximately 6.45 USD). You can top up the card with any amount. Kids over 3 must have their own Octopus Card.
Airport Express Train: If you are only going to use the Airport Express Train to get into the city and return by the same means, you can skip buying the Octopus Card. The Airport Express ticket costs 180 HKG (approximately 23 USD) for an adult round-trip ticket between the airport and Hong Kong. To travel between the airport and Kowloon costs 160 HKD (approximately 20 USD) for a return ticket. Check the official website for more information on the current fares. Trains depart around every 10 minutes throughout the day, between 5.54 am and 12.45 am.
Bus: The A11 bus takes about an hour to reach the city. It costs 40 HKD (approximately 5.15 USD) for a one-way journey and you can take this bus from the airport bus station, which is just a few minutes' walk from the arrival hall. If paying the driver, as opposed to buying your ticket from a counter, you need the exact money as change will not be given. The buses run every day from 6.10 am to 12.30 am, departing roughly every 20 - 25 minutes. The same time frame applies when you take a taxi, though the prices are higher (around 250 HKD / 32.20 USD for up to 4 passengers). Do be aware that extra charges may be applied for luggage. If you want to skip the traffic, the train is the best option. Once in the city, there are various transportation options that make getting between different attractions easy.
Taxi: Taxi2Airport is the easiest and most reliable way to get to and from the airport. Through secure online payments, you can book your airport transfers in advance, saving up to 35% on your journey.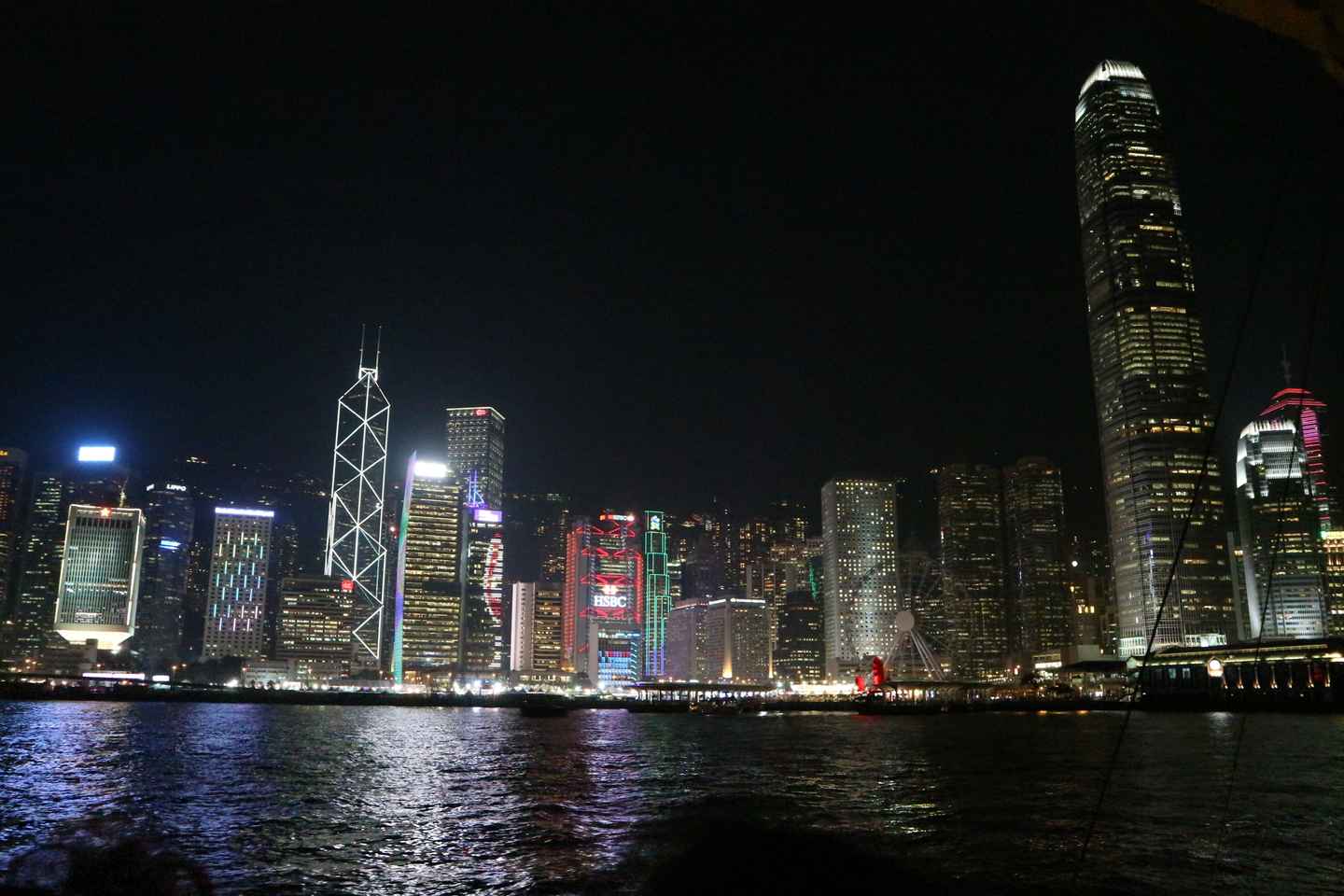 You can reach Victoria Harbour via subway or taxi. Ask for Tsim Sha Tsui station if riding the subway, or just say you want to go to the Victoria Harbour if you're taking a taxi. If possible, take the Star Ferry for a trip from Kowloon to Hong Kong Island. It costs about 2 or 3 HKD (approximately 0.25 to 0.40 USD) per person. It is one of the most budget-friendly, quick, and scenic experiences you can enjoy in Hong Kong. Victoria Harbour is very beautiful to look at, both during the day and night. If you reach here at night, do not miss the laser, light, LED, and sound display, A Symphony of Lights. It takes place at around 8 pm each day, though the language for the commentary varies.
Hong Kong by Night: Harbour Cruise, Dinner, & Night Market

Duration: 5.5 hour
Ngong Ping 360 is very close to the airport; from the cable car you can actually see the airport. The Big Buddha is one of the most popular tourist spots in Hong Kong. It takes about 10 minutes by bus from HKIA to reach Ngong Ping Cable Car Terminal. The cable car ride is about 30 minutes, but the queues can be quite long. A return ride in a standard cabin costs 185 HKD (approximately 23.80 USD) for adults, and 95 HKD (approximately 12.25 USD) for children aged between 3 and 11.
Taking around 30 minutes, a ride on the cable car is visually spectacular, covering about 6 kilometers (3.72 miles). It climbs up Ngong Ping to the Big Buddha. You can see the North China Sea below, and the panoramic views offered are simply breathtaking.
Ngong Ping 360 Cable Car Ticket on Lantau Island

Duration: 5 to 6 hours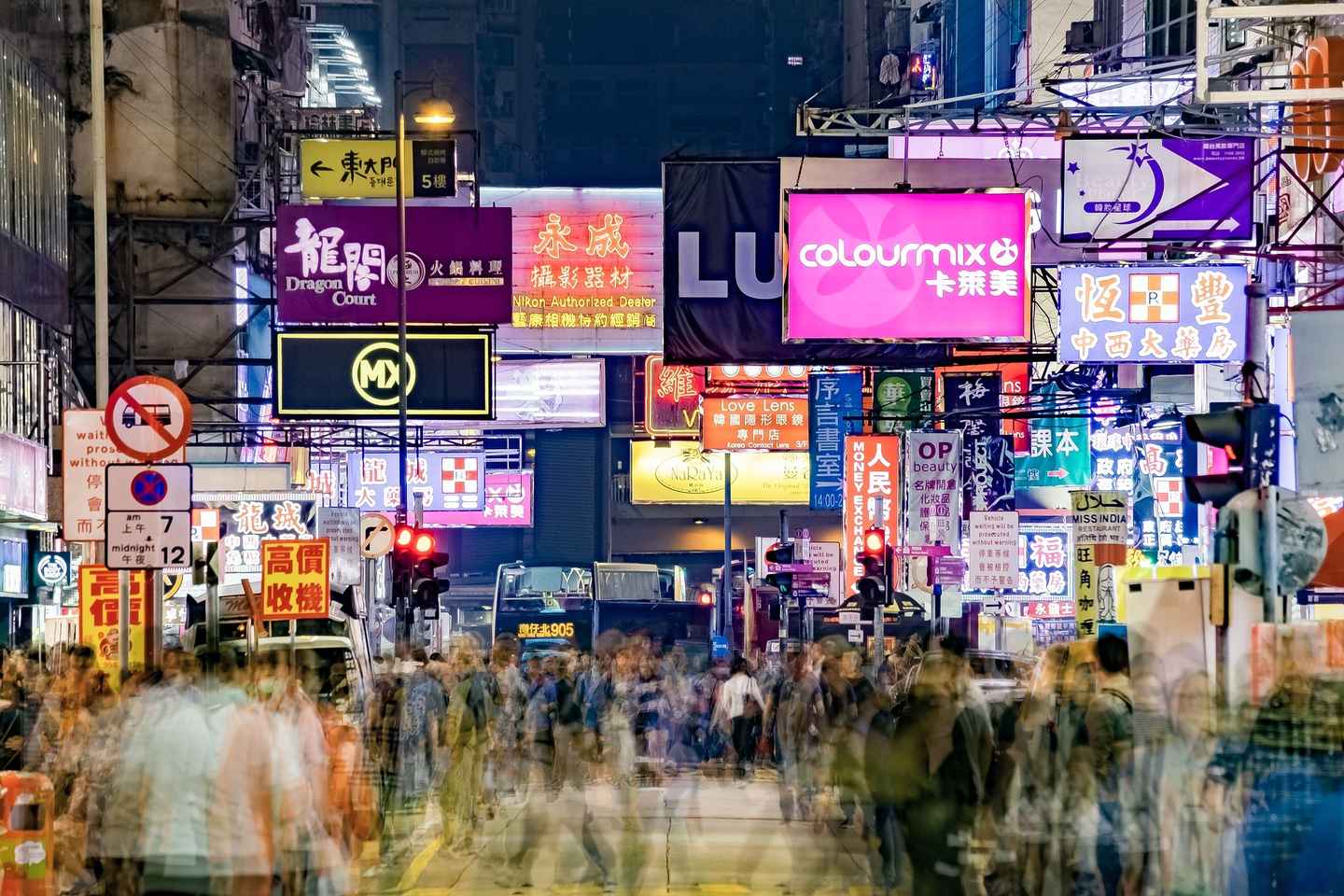 For branded items, head to Causeway Bay, which is a vibrant shopping district. You can see Hong Kong's own version of Times Square, and it is equally busy. This is not advisable, however, for people who do not like crowds. You can reach Causeway Bay via the MTR.
Check out shops like Muji, the Japanese department store, Sogo, Juice (streetwear), or 852 (skate shop). Shopping can take quite a bit of time, so plan accordingly.
Alternately, if you want to browse the flea markets, you can try the Ladies Market at Mong Kok. This market is open in the afternoons until about 10 pm. Haggle, bargain, and buy! It is an altogether wonderful experience. You can reach the Mong Kok Market via the MTR as well; get off at Mong Kok station.
Mong Kok (Kowloon) Street Markets Private Walking Tour

Duration: 3.0 hour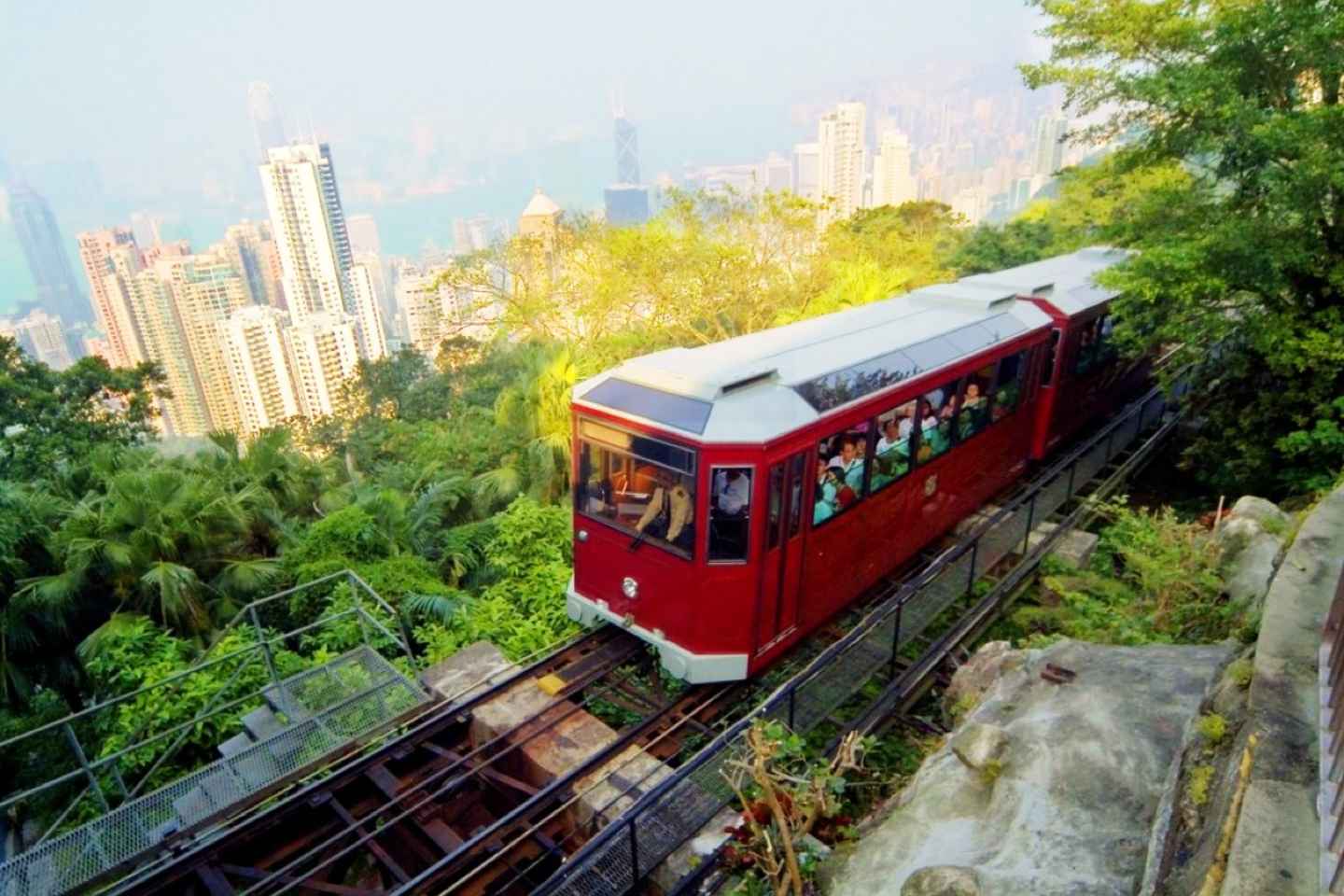 If you want to see how the city's skyline looks from up high, you must go to Victoria Peak. You can choose to take the tram or a taxi. If you are hard-pressed for time, you can take a taxi up to the Peak. A taxi up costs around 50 HKD (approximately 6.45 USD). A fee of 88 HKD (approximately 11.34 USD) per person is charged for a return journey on the funicular.
The views from the top of Victoria Peak are amazing, but ensure there is sunshine; if it gets cloudy the views can be gone with the fog! Similar to Victoria Harbour, the views are equally amazing by day as well as at night.
Victoria Peak: Peak Tram & Sky Terrace 428 Ticket
Splurge and enjoy!
Splurge on shopping in Hong Kong and soak up the amazing views it has to offer. You can also eat the local fare that Hong Kong is famous for, including dim sum, pork dumplings, and egg tart to name just a few. Be ready with a bit of cash if planning to visit the flea markets; flea markets do not accept credit cards! You will be walking around quite a bit on your layover in Hong Kong, so be sure to take your walking shoes with you! Have a fun Hong Kong layover!
Disclosure: Trip101 selects the listings in our articles independently. Some of the listings in this article contain affiliate links.
Get Trip101 in your inbox
Unsubscribe in one click. See our privacy policy for more information on how we use your data