The Sydney Harbour Bridge graces Australia's "Harbour City" and party capital, Sydney. Crowning the Sydney Harbour like a tiara, the bridge connects the Central Business District to the North Shore and is built in ginormous proportions. It is wide enough to allow six lanes of traffic, two lanes of trams, a pedestrian path, a cyclists' path, and two railway tracks – can you believe it! Sure, it should be no surprise then that the bridge took almost 10 years to build! It is locally known as the "coat hanger" and dazzling in glittering evening lights, is every bit a sight to behold. The Sydney Harbour Bridge also serves as an iconic backdrop for Sydney's New Year fireworks displays. We've put together a guide to the Sydney Harbour Bridge that covers the best and most impressive aspects of this manmade wonder, so read on.
Things to do / Highlights
Stroll down the Sydney Harbour Bridge
You can enjoy fabulous views of Sydney's waterfront and skyline by strolling across the Bridge, all the while enjoying gusts of soothing winds (which sometimes may not be all that soothing though!) gently slapping against your skin. The stairs to the bridge walk are located next to the pedestrian crossing on Cumberland Street, near the Australian Heritage Hotel. While en route the walking path, do stop by for superlative views of the Sydney Harbour and Botanical Gardens from the Pylon Lookout.
Cycle down the bridge
Not just walking, you can also enjoy the bridge's beauty by renting a bike and cycling around. The bikeway is on the western side of the bridge, which you can access via the entrance near Sydney Observatory. There are also multiple guided tours that you can join and have yourself an unforgettable experience.
Feast on panoramic views
While you can enjoy fabulous views from anywhere on the bridge, there are some designated lookout points as well. In that sense, not just the Pylon Lookout, Sydney BridgeClimb is another activity for catching some stunning 360-degree views of the vista. You can reach this point from the Cumberland Street. It is a guided activity, where you'll ascend to a height of 135 m (440 ft) above sea level, to catch these amazing views.
Take a ferry trip
Ferry trips are also quite a popular activity near the bridge. Most ferry tours start from the Circular Quay that take guests past the bridge and the Sydney Opera House. Moving forth, Taronga Zoo and Manly or Watsons Bay also fall along the way. Some tours also take guests past the bridge to the Darling Harbour, Parramatta, Cockatoo Island, and the likes.
Cruise down the harbour
For a more lavish affair, you can even book yourself in for cruise tours that include lunch, high tea, sunset cocktails as well as dinner. Various packages and offers are available, so you can go in for one that suits your preferences best.
Go on a seaplane or helicopter ride
Not just an "underneath view", you can also admire views of the harbour and the bridge aerially. Various seaplane and helicopter tours are available for visitors to hitch. Head to Rose Bay for the seaplane tours or Mascot for the helicopter ride.
Travelers tips
Pick the right season
Since it is an entirely outdoor activity, exploring the Sydney Harbour Bridge, it is recommended that you choose the correct time of the year to head there. Summer months (December - February) are considered the best time to enjoy the walks, cruise and ferry rides, and other activities.
Book ahead
If you're planning to head there during peak season, remember to plan ahead and buy tickets to activities well in advance. You may be able to grab great deals, instead of having to pay exorbitant amounts at the last minute.
Be prepared
We can't stress enough that you wear your comfiest pair of shoes and the most walking-friendly clothes. Additionally, applying sunblock lotion and carrying along sunglasses, caps, or hats might help. Also, remember to carry water as well.
How to get there
Invest in an Opal Card
Sydney enjoys great connectivity via public transport and makes for a pretty economical mode of conveyance as well. Just purchase an Opal Card, which you can top-up with as much amount as you need, as and when required and keep swiping it for seamless journeys on metro, trains, and buses. The card itself can be obtained for free.
Hail an Uber/taxi
Uber Pool is a popular means of getting to the Sydney Harbour Bridge. Just fire up the app and find one closest to you. Considering the popularity of the bridge, you're unlikely to find a dearth of pool ride options. Plus, you get to save on costs too! Otherwise, there are taxis, which may be easier to hitch on the spot, but may turn out to be slightly expensive.
Opt for rented cars
Hertz and Enterprise are the most trusted car rental service providers. They offer quite a few options of vehicles that you can rent for private use. The tariffs for the cars start 35 USD onwards (per day charges) and increase according to the vehicle you opt for.
Go for bike share
This works like the Uber system; just download an app and locate yourself a bicycle to cover short distances. Reddy Bike, Mobike, oBike are some of the top bicycle-sharing apps that you can look into. Rental rates vary, but it averages to about 1.5 USD per 30 minutes.
Catch a train
Central Station is the closest train station to the Sydney Harbour Bridge. Once you get off the train, you can either walk it to the bridge or hitch a cab or bus. Otherwise, there's Milsons Point Station, which is an approximately 15 minutes' walk.
Board a bus
Bus no. 269, 286, 311 and 622 are those that'll take you closest to the bridge.
Where to park
The closest car parking that you'll find are the car parks at George Street, Argyle Street, or Harrington Street. Else, you also have the option of going in for the metered parking on Cumberland Street.
You'll find tickets for Sydney BridgeClimb online here. Pre-booking is strongly recommended and the tickets range from 130 to 285 USD. The only time you'll find the climb sessions cancelled are when the weather conditions are poor. Do note that the tickets are non-refundable and can only be modified for a change in date or time till a week before the originally chosen date.
Sydney BridgeClimb

Duration: 2 hours 30 minutes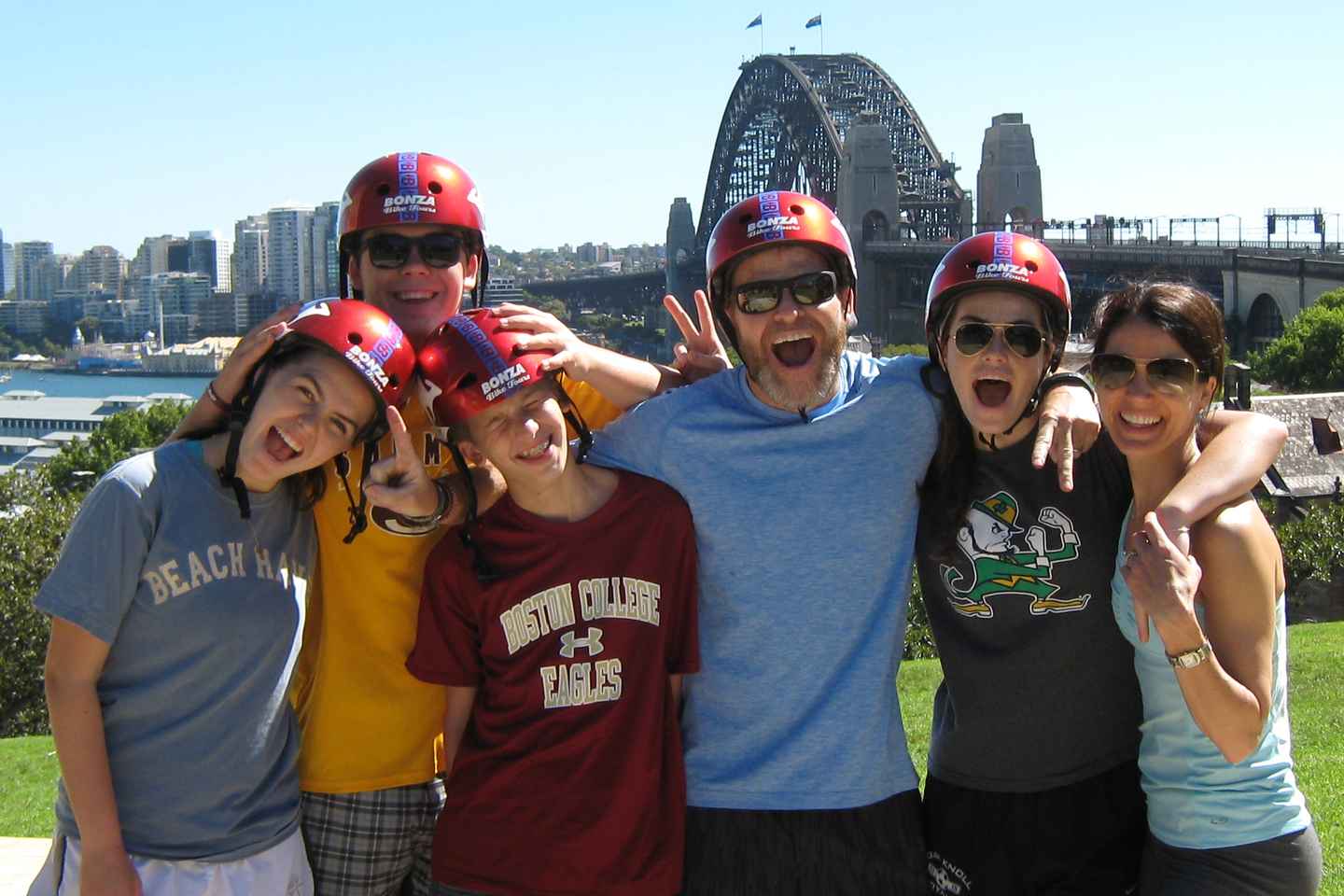 Scenic Sydney Harbour Bridge Bicycle Ride

Duration: 5 hour
Disclosure: Trip101 selects the listings in our articles independently. Some of the listings in this article contain affiliate links.
Get Trip101 in your inbox
Unsubscribe in one click. See our privacy policy for more information on how we use your data