Lying on the west coast of Florida, Tampa falls in Hillsborough County. Situated on the Tampa Bay, close to the Gulf of Mexico, this amazing city features 165 parks and pristine beaches. Tampa is the ideal holiday destination if you want to enjoy some sunshine and relax. From native wildlife, latest foods and wine trends, vintage shops to museums, historic sites, and a vibrant nightlife, Tampa is a blend of the idyllic and modern. Families with children will enjoy a visit to the Glazer Children's Museum or can observe wild animals at the Zoo Tampa at Lowry Park. Explore the Tampa Bay History Center to learn about the city's past. Franklin Street or the Tampa Riverwalk is the perfect spot for tourists interested in nightlife as they can find innumerable parks, shops, restaurants and bars here. Tampa is home to a number of theme parks, which draws several tourists throughout the year. Here's a look at some popular theme parks and amusement parks in Tampa, Florida.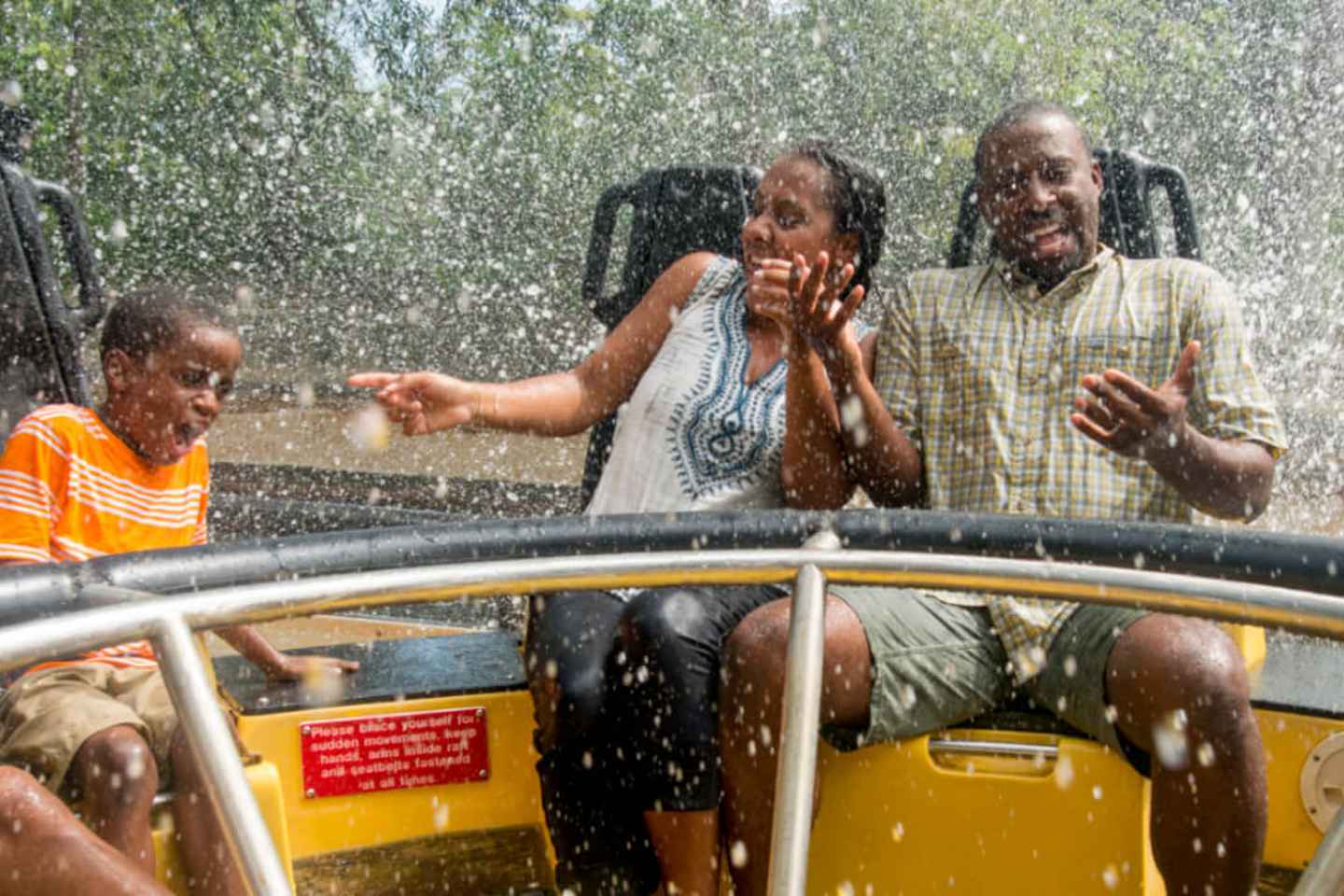 Busch Gardens Tampa Bay is a massive African-themed animal park, which is owned by the SeaWorld Parks & Entertainment. With eight roller coasters, two water rides and multiple animal attractions, this park attracts thousands of tourists, especially children throughout the year. Kids can opt for the Serengeti Express train ride, which takes them to themed stops such as Nairobi, Stanleyville and the Congo. Check out one of the largest zoos in North America, which is located in this park and features over 12,000 animals! Adrenalin junkies can indulge in zip lining or take part in a tug of war with a Bengal tiger in Jungala. Take a ride on Cobra's Curse or explore the land of dragons in the Sesame Street Safari of Fun. With a unique blend of wildlife, thrilling rides, live shows, restaurants, shops, and games, this is a perfect destination for those visiting Tampa.
Tampa: Busch Gardens Tampa Bay Ticket & Multi-Park Options
Located across the street from Busch Gardens Tampa Bay, Adventure Island is a 30 acre (12 hectares) water park featuring water rides, dining, and other attractions. Around since 1980, this tropical paradise boasts water attractions, a tree house maze, a sand volleyball court, and Splash Attack. Children can ride the Caribbean Corkscrew, which is a single-rider water slide comprising two mirrored, twin-helix tracks with a splash pool at the base. Or, kids can enjoy the Wahoo Run water slide with their parents, which will take you through four waterfalls and ends in a splash pool. The park has multiple pools such as the Endless Surf, Fabian's Fun Port, Paradise Lagoon, Rambling Bayou and the Splash Attack. Tourists can wind up their day after dining at the Surfside Café, Mango Joes', Gulf Scream Ice Cream, Island Taco Truck or the Snack Attack.
SeaWorld Orlando Theme Park Tickets
3. Qzar Laser Tag
Qzar Laser Tag in Tampa is the area's largest two-level laser tag arena. This attraction offers a 25-minute game experience and features red and green laser beams, music, FX lighting and more. It is perfect for kids as they can be effortlessly tagged and fit easily into the normal gear provided here. The advanced computer system keeps track of the number of hits by every individual and the result is given to all participants on individual paper printouts, so you can improve the scores before the next round. Travelers can head to the arcade zone featuring brand new games or can munch on pizza or chicken nuggets in the food court.
Qzar Laser Tag

Address: 7807 N Dale Mabry Hwy, Tampa, FL 33614, USA

Website: Qzar Laser Tag

Opening hours: Friday 3 pm to 12 am, Saturday 10 am to 12 am, Sunday 12 noon to 8 pm, Monday to Thursday closed

Price: 20 USD
4. Grand Prix Tampa
Grand Prix Tampa is a 15 acre (6 hectares) land, where families can take their children to experience immense fun throughout the week. With the Big Track Go-Kart track, the Family Track, the Castle Arcade, the Ropes Adventure Dome and a Miniature Golf course, this place is ideal for a fun family day out. Head to the Turbo Bungy Dome for a three-minute jumping session, or test your battling skills at the nine battling cages. The Castle Arcade is a very interesting space for all age groups, as they can spend hours and win prizes in air hockey, driving games, basketball and more. Make your way through the rope course or play a game in the fairytale-themed miniature golf course. Head to the Pit Stop Cafe to indulge in appetizers, sandwich, and hamburger baskets.
Grand Prix Tampa

Address: 14320 N Nebraska Ave, Tampa, Fl 33613

Website: Grand Prix Tampa

Opening hours: Sunday to Thursday 12 noon to 9 pm, Friday 12 noon to 12 am, Saturday 10 am to 12 am

Price: 50 USD
Formerly known as the Lowry Park Zoo, ZooTampa at Lowry Park is a non-profit 63 acre (25 hectares) zoo. It is operated by the Lowry Park Zoological Society and the tourist attraction boasts multiple exhibits, animal inventories, and children's rides. Check out the Malayan tigers and Komodo dragon at the Asian Gardens, the Orinoco crocodiles, West Indian manatees and eastern coral snakes at the Florida Wildlife Center. The African Safari is perfect for checking out reticulated giraffes, African penguins, and duikers. Experience the wild at the Main Aviary as you observe the scarlet ibises, guineafowl, Raggiana Birds-of-paradise, toco toucans, ducks, and tanagers. Children will enjoy the rides zone that has a merry go round, flying bananas, a kiddie train ride, and the Tasmanian Tiger Family Coaster. Dine at the Garden Grille with burgers, sandwiches, and salads after an exciting time at the park.
Tampa's ZooQuarium Admission

Duration: 2 to 8 hours
6. Escape Quest Tampa
The Escape Quest Tampa is perfect for an entertaining day out. You need to undertake challenging puzzles and solve riddles to escape within a stipulated time window. Guests can choose between multiple room options. You can either play in a group with friends and family or partner with strangers to complete the quest. The Riddle Room is an exciting game, where you are given the task to solve the puzzles and stop the Machiavellian plans of a wanted criminal before time runs out.
Escape Quest Tampa

Address: 6176 Gunn Hwy, Tampa, FL 33625, USA

Opening hours: Monday to Sunday 12 pm to 12 am

Website: Escape Quest Tampa
Unwind in vibrant Tampa
Tampa is a wonderful place to work, play and unwind and draws a number of tourists throughout the year. With an array of amusement parks, sporting attractions, shopping venues, beaches, vibrant business districts, waterways and a mix of historic and modern landmarks, it has something for everyone.
Disclosure: Trip101 selects the listings in our articles independently. Some of the listings in this article contain affiliate links.
Get Trip101 in your inbox
Unsubscribe in one click. See our Privacy Policy for more information on how we use your data