Montreal, the commercial capital of Canada, is the most populous municipality in Quebec province. Well-connected by air and rail to various parts of the country as well as international destinations, this bustling city is also a hub of education. There are many places to enjoy art, relish good food, and live life to the fullest when you are in this beautiful city. Accommodation options are aplenty, too, as there are great party hotels and Airbnb Plus homes in the area. This destination is a popular location for international conferences as well as music and sporting events such as the Canadian Grand Prix segment of Formula One racing. With plenty of things happening each day, the city is just as amazing by night as it is by day! Scroll down for a list of the exciting things to do at night in Montreal.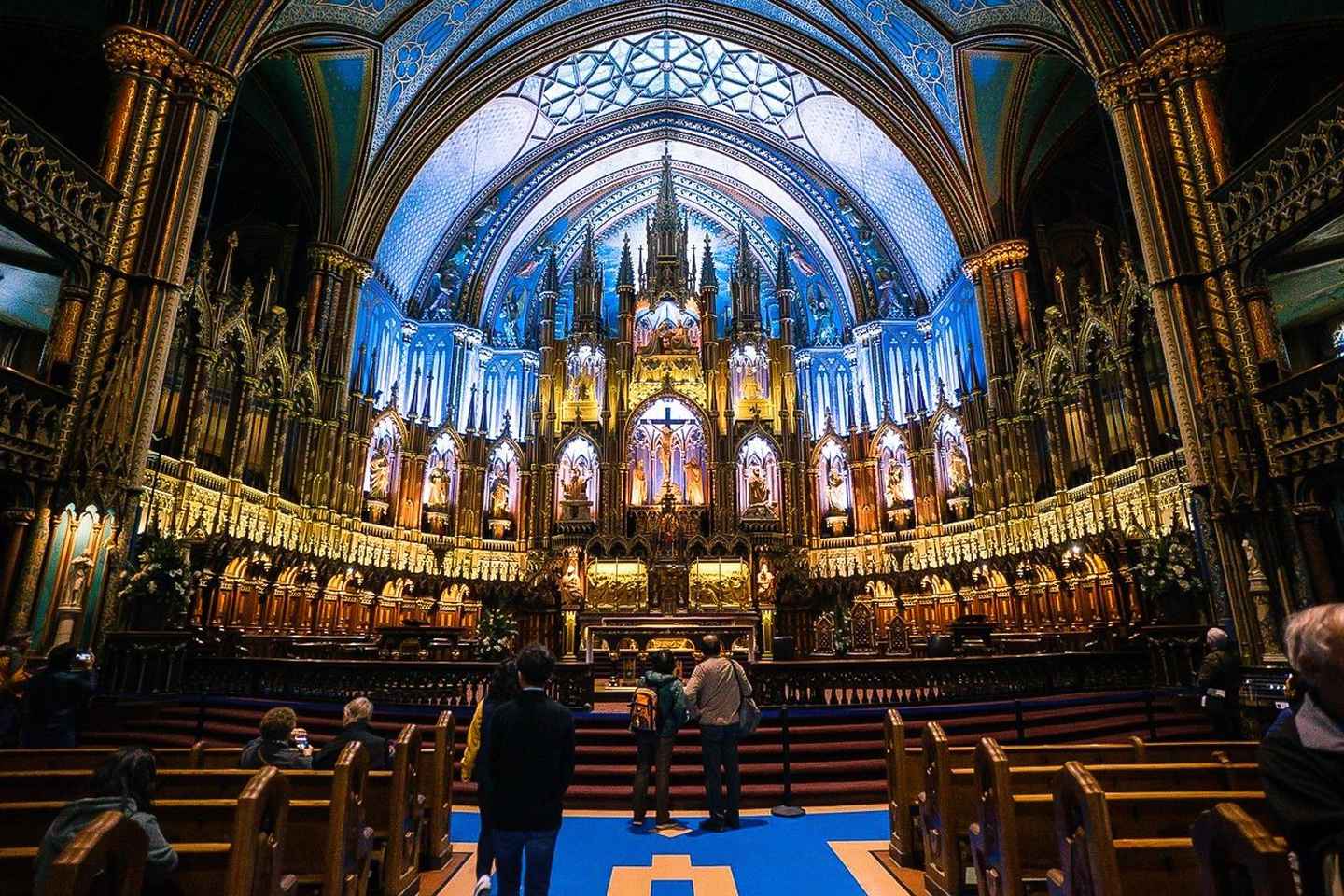 Wondering about what to do at night in Montreal? Embark on a mesmerizing journey through the enchanting streets with this group tour complemented by an exhilarating ride on La Grande Roue.
This nighttime adventure offers an unparalleled opportunity to witness the city's vibrant energy and iconic landmarks illuminated against the backdrop of the darkened sky. As day transitions into night, Montreal undergoes a magical transformation, with its architectural wonders and cultural gems taking on a new allure.
The tour's small group setting ensures an intimate experience, allowing you to immerse yourself in the guide's insightful commentary and connect with fellow travelers. The pinnacle of the tour, a ride on La Grande Roue, provides breathtaking panoramic views of the city's twinkling lights, creating an unforgettable memory etched against the canvas of the night.
Duration: 3.0 hour
2. Catch a live performance at Place des Arts
A popular evening activity in Montreal is to catch a live performance at Place des Arts - a cultural haven steeped in history and vibrancy.
Established in 1963 as the epicenter of Montreal's artistic expression, this iconic complex has played host to countless performances, exhibitions, and events, embodying the city's rich artistic heritage. From its inception, it has been a sanctuary for music, dance, theater, and visual arts, captivating audiences with its diverse programming and stunning architecture.
By day, visitors can explore its multiple theaters, galleries, and outdoor spaces, each showcasing the talents of both local and international artists. However, the true magic of Place des Arts comes alive at night. As the sun sets, the complex transforms into a luminescent hub of entertainment and enchantment. The illuminated facades, captivating light installations, and bustling energy of the surrounding Quartier des Spectacles create an atmosphere that is nothing short of captivating.
Place des Arts

Address: 175 Sainte-Catherine Street West Montreal, Quebec H2X 3X5

Website: Place des Arts
Interested in spending your evening drawing and listening to live music? Enhance your creative skills by sketching a nude model in a soothing cafe environment. The room has pillows and dimmed lights to match the mood, and the live music adds to the relaxing vibe of the place. Whether you have been drawing for a while or you are just starting your art journey, this is the perfect time to practice your skills. This will be an effortlessly invigorating experience.
Duration: 2.5 hours
One of the interesting places to visit in Montreal at night is its downtown and the old red-light district of the city. Explore the area's history and hear fascinating stories about events and crimes that happened around these parts. You will see the vibrant Chinatown as part of the tour before proceeding to the famous entertainment district of Montreal. Discover the rich history of the city that led to its nickname: Sin City of the North. There are so many exciting new things to learn about Montreal, and this walking tour will definitely pique your interest.
Duration: 2.5 hours
Don't know what to do at night in Montreal? Head up to Mount Royal Park! This city derives its name from a mountain made out of volcanic rock that towers over the city. The mountain sits in Mount Royal Park, a sprawling green space designed by Frederick Law Olmsted, the landscape architect who also designed New York's famous Central Park. Walking up to the summit of Mount Royal through one of many routes through the park, especially in the middle of the night, is an unforgettable experience.
Mount Royal Park

Address: 1260 Remembrance Road, Montreal, Quebec H3H 1A2, Canada

Website: Mount Royal Park

Opening hours: 6am -12am

Price: Free
Duration: 1 hour 30 minutes
6. Laugh a while at The Comedy Nest
Editor's Note: Photo taken from the establishment's official social account
Smile away your blues at Montreal's popular comedy club, The Comedy Nest, where you can catch some of the established comics from across North America. Doors open about 45 minutes before showtime and give you the chance to down with a few drinks at the bar and to fuel up with some light snacks. The 90-minute show usually features local talents as openers, so if you're looking for fun night activities aside from nightclubs in Montreal, check it out!
The Comedy Nest

Address: Montreal Forum, 2313 Saint-Catherine St W 3rd Floor, Montreal, Quebec H3H 1N2, Canada

Website: The Comedy Nest

Opening hours: Wed - Fri, Sun: 7:15pm - 9:30pm; Sat: 7:15pm - 12am (closed on Mon & Tue)
7. Play arcade games at Arcade MTL
Editor's Note: Photo taken from the establishment's official social account
Spend the night at this hip, brick-wall bar featuring a range of vintage arcade games. Take up challenges and unwind with friends or family in an intimate setting in the Latin Quarter of Montreal. The arcade often hosts tournaments that are extremely popular with the young and old alike. Beer is available, so order a round of drinks and play!
Arcade MTL

Address: 2031 Saint-Denis Montreal, Quebec H2X 3K8

Website: Arcade MTL

Opening hours: Tue - Sun: 5pm - 2am (closed on Mon)
8. Eat dinner at Nouveau Palais
Editor's Note: Photo taken from the establishment's official social account
Drop by Nouveau Palais for some excellent comfort food. A favorite among locals for brunch and dinner, this cozy restaurant is not to be missed. Enjoy a range of salads, soups, and mains, including pizza and specials for dinner. They have a midnight menu, which is great for those who get late-night cravings for a burger with a side of cheesy fries.
Nouveau Palais

Address: 281 Rue Bernard Ouest, Montréal, QC H2V 1T5

Website: Nouveau Palais

Opening hours: Tue - Sun: 5pm - 10pm (closed on Mon)
9. Take a tango lesson at Dance Conmigo
Editor's Note: Photo taken from the establishment's official social account
Unleash your love for dance with an exciting private tango lesson at this professional studio. Dance the night away with Alain and Cheryl as you learn the finer nuances of this sensual dance form. You can also opt for a private lesson in a public space to help you get over your fear of dancing in public.
Dance Conmigo

Address: 9 Rue Sainte-Catherine E #2, Montréal, QC H2X 1K3, Canada

Website: Dance Conmigo

Opening hours: Mon - Fri: 1pm - 10pm; Sat - Sun: 1pm - 8pm
10. Watch a midnight screening at Dollar Cinema
Editor's Note: Photo taken from the establishment's official social account
Enjoy the old-world charm of an inexpensive movie theater at the Dollar Cinema. Pay for your ticket, add a dollar's worth of popcorn or soda, and settle in for the next couple of hours. Dollar Cinema has two theaters and a lobby where you can get your tickets and refreshments. The theaters also host live performances such as concerts and circus acts on a regular basis.
Dollar Cinema

Address: 6900 Décarie Boulevard, Montreal, Quebec H3X 2T8

Website: Dollar Cinema
Love action movies? Feel like your favorite action star by taking part in the thrilling experience of ax throwing. Interestingly, this fun late-night activity in Montreal is considered a sport. You will get the opportunity to learn different techniques of knife and ax throwing to have a more pleasurable experience. You will even have a chance to throw different types of knives and axes. Have a thrilling time learning this popular Canadian sport.
Duration: 1 hour
Enjoy rejuvenating treatments at this unique floating spa. Situated in the Old Port of Montreal, this spa is housed in a historic river ferry boat. Relax in the sauna as you look out at the twinkling city lights in solitude. After your treatment, savor flavorful dishes made from fresh organic produce at the elegant restaurant adjoining the spa.
Bota Bota Spa

Address: Old-Port of Montreal McGill Entrance, Corner of De la Commune and McGill

Website: Bota Bota Spa

Opening hours: 9am - 9:40pm (daily)
Duration: 6 hours
There's nothing like a river cruise with a dinner to spice up your vacation. Relish a sumptuous, five-course dinner as you sail down the St Lawrence River on a cruise ship. Take in the stunning views of Montreal and its neighboring islands as you feast in one of three glass-enclosed dining rooms. After dinner, enjoy dancing on the open terrace as the DJ plays all the latest music. Seeing the beauty of Montreal from the water with the starry sky above is something you will cherish forever!
Duration: 4 hours
Through this Airbnb Experience, you will be able to appreciate authentic Thai food. A delectable seven-course set menu will be served for a real fine dining experience. Explore the magical and unique flavors of Thai cuisine and discover what makes it so popular. After your delicious meal, you will head up to the roof terrace to view the magnificent sunset. This is a dining experience that will definitely make your vacation more splendid.
Duration: 2 hours
Have fun in Montreal
Since you are already aware that the fun and excitement that Montreal offers are not limited to theme parks and clubs, book the trip now. There are plenty of wonderful things to do in Montreal, both in the light of day and the cover of the night. This is just a short compilation of the wonderful late-night activities in Montreal. Be sure to put these on your itinerary for a feel of the city!
Disclosure: Trip101 selects the listings in our articles independently. Some of the listings in this article contain affiliate links.
Get Trip101 in your inbox
Unsubscribe in one click. See our Privacy Policy for more information on how we use your data