Santa María Huatulco is a town in Oaxaca, Mexico and the meaning of Huatulco is, "where they worship the tree". Its ecosystem is comprised of lowland deciduous trees and includes mahogany, cedar, cashew and many other species. It also has plenty of wildlife, including squirrel, opossum, skunk, raccoon, coati, ringtail, armadillos, ocelots and white-tailed deer.
The weather here in Huatulco is tropical, with a wet season from June to October and a dry season, from November to May. A small, pretty and very clean town, Huatulco is surrounded by the foothills of the Sierra Madre del Sur and the rugged terrain of the area divides the coastline into numerous isolated bays (bahías) and beaches (playas). Huatulco is close to 36 beaches and 9 bays. And a range of amazing accommodation options are also available here - from the top Vrbo vacation rentals to the best Airbnb vacation rentals in Huatulco. For the best time, check out these things to do in Huatulco, Mexico.
1. Spend a day at Hagia Sofia
Editor's Note: There's no photo available at the time of writing
For nature lovers, a trip to Hagia Sofia while in Huatulco should be in order! This is the town's loveliest agro-ecotourism park located 30 kilometers (18.64 miles) to La Crucecita and 9 kilometers (5.59 miles) to Santa Maria Huatulco's northwest. It boasts of a huge organic fruit orchard that offers seasonal fruit tasting of Mangosteen and Rambutan. Explore the 500-meter (1640-foot) long Exotic Flower Trail. It's a riverside trail where you'll see 60 types of exotic tropical flowers, 60 bird species, and 300 kinds of butterflies. Take a splash into the La Campana Waterfall and Magdalena River. For adventure seekers, ride one of their zip lines that go across the river and property while you are 100 meters (328 feet) above ground.
Hagia Sofia

Address: Oaxaca K.m 38, Santa María Huatulco, Oax., Mexico

Website: Hagia Sofia

Opening hours: By appointment

Price: From 67.49 USD
2. Enjyo a meal at Kayuko's Restaurant
Editor's Note: Photo taken from the establishment's official social account
Ven te invito a kayukos Tacos Torito 🤤🤤 . . . #deli #kayukos #samahua #shrimp #seafood #tocino #chilejalapeño #tasty #foodextasy

Posted by Kayuko's on Monday, March 9, 2020
Kayuko's will easily satisfy a hungry tummy with its diverse menu of trendy and Mexican dishes. Drop by on a Wednesday and enjoy their super promo that includes pizzas that come in a variety of flavors. Their menu offerings also include burritos, rice bowls, Mexican specialty dishes, hamburgers, pasta, sushi, and ceviches. This family-owned and operated bar and restaurant also serves handcrafted cocktails and drinks and some original chef's recipes. They have a lovely dining atmosphere where most of it is outdoors in a patio-like setting. Enjoy your meals under the shade of trees with dining tables made from roughly cut tree stumps and wicker high-chairs for that rustic Mexican feel.
Kayuko's Restaurant

Address: Dr Jarquin #8, Santa Cruz Huatulco, Huatulco Mexico

Website: Kayuko's Restaurant

Opening hours: Sun: 11am - 6pm; Mon - Tue & Thu: 11am - 7pm; Wed: 11am - 9pm; Fri - Sat: 11am - 10pm
3. Have a fun night out at Karaoke & Bar La Frontera
Editor's Note: There's no photo available at the time of writing
This karaoke and bar establishment is open every day from 3 pm until late in the evening to provide folks with musical entertainment done the Mexican way. Drop by and listen to live bands perform pop-rock music while singing Spanish classical songs. While you are listening to joyful music, indulge in the best-tasting ribs and meats in town. They serve hot chicken wings, delicious pork ribs, costillas, and the famous Tlayuda. Wash them down with a Corona or Victoria Beer! It's an entertaining place to bring your family and friends!
Karaoke & Bar La Frontera

Address: Calle Díaz Ordaz 179, Del Panteón, Hondura del Toro, 70980 Santa María Huatulco, Oax., Mexico

Website: Karaoke & Bar La Frontera

Opening hours: 3pm - 11pm (daily)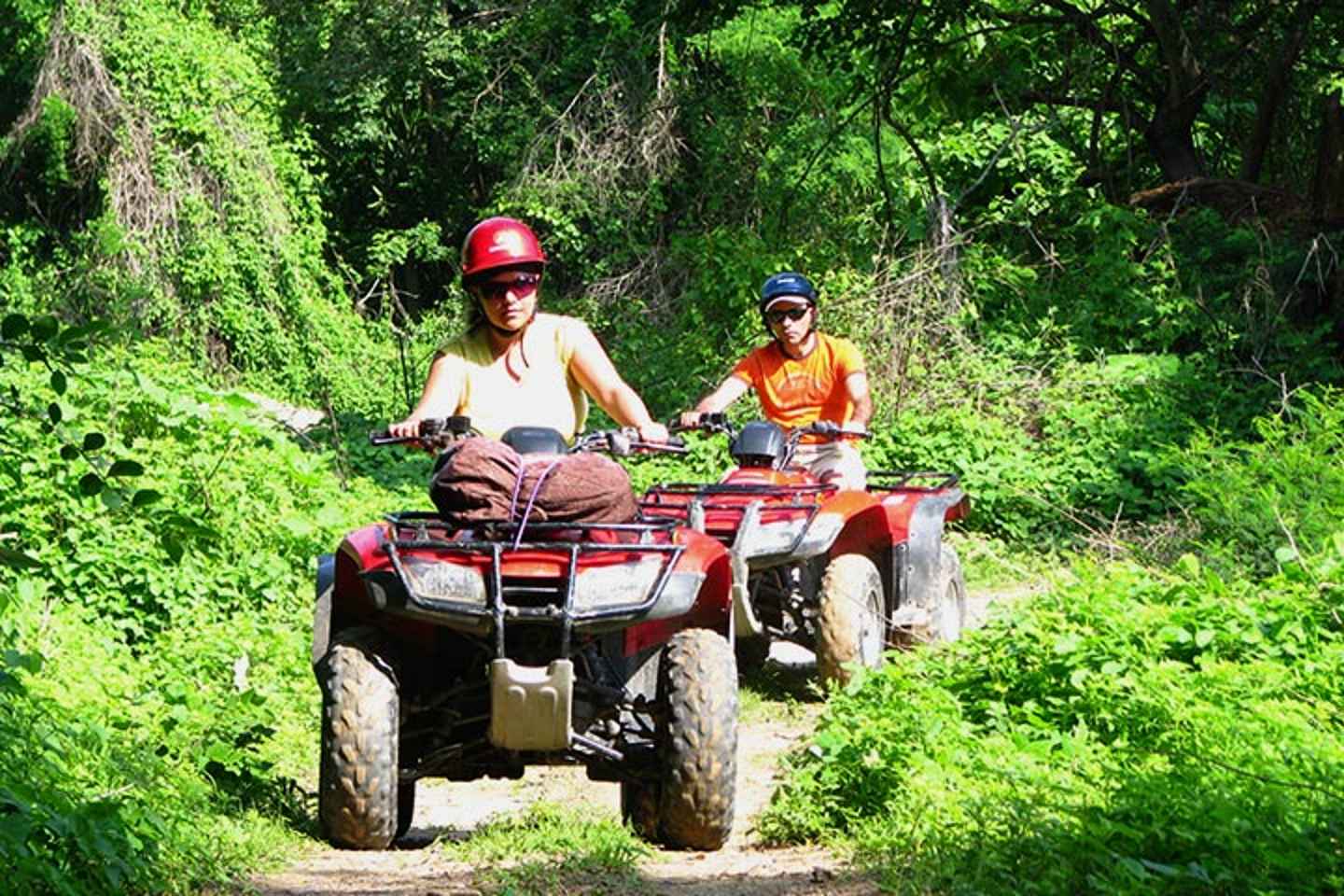 The Sierra Madre del Sur mountain range is well-known for its rocky terrains framed amidst gurgling waters and cascading falls - what better way to explore this natural wonderland than to take an ATV tour through the countryside? Once you pass by the fragrant coffee plantations and the various butterfly farms, the sights of stretching mountaintops greet you from afar.
Look out for the famed Finca la Gloria, where the magic of how your daily coffee is made will be revealed to you. End your day with a refreshing sight of the Llano Grande waterfall - bathed in the light of the sunset, you can slowly make your way back on the ATV!
From Huatulco: Full-Day ATV Tour to the Waterfalls

Duration: 8 hour
5. Get the thrill of ziplining
If you're wondering what to do in Huatulco, why not go ziplining? Get ready to take the ride of your life, 1900 ft (600 m) high, up in the trees. Experience flying over trees and witnessing an incredible view. The view alone is spectacular and worth getting over any fear of heights! The excursion is very safe and the guides are very serious about your safety. All harnesses and equipment used are up to code and every three years new equipment is purchased.
You will have two zip line drops and the entire trip takes under two minutes! But the experience will last you a lifetime of memories.
Tree Top Zip Lining | Huatulco Tours & Activities

Address: Blvd Benito Juarez S/N | Plaza Chahue Local 9 Bahias De Huatulco, Oaxaca | C.P. 70989
Huatulco National Park (HNP), is also known as Bahias de Huatulco National Park and is a national park of Oaxaca, Mexico, declared a protected area and a National Park in July 1998. In the lowlands of the park, there are 9,000 species of plants in the forest and mangroves in the coastal belt.
There are around 264 fauna species, which include such animals as the armadillo and white-tailed deer. There are also several bird species, including hummingbirds, pelicans, and hawks, and over 470 types reptiles, such as the Black Iguana, salamanders and snakes. There have been numerous dolphins, whales, and turtles sighted off the coast, as well. Exploring all the sights of this national park is one of the top things to do in Huatulco.
It's a beautiful, natural way to explore Huatulco. The park does have a public beach where you can picnic and enjoy the water. A great way to spend a day!
Huatulco National Park Cruise with Maguey Bay Snorkeling

Duration: 7 hours
Huatulco is an earthly paradise. Enjoy the sea breeze as you soak up the sun on any of Huatulco's nine bays. Together, this area is known as Bays National Park and is a protected reserve. Each bay displays natural beauty, in its own way. Take a catamaran tour to two of the bays, the Bay of La India and the Bay of Maguey.
Here you can enjoy diving off of reefs, snorkeling, and swimming and enjoy a traditional Oaxacan seafood lunch, baked in clay pots. It's a beautiful way to spend an entire day, learning about the communities of the Oaxacan coast, their traditions and customs.
Huatulco Bay: Bahías Boat Tour & Snorkeling Experience

Duration: 7 hour
If a full day is not appealing to you, but you still want to explore the Bays of Huatulco, then this may be more of what you are looking for. Enjoy a three-hour tour of the seven bays, aboard a catamaran, and still be able to snorkel, swim, and enjoy some beach time. During one of your many breaks, you can also enjoy fresh seafood at several restaurants along the way.
This relaxing, sun and sand-filled journey will have you wishing you could be out longer. You will be able to collect seashells, lounge on the beach, and see some breathtaking scenery as you move from bay to bay to bay.
Private Tour Seven Bays, Huatulco HT

Duration: 3 to 4 hours
9. Relax at the beach
If you're looking for Huatulco, Mexico beaches where you can enjoy reading, relaxing and listening to the waves, then you must visit Playa de San Agustín. Playa de San Agustin is a relaxing and quiet beach. If a crowded beach is not your style, Playa de San Agustin has the space to spread out. With its dark-coloured sand, you can take advantage of having a pleasant and tranquil place to relax.
Playa de San Agustin has ideal conditions for snorkeling and scuba diving, with excellent seafood restaurants and a selection of cafés, bars, and shops.
Playa de San Agustín

Address: Huatulco, Oaxaca, Mexico
10. Explore the secluded Bahia de Cacaluta
Bahia de Cacaluta or Cacaluta Bay is a hidden gem in Huatulco. It offers a respite from the crowded beaches of the region and you can enjoy a range of activities at this secluded bay. It has a soft sandy beach that is ideal for sunbathing or beach-bumming. The azure waters of the bay have an abundance of marine life that you can explore via snorkelling. Access to the beach is via a short hike through a jungle or a boat ride.
Bahia de Cacaluta

Address: T, 70987 Crucecita, Oax., Mexico
11. Admire the beauty of Cascadas Magicas
Photo is only for illustrative purposes
Meaning 'Magic Waterfalls', Cascadas Magicas is a popular attraction in Huatulco. This multi-tiered waterfall is great for swimming, spending time in nature or enjoying a picnic with friends and family. The access to this waterfall is via a dirt road but makes for a great spot to spend a few hours or an entire day. Kids will love frolicking in the shallow water while adults can enjoy a cool swim in the deeper spots. Plenty of native flora can also be observed here.
Cascadas Magica

Address: Cascadas magicas acceso, San Miguel del Puerto, Oax., Mexico

Opening hours: 8am - 9pm (daily)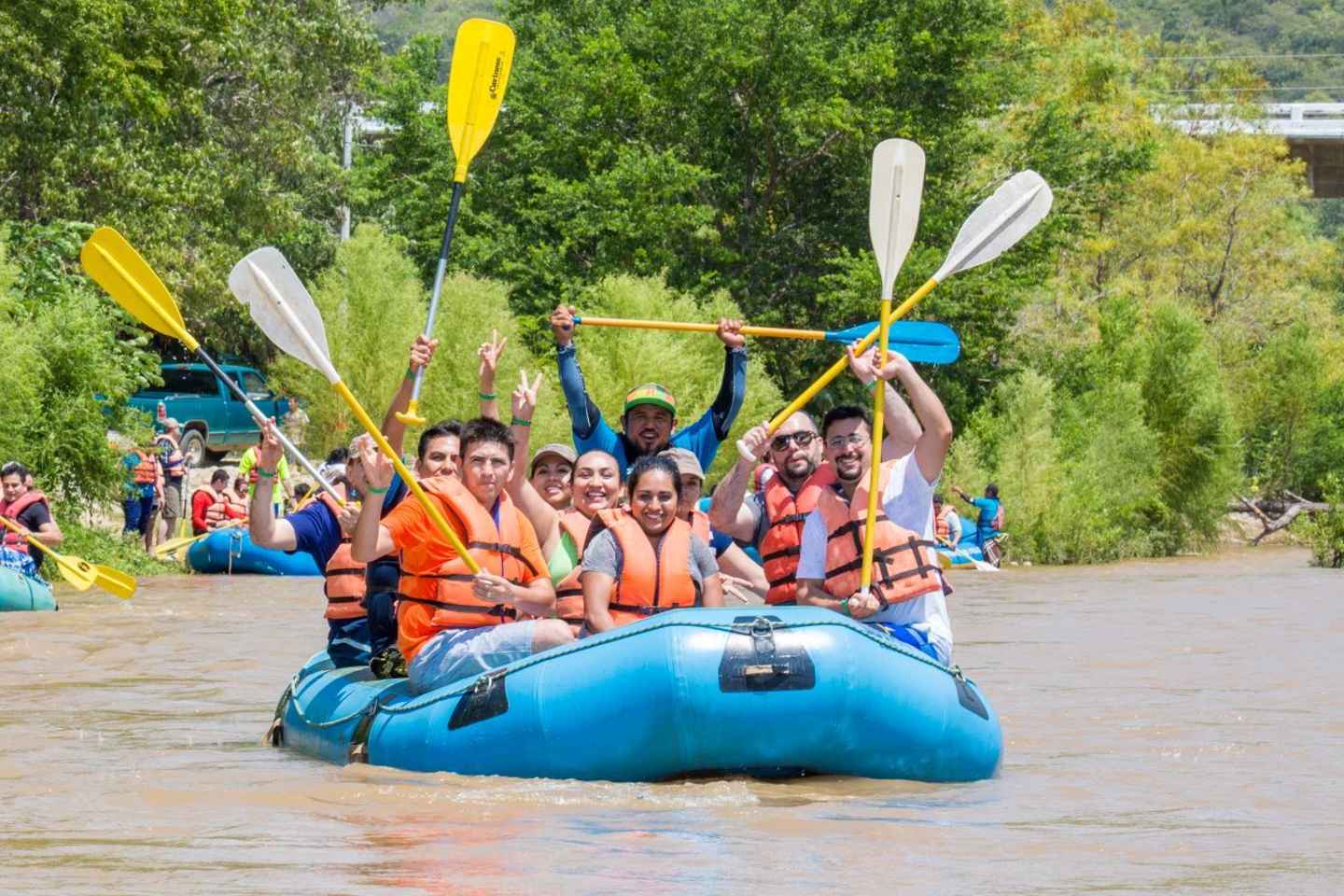 With 36 beaches to explore, as well as rugged terrain, why not bring a little adventure to your vacation. Zona de Aventura Extrema is the place to bring your family for some fun. If you're looking for adventurous Huatulco activities, then this is the place to be. Choose between white water rafting, rappelling and ziplining. No need to worry about safety or security at Zona de Aventura Extreme. Under their professional guides, your entire family is in a safe and secure environment and will show you the best adventure of your vacation.
Huatulco: Rafting, Snorkelling and Scenic View Tour

Duration: 5 hour
Be happy in Huatulco
With the pleasant climate of Huatulco, it means that most of the year will be sunny and perfect for many different outdoor activities. There are truly too many exhilarating activities you can take part in, during your visit. So, if you're an adventurous tourist, Huatulco may be the best destination for you!
Disclosure: Trip101 selects the listings in our articles independently. Some of the listings in this article contain affiliate links.
Get Trip101 in your inbox
Unsubscribe in one click. See our privacy policy for more information on how we use your data