Colorful, historical, and with an aesthetic vibe – Cinque Terre can truly captivate a traveler's heart. Scenic views of the sea, hills, and five villages await you when you visit Cinque Terre. Each of the five villages is picturesque in their own right and has a lot to offer travelers. Cars are not allowed in the villages, so visitors can maximize their sightseeing as they trek between the towns. You can opt for a one-day up to a seven-day Cinque Terre card for a reasonable price, as all trails in the area require tickets. Once set, get ready to marvel at this UNESCO's World Heritage Site and unveil the gems hidden in this region. Check out these top things you can do in Cinque Terre, Italy.
Get ready to be mesmerized by the breathtakingly beautiful sights of the Cinque Terre while you are lounging on the sun deck of a traditional Liguarian gozzo.
A perfectly curated tour for lovers of the sea, this boat sails away calmly on the azure waters and passes by the famous coves and brightly colored houses of Riomaggiore. You can drink wine and eat focaccia with homemade pesto while the friendly guide recounts to you interesting stories about the history of the five villages.
Duration: 2 hours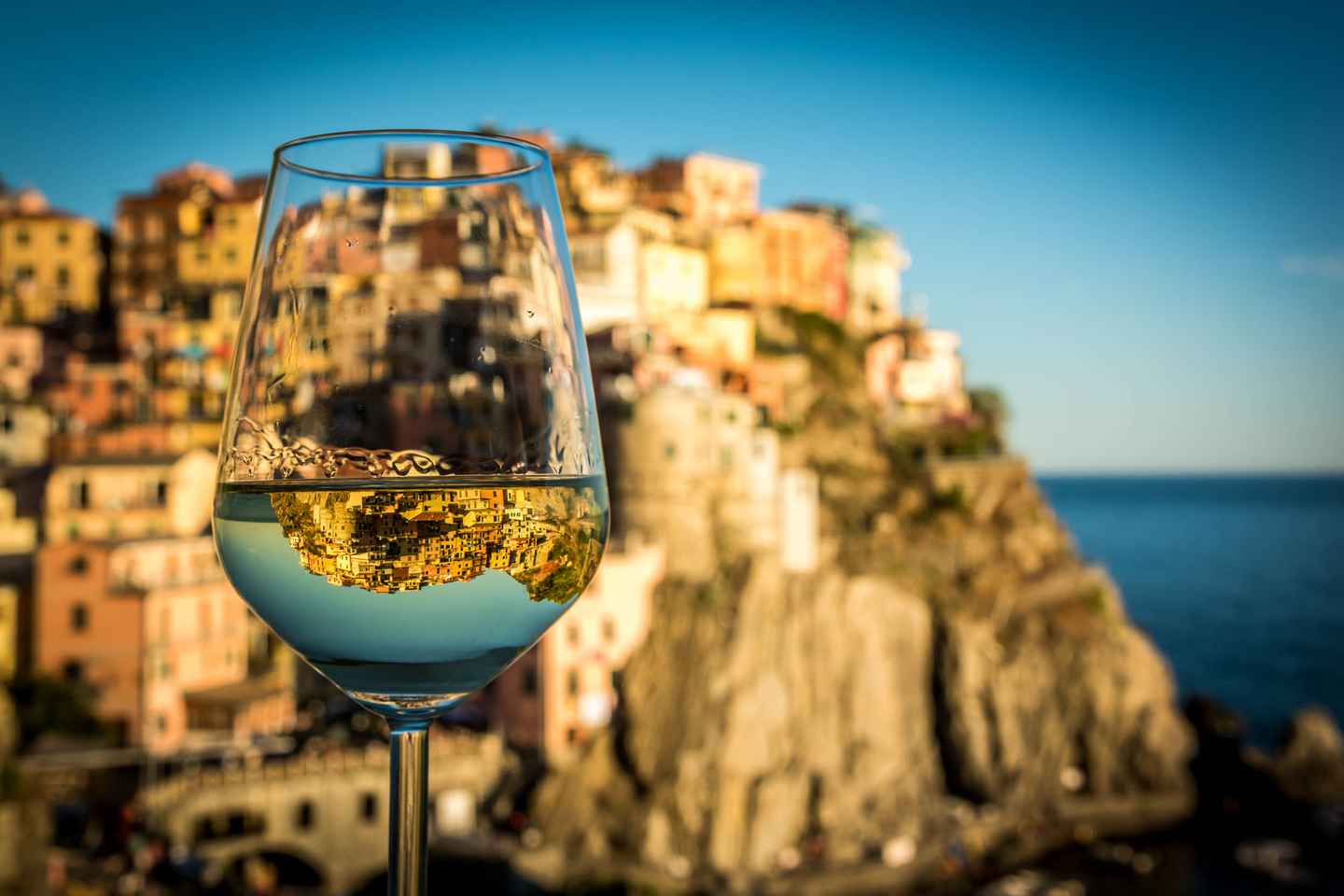 Savor the best-ever wine in Manarola with three different Cinque Terre white wines on this unique wine-tasting tour. The wine poured from different cellars is accompanied by delicious Ligurian focaccia and Taggiasca olives in the midst of music and lights which makes this tour all the more magical.
An English or Italian-speaking professional sommelier will keep you company and entertain you with amusing anecdotes of the land while you take a stroll in the picturesque vineyard up to the endpoint in Manarola.
Duration: 1.5 hour
On this private boat tour of the Cinque Terre, you get to witness the most spectacular sunset of your lifetime. This small group tour of six people strives to deliver a personalized and intimate experience to all its guests.
You can sip on an aperitif or have a refreshing dip in the water. Don't forget to click that perfect shot of the magical sunset for your Instagram. Boarders are advised to bring a jacket with them as the temperatures start to drop during nighttime.
Duration: 3 hours
If you are a fan of pasta and have always wondered about how to rustle up that perfect pasta in the kitchen, here is your chance to learn it from a local chef.
This culinary workshop runs for a half day in the home of a chef in Riomaggiore. While you enjoy a personalized chat, you also get hands-on instruction in mastering two pasta recipes and tiramisu. You can sip on a glass of complimentary Prosecco and nibble into tasty munchies while you cook up a storm in the kitchen.
Duration: 3 hours
5. Feel what it was like in the Middle Ages at Monterosso Old Castle
The oldest and the biggest village in Cinque Terre, Monterosso is divided into an old and new village. Sounds interesting, right? Monterosso's old village is home to the well-known Old Castle. This historical edifice dates back to the Middle Ages and was used as a defense system by the Genovese. Even if only a few elements of this historic structure can be seen today, what's amazing about this castle is that it's built on the seashore, so you'll have a feeling of what it was like in the Middle Ages.
Monterosso Old Castle

Address: Cinque Terre, Italy

Website: Monterosso Old Castle
6. Savor the solemnity at the Convent of the Capuchin Friars
Monterosso's Convent of the Capuchin Friars is not only a famous landmark in Cinque Terre, but it's also a cradle of devotion for its populace. The Capuchin Friars have established a good reputation and have been trustworthy spiritual references for the community. The locals of Monterosso have a high respect and veneration for this structure and this makes tourists appreciate this place of worship more because it has maintained its solemn feel.
Inside the convent are famous works of art, such as Van Dyck's "Crucifixion", Luca Cambiaso's "Saint Girolamo the penitent", and Strozzi's "Veronica", intricately displayed on the convent's ceiling.
Convent of the Capuchin Friars

Address: Salita dei Cappuccini, 19016 Monterosso al Mare SP, Italy

Website: Convent of the Capuchin Friars
7. Marvel the breathtaking view of Vernazza at Doria Castle
Built on a steep hill, Castello Doria or Doria Castle in Vernazza is worth the hike and the small admission fee. Its ruins are visibly obvious and this historical edifice dates back to the Middle Ages. The path up to the castle begins inside the city gate. If you go through outside the gates, it will only lead you to the hills behind the castle. Just another tip, take note that's there's no bathroom or water station inside the castle, so be sure to bring a bottle of water for hydration.
Be sure to explore the rooms inside the castle and don't miss going up to the tower, locally known as Belforte. This tower, which underwent rigorous restoration, showcases a breathtaking view of Vernazza.
Doria Castle

Address: 19018 Vernazza, SP, Italy

Website: Doria Castle
8. Be amazed by the picturesque view of the coastline and greenery at Punta Buonfiglio
A viewpoint in Manarola, Punta Buonfiglio is situated on a rocky ridge. There are not many activities that can be done in this area, but it's very peaceful and offers a picturesque view of the coastline and surrounding greenery. It's also a great place for a picnic with the family. There's a rest area, a kids' playground, and a handicraft shopping center.
Once in Punta Bonfiglio, you can also visit the ruins of an old chapel. It is said that this chapel was once used as a shelter by primitive farmers.
Punta Buonfiglio

Address: Manarola, Italy

Website: Punta Buonfiglio

Opening hours: 10am - 4pm (daily)
9. Visit the village of olive trees
Volastra, which means the "village of olive trees", is a simple village in Manarola where one of the sanctuaries of Cinque Terre can be found. The Sanctuary of Nostra Signora della Salute, also known as the Sanctuary of Our Lady of Health, is located on a hilltop village in Volastra. This Romanesque-Gothic themed structure was built as early as the 12th century and its façade has square blocks and a Gothic mullioned window. The Feast of the Sanctuary is celebrated every first Sunday of August and tourists often go to this place for reflection.
Sanctuary of Nostra Signora della Salute di Volastra

Address: Via N.S. della Salute, 19017 Volastra SP, Italy

Website: Sanctuary of Nostra Signora della Salute di Volastra
10. Ever wondered what it's like to be at a nude beach? Visit Guvano Beach
Guvano Beach is a nude beach, but don't get too concerned because wearing clothing is optional here. If you're the conservative type, you can still wear your clothes. Getting to Guvano Beach is a bit challenging. From the Corniglia train station, you need to go through an abandoned railway tunnel and make the steep descent to reach the beach.
Guvano is not like other beaches with a long and wide shoreline, but it offers turquoise waters and a serene feeling. Of course, it's a nude beach, so it is a bit hidden, but if you're curious and adventurous enough, don't hesitate to visit this place. Needless to say, once you get here, it should be your full obligation to respect other people's privacy.
Guvano Beach

Address: Ugento, 73059 Torre San Giovanni LE, Italy
Get a first-hand experience in making authentic Italian pesto at the cooking class at La Spezia. Morning and afternoon options are available for this activity. You will be assisted by a professional chef in the comfort of his/her seafront home. Get your mortar and pestle ready, use fresh basil and pine nuts and enjoy a plate, or more, of your delicious creation.
Duration: 2 hours
12. Stroll on one of Italy's best beaches -- Fegina Beach
Regarded as one of the most beautiful beaches in Italy, Fegina Beach boasts a pristine beach with lovely pebbles. From the shoreline, you'll get an amazing view of Cinque Terre's villages against a picturesque backdrop of the mountains. The best time to stroll along the beach is during sunset, as it will give you a dramatic view that you will surely treasure. Here, the sea is so clean, which can be attributed to the beach's good management. Its cleanliness, location, and view make it a great tourist attraction. So, when in Italy, visit this beach for a fun and memorable stroll.
Fegina Beach

Address: Cinque Terre, Italy
If you are fond of tasting locally-produced wine from the places you visit, don't miss the opportunity when you're in Cinque Terre. With its rich coastal vineyards and winery spots, especially in Manarola Cinque Terre, you will truly have a delightful wine tasting experience.
Take a break from the hour's trek and sip locally-produced wine and even talk to the winemakers. This wine tasting in Manarola provides travelers morning and afternoon options and is limited to eight people only.
Duration: 1 hour 30 minutes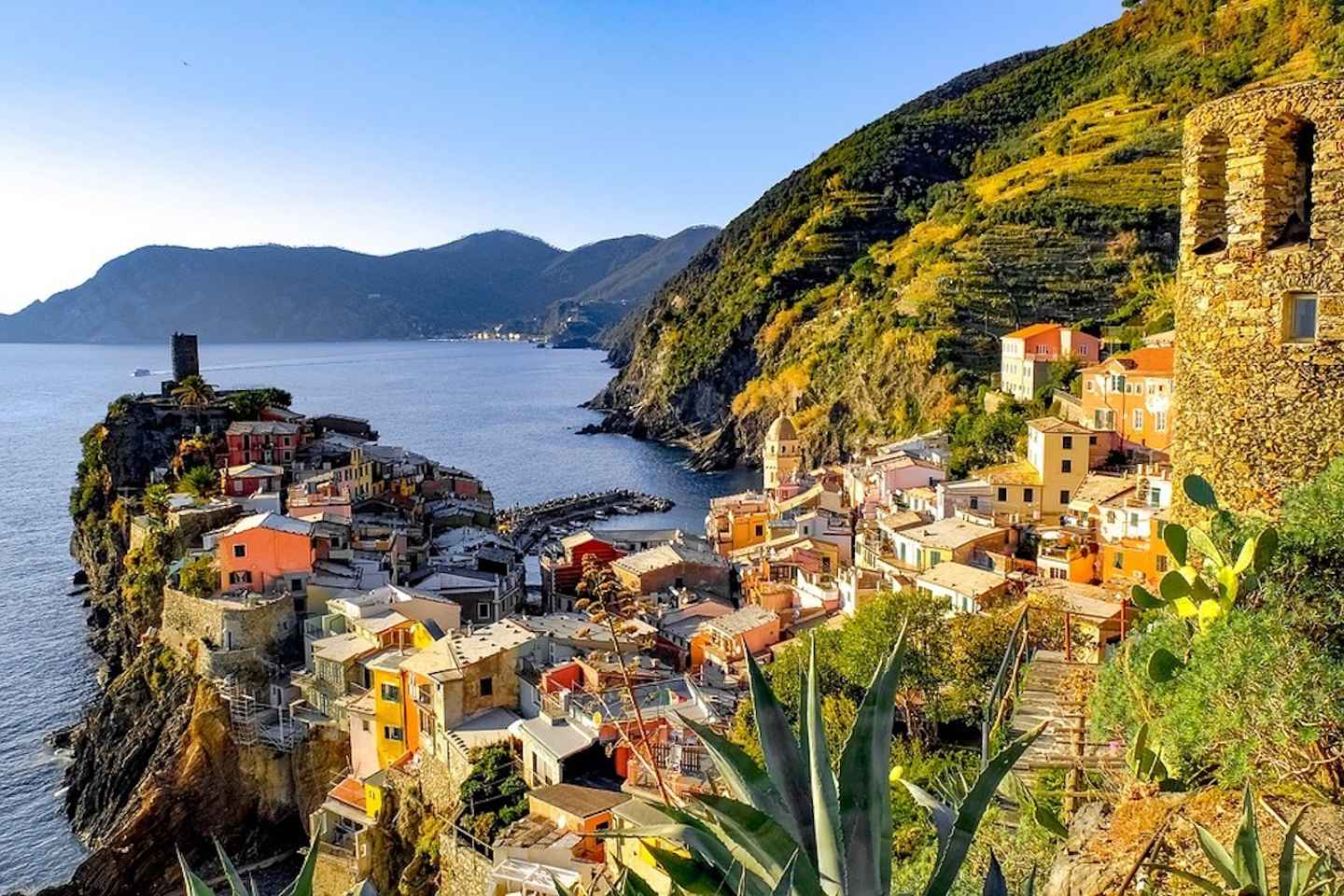 From Florence, take the 8 am ride heading to Cinque Terre in Maranola. Enter the national park and start hiking to Corniglia village. At the cliff top, be mesmerized by the majestic view of the sea and the hillside surrounding it. From Corniglia village, the next stop is Vernazza village, where you can have fun sitting in one of their cozy bars and cafes. You can even have a quick dip at the beach.
From Corniglia village, you'll take a fast train ride to the northernmost village of Cinque Terre, Monterosso. It is the only village among the five villages in Cinque Terre with a large sandy beach. Who can resist its beauty? The next thing you'll know, you'll be basking in bliss under the sun and enjoying a dip at the beach. Want some more romance? One of the trails of Cinque Terre will reopen in 2023 and it is the infamous Via dell'Amore or "Lover's Lane", which was closed for 7 years when a landslide occurred in 2012. It used to be the most promising romantic site in all of Cinque Terre. Lovers can soon have their pictures taken at its famous lover sculpture.
Duration: 12 hour
Cinque Terre is more than just a UNESCO World Heritage Site
With its historical and spiritual edifices, pristine water, delectable food, and vibrant people, Cinque Terre is absolutely one place you won't want to miss in Italy.
Disclosure: Trip101 selects the listings in our articles independently. Some of the listings in this article contain affiliate links.
Get Trip101 in your inbox
Unsubscribe in one click. See our Privacy Policy for more information on how we use your data