Nesting in southwestern France is Cognac, a stunning French territory that features natural landscapes, a rich culture, interesting museums, and iconic landmarks. Its name is derived from the famous brandy called Cognac since it is made and crafted in this town. While you're here, be sure to visit the Royal Castle of Cognac and marvel at the beauty of this medieval architecture. If you're into touristy stuff, like sightseeing and museum hopping, be sure to swing by the fascinating Musée des Arts du Cognac and Musée d'Art et d'Histoire. Additionally, this place is not only a paradise of remarkable attractions but it is also a haven of excellent eats. You might want to try as many restaurants in Cognac as possible for a taste of France. For a more in-depth guide, here is a list of the best things to do in Cognac, France. Feel free to browse below.
One of the most visited landmarks in Cognac, France is the Royal Castle of Cognac. This iconic structure has undergone several renovations, but it was originally built in the 10th century. If you want to explore this majestic castle, you might be interested to join this tour package offered by Viator. Through this tour, you will be able to see one of the oldest castles in the world. With the help of a knowledgeable guide, you will also understand more about the history of Cognac and the life of the royals who lived here. Plus, included in this experience is a fantastic tasting of premium drinks, XO Gold and Baron Otard VSOP.
Chateau Royal de Cognac Tour with Tasting in Cognac

Duration: 1 hour 15 minutes
2. Gorge on exquisite French delicacies at Le Bistrot de Claude
Editor's Note: Photo taken from the establishment's official social account
Your French adventure will not be complete without having a taste of exquisite French cuisine at local restaurants. If you agree with this idea, swing by Le Bistrot de Claude in Rue Grande, located at the center of Old Town Cognac. This charming and chic restaurant nests in a timber building, showcasing a fascinating vintage interior design with an elegant vibe. It features an extensive menu that offers lunch and dinner, which are plated in aesthetically pleasing ways. Not only that, but they also offer excellent drinks to pair with your meals.
Le Bistrot de Claude

Address: 35 Rue Grande, 16100 Cognac, France

Website: Le Bistrot de Claude

Opening hours: Mon - Fri: 12pm - 2pm, 7:30pm - 9:30pm (closed on Sat & Sun)
3. Buy some premium Remy Martin Cognac
Remy Martin Cognac is one of the most remarkable products in the commune of Cognac. This premium brandy is only crafted in this town. If you like alcoholic beverages, especially brandy, you might want to join fantastic tours at the Remy Martin Cognac production site in Rue de la Société Vinicole. Through your tour of this property, you will learn about the ropes of brandy making, and you will also get to visit vast vineyards, the house, cellars, production rooms, and other facilities that are vital to making this premium drink. You can also get a taste at the gourmet tasting room or enjoy a lunch with the other tourists. Also, for souvenir items, you can buy bottles of Cognac from the on-site shop.
Remy Martin Cognac

Address: 20 Rue de la Société Vinicole, 16100 Cognac, France

Website: Remy Martin Cognac

Opening hours: Mon - Sat: 9am - 12pm, 2pm - 5pm (closed on Sun)
4. Learn about the cognac industry in Musée des Arts du Cognac
Your Cognac experience will not be as satisfying without visiting a few fascinating museums in town. One delightful museum that you should not miss while in Cognac is Musée des Arts du Cognac. The alcoholic beverage industry is essential to the history of Cognac, and this museum revolves around cognac making. It might be small, but it is well-equipped with exhibits and displays of vintage machinery and equipment that will help visitors understand the basics of cognac production.
Musée des Arts du Cognac

Address: Les Remparts, Place de la Salle Verte, 16100 Cognac, France

Website: Musée des Arts du Cognac

Opening hours: Tue - Sun: 2pm - 6pm (closed on Mon)
5. Marvel at the art collections in Musée d'Art et d'Histoire
Musée d'Art et d'Histoire sits inside a magnificent 19th-century mansion. This remarkable museum is one of the most popular attractions in Cognac. It features various artworks, from vintage paintings to breathtaking sculptures and other period pieces. Most of the displays here are donated by local residents. Among its most prized collections include a set of art nouveau glassware and northern school portraits. This place is surely a paradise for history buffs and those with a deep appreciation for art and culture.
Musée d'Art et d'Histoire

Address: 48 Boulevard Denfert Rochereau, 16100 Cognac, France

Website: Musée d'Art et d'Histoire

Opening hours: Wed - Mon: 2pm - 6pm (closed on Tue)
6. Swing by La Vieille Maison
Located in the heart of the city, La Vieille Maison is a remarkable structure that represents the architecture of the middle ages. Lieutenant Pierre de Lacombe was the first to live in this mansion, hence its name. At the present time, this historic monument serves as a museum and an attraction that features period pieces, paintings, vintage decors, sculptures, and animal heads. Purchased by Prunier Cognacs in the 1900s, this place was also once a sophisticated beverage shop.
House of the Lieutenancy - La Vieille Maison

Address: 5 Rue Grande, 16100 Cognac, France

Website: House of the Lieutenancy - La Vieille Maison

Opening hours: Tue - Sat: 10am - 12:30pm, 2pm - 7pm (closed on Sun & Mon)
7. Have a taste of the premium Hennessy cognac
With marvelous landscapes of agricultural plains and vast vineyards, it's no wonder that this town boasts booming cognac industry. Here, you'll find the Hennessy headquarters, another company that produces cognac. They bill themselves as the leading distiller of cognac in the market. Located in Rue de la Richonne, their headquarters offers tours, programs, and informative workshops for interested tourists. A tour with them consists of learning a fusion of the town's history, cognac production, and modern distilling methods.
Hennessy Les Visites (Cognac)

Address: 1 Rue de la Richonne, 16100 Cognac, France

Website: Hennessy

Opening hours: 10am - 7:30pm (daily)
8. Enjoy some bonding experience with your loved ones in Camping de Cognac
Located adjacent to the vast vineyards of Cognac, by the Charente River, Camping de Cognac is a breathtaking campground, adorned with towering plane trees and picturesque views. In total, there are 40 pitches, ready to be occupied. Campers are required to bring their own tents or RVs. Aside from sightseeing, adventure-seekers have lots to do in the campgrounds. You can enjoy hiking and swimming or canoeing in the Charente River. Plus, the sites include a lot of features for a better camping experience, such as a stunning swimming pool, barbecue facilities, a children's play area, snack bars, ping pong tables and more. This place is great for campers of all ages.
Camping de Cognac

Address: Boulevard de Châtenay, 16100 Cognac, France

Website: Camping de Cognac
9. Get to know the cognac brand, Camus
Editor's Note: Photo taken from the establishment's official social account
Another excellent brand of cognac produced in town is the Camus Cognac. Just like Hennessy and Remy Martin Cognac, their headquarters also offers tour packages. This brand is a family business that started production in 1863 and they sell their products globally. If Camus is your favorite brand of cognac, opt to join one of their tours. You will get to explore the brand's breathtaking vineyards and production sites, get production and industry tips, and have a taste of their premium drinks.
Camus Workshop

Address: 21 Rue de Cagouillet, 16100 Cognac, France

Website: Camus Workshop

Opening hours: Mon: 2pm - 6pm; Tue - Sat: 10:30am - 12:30pm, 2pm - 6pm (closed on Sun)
10. Catch an entertaining show at L'Avant-Scène Cognac
Cognac is a town that showcases breathtaking landscapes and a rich culture. Not only that, but it also boasts an unparalleled art scene. If its art that you're after on your visit, rather than touring the major cognac distilling houses, be sure to catch a magnificent show at L'Avant-Scène Cognac. It is a marvelous center for entertainment that features various presentations from musicals and comedies to dramas and other acts. Also, this a venue where you can get inspiration from artists and performers through different workshops.
L'Avant-Scène Cognac

Address: 1 Place Robert Schumann, 16100 Cognac, France

Website: L'Avant-Scène Cognac
11. Drink fruity cocktails at Bar-Luciole
When you're done with all the touristy activities, such as museum visits and tour packages, you might want to enjoy some time over at Bar-Luciole. Wear your most fashion-forward outfit and unleash your inner social butterfly as you listen to fantastic music and drink premium cognacs. Bar-Luciole is located in a charming old building. It showcases a magnificent bar filled with various drinks imported from all over the world as its centerpiece and also features elegant interior design and cozy seatings. This place is popular for its creative cocktail drinks that you should definitely try.
Bar-Luciole

Address: 14 Place du Solencon, 16100 Cognac, France

Website: Bar-Luciole

Opening hours: Tue - Sat: 5pm - 1am (closed on Sun & Mon)
12. Go on a shopping spree in Aushopping Cognac
Shopping is always a big part of vacations. While in Cognac, you might want to know what they offer in terms of retail brands, excellent eats, souvenir items, and other luxurious finds. Check out Aushopping Cognac and immerse yourself in one of life's mundane pleasures. Located at 40 Rue de l'Anisserie, this shopping mall offers a plethora of retail stores and restaurants ranging from local brands to global ones. You'll find Sephora, Micromania, Europcar, Dress Code Avenue, and a lot more.
Aushopping Cognac

Address: 40 Rue de l'Anisserie, 16100 Cognac, France

Website: Aushopping Cognac

Opening hours: Mon - Sat: 9:30am - 8pm (closed on Sun)
13. Explore the old town of Cognac
The best way to get to know Cognac and its culture is to tour the old town. To mark the entrance of this area, you will pass through Porte Saint-Jacques. This part of Cognac showcases the medieval side, where structures are mostly a century old and you'll walk on cobblestone streets. You'll see lots of timbered houses in the area that were built as early as the 15th century. Some of the iconic landmarks you'll come across include Cognac Chateau, Church of Saint-Leger, Convent of the Recollets, and others. The sight of the Charente river from the area adds delight to this experience.
Old Town of Cognac - Porte Saint-Jacques

Address: 1-3 Quai Maurice Hennessy, 16100 Cognac, France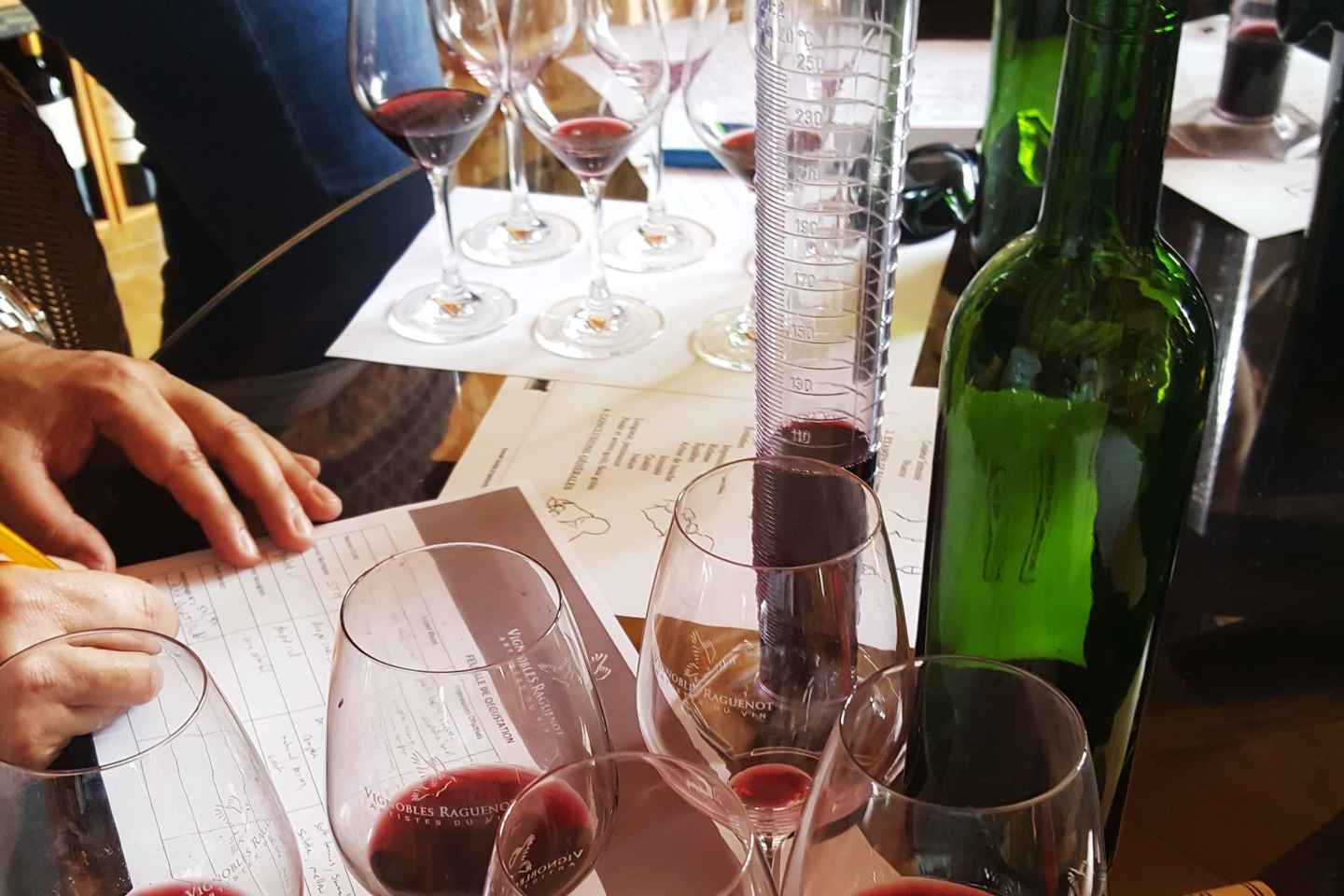 In the long list of excellent cognac brands in town, you'll find Cognac Meukow. This fantastic brand has its headquarters here but there are flagship stores scattered around the globe. The production of cognac in this brand is said to be distinct, as they only infuse cognacs that have been aged for decades, resulting in a dark amber color. If you're interested in the production process of Meukow, join this exciting and informative tour to uncover some secrets and learn a few tips from their distillers.
Cognac Distillery and Bordeaux Winery: Private Tour

Duration: 9 hour
Immerse in the rich culture of Cognac
Cognac is a breathtaking little town in France that is popular for its liquor industry. Lots of global cognac brands have their headquarters here. But this area is not only about that, it is also a place of rich culture and exquisite eats. In a place as charming as Cognac, you will never run out of things to do and places to visit. If you need help, use this article as your guide in planning an itinerary. May you have a delightful escapade ahead.
Disclosure: Trip101 selects the listings in our articles independently. Some of the listings in this article contain affiliate links.
Get Trip101 in your inbox
Unsubscribe in one click. See our privacy policy for more information on how we use your data