Tallaght is a county town found South of Dublin, Ireland. With a well-developed public transport system, it is connected to the City of Dublin via road and railway line. The town has seen rapid growth and development over the last decade and has achieved a unique identity as a destination for local arts, culture, sports, and commercial activities. Presence of various vital amenities such as Tallaght Stadium, parks, theatres, museum, and many more add to its vibrancy. With lots of fantastic indoor and outdoor activities, your vacation will surely be memorable. Scroll down below to find out more about the top things to do in Tallaght, Dublin.
1. Picnic at the green Sean Walsh Memorial Park
Tallaght in Dublin City is a highly populated town, however, in the midst of all the hustle and bustle lies Sean Walsh Memorial Park. This extraordinary place opened in 1989 to provide a vital recreation area for locals and tourists. The landscaped parkland has definitely served its purpose by providing a serene environment within the neighbourhood. One feature you will love about it is the formal gardens lying side by side with beautiful ponds and waterfalls. The trees provide shaded areas for relaxing, while a good number of playgrounds and a state-of-the-art stadium caters to local football clubs. This unique green park is an ideal place for summer picnics, walking, jogging within the pathways around the ponds, and watching or playing games.
Sean Walsh Memorial Park

Address: N81, Tallaght, Co. Dublin, Ireland

Opening hours: 24 hours (daily)
2. Discover your hidden talents at Civic Theatre
Dubbed as "a place of possibility" in Tallaght, Civic Theatre is a place where talents are nurtured. This awesome place is a great venue featuring comfortable seats and a nice, welcoming environment. There is always something for everyone here, from music and dance to comedy and drama, making it a much-loved cultural spot for locals and tourists. More than just a theatre, this local hotspot is a place that encourages imagination, wonder, and discovery. You might even realise your hidden talent by just paying a visit to this place.
Civic Theatre

Address: Belgard Square East, Tallaght, Dublin 24, D24 NWN7, Ireland

Website: Civic Theatre

Opening hours: 10am - 10pm (daily)
3. Enjoy a relaxing moment at Tymon Park
Tymon Park is a large public park in Dublin covering a whopping space of 130 hectares (320 acres). A motorway divides the area in two, with footbridges linking the two sides. There are four main access points to car parks, with pedestrians having access to other smaller gates. Featuring 29 playgrounds, this gigantic park is an ideal location for playing soccer, jogging, and taking a relaxing walk, among others. Other than field sports, it also serves as a venue for popular public events such as family festivals, cross country races, band recitals, and film shoots. Tymon Park Forest is a landscaped woodland that is home to over 120 different tree species, with properly marked trails suitable for hikes. Within the park, there are two interconnected lakes complete with a system of paths, bridges, and planted trees and shrubs, making it the best recreation area in the park.
Tymon Park

Address: Tallaght, Dublin, Ireland

Opening hours: 10am - 8pm (daily)
4. Catch a football match at Tallaght Stadium
Opened in 2009, Tallaght Stadium has since been the venue of choice for several sports activities in Tallaght. The stadium is actually the home ground of Shamrock Rovers, one of the most popular football clubs in Ireland. If you are a football fan, head to this 8,000-seat modern stadium on any match day and feel the excitement among the locals as they cheer on their favourite teams. After the game, head to the Shamrock Megastore and Rovers Cafe behind the main stand, where a large collection of memorabilia and club trophies are on display. This excellent multipurpose arena has been the venue for other sports activities such as rugby, Gaelic football, and American football.
Tallaght Stadium

Address: Whitestown Way, Oldbawn, Dublin 24, Ireland

Website: Tallaght Stadium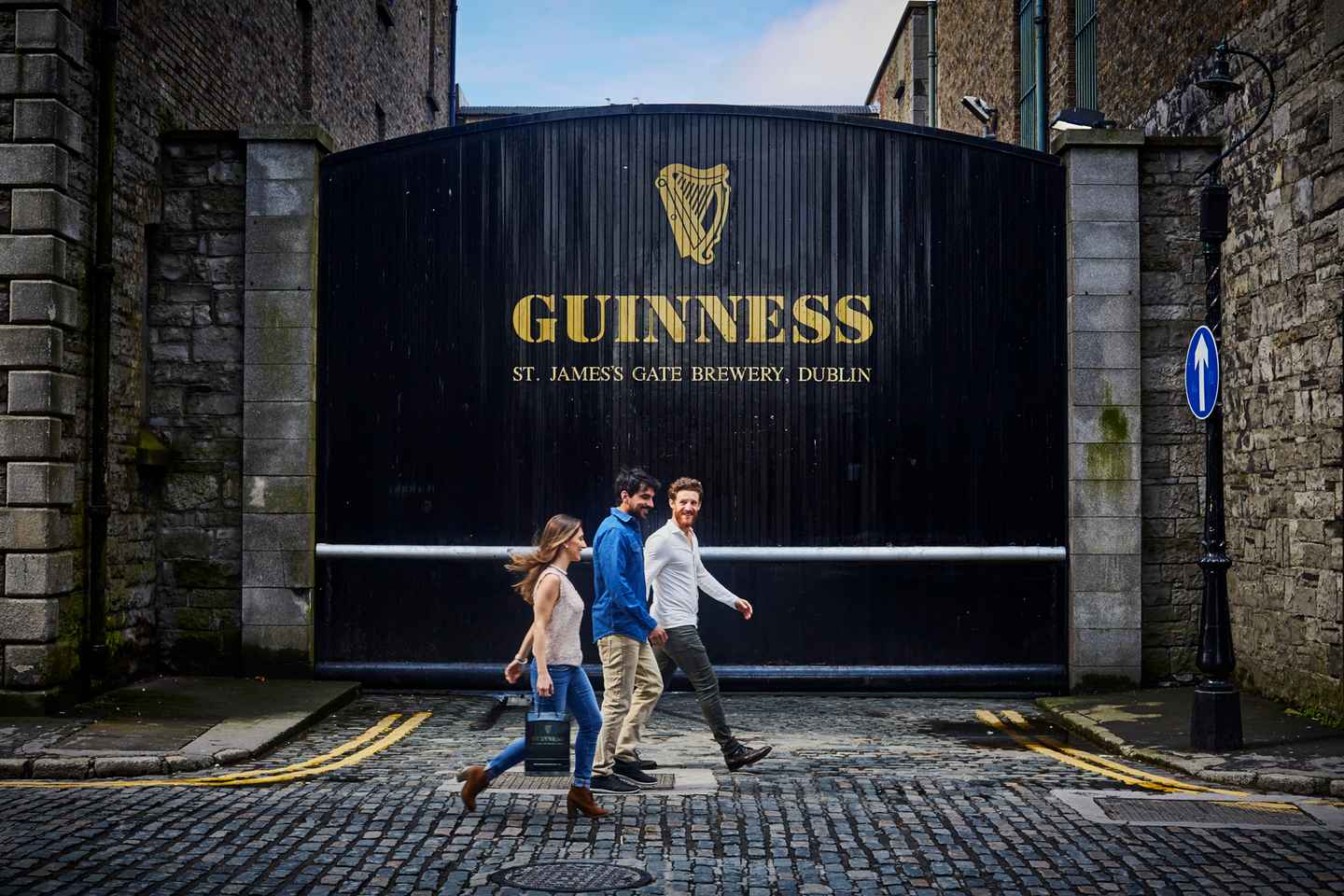 Guinness Storehouse is considered Ireland's number one tourist attraction, seeing over 20 million visitors. This is a place you cannot miss if you are a Guinness enthusiast. Housed in a seven-story architectural building that tells the story of the world's most popular stout. You surely do not have to be a drinker to enjoy this adventure that will take you through engaging exhibits. There is an impressive display inside that will no doubt spark your imagination. The storehouse features an advertising gallery complete with a century's worth of Guinness commercials where you can learn something about their award-winning advertisements. Complete your adventure at Gravity Bar, with a panoramic view of Dublin and a pint of the famous stout - already included in the admission fee.
Guinness Storehouse: Entrance Ticket
6. Visit the interesting Rathfarnham Castle
This fortified monument was built in the 16th century in Rathfarnham, South Dublin, and dates back to the Elizabethan period. The castle features a total of 11 rooms, each filled with history. An adventure through this historic house will definitely educate you about how the people once lived, the changes that took place, and how these changes affected the locals. Through observations, students are also bound to learn something about arts, craft, and design. You may want to check out one of the regular exhibits, music concerts, or artistic events that are absolutely free.
Rathfarnham Castle

Address: 153 Rathfarnham Rd, Rathfarnham, Dublin 14, D14 F439, Ireland

Website: Rathfarnham Castle

Opening hours: 9:30am - 4:45pm (daily)
7. Tour Old Tower Ballymount
The tower is located within an area referred to as Ballymount Great, where a public park was created in 2001 by the local council. This crumbling, old tower is now found within the confines of the public park. It is part of the ruins of Ballymount Castle, or Kingswood Castle, as it is known by the locals. If exploring ruins is your thing, then go on an adventurous tour of this place.
Old Tower Ballymount

Address: M50, Ballymount Little, Dublin, Ireland
8. Visit the animals at Dublin Zoo
Dublin Zoo, one of the world's oldest, was established in 1831 with the purpose of conserving and educating. The zoo is upgraded constantly to provide the most comfortable home to the animals. It was recently refurbished to have gardens with lakes, creating the best natural habitat for some creatures. This well-kept zoo boasts over 700 rare and endangered species such as the snow leopard and the lowland gorilla, and both are either kept indoors or outdoors. It's a great place where kids can learn something about animal life.
Dublin Zoo

Address: Phoenix Park, Dublin 8, Ireland

Website: Dublin Zoo

Opening hours: Sun - Thu: 9:30am - 4pm; Fri - Sat: 9:30am - 4:30pm
9. Admire local and international art at Irish Museum of Modern Art
Situated in the heart of Dublin, this museum presents a wide range of modern and contemporary art exhibited in a changing program that aims to create access to a variety of genres and artists. IMMA, as it is popularly known, holds more than 3,500 works from Irish and international artists. With such a wide variety, you will surely enjoy your visit here. Make time to explore IMMA's shop to buy something to take home with you, stroll through the beautiful garden, and maybe enjoy a relaxing moment at the on-site café. No fee is charged for accessing the museum and the grounds, but a small charge is levied for special exhibitions.
Irish Museum of Modern Art

Address: Royal Hospital Kilmainham, Military Rd, Kilmainham, Dublin 8, Ireland

Website: Irish Museum of Modern Art

Opening hours: Sun: 12pm - 5:30pm; Tue - Fri: 11:30am - 5:30pm; Sat: 10am - 5:30pm (closed on Mon)
Tallaght: a must-visit town in Dublin
Dublin is a city with a vibrant atmosphere and is one of Ireland's most popular tourist destinations. While visiting here, the town of Tallaght is a perfect starting point, with lots of captivating activities to make your visit memorable.
Disclosure: Trip101 selects the listings in our articles independently. Some of the listings in this article contain affiliate links.
Get Trip101 in your inbox
Unsubscribe in one click. See our privacy policy for more information on how we use your data