Tamarindo in Costa Rica is a tropical paradise every traveler would love to visit. It is a destination worth visiting more than once if you want to take full advantage of all the beauty the region has to offer. Whether you are an avid outdoor enthusiast interested in zip lining, scuba diving, sport fishing, or sailing, or you are the dormant type who prefers getting pampered in a mountain spa, Tamarindo has more than enough options for you to choose from. The end of each day is bound to leave you terribly exhausted. Read on and find our recommendations for the best things to do in Tamarindo, Costa Rica.
With all the mountains and the jungles, zip lining is a common adventure enjoyed by both the young and the old. There are several canopy tours where you can enjoy exhilarating zip lining adventures, cruising over the rivers, from one mountain to another. This particular tour also rewards you with a horseback ride and some laid-back river tubing. It is not just a time to have a burst of adrenalin rush, but also a great opportunity to enjoy the views of the lush green vegetation of the Costa Rican jungles.
Guachipelin Adventure Volcano Zipline Horseback River Tubing Combo

Duration: 10 hours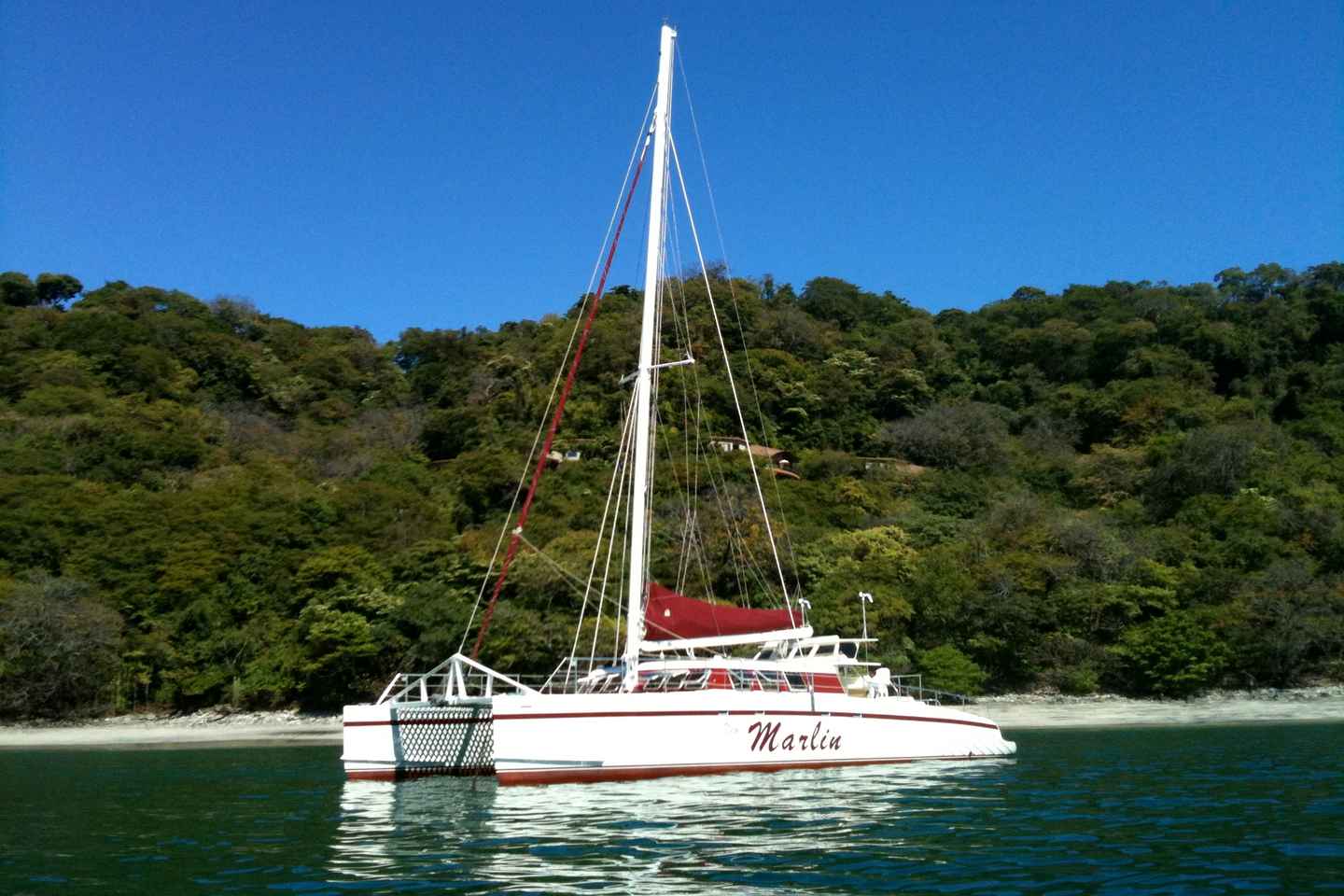 Playa Tamarindo has a lot to offer in terms attractions and activities. It is one of the most beautiful beaches in the area, boasting of white sand beaches, exotic bays, and lots of tropical jungles around. It is a favorite spot for snorkeling, with plenty of opportunities to scan the sea for flying fish, whales, sea turtles, and dolphins. It is also a favorite spot for most tourists and locals who love the beautiful views of the sunsets aboard a sailing dhow.
Playa Tamarindo: Sunset Sailing and Snorkeling Tour

Duration: 4.5 hour
ATVs are very popular in Tamarindo, and they are one of the top ways to discover the interior areas and safely and conveniently venture into the jungles. There are several tours around town which you can use to escape the crowds and venture into the least traveled paths for a fulfilling adventure. With the ATVs, you will have an easy means of accessing small towns, jungles, and even crossing small rivers while you enjoy beautiful sightings of birds and wildlife such as monkeys.
Tamarindo Costa Rican Jungle ATV Adventure with Guide

Duration: 2 hours
4. Sample local brews at Volcano Brewing Company
Celebrate the heritage of Costa Rica by sampling local brews from Volcano Brewing Company. The company specializes in brewing local craft beer, and from its location, you will enjoy more than just the cold drinks. The bar section has a large beach patio with incredible views of the Pacific Ocean - one of the best places you would wish to be if you want to catch amazing views of the sunset. In addition to the brewery, the company has an on-site restaurant serving delicious nachos, burgers, and pork chops amongst other bites you can use to down the beer.
Volcano Brewing Company

Address: Calle Cerritos, Provincia de Guanacaste, Tamarindo, 50309, Costa Rica

Website: Volcano Brewing Company

Opening hours: 11am - 9pm (daily)
5. Check out fresh local produce at Tamarindo Farmer's Market
If you are looking for the best place to get nice deals on fresh local produce, then you have every reason to check out Tamarindo Farmer's Market. It is a relatively small place, but very lively with local farmers selling a variety of fresh fruits and vegetables, honey, baked goods, ice cream, leather goods, and jewelry among others. The market also has incredible food stall sections where you will get a very good introduction to the culinary diversity of the Pacific.
Tamarindo Farmer's Market

Address: 152, Provincia de Guanacaste, Tamarindo, Costa Rica

Website: Tamarindo Farmer's Market

Opening hours: Sat: 7am - 1pm (closed from Sun - Fri)
6. Go fishing with Kingpin Fishing Charters
Playa Tamarindo is reputed as one of the best locations for sportfishing, not just in Costa Rica, but the entire Central America. With the fishing tours offered by Kingpin Fishing Charters, you will have all you need to access active and easy-to-reach grounds for thrilling experiences in hooking marlin, tuna, dorado, sailfish, wahoo, grouper, snapper, roosterfish, and many other varieties of fish. The charter will provide safety gear and all the equipment you will need to go hunting for your favorite fish. All you will be required to do is make yourself available and get your spirit of adventure ready.
Kingpin Sportfishing

Address: al lado del restaurante El Chiringuito en, Guanacaste Province, Tamarindo, 50309, Costa Rica

Website: Kingpin Sportfishing

Opening hours: 24 hours (daily)
7. Attempt your catch of the day with Sueno Azul Sport Fishing and Tours
Sueno Azul is a family-owned sportfishing and tours company dedicated to delivering world-class sportfishing experience in Tamarindo. The tours are designed for both newbies and veteran sport fishing enthusiasts. The crew has in-depth knowledge of the waters and the will professionally guide you to the best spots where you will be guaranteed of a nice experience. Expect to catch a variety of species, including the elusive bull shark and the yellowfin tuna.
Sueno Azul Sport Fishing and Tours

Address: Guanacaste Province, Tamarindo, Costa Rica

Website: Sueno Azul Sport Fishing and Tours

Opening hours: 6am - 6pm (daily)
8. Tour the lively Tamarindo Night Market
Night markets may be very popular in Asia, but they are not a new occurrence in Central America, and Tamarindo has one of the most vibrant night market scenes in the entire country. The night market is a festival usually opened on Thursdays between 6pm and 9pm. Unlike most of the night markets you've probably encountered - where food and selling merchandise are the orders of the day, the night market in Tamarindo, has a lot more to offer. Some of the highlights of the market include live music performances, clowns to entertain the kids, fire dancers, freestyle dancers, and a whole range of other family-friendly activities.
Tamarindo Night Market

Address: Guanacaste Province, Tamarindo, Costa Rica

Website: Tamarindo Night Market

Opening hours: Thu: 6pm - 9pm (closed from Fri - Wed)
9. Admire the beautiful art at Atalaida Galeria
@giansuvali peces fuera del agua #fusedglass#arttamarindo#playatamarindo#glassart#artworkglass#fused#glassart#natureart#Galería AtalaidaAtalaida Galería

Posted by Atalaida Galería on Sunday, 21 July 2019
Atalaida Galeria is located right in the middle of the charming Tamarindo town, and it is a place worth visiting by every art enthusiast. The gallery is full of unique pieces of art exhibitions from various artists all over the world. It also has a gift shop where you can pick a souvenir or two to remind you of your trip to this beautiful South American town.
Atalaida Galeria

Address: Calle Central, Provincia de Guanacaste, Tamarindo, Costa Rica

Website: Atalaida Galeria

Opening hours: Mon - Sat: 11am - 8pm (closed on Sun)
10. Watch a game over cold beer at Sharky's Sports Bar
Sharky's Sports Bar is one of the best places to catch your favorite sporting events, including soccer, football, and basketball events. The bar has a total of nine screens and is also known to serve the best burgers and wings in town. The ambiance of the bar is on point, and with promotions going on every single day of the week, you are assured of more than just a cold beer because lots of mojitos and margaritas will also be flying your way while you enjoy watching the games.
Sharky's Sports Bar

Address: Avenida Central, just next door to Pacific Park, Tamarindo, 50309, Costa Rica

Website: Sharky's Sports Bar

Opening hours: 11:30am - 2:30am (daily)
11. Try your luck at Casino Diria
How about spending a great evening playing poker or any of your favorite slot games? Well, if this is how you fancy spending your evenings in Tamarindo, then you need to check out Casino Diria. The casino is not your Vegas-style mega-casinos, but a small one that boasts a great atmosphere and personal attention to all clients. You may choose to play at the table or on the multiple slot machines. Either way, it is an incredible experience to watch the evening hours pass away, and things become more interesting with the prospects of Lady Luck smiling down on you and gifting you with incredible wins on your wagers.
Casino Diria

Address: Tamarindo Diria Beach Resort, 152, Provincia de Guanacaste, Tamarindo, 50309, Costa Rica

Website: Casino Diria

Opening hours: 6am - 11pm (daily)
12. Sample the Tamarindo night life at El Garito
If you want the best spots to have a glimpse and a feel of the Tamarindo night life, then that spot must be El Garito Bar. Awesome music, great staff, lively atmosphere and a variety of drinks are some of the highlights of a typical evening in El Garito. The staff is friendly, warm, and welcoming, and they speak both Spanish and English and they will never fail to give a smile when you walk in or when serving your drink. Being that it is a popular joint among the locals and tourists, the experience here is always a mixed one, with the freedom to do any fun thing you want, so long as it remains within the boundaries of "reasonable".
El Garito

Address: Centro Comercial el Punto, Cerca de Arenas Surf and Skate, Provincia de Guanacaste, Tamarindo, 50309, Costa Rica

Website: El Garito

Opening hours: Wed - Thu: 5pm - 11:30pm; Fri - Sun: 5pm - 12:30am (closed on Mon & Tue)
13. Indulge in finger-licking Italian dishes at Enea's La Vera Cucina Italiana
Italy may be miles away, but when you walk along Langosta Street, just next to Selina Hotel, you will find Enea's La Vera Cucina Italiana serving an incredible variety of Italian delicacies that will make you think for a moment you are in Rome. Though there are several Italian joints in Tamarindo, this is one of the very best establishments you will find. They specialize in authentic Italian cuisines, served under a simple atmosphere and accompanied by great service. Whether you need handmade fresh pizza or spaghetti with meat sauce and homemade pasta, you will not be disappointed with the options you will find here.
Enea's La Vera Cucina Italiana

Address: on the street for Langosta, next to Selina Hostel, Guanacaste Province, Tamarindo, Costa Rica

Website: Enea's La Vera Cucina Italiana

Opening hours: 5:30am - 10pm (daily)
14. Play a round at Bolas Locas Mini Golf
Bolas Locas Mini Golf is the only mini golf course in Tamarindo and is a must-visit for every golf enthusiast, whether you are an active player or a spectator. It is a family-friendly facility, with a simulation of all the challenges you may encounter in a championship golf course in Costa Rica, including the volcanoes and the curls of the waves. A typical game takes about one hour to play, and this will definitely make for a pretty entertaining way to spend some time with your family in Tamarindo.
Bolas Locas Mini Golf

Address: Corona St, Guanacaste Province, Tamarindo, 50308, Costa Rica

Website: Bolas Locas Mini Golf

Opening hours: 12pm - 8pm (daily)
15. Catch a movie at Multicines Tamarindo
Watching a movie can provide the necessary break you need to recollect yourself after days of jumping from one outdoor attraction to another in Tamarindo. The best place worth checking out for a great movie experience is at Multicines Tamarindo. What you find here is a state-of-the-art movie theater with incredible show lineups to ensure you are adequately thrilled and entertained at the same time. It is the best place and the best way to spend a lazy afternoon in the company of family, friends, or a loved one.
Multicines Tamarindo

Address: Guanacaste Province, Tamarindo, Costa Rica
16. Get pampered at Coco Beauty Spa Tamarindo
The idea of going for vacations in tropical locations such as Tamarindo is to relax so that you can calm your mind, body, and soul. And the idea behind Coco Beauty Spa Tamarindo is to provide you with an atmosphere ideal for that relaxation, as well as a variety of beauty treatments at affordable rates. The spa welcomes you for massages and treatments such as Swedish massage, deep tissue massage, waxing, facial, manicures and pedicures among others. The staff is friendly and professional, and are keen on giving you personalized attention so that by the time you walk out of the doors, you will be a completely relaxed and rejuvenated soul.
Coco Beauty Spa Tamarindo

Address: Gran Boulevard Mall, Tamarindo, 50309, Costa Rica

Opening hours: Mon - Sat: 8am - 9pm; Sun: 9am - 6pm
17. Shop till you drop at Plaza Tamarindo
Plaza Tamarindo is home to a myriad of businesses and it is where you would want to go to when you desire to sample the shopping experience in the city. Just like with most of the modern malls, the plaza houses retailers of both local and international brands, including a decent collection of shops dealing with handicrafts and local goods. It is worth visiting if you want to restock your supplies for your trip, or for shopping souvenirs from the galleries and the handicraft stores.
Plaza Tamarindo

Address: 210, Av Central, Tamarindo, Costa Rica

Opening hours: 8am - 5pm (daily)
18. Experience thrilling water adventures with Costa Rica Stand Up Paddle Adventure
Stand up paddle surfing is yet another awesome experience you must not miss when you visit Tamarindo. With Costa Rica Stand Up Paddle Adventures, you don't have to worry whether it will be your first time paddling. They have friendly instructors to coach you on everything you need to learn and know so that you have a satisfying experience. All the gear will be provided, and you will also be taught vital lessons on safety as well as a variety of surfing techniques that will give you the confidence of a pro after spending just a few minutes on the Pacific waters. (paddleboarding)
Costa Rica Stand Up Paddle Adventures

Address: On the beachfront, between Nogui's and Chiringuito Restaurant, Provincia de Guanacaste, Tamarindo, 50309, Costa Rica

Website: Costa Rica Stand Up Paddle Adventures

Opening hours: Tue - Sat: 10:30am - 5:30pm; Sun: 10:30am - 4pm (closed on Sun)
Enjoy the jungles and the beaches of Tamarindo
Tamarindo is a tropical paradise where you can enjoy thrilling adventures such as zip lining through the forests and paddling through the waters and at the same time enjoy the beach, city attractions, and learn about its culture. With all these things to do in Tamarindo, Costa Rica, your itinerary should be full even before you land at Tamarindo Airport.
Disclosure: Trip101 selects the listings in our articles independently. Some of the listings in this article contain affiliate links.
Get Trip101 in your inbox
Unsubscribe in one click. See our Privacy Policy for more information on how we use your data