Victoria Falls is a town in Northern Zimbabwe that is home to the world's largest waterfall of the same name. Victoria Falls is blessed with a majestic natural landscape with diverse wildlife and with colorful culture, arts, traditions, and folklore that have been preserved by its people until this day and age. Africa is one of the first places on earth to have human life so a trip on this side of the planet makes you feel closer to the people who walked before you. If you have a love for breathtaking nature, for antiquity that thrives and evolves with time, and for amazing local experiences, Victoria Falls should definitely be your next destination. So here's the rundown of the things to do in Victoria Falls, Zimbabwe that will surely make you start packing.
A trip to Victoria Falls, Zimbabwe would not be complete if you will not try playing in its exhilarating waters. Go against challenging currents, pass through obstacles, and have a whole lot of fun with your team in a white water rafting adventure from the Victoria Falls to the Zambezi River. If you are a brave and thrill-seeking traveler, this is something that you should not miss. Different rapids and difficulties are available for you depending on your skills and experiences. Aside from enjoying the adrenaline, you also get to enjoy the wildlife that surrounds you in every twist and turn!
Victoria Falls Zambezi River Class IV White-Water Rafting Tour

Duration: 7 hours
2. Walk with wild animals at Zambezi National Park
Zambezi National Park is an enormous safari covering hectares and hectares of land where wild animals can run free and live in their natural habitat. In the northern part of the park lies the Zambezi River that borders Zimbabwe and Zambia and is also the main water supply of the animals inhabiting here. See elephants, lions, antelopes, tigers, and many more living their day to day up close. It is like watching The Lion King right before your eyes. So if you are looking for an immersive experience with the wildlife of Victoria Falls, Zambezi National Park is one of the best places to visit.
Zambezi National Park

Address: Victoria Falls, Zimbabwe

Price: 15 USD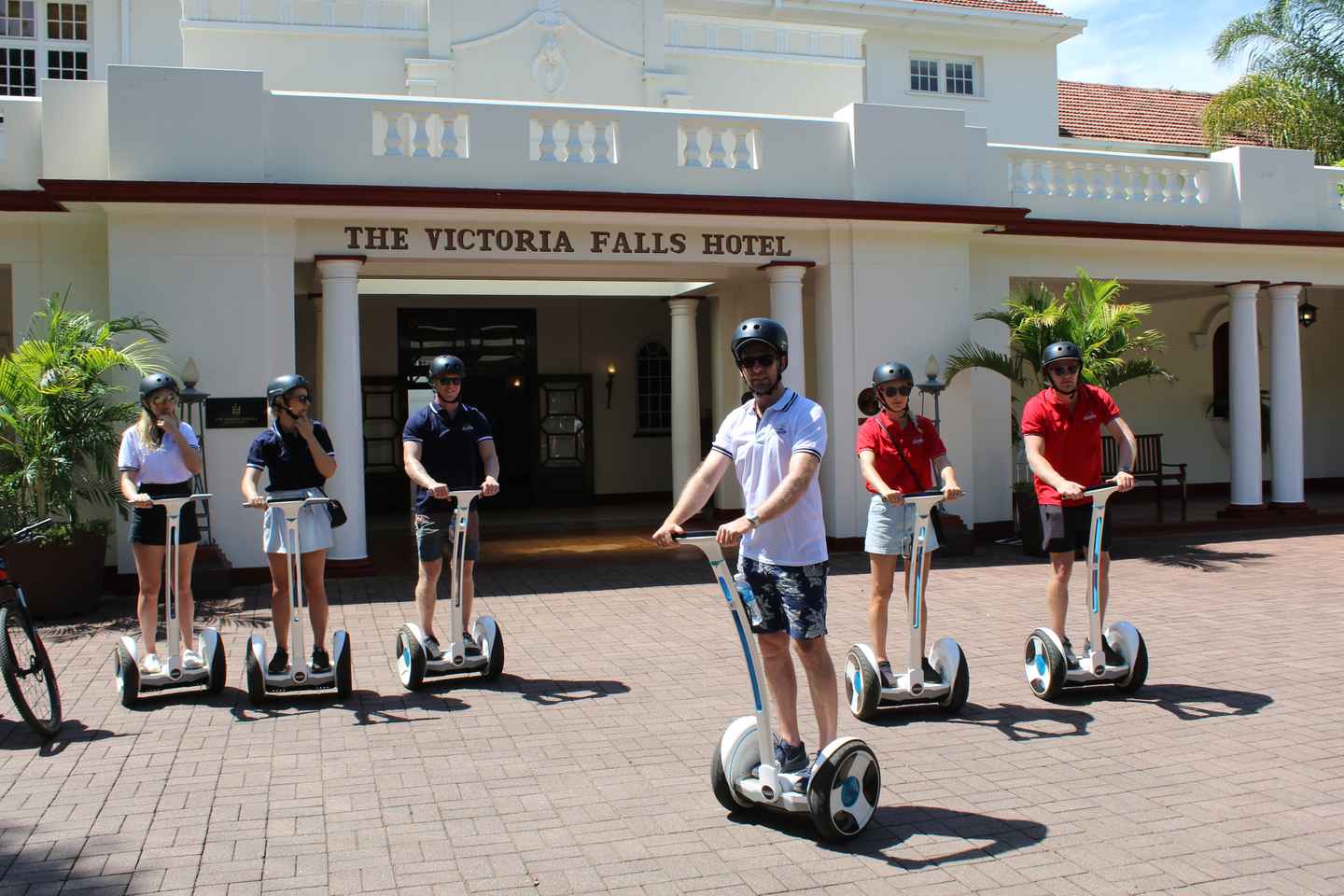 Walking tours are a fun and convenient way to get to know a place. Why not take this tour to the next level? Go on a three-hour Segway tour across Victoria Falls and let the knowledgeable local guides lead the way. See famous landmarks like the Victoria Falls Bridge, Big Tree, and Batoka Gorge while gaining fun facts and bits of trivia about them. After a tiring day of strolling and learning, relax and replenish with some local snacks to end your tour.
Victoria Falls: Segway Tour

Duration: 3 hour
4. Chow down on great food at The Three Monkeys Restaurant & Bar, Victoria Falls
A crowd favorite whether for locals or tourist alike, The Three Monkeys Restaurant & Bar, Victoria Falls serves fresh food, gives friendly service, and provides a chill and open-air ambiance for you to enjoy. Established in 2016, this restaurant has already made its way to the public's favorites list! Their menu is categorized into food, drinks, and 'little monkeys' which your kids will surely enjoy. Try out their wood-fired, thin-crust Italian pizzas, wraps served in big chunks, paninis, flame-grilled meals, and many more. Do not forget to pair it with their local craft beers and house-mixed cocktails. If you want to get great and reasonably priced food, The Three Monkeys Restaurant & Bar, Victoria Falls will serve you exactly that!
The Three Monkeys Restaurant & Bar, Victoria Falls

Address: Corner Adam Stander & Livingstone, Victoria Falls, Zimbabwe

Website: The Three Monkeys Restaurant & Bar, Victoria Falls

Opening hours: 12pm - 10pm (daily)
5. Enjoy a trip between countries at Victoria Falls Bridge
Hovering over the Zambezi River, Victoria Falls Bridge links the countries of Zimbabwe and Zambia where immigration posts on both ends can be found. Originally, this parabolic bridge was named Zambezi Bridge and was inaugurated by George Darwin, the son of Charles Darwin. Today, Victoria Falls Bridge is listed as a Historic Engineering Landmark. Enjoy a breathtaking view of the landscape when passing through the historical structure and learn a thing or two about its construction. It is not every day that you get to cross between two countries a few miles away while traversing a scenic background.
Victoria Falls Bridge

Address: Livingstone Way, Victoria Falls, Zimbabwe

Opening hours: 24 hours (daily)

Price: Free
6. Immerse with wildlife at Walk With Lions Victoria Falls
If you are a lion-hearted traveler and are always game for adrenaline-pumping activities, Walk With Lions Victoria Falls is a must-visit for you. Walk among the kings of the jungle as these lions will not be in collars nor leashes. Known as tough and rowdy, you are in for a surprise because these furry creatures can also be playful and friendly. Worried about your safety? Fret no more since expert guides with the right tools and knowledge will be with you to protect you and educate you about the conservation issues of safaris.
Walk With Lions Victoria Falls

Address: Victoria Falls, Zimbabwe

Website: Walk With Lions Victoria Falls

Opening hours: Mon - Fri: 8am - 5pm (closed on Sat & Sun)
7. Taste craft beers at The River Brewing Company
Relax and grab a drink at the biggest micro-brewery in Victoria Falls only at The River Brewing Company. They boast of their craft beers made from Zambezi water and top-quality barley and hops imported from the Pacific North-west. Each bottle is made with passion so expect nothing but the best taste and flavors in every sip! Aside from beers, "The River" also serves delicious meals from lunch to dinner for all ages. Complementing their well-crafted menu is the cozy and airy ambiance that makes your dining experience a bliss.
The River Brewing Company

Address: Stand 270, Adam Stander Road, Victoria Falls, Zimbabwe

Website: The River Brewing Company

Opening hours: 11am - 11pm (daily)
8. Shop local trinkets at Elephant's Walk
If you are looking for some souvenirs and other trinkets that will give you a flashback of your Victoria Falls trip, Elephant's Walk is where you want to hunt. Known as an artist village, get to meet the crafters and artisans of unique pieces that scream Zimbabwe. From jewelry, to metal works, to tapestries you will surely enjoy browsing through colorful pieces of art. Aside from these, Elephant's Walk also houses local restaurants that serve fresh and authentic Zimbabwean cuisine nestled inside ambient stores. Walking through this one-stop-shop is like immersing in Victoria Falls' culture and heritage as well.
Elephant's Walk

Address: 253 Mosi-Oa-Tunya, Victoria Falls, Zimbabwe

Website: Elephant Walk

Opening hours: 8am - 5pm (daily)
9. Enjoy a 'big 5' game drive
Conveniently located just 10 minutes away from Victoria Falls Town, Stanley and Livingstone Private Game Reserve offers 'big five' games for hunting enthusiasts. Big five game in hunting refers to the five most difficult animals to hunt in the African safari, namely lion, rhino, elephant, Cape buffalo, and leopard. Your game will be guided by experienced rangers and knowledgeable tour guides so you know you are in good hands. After a full day, end your afternoon with some local snacks and drinks while watching the sunset behind the landscape. Truly a magnificent sight to end your game!
Game Drives Victoria Falls

Address: Landela Complex, Victoria Falls, Zimbabwe

Website: Game Drives Victoria Falls

Opening hours: 8am - 5pm (daily)

Price: 105 USD
Why not make your Victoria Falls trip more entertaining? Book a tram bridge tour to ride around town and cross the borders of Zimbabwe and Zambia with a panoramic view along the way! See the lush greens of African forests and the historic Victoria Falls Bridge. Taking photos will not be a problem with the tram's open-air setting. Aside from the sightseeing, take home new knowledge about the interesting past of Victoria Falls in every place you will go. Fun and trivia in one tram ride!
The Tram Bridge Tour in Victoria Falls

Duration: 3 hours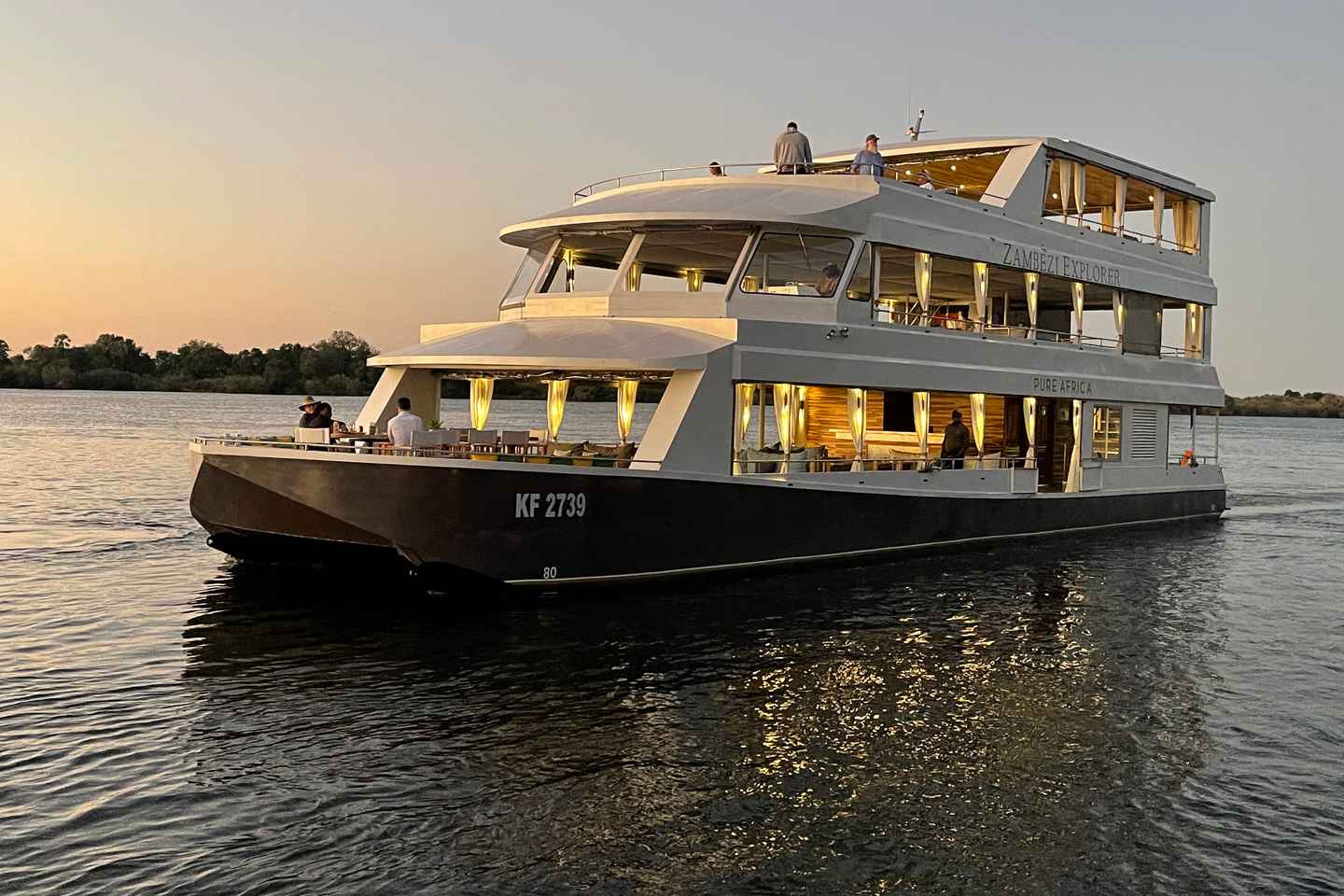 Victoria Falls will always have something to amaze its visitors, whether on land, air, or water. Check out what the waters of Victoria Falls have in store for you on a two-hour cruise tour in the enchanting Zambezi River. See crocodiles, hippos, and elephants as they go on their daily lives and catch the most beautiful sunset you might see in your life. All these while at the comfort and convenience of your boat deck. This is a frills-free tour where friendly staff will assist you in your every need. Food and refreshments are served and you get to enjoy these with the stunning landscape right before you.
Victoria Falls: 2-Hour Luxury Zambezi River Sunset Cruise

Duration: 2 hour
Make Victoria Falls your playground in an adrenaline-inducing and thrill-seeking canopy tour! Fly down nine zip lines traversing the Victoria Falls Bridge with its famous natural landscapes. Expect to get wet when you pass by some the famous falls and breathe in fresh air care of the wild trees and plants beside the rocky mountains. If you are ready to experience nature in a raw and exciting way, this tour is a must-book for you!
Victoria Falls Canopy Tour

Duration: 1 to 2 hours
13. Go on the ultimate Victoria Falls adventure with Wild Horizons
Known as the top provider for African tours, Wild Horizons offers diverse packages and itineraries that will make up your ideal Victoria Falls adventure. Go water rafting with your crew and brave the waters of the mighty falls, or walk with the friendly giants of the safari and interact with them up close, or hike the beautiful landscapes to watch sunrises and sunsets glistening over the vast paradise. Whatever you have in mind, Wild Horizons can fix it for you. They also offer lodging, food, and transport services to ensure you have the most hassle-free trip to the great Victoria Falls.
Wild Horizons

Address: 310 Park Way, Victoria Falls, Zimbabwe

Website: Wild Horizons

Opening hours: 7am - 7pm (daily)

Price: Upon request
Enjoy a bird's-eye view in a helicopter ride over the magnificent Victoria Falls. If you cannot get enough of the beautiful landscape offered by the African lands, then fly out to the sky and enjoy the views even more. See wonders that your eyes could not reach in plain ground and discover new sights to see that will surely leave you in awe. For sure, the amazing scenes that are waiting for you will be beyond words.
Helicopter Flight Over Victoria Falls

Duration: 13 minutes
A trip closer to nature
Zimbabwe is one of the places on earth that has a very diverse wildlife, natural landscapes and water forms, and colorful culture and heritage. Every corner, every high ground, and every inch of Victoria Falls has something to offer to travelers who adore the great outdoors. This town will not disappoint in entertaining its guests, from its natural beauty to the endless things one can do here. Considering a trip that will bring you closer to nature? Start booking your flight and creating the perfect itinerary with the things to do in Victoria Falls, Zimbabwe listed above!
Disclosure: Trip101 selects the listings in our articles independently. Some of the listings in this article contain affiliate links.
Get Trip101 in your inbox
Unsubscribe in one click. See our privacy policy for more information on how we use your data