I bet that you've heard about the famous Terracotta Army, but maybe you haven't heard much about Xi'an, the city where the Terracotta Army is located. However, Xi'an is the best place to visit for people passionate about history, as it's one of the few cities in China that still has a complete city wall from the old fortress intact. The city is a very interesting mix of old and new. It is bursting with a mix of cultures, dominated by the Hui ethnic minority, one of China's Muslim communities. You will see skyscrapers and glass office buildings next to the old city walls, ancient and modern standing next to each other everywhere you go. So what should you not miss while in Xi'an?
1. Walk or ride a bike around the city wall
The city wall of Xi'an has a total length of about 14 km (8.7 mi). You can take about three to four hours to walk the entire way or you can rent a bike once you get on the wall and shorten the time needed for this circuit. Some parts are constantly being restored, but nonetheless, this is the best preserved city wall in China. Walking along it gives many chances to observe the different parts of the city and the local life in the buildings around the fortress.
Xi'an City Wall

Address: downtown of Xi'an

Price: from about 8 USD / ~50 CNY

Opening Hours: 8 am to 9 pm South Gate; 8 am to 8 pm Wenchang Gate, Heping Gate, East Gate, West Gate, North Gate; 8 am to 6 pm all other gates. Closed on public holidays.

Duration: around 3 or 4 hours required.
2. Get lost in the Muslim Quarter
The Muslim Quarter starts close to the Bell Tower, west of Zhonggulou Square in the Beilin District. This is the best place to enjoy cheap and wonderful street food. Make sure to arrive here hungry, as you can snack on the local food specialties, and experience Hui Chinese culture through good food. Walking around the narrow, busy streets is quite nice and comfortable, so don't be afraid of getting lost. You'll eventually come back to a place you can recognize. Otherwise, ask a local for directions.
Muslim Quarter

Address: West of Bell Drum Towers Square , Beilin District, Xi'an 710000, China
3. Go up the Bell Tower
The Bell Tower is one of the landmarks of Xi'an. Built in 1384, it was one of the most imposing towers in China during that time. The entire tower is 40 m (131 ft) tall, out of which around 36 m (118 ft) is a wooden structure. It is opened for visits all year round. Due to its location, the view from the top is worth it. You'll see the beginning of the Muslim Quarter and the crowds walking on the streets surrounding the tower.
The Bell Tower

Address: Junction of East Main Street, West Main Street, South Main Street, and North Main Street, Lianhu District, Xi'an

Price: from 5 USD / ~35 CNY

Opening Hours: 8.30 am to 9.30 pm from 1st April to 25th October. 8.30 am to 6 pm from 26th October to 31st March. Closed on public holidays.

Duration: around ½ hours required.

Access: 2 minutes walk from Zhonglou subway station
4. Climb one of the steepest mountains in the world: Huashan
With its five peaks and steep valleys, Huashan has a reputation for being one of the most dangerous hikes in the world. It's partly true; there are a some passes where it's dangerous, but there are safety measures taken by the park authorities. You can only go to those passes during certain hours and on the most dangerous parts, you'll be required to wear safety equipment (harness and rope). In order to get to Huashan, you can take an approximately two hour train or a bus ride from Xi'an. Huashan Village is about 120 km (74.5 mi) away from Xi'an. Although it's possible to organize it as a day trip from Xi'an, it would involve an early wake up and late arrival. Two or even three days gives you enough time not to have to hurry. You can plan to overnight either in town or up the mountain. Bear in mind that accommodation up the mountain will be a bit more expensive, yet it will give you the opportunity to watch the sunrise from the East Peak. You can get up both by cable car or hiking. Hiking involves going up many rock stairs until the top.
5. Terracotta Army
Finally, the most famous place is Xi'an can't be omitted. However, timing is important when deciding to visit the Terracotta Army. If you end up there during important Chinese holidays, you might end up stuck and frustrated in a sea of people, so choose your visiting time wisely. There are many buses that can take you to the Terracotta Army and back. Most of them leave from the train station in Xi'an. Needless to say that this is a very impressive site. Thanks to the explanations available all around the exhibition, you will have many opportunities to learn not only a lot of history, but also about the old manufacturing techniques used for terracotta objects.
Terracotta Army

Address: Qinling North Road, Lintong District, Xi'an

Price: from 20 USD / 137.72 CNY

Opening Hours: 16th March to 15th November: 08.30 am to 6.35 pm; 16th November to 15th March: 08.30 am to 6.05 pm; Closed on public holidays.

Duration: around 2 hours required.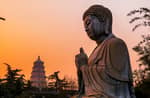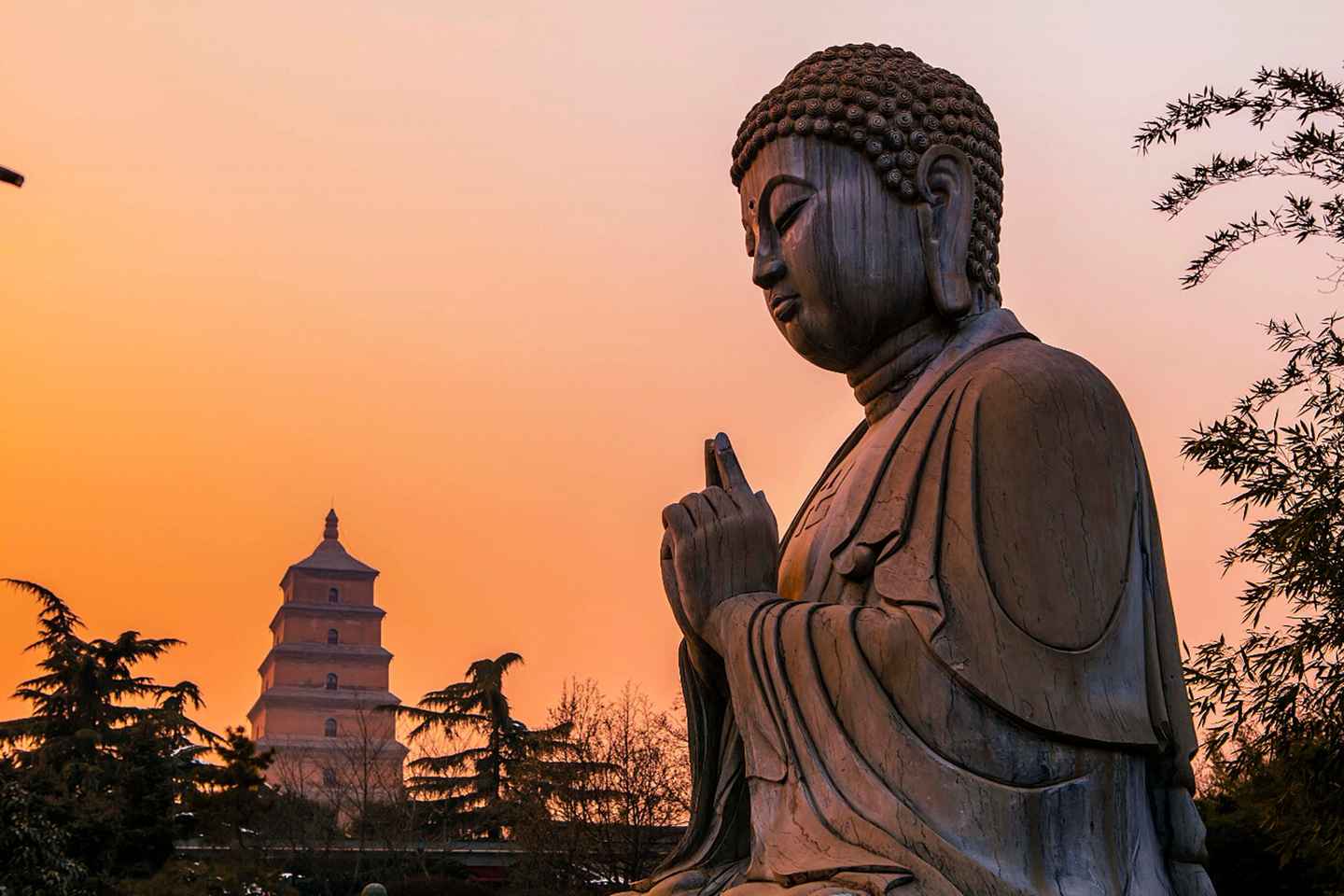 Like a stack of boxes piled one on top of the other, rising to make its presence known, the Giant Wild Goose Pagoda is unmissable and simply a magnificent structure. A Buddhist pagoda, this fascinating structure was erected way back in the year 652, starting its life in southern Xi'an with just five stories. It was rebuilt about a century later, updated to what it presently is. Since then, the Giant Wild Goose Pagoda has withstood the ravages of time and is, today, a popular tourist destination. Found just a short distance from Xi'an city center, your visit to this part of China wouldn't be complete without dropping by this spot. Embark on a walking tour of the Giant Wild Goose Pagoda to delve into the history of Chinese Buddhism.
Big Wild Goose Pagoda: Small Group Buddhism Walking Tour

Duration: 2 to 2.5 hour
Everything you need is right there in Xi'an
History, wonderful food, modern architecture, old city walls, towers, and mountains, Xi'an has everything you might expect from a city. No matter how long you will end up spending in Xi'an, it is the type of city where you will always have something new to discover. And if you think that you've already seen all that the city has to offer, just start reading about its very long history — it will keep you busy for a while.
From the Giant Wild Goose Pagoda, travel a short distance to another site holding a treasure trove of history; Shaanxi History Museum. China is known to bear millennia's worth of history and this museum is a great place to explore the country's past. This expansive facility was first opened in 1991 and boasts the accolade of being the first modern national museum. There are several exhibition halls, each one packed with relics and art pieces that portray the life and times of the people during the Qin, Han and Tang Dynasties. This attraction is a fascinating place to visit, offering lots to learn in the way of history and culture.
Xi'an Half-Day Tour of Shaanxi History Museum and Big Wild Goose Pagoda

Duration: 4 hours
Not to be confused with the Daming Palace, the Tang Dynasty Palace is actually a theater that pays homage to the ancient Tang culture and traditions through song and dance. This grand performance venue has hosted hundreds of performances since its inception in the late 80s. Today, it is just as appealing as it was when it was first started, hosting the popular Tang Dynasty Music and Dance Show, a must when in the city. The 'palace' also boasts a restaurant so you can plan to have dinner just before the performances. If you do opt to enjoy a meal, remember that dinner is served about an hour and a half before the show starts.
Xian Tang Dynasty and Ancient Chinese Culture Live Performance

Duration: 1 to 2 hours
Explore the stunning Qinglong Temple
Qinglong Temple, also known as Green Dragon Temple, is an ancient site that is known to have been constructed around the year 582. During this time, Buddhism was a major religion in the area and Qinglong was where Japanese monks came to study. During the Tang Dynasty, this temple hosted some important Buddhist figures, for instance, Hui-Kuo, a prominent Chinese monk. Fast forward to 1086 and Qinglong faced a tragic year that saw its destruction and ultimate obscurity that lasted almost nine centuries. Its saving grace came in 1963 when it was re-discovered and restored to its present state, reviving stories from its past. Learn about the prominent figures who lived here over a millennium ago and familiarize yourself with the local culture by touring the fascinating Qinglong Palace.
Qinglong Temple

Address: Yanta District, Xi'an, China
If you're a foodie or you're just curious about the local foods, head down to Yongxing Food Street and be mesmerized by the wide array of traditional Shaanxi food. The street is found within ancient Xi'an through Zhongshan Gate, a historic part of the city that's marked by ancient buildings and a decorated archway. However, the historic architecture isn't why both locals and tourists love this street; it's the food. Yongxing boasts treats from all over the province, like Qishan Ganmianpi which is basically a noodle dish. You should also seek out Roujiamo, the local version of a hamburger. Good things are also said about Jingyang Pebble Baked Cake. Whatever you choose to try, a food tour through this street should be the perfect introduction to the local delicacies.
Xian Small-Group 3-Hour Night Food Tour with Local Beers

Duration: 3 hours
You'll hear lots of stories about Huaqing Pool, most of which are love stories between Emperor Xuanzong and Yang Guifei. You'll hear how these two love birds spent hours here, composing music. However, aside from the tales of romance, Huaqing's story goes deeper and farther back. Thanks to the naturally occurring hot springs, several dynasties opted to have their palaces built here to take advantage of the warm waters. Of course, the palace was updated with each dynasty before it faced significant destruction in the wake of the An Lushan rebellion. However, it was later rebuilt and Huaqing Pool is presently the site of five hot spring pools. This spot also boasts a pear garden and the Nine-Dragon Lake among other attractions that you can explore.
Xi'an Chang Hen Ge Evening Show Ticket in Huaqing Pool

Duration: 1 Hrs Duration
Spare a day to visit the animals at Qinling Wildlife Park, known for its over 300 animal species. Found in the Qinling Mountains, the park boasts an expanse of lush landscape that is divided into the walking and driving areas. If you're in a hurry, you can settle for just the walking area and interact with the monkeys, flamingoes, parrots as well as kangaroos. Larger animals like hartebeests, giraffes, gnus, as well as the big cats like tigers, cougars and leopards, are in the driving section. And if you're fascinated by pandas, you'll find these delightful creatures at Qinling as well.
Xian Qinling Wildlife Park Admission Ticket
Wander around Shaanxi Xi'an Botanical Garden
Sitting on 106 acres (43 ha), Xi'an Botanical Garden's expansive real estate is packed with thousands of plant species. In fact, there are approximately 4000 species in the 11 different sections within the garden. A tour will reveal stunning flowers that form a colorful display in the Hundred Flowers Garden. If you're traveling with kids, you can let them run free in the Children's Garden, an excellent place where they can learn about plants, or let them explore the fascinating Qinling Garden. Xi'an Botanical Garden is a tranquil location that makes for a perfect retreat if you're looking for some serenity.
Shaanxi Xi'an Botanical Garden

Address: 17 Cuihua Rd, Xiao Zhai Shang Ye Jie, Yanta District, Xi'an, Shaanxi, China

Website: Shaanxi Xi'an Botanical Garden

Opening hours: 8am - 6pm (daily)

Price: 1.40 USD (10 CNY)
Go shopping in Datang Everbright City
The stunning Everbright City may seem like a mere pedestrian street during the day - a typical tourist hub with multiple shopping outlets. However, at night, its personality transforms when the colorful array of lights turn on. Don't get me wrong, it's no dull place to visit at day time, with lots to see and do for young and old alike. But to take your experience to the next level, consider strolling the streets after sunset when virtually every structure lights up to give it a lively appeal. This pedestrian street is found close to the Big Wild Goose Pagoda and spans approximately 700,000 sq ft (650,000 sqm). If you're looking for a one-stop destination to shop or dine, Datang Everbright City is the place to visit.
Datang Everbright City

Address: Big Wild Goose Pagoda South Square, No. 6, East Section of Huanta South Road, Yanta District, Xi'an

Website: Datang Everbright City
Buy souvenirs in Shu Yuan Men (Ancient Culture Street)
Shu Yuan Men is another popular street in Xi'an, known best for its stunning display of traditional Chinese crafts and paintings, among other cultural artifacts. Much smaller compared to Datang Everbright City, this street has a much deeper history, evident from the ancient architecture that makes up the stores. If you're interested in buying souvenirs then Shu Yuan Men is where you need to be. Some of the most popular items for sale are calligraphy scrolls, antiques, traditional Chinese paintings, and jade articles. You should also take the time to admire ancient structures like the Bell Tower and Shuyuan Gate, or visit Stele Forest.
Shu Yuan Men

Address: Shuyuanmen, Beilin District, Xi'an 710001 China

Opening hours: 24hrs (daily)
Disclosure: Trip101 selects the listings in our articles independently. Some of the listings in this article contain affiliate links.
Get Trip101 in your inbox
Unsubscribe in one click. See our privacy policy for more information on how we use your data
Still Need Travel Insurance?
You can buy and claim online, even after you've left home. Travel insurance from WorldNomads.com is available to people from 140 countries. It's designed for adventurous travellers with cover for overseas medical, evacuation, baggage and a range of adventure sports and activities.
*5% off when you book with our promo code: TRIP101
*For our Canadian and US travellers, unfortunately due to financial services laws, we cannot provide a discount. This promotional code cannot be used with any other discount offer, including World Nomads Members' discount for travel insurance policy holders.