As much as being outside gives you opportunities to have a fun time and avoid spending your weekend on the couch in front of the TV, there are just as many ways to have a good time inside if you look hard enough. Those who are visiting Atlanta, Georgia, or locals who are looking for something new to do on their time off, should know about the indoor activities that they can take part in, whether it's museums explaining the details of historical figures and different points in history or indoor versions of thrill-based experiences that are normally found under the sun. Check out the list of options below to see which will guarantee a good time during your next vacation in Atlanta.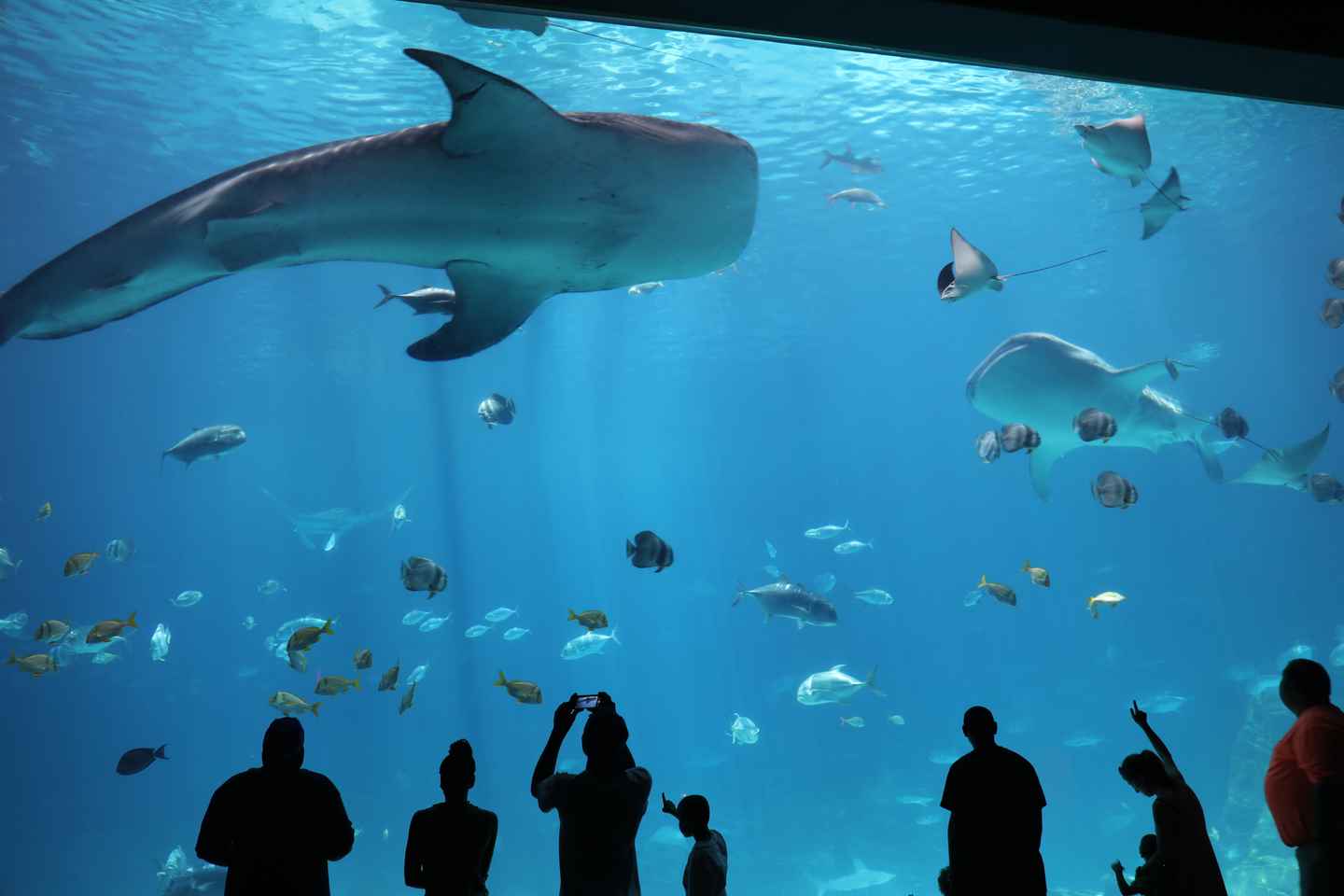 If you're used to visiting land animals at the zoo and want to see more aquatic life, then we recommend stopping by the Georgia Aquarium. In addition to being able to come face-to-face with a variety of fish, turtles, octopi, and other sea creatures, there are several encounter options that let you get up close and personal with dolphins, whale sharks, penguins, and sea otters. Visitors have a variety of exhibits and galleries to view so that they can learn a bit about the history of marine life and how these creatures have evolved.
Georgia Aquarium: Skip-the-Purchase-Line Tickets
Learning about culture can be a fulfilling experience during your time off, and one of the ways to do that in Atlanta is with the Black History and Civil Rights Tour. Visitors will be able to educate themselves about the history of African Americans and their fight for equality at the Center for Civil and Human Rights and the APEX Museum, as well as how Atlanta played a role in ensuring this equality. If you get hungry and want to grab a bite, then you have several options to choose from, when you visit the Municipal Market.
Atlanta Black History & Civil Rights Tour

Duration: 4 hours
Legos have been helping kids have fun for generations, and families get to experience the toys on a whole different level at the city's LEGOLAND Discovery Center. In addition to being able to look at and play with a variety of figures, there are other experiences that visitors get to be a part of, including a 4-D cinema that displays your favorite characters, exploring Pirate Adventure Island so that you can go on swashbuckling activities, and learn how to build different figures and structures at the LEGO Master Builder Academy.
LEGOLAND® Discovery Center Atlanta Admission Ticket

Duration: 3 hours
If you have a bunch of friends trying to pressure you into skydiving and your fear of heights is getting in the way, then iFLY Atlanta will do a good job helping you get used to the experience. This indoor skydiving facility provides training sessions for people who have never soared through the skies before, and you have the option of doing it with a group in case you feel more comfortable doing so with others. The flight gear makes you feel like you're actually outside falling through the sky without having to jump out of a plane.
Atlanta Indoor Skydiving Experience with 2 Flights & Personalized Certificate

Duration: 1 hour 15 minutes
Some of us know one person who is preparing for a real-life zombie apocalypse, but this escape room adventure allows you to feel like you're fighting for survival right now and may prepare you for such a situation. Participants will be part of a team that needs to find a cure for the zombie virus in a government research center, and tasks involve solving puzzles and clues, making it a game of wits. Zombies will be approaching from every corner to add extra pressure to the game, and the escape-style of the room adds to the thrills.
Zombie Apocalypse Room Escape Adventure

Duration: 1 hour
In case you plan to become part of a major corporation some day, specifically CNN and Coca Cola, then you'll have the opportunity to learn about both companies at the same time thanks to this combination tour. A group tour is available in case you have friends or family coming along for the trip. This is an opportunity for people who want to come into some of the CNN offices and learn how the show is run in case they want to join in the future, as well as how Coca Cola has kept providing one of the most delicious drinks out there over the years. The Coca Cola tours lets you taste some drinks from the "Spectacular Fountain."
World of Coca Cola and CNN Center Combo Tour with Transpo

Duration: 4 hours
If you've ever been a fan of journalist Joel Chandler Harris and want to learn a bit more about his personal life, then we recommend going on a tour through the Wrens Nest. This spot is the oldest museum in the city and gives a lesson in African American history. It has also been restored so that it looks how it did when Harris lived there, adding to the authenticity of the setting, and visitors will get to learn not only about the Brer Rabbit series that Harris made famous, but also about President Theodore Roosevelt, Mark Twain, and other historical figures that were friends of his.
Skip the Line: The Wrens Nest - Georgia's Oldest House Museum Ticket

Duration: 1 hour
Aspiring scientists of all fields are sure to benefit from taking time for a tour of Fernbank Museum of Natural History and Science during their stay in ATL. You'll be able to get an understanding of the history of Earth including exhibits of a variety of dinosaurs that show skeletons, rocks and minerals, and tektites. Those who love learning about space and theatrical experiences will get both with the museum's planetarium, and an authentic Apollo spacecraft from the unmanned Apollo 6 Saturn V test flight is presented to those who want to travel through space in the future.
Science Propulsion Tour

Duration: 4 hours
Some people prefer their adventures at night rather than during the day, and one setting that fits such people is Krog Street, which has a long list of bars for you to taste drinks that you've never had before. The marketplace is a nice spot to walk through and take photos of to show off to friends and family back at home, and the East Side Trail on the Atlanta Beltline presents a variety of restaurants and bars to keep you from going hungry or thirsty at the end of the night. If you need a good spot for a pub crawl, no locations serve a better fit.
Krog Street Market Pub Crawl

Duration: 4 hours
Football fans, both for professional teams and college teams, should make time on their vacation in Atlanta for touring through the College Football Hall of Fame, which showcases the accomplishments, records, and historic moments produced by the best players that the sport has had to offer. A variety of exhibits and displays are available so that you can take photos to show friends and family at home who also love the game, including headwear of over 700 different teams and a 45-yard (41 m) replica playing field that comes with an interactive skill zone.
Small Group Tour to College Football Hall of Fame

Duration: 4 hours
Have a blast indoors in Atlanta!
There are just as many ways to have fun inside as there are outside, and Atlanta has plenty of options in case you've run out of outdoor activities to engage in and want to see what you can do indoors. There are several museums available to learn about historical figures and periods of time, as well as those that let visitors explore animals and science. Activities are also available that either give the same thrill as those provided by outdoor activities or test your mind in certain dangerous scenarios. Keep these options in mind for your next trip to Atlanta.
Disclosure: Trip101 selects the listings in our articles independently. Some of the listings in this article contain affiliate links.
Get Trip101 in your inbox
Unsubscribe in one click. See our privacy policy for more information on how we use your data