Located halfway between Wellington, the capital city of New Zealand and Palmerston North, Otaki is a town in the Kapiti coastal district. The town is close to the Otaki river banks and its outflow into Tasman sea. The popular Otaki sandy beach is safe for swimming and a great fishing destination. if you would like to take recreational walks or go cycling along the river, this is the most recommended place to be. The Tararua forest is a perfect destination for recreational activities like short walks, swimming the southern crossing ending at Kaitoke northwest of wellington. Missionaries have visited area and opened the first mission in wellington region at Otaki that was completed in 1851 which was burnt down in 1995 and rebuilt again in 2003. Tikanga Maori hosts annual Maoriland film and Otaki Kite festivals. Currently there is construction of an expressway underway that will cut down travelling time to wellington. Come and book yourself one of the top 12 Airbnb vacation rentals in Otaki, New Zealand.
Enjoy your vacation wile nesting in this beautiful sub-tropical garden nest. It can comfortably accommodate two guests. This rental is only 10 minutes drive to restaurants shops and a heated swimming pool. You can enjoy your evening at the deck while enjoying nature view in the sub-tropical garden. The rental is magnificently furnished and has amazing Indonesian art work. For your entertainment, a TV set and Internet access are available to keep you bust. The kitchenette is well equipped with the necessary basic utensils for those who prefer home cooked meals.
Sundari Retreat

Otaki, Wellington, New Zealand

Superhost

Accommodates: 2

Come and enjoy your vacation in this modernly converted and designed cow shed rental. This rental can accommodate four guests easily. The bedroom has a total of three beds, one queen-size bed and two single beds. The open plan kitchen has all the basic utensils you will need for making meals. The open plan sitting is modernly furnished with an amazing leather seat and a TV set and Internet connection is available to keep you entertained during your stay. The bathroom is well cleaned and stocked with the basic necessities.
The Old Cow Shed

Te Horo, Wellington, New Zealand

Superhost

Accommodates: 6

Take a vacation in this breathtaking two-bedroom beach house. The beach is barely meters away from the hose perfect for those random early morning or late evening swim. This family friendly comes fully equipped with children books, toys and a crib for those traveling as a family. You can enjoy the sunset from the deck while having a glass of wine or beer and having an evening barbecue. The kitchenette is fully equipped with all the essential cooking utensils. The sitting area is well furnished with amazing seats and a TV set is available to keep you entertained.
The Otaki Beach House

Superhost

Accommodates: 4

Come and enjoy what Otaki can offer while staying in this stunning two-bedroom rental. This rental can accommodate up to four guests comfortably. Its proximity to the beach only a two minutes' walk away. The living room is elegantly furnished and a TV set and Internet connection is available for your entertainment or remote work. This cottage can easily accommodate three guests comfortably with the bedrooms that have one double bed and another room has a single bed. The kitchen has basic cooking utensils for those that love making home cooked meals.
Charming bach cottage

Superhost

Accommodates: 4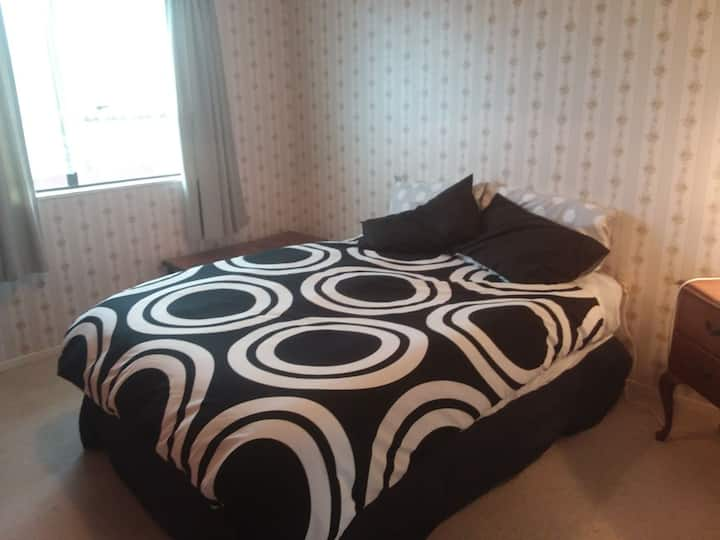 If you're those travelers who aim to just surf and enjoy the ocean waves in New Zealand, booking a homestay with a Kiwi local to be near the famous Otaki Beach. This clean and cozy bedroom has a double bed available for up to two guests, along with basic amenities like a dryer and washer for those who wish to do laundry, heating and hot water in the bathroom. Note that the bathroom is to be shared and has basic toiletries provided for guests. There's also a TV in the common living space guests can use, as well as access to Wifi and free parking outside the property. Travelers who would rather make their meals than spend most of their time eating outdoors can also use the house's kitchen complete with electric appliances and cookware.
Chill room

Superhost

Accommodates: 2

Solo travelers, this listing is for you! Save a couple of bucks on accommodations and stay in a stylish and minimalist-inspired flat in a quiet and secluded neighborhood. This homestay is best for those who wish to escape from the city and still have all the conveniences at their disposal. Guests will be sleeping on a cozy single bed with access to a fully functioning toilet, shower, and sink. Basic toiletries and shower essentials will be provided, as well as access to the dryer and washer for light packers staying just a couple o days in the area.
Romantic Guesthouse in Rural Otaki

Otaki, Wellington, New Zealand

Superhost

Accommodates: 1

Connect with nature in this cozy yurt in a back garden surrounded by trees. This amazing nest has a comfortable double bed well made with feather duvets keeping you warm all night. Breakfast and meals are provided on request and a clean half bath is available for the guest. The beach and the local village is only a walking distance away from this nest making it easy for the guest to take walks and explore that Otaki can offer. A kitchen space and basic utensils is also available for the guests to prepare their own home-cooked meals.
Cosy Yurt connect with nature.

Otaki Beach, Wellington, New Zealand

Top guest reviews

very cosy bed would definitely stay again :)

really nice host the yurt is lovely

expect lovely hosts and a beautiful cozy yurt with everything that you need to get comfortable

berylla is very accommodating and friendly and we enjoyed learning of the history of the yurt

berylla is very friendly and easy going

we enjoyed our stay very much feeling welcome and nurtured by the homely space and lovely hosts

Read more reviews
Enjoy the country side and the city in this one of a kind two-bedroom rental. This home can accommodate a maximum of four guests comfortably. This lovely rental is only a five minutes' drive to the shops and restaurants and if you would like to take nature walks while exploring nature, Tararua ranges is just at the corner. The bathroom with hot water running is nicely cleaned with all the essentials provided. The kitchen is fully equipped with all the basic necessities for the guest to make their own meals.
Greenolive, a modern little home away from home.
If you a free spirit traveler and would love to go down memory lane or would like to try new things, then this is the place for you. This vintage caravan was restored and modernly designed to perfection. It is a beautiful garden backyard that has a barbecue grill. It can easily and comfortably accommodate two guests, basic cooking utensils are available in the small kitchenette. Its proximity to the beach only meters away makes this an ideal place to stay while enjoying your new experience making you feel like you have traveled back in time back to the good old days.
Vintage Caravan
Stay in this lovely one-bedroom rental by the beach. Just a stone throw away from the beach, this one-bedroom rental has a beautiful upper-storey deck perfect place to chill and relax as you watch the sun set. The bed room is well cleaned and the double bed is nicely make giving off that welcoming feel. The kitchen is well equipped with basic necessities and breakfast is provided in the morning. The living area is beautifully furnished with comfy seats and a TV set and Internet connections is readily available to keep you entertained.
Beach retreat with breakfast
If you are travelling and need a place to rest, this is the place to be. This beautifully designed rental has its own sliding door that opens up into an amazing private deck. Breakfast is provided on request at a reasonable extra cost. This studio apartment as a well and nicely made double bed with electric blankets making sure you are warm and comfortable during your stay. The bathroom is clean and stocked with the basic necessities and a heated towel rail is installed keeping your towel warm for you after a good bath.
Cosy Studio

Otaki, Wellington, New Zealand
Enjoy a slice of nature in this two-bedroom rental in the woods. Just a 10-minute drive to the beach and two to the shops, this is the perfect location for get away vacations with family or friends. The rental can comfortably accommodate a maximum of four guests. The house was built in the center of an olive grove in a large garden. The garden has rows of grape vines and olives giving off spectacular garden views. If you would like some outdoor activities, you can take lovely walks nearby of visit the gold fish pond. A communal tennis court is available perfect for exercise and learning.
2 bedroom house in peaceful olive grove.

Otaki, Wellington, New Zealand

Top guest reviews

warm and clean and beautiful garden

everything was as described and very clean

clean spacious quiet: i hope we can go back

heather is a lovely host with super quick turnaround

great place and hosts with loads of welcoming useful touches

this is an amazing house perfect location and amazing house

super close to town but you feel like you are in the country

quiet and secluded but with all modern conveniences to get the most out of your stay beautiful place

Read more reviews
Slice of paradise in Otaki, New Zealand
Full of nature, clearly Otaki was handcrafted by mother nature.These are hands down one of the places to come and reconnect with nature.
Disclosure: Trip101 selects the listings in our articles independently. Some of the listings in this article contain affiliate links.
Get Trip101 in your inbox
Unsubscribe in one click. See our privacy policy for more information on how we use your data