Nesting in the heart of Germany's official capital, Berlin, TV Tower Berlin is an iconic and distinctive landmark in the city. Also called Berliner Fernsehturm by locals, TV Tower is a symbol of unity that shouts "Reunited Berlin", something very political, but in a good way. This skyscraping structure dominates the city's skyline with its 368-meter (1207ft) height, and it's considered one of the tallest structures in Europe. Most tourists who visit Berlin make sure to check out TV Tower Berlin as it offers breathtaking panoramic views of the city. Additionally, it houses a viewing gallery and an exquisite upscale revolving restaurant and a hip bar. If you are planning to check it out on your next visit to Berlin, here is a helpful guide to TV Tower Berlin. Feel free to check it out below.
Things to do / highlights
Your Berlin holiday escapade would not be complete without climbing the top floors of TV Tower Berlin. It is an iconic symbol of German reunification, which is very significant in the country's history. Once you get inside the tower, you might be overwhelmed by its statuesque facade. To help you better navigate your visit, here are some highlights that you must be sure not to miss while at TV Tower Berlin.
Admire the beauty of Berlin's cityscape
The TV Tower is popular among tourists who visit Berlin or those who are planning on visiting this captivating German city. It offers picturesque views from the top floor of this 368meter-tall skyscraper (1207ft).To do so, you have to climb up levels to reach the observation platform on the top floor.
Lucky for you, an elevator is at your service. The views there will surely take your breath away, and you'll see some iconic structures and vibrant areas of the city from the observation deck, including the Berlin City Hall, Berlin Cathedral, Museum Island, Brandenburg Gate, Unter den Linden, Hackesche Höfe, Olympic Stadium, and the Nikolai Quarter.
What to eat
Eat at Sphere Restaurant
Lots of tourists do not only swing by TV Tower Berlin to climb up the observation deck. There is another way to see the sweeping views while at the same time making lasting memories with your loved ones over a sumptuous dinner. TV Tower Berlin houses a majestic contemporary restaurant called Sphere Restaurant.
Just like the observation deck, it is located on the top floor of the building, and it is built with dramatic floor-to-ceiling windows that showcase the stunning Berlin views. Plus, it has a romantic ambiance that is perfect for special occasions like birthdays, anniversaries, and romantic dates.
Sphere Restaurant serves exquisite International cuisines. So, there will be something that pleases your palate, no matter what your preference is. More so, the restaurant serves kid-friendly meals that the young ones will appreciate.
Things to buy
Buy souvenir T-shirts
On the first floor of the TV Tower Berlin, there is a fantastic gift shop that sells various souvenir items like posters, refrigerator magnets, and T-shirts. Everything has the image of the TV Tower. After an experience seeing the magical views from above or a delicious meal at the Sphere Restaurant, be sure to swing by the gift shop to score some souvenirs to remember your visit by.
Refrigerator magnets
If you are looking for affordable little tokens to give to your loved ones once you return from your trip to Berlin, you can score cute little ref magnets at the TV Tower Berlin. These ref magnets are crafted to look like little replicas of this iconic landmark.
Travelers tips
Dress code
TV Tower Berlin does not impose strict dress codes, but most tourists who have been there recommend casual wear. You wouldn't want to visit this important landmark wearing slippers, and you wouldn't also want to wear formal attire. Casual is the most appropriate clothing, especially if you plan to book a table at the Sphere Restaurant. A comfortable top, jeans, and a pair of any covered footwear would be nice.
Accessibility
The TV Tower Berlin has limited accessibility, especially for guests with disabilities as it was established during a time when people did not have as much awareness about the plight of disabled people, unlike the present days. At this point in time, the management is still in talks of finding ways to make the TV Tower Berlin a safer and accessible place for people with disabilities.
Restriction on large bags
Guests who are carrying large bags, trolleys, and racksacks are not allowed entry to the TV Tower Berlin.
How to get there
The TV Tower Berlin nests in the heart of the city, and with its statuesque height, it can easily be seen and reached.
By Bus
If you are looking for a more affordable way to get to the TV Tower Berlin, you can always take the bus. There are several bus stations in the city that you can head over for a ride to the iconic landmark. Some of them are in Johannisthal, Charlottenburg, Lankwitz, U Bismarckstraße, and Wittenau. Be sure to take the bus with the 100 or M48, or TXL signage on their windshield.
By Train
If the train is your preferred mode of transportation, RB14 and RE7 are train lines that have stops that are within walking distance from the TV Tower Berlin.
Hail a cab
Just like any other highly-urbanized city, Berlin has convenient and comfortable taxi rides that you can book wherever you are in the city. Just be ready to pay a pricier fare, compared to the bus and train. On the bright side, you wouldn't need to walk to the stations or to the attraction, once dropped from the nearby station.
Book an Uber
Everything at this point in life is instant, even in transportation. If you are the type of person who takes advantage of all the instant things in life, you can always book an Uber to drive you to the TV Tower Berlin. Just be sure to have an app pre-downloaded on your phone, and after a few clicks, a driver will pick you up from your location.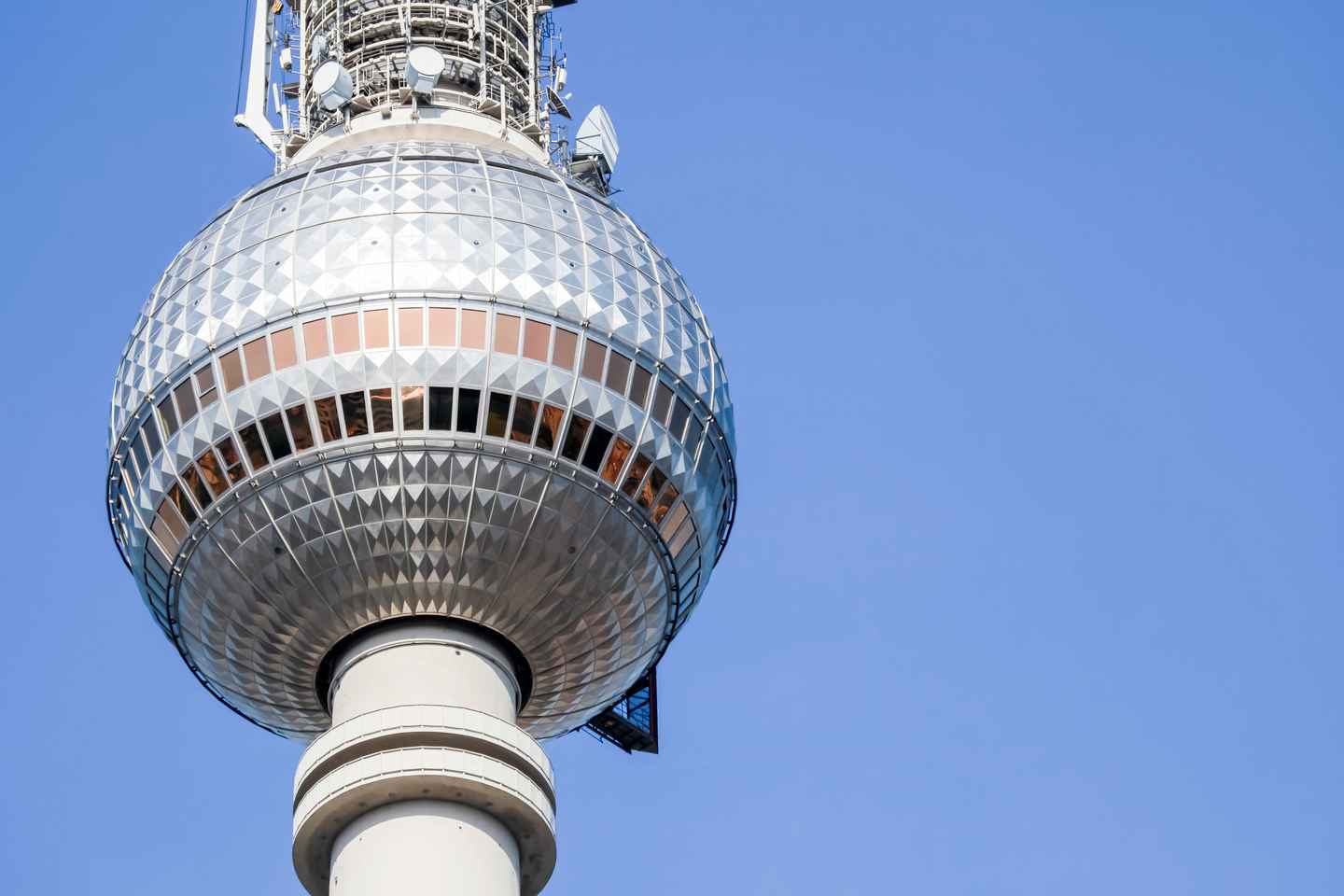 There are several ways to get tickets to the Berlin Tower;
On-site
If your trip to the TV Tower Berlin is an impromptu one, you can always purchase tickets on-site.
Official ticketing site
The most recommended way to get tickets to the TV Tower Berlin is through their official ticketing website, especially if you plan to book a table at the Sphere Restaurant.
Third party websites
There are also fantastic third party websites that offer excellent discounted tickets to the TV Tower Berlin. More so, if you buy online, you wouldn't need to wait in the long queue. Check out the offer below by GetYourGuide below.
Berlin TV Tower: Fast View & Window Seat Restaurant Ticket

Duration: 1.5 hour
TV Tower Berlin information
Address: Panoramastraße 1A, 10178 Berlin, Germany

Opening hours: 10am - 12am (daily)

Cost: From 10 USD

Official Website: TV Tower Berlin

Department of tourism: Visit Berlin
Disclosure: Trip101 selects the listings in our articles independently. Some of the listings in this article contain affiliate links.
Get Trip101 in your inbox
Unsubscribe in one click. See our privacy policy for more information on how we use your data