Home to some of the greats like Mark Twain and Walt Disney, named after the River Missouri that flows through the heart of the state, Missouri has had a history of being occupied by human being for over 12000 years. A forested highland, nature has blessed Missouri with lots of timber and minerals. So blessed is the state naturally that with the Lake of the Ozarks, Table Rock Lake, and Branson, today it is one of the most popular tourist destinations. Thanks to the presence of many rivers, distributaries, lakes, parks, and caves in the area, Missouri also enjoys a large number of tourists visiting the state, making tourism one of the four pillars of Missouri's economy.
One such tribute to the history and magnificence of Missouri is the Big Cedar Lodge. Known for its luxury and eye-pleasing vista, listed here are some of the best Vrbo accommodations in and near Big Cedar Lodge, Missouri, which offer great views and luxuries with pocket-friendly pricing.
With an affordable price per night, per room, this one-bedroom stay with a bath, that can house up to four, offers the ultimate family-friendly retreat. Spread across 40 acres (16.2 hectares) on the banks of Table Rock Lake and located right beside the Big Cedar Lodge, this timeshare property provides not only the best regional charm of Ozarks but also activities for the entire family.
Perfect Getaway in Missouri Ozarks
The stunning bear cabin offers the best and the most private accommodation amid woods. It can easily accommodate up to eight guests in its three bedrooms with desks and two bathrooms with additional sleeping space in the living room. Together with all the facilities of a fully furnished house, this cabin is an epitome for a quiet family holiday.
Run to Running Bear Cabin

Accommodates: 8
Minimum Nights: 1
Refund Policy : 100% refund if you cancel at least 30 days before check-in.

With availability between May 28 to June 1, 2019, and again between August 29 to September 2, 2019, this beautiful resort sits right on Table Rock Lake. With two bedrooms and two baths, it offers excellent facilities, including a fully operational kitchen. With activities like swimming, boating or fishing, there is plenty to explore with family while here. What's more, the resort is also conducive for the physically challenged.
Labor Day Weekend at Big Cedar
With over 1567 sq ft (145.6 sqm), this 3-bedroom, 2 baths condo offers an excellent getaway for families looking for a minimum stay of 31 days amid natural serenity. A family of eight can make the most of this fully furnished condo with new furniture in a green surrounding at Paradise Point.
Luxury lakefront condo on Table Rock at Paradise Point, Branson, MO.
Only 15 minutes from the scenic downtown Branson, this luxurious lodge on the lakefront offers unmatched luxury. With facilities like picnic tables, gas/charcoal grill, fishing, swimming, and many more, the rooms here come with excellent service and amenities. Considering the friendly accommodation, this property for two guests is worth the stay.
Red Bud Cove--Luxury on Table Rock Lake, Dock, Hot Tub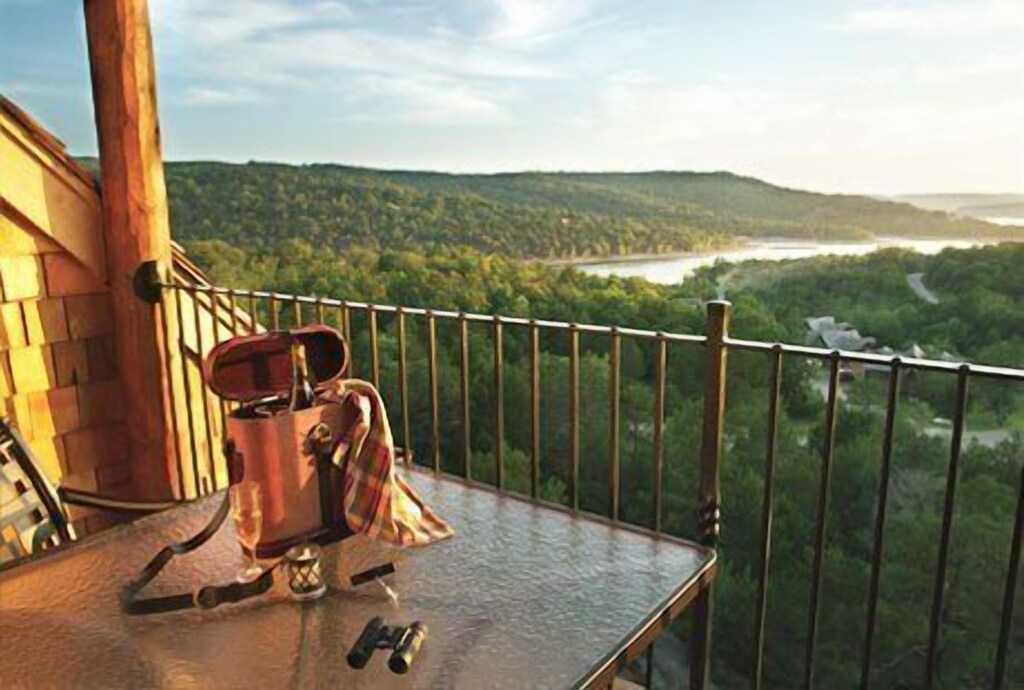 Have you been thinking of a family outing away from the busy city life, stress and workload? Pack your bags and enjoy this great family outdoor vacation with family in a cottage with the river view. Together with all the amenities one needs at their home, and a 9000 sqft (836.12 sqm) clubhouse, enjoy the best of Ozark Mountains. Enjoy yourself in adventure sports such as horse riding, boating, paddle boats, angling, marina, water skiing, hot tubs baths, sauna, restaurant, a gym, horse-drawn carriage, and golf course games.
Great Outdoor Family-vacation. Located On Table Rock Lake.. Sat. to Sat. stay
With two bedrooms and an attached bath, this house in Big Cedar offers two bedrooms with a wood fireplace, fully functional kitchen and laundry in the premises itself. Being within the Bluegreen Wilderness Club, it offers a 9000 sq ft (836.12 sqm) clubhouse as well. Located adjacent to the Big Cedar Lodge, this home is difficult to give a miss. Try it to believe. Exercise in the health center, enjoy a relaxing bath with the sauna and hot tubs available at the property. A step more, indulge in the massage provided in the spa. Truman Smokehouse brings you outstanding cuisine to relish with food of your choice, the Devil's Pool Restaurant, as well as the Worman House, are some of the famous restaurants nearby. Hiking and horse riding beside the wooded trails is some of the activities that you can engage in when you live in this property.
Wilderness Club at Big Cedar - 2 Bedroom Cabin
This home-away-from-home for eight people with three bedrooms and two baths will blow your minds off, with the lake just outside the door. Remarkably close to everything, with a house fully equipped with all the necessary amenities, have a magnificent view of the Table Rock Lake from inside through the window or by the grill outside.
Amazing Tablerock Lakefront House

Top guest reviews

The house is lovely immaculate and everything one might need is provided The beds are comfortable and the lake view was just what we hoped to find

The deck was large and the views of the lake were great

It was very spacious and open making the most out of the square footage

We also took our boat and enjoyed easy boat parking (& space for other cars) and close boat ramps with the ease and luxury of parking our boat out front of the house on the beach during the day

The three bedrooms also were nice to give everyone their own privacy

the owner was welcoming and helpful

We hope to return next fall

This home has been completely remodeled with great appliances and three nice bedrooms

Carol was wonderful to work with

The home added to this wonderful property

The property is peaceful but well located

We took advantage of the grill

The location was perfect location for getting to Big Cedar for wedding events

Carol is easy to reach if needed

It was a great place for a great price with a wonderful location

Read more reviews
With an average price per night, a family of eight to twelve cannot get a better place with a view of the tranquil Table Rock Lake than this stunning property. With four bedrooms, four baths, and two large decks, together with all the luxuries and facilities a home can offer, one would undoubtedly fall in love with this place. As correctly put by a previous guest: it is a perfect getaway home.
Stunning Home with Panoramic Views of Table Rock - 2 Decks!

Top guest reviews

It was great to have a bathroom with each of the bedrooms upstairs

The kitchen is stocked with everything you need for cooking

Was also nice to have cable in each of the bedrooms

Four spacious bedrooms for 4 couples and large kitchen table for all to sit and visit TV room was very comfortable

in the bedroom to the right of the staircase did not work 2

Michael was great to work with and answered all my questions in a timely manner

Nice clean well maintained property

and the host was very accommodating with giving us a late checkout when we needed it

the main contact was a great host

We certainly hope this property is available next year

The house was in a great location Michael

but it takes a good 30 minutes to get one pot done

Uber and Lyft will pick up from this location

It is a few minutes from the landing and the Branson strip however

A little further from Branson than we would have liked but acceptable Very quiet and peaceful

Read more reviews
A luxury 4000 sq ft (371.6 sqm) house that includes a massive 1000 sq ft (92.9 sqm) deck space with 3 bedrooms and 2.5 baths is what the doctor prescribed for a family of up to 12 for a holiday home with a view. The stay is just three blocks away from Big Cedar; you will never be away from all the action here. Choose to drive down or bring your boat.
Ready to host your family.! Our CLEAN home can keep you entertained for days!
Enjoy the Vrbo accommodations in and near Big Cedar Lodge
The mountains with the various caves, the greens and multiple sources of fresh water, including rivers and lakes, Branson offers plenty for families, individuals, and photography enthusiasts alike. Add to this the peace of mind one can experience while in this tranquil place, and you have a perfect mix for a great family vacation. With the Best of Vrbo's in Big Cedar Lodge, it can't get more comfortable to take the long-due family holiday amid all the resistance and excuses that come with it.
Disclosure: Trip101 selects the listings in our articles independently. Some of the listings in this article contain affiliate links.
Get Trip101 in your inbox
Unsubscribe in one click. See our privacy policy for more information on how we use your data