Renowned for its hot springs, stylish architecture and the majestic San Jacinto Mountains, Palm Springs is a must-visit city in California. Deepwell Estates is a neighborhood you do not want to miss visiting. Enjoy a leisurely stroll and be amazed at how beautifully manicured the neighborhood really is, and wonder at the elegant Spanish-style houses. Indian Canyons is also worth visiting. The tourist spot features trails for horseback riding and biking in the midst of spectacular landscape. You may also want to stop by Palm Springs Art Museum, that houses an extensive collection of Native American and European works. Read on to learn more about the best Vrbo accommodations near Deepwell Estates, Palm Springs, California.
This vacation home with a Mediterranean theme design offers a luxurious accommodation for up to a group of six. It also boasts a private pool and spa within a fenced and landscaped yard, great for unwinding and barbecues while enjoying the beautiful views of the surrounding palm trees and mountains the city is known for. Amenities include high-speed wifi, four flat-screen TVs, and a fully equipped modern kitchen among many others to ensure comfort and convenience.
This pet-friendly rental is close to Rimrock Plaza and Baristo Park.
Modern Club Med Oasis, Private Pool & Spa, Incredible Views, 2 King Beds, Too!

Accommodates: 6
Minimum Nights: 7
Refund Policy : 100% refund if you cancel at least 60 days before check-in.

Although you are in Palm Springs, you can also feel like you are in the Middle East at the same time, if you choose to book this Moroccan-inspired villa that is located in a private area. There are three bedrooms with en-suite baths for eight people. You can also enjoy a private swimming pool and gardens for relaxation. Relax all day long at the pool deck or the hot tub. There are many attractions near the villa, including Palm Springs Art Museum and Moorten Botanical Garden.
Palm Springs Listing ID 106

Accommodates: 6
Minimum Nights: 3
Refund Policy :

Welcome to this elegant house that has a mid-century style and offers complete facilities. The three spacious bedrooms and two modern bathrooms can accommodate six people. The house is also equipped with a play pool and a private hot tub that you can use at any time. Sit back, relax and enjoy the fine weather from the private patio in front of the house. To keep you entertained, a large flat-screen TV, a DVD player, and an iPod stereo jack are provided.
Deepwell get away, south Palm Springs
Have a delightful stay at this holiday house that is equipped with all modernities possible. Situated just a short stroll to the famous Palm Canyon Drive, the house features three elegant bedrooms and three spacious bathrooms for up to six guests. You will never feel bored because the house has five flat-screen TVs along with high-speed internet and a whole house Sonos system. Other noticeable things about this house are its retro-chic furniture and a remarkable collection of artworks.
Marley Estate at Deepwell - Very Private Palm Springs Pool Home!

Accommodates: 6
Minimum Nights: 4
Refund Policy : 100% refund if you cancel at least 14 days before check-in.

This house is a dream come true and you will indulge in the ultimate staycation as you spend days at the house. Featuring an open floor plan with the indoor-outdoor flow, the house comes with ultra-modern furnishings, stunning art pieces and exceptional light exposures. Facilities you will find include master suites with king-size beds and luxury beddings, a wall-mounted fireplace and four modern bathrooms. The kitchen is fully equipped and you can enjoy your breakfast in the separate dining area that overlooks the pool.
Deepwell Dream Home - Modern Luxury
Treat yourself by booking this executive villa that offers all the things you may need during your stay. The private yard comes with a large swimming pool, perfect for relaxation. Or, absorb the tranquility at the covered outdoor living pavilion that presents the mountain views. You will also enjoy the fabulous sleeping quarters, well-equipped kitchen, modern bathrooms and deluxe furnishings.
Deepwell Modern - Very Private 4 Bedroom Pool Yard!

Accommodates: 8
Minimum Nights: 4
Refund Policy : 100% refund if you cancel at least 14 days before check-in.

Everything about this property is excellent: location, facilities and view. Situated in a highly desirable neighborhood, the house offers two bedrooms and two bathrooms that can accommodate four people. The kitchen is equipped with modern appliances and there is a large secluded backyard where you can enjoy your breakfast and coffee while having quality chats against the backdrop of the mountain. Step into your private spa or pool after a day of adventure outside. And of course, you can marvel at the view of the majestic San Jacinto Mountains from your house.
The Charm is All Yours in Deepwell Mountain View Oasis! Private Pool and Spa
Indulge in a luxury style of living as you stay at this modern house whose facilities will leave you speechless. The salt-water pool will keep you relaxed all day long. You are also free to use the spa facilities with an added waterfall feature. The Italian tile flooring and beam ceilings are so beautiful. You will love the bathrooms for their walk-in showers, dual showers and multi-directional jets. The magnificent views of the mountain are best enjoyed in the backyard or the master bedroom. Please note that this house only accepts long-term rentals of more than 30 days.
Seasonal Rental - 30 days or more minimum (Not short term vacation rental)
Boasting a perfect combination of location and style, this property will serve as your gorgeous sanctuary throughout your stay. From the walls of glass and floating artistic fireplace to multiple clerestory windows and modern amenities, this property has them all. Sleep comfortably in the two spacious bedrooms or lay down to recharge your energy on the large couch in the living room. Enjoy the swimming pool that is completely private with unobstructed views of the mountain, lush banana palms and mature bamboo, among others.
A traditional Donald Wexler influential Mid-Century modern home.

Top guest reviews

The wall of windows facing out to the pool make the home feel light and airy

the house is totally livable and welcoming

The view of the mountains and the swaying palms from the pool is amazing

This is a lovely midcentury modern home

Indeed a nice vintage home experience Groovy art and eclectic Some updates would make it a 5 star review

This is a beautiful home in a useful and quiet location & offers all conveniences Great views of the San Jacinto mountain range & hummingbirds nesting outside the kitchen window

I had called earlier in the week to let them know that we would be arriving at noon an they reassured us that accessing the house would not be a problem

This is not a home for people with small children

Chairs in backyard are in rough shape

It's a magnificent example of Mid Century Modern

My husband and I were looking for a quiet retreat

There is an amazing collection of vintage art glass displayed in freestanding shelves around the house

Had a great time perfect house to enjoy palm springs

Read more reviews
A luxury house with awesome facilities and amenities is highly desirable, especially during a vacation. Boasting stunning views of the San Jacinto Mountains, the house comes with four bedrooms that have their own bathrooms with walk-in showers, a private outdoor pool, spa, living space and a fully equipped kitchen. You can also relax in the hammock while reading your favorite book or sip your favorite drink by the pool. At night, enjoy some barbecue and grill your own fare.
Completely Remodeled - Desirable South End - Deepwell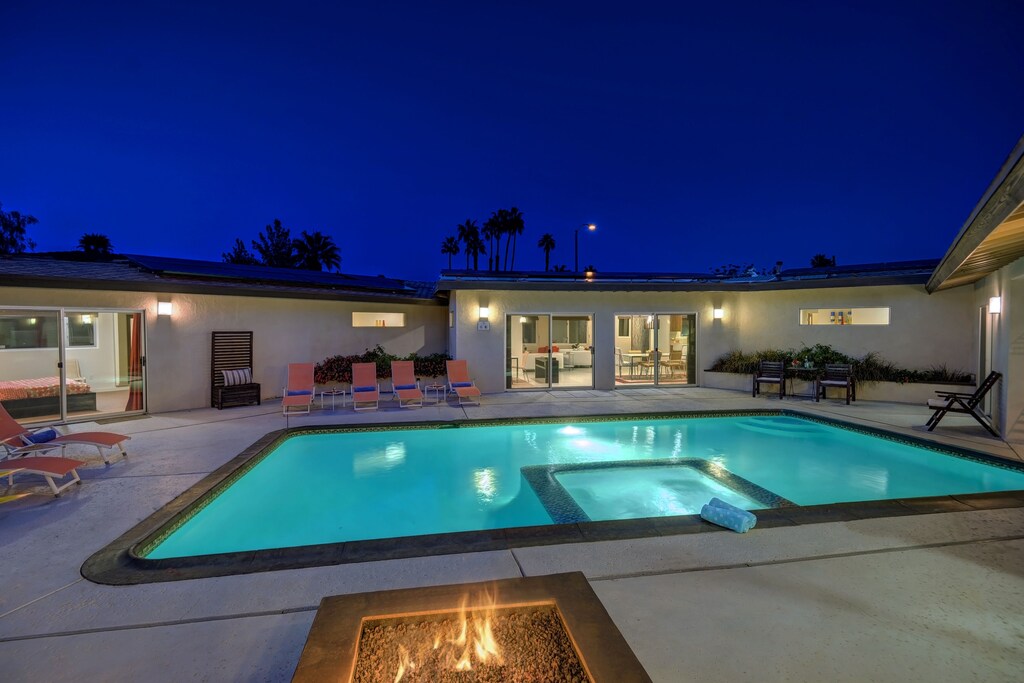 Feel comfortable all the time as you step foot into this modern and spacious house that is located not far from Smoke Tree Village Center. As a guest, you are granted access to the four bedrooms, three bathrooms, the private pool with a view of the mountain, a large kitchen and a dining area. Enjoy the beautiful desert nights by sitting in the outdoor area. In the evening, you are highly recommended to take a stroll through the manicured neighborhood that is too picturesque to ignore.
Deepwell Delight - remodeled designer home in South Palm Springs
An unforgettable vacation
You may have traveled to many cities and countries around the world, but sometimes the memories from those vacations may fade away as time goes by. Not in the case of a vacation in Palm Springs though. The stylish mid-century architecture of the buildings, the vintage boutiques and your choice of accommodation are some of the factors that contribute to beautiful vacation memories that will last forever.
Disclosure: Trip101 selects the listings in our articles independently. Some of the listings in this article contain affiliate links.
Get Trip101 in your inbox
Unsubscribe in one click. See our privacy policy for more information on how we use your data