From the thousands of awe-inspiring caves, to the stunning Mississippi River, Missouri is known as a place home to a myriad of majestic natural wonders. Delve deeper into the majestic design of Mother Nature, or spend your days in the soothing ambiance in one of its many relaxing and laid-back cities. Aside from its gorgeous nature escape and natural beauty, it also boasts a rich history in the form of various historical museums that binds it to the past. Whether you're an outdoor kind-of-guy or a history buff, Missouri has countless places for you to explore over the weekend. Moreover, it's strategically located in the middle of the Midwestern United States, making it an ideal place to launch your weekend trips toward other famous landmarks. Now, if you're staying at St. Louis, there is no shortage of impeccable things to do nearby. So, here's a list of the best weekend trips from St. Louis, Missouri. In case you're planning to stay over, check out the best unique hotels and vacation rentals for your accommodation needs.
1. Hermann
Located in the Missouri River Valley, Hermann is a picturesque postcard village, where its old brick buildings line up the sidewalk, just as they do in Germany. Hermann is a deep-rooted German town in the past, where until to this day, its German roots are still transparent. If you're planning to experience German culture without leaving the US, this small town is the place to go. Situated only 78 miles (126 kilometers) from St. Louis and only a 90-minute drive, you can visit the 19th century German School Building. It's home to the historic Hermann Museum that features the extraordinary collection of treasures from Hermann's past.
2. Grafton
Located at the confluence of America's two great rivers, the Mississippi and Illinois, this riverfront community of Grafton is known for its scenic spots that offer panoramic views of the surrounding landscape and lively downtown district. Though much of its early history resembles that of the Wild West, Grafton was founded as a river community with the purpose of supporting riverboats traveling between Chicago and St. Louis. Nowadays, Grafton is home to a zip-line canopy tour, a water park along the river, a local award-winning winery, and an ice rink along the banks of the Mississippi River, among many other attractions. Located only 38 miles (61 kilometers) or a 52-minute drive from St. Louis, a quaint yet charming small town is within your reach.
3. Augusta
The town of Augusta is a city in St. Charles County, nestled along the rolling hills atop the bluffs of the Missouri River. This quiet and peaceful small town offers a variety of venues for its visitors, such as Katy Trail that traverses a long stretch of Missouri River, wineries, a brewery, restaurants, and more. Approximately 47 miles (76 kilometers) or a 54-minute drive west from St. Louis, this peaceful small town is perhaps the ideal destination for you to escape the daily hassles of life.
Branson is a city in Taney and Stone Counties, Missouri, and it is widely known in the region as a great family vacation destination. Branson offers many fun activities for its visitors, from outdoor and recreation activities to live entertainment, there's no shortage of great things to do here. If that's not enough, you can explore a replica of the Titanic at Titanic Museum, complete with every minute details and appearance — perfect for the kids. The distance between Branson and St. Louis is 252 miles (406 kilometer). It is approximately a four-hour drive southwest of St. Louis, so do pack enough snacks for the journey.
Titanic Museum Branson Admission Ticket

Duration: 2 hours
5. Santa Claus
Santa Claus in Indiana state is a magical place where it's Christmas everyday. Through the years, Santa Claus has been welcoming families towards genuine joy via its rich Christmas traditions and culture. Though not everything about this place relates to Christmas, in fact, its single largest attraction is a summer-themed park, which is full of thrilling water slides. The streets of Santa Claus are also brimming with beautifully decorated Christmas stores. The distance between St. Louis and Santa Claus is around 200 miles (322 kilometer) or a three-hour drive.
South from St. Louis lies the city of Memphis, Tennessee. The distance between the two is around 284 miles (457 kilometer). Memphis is known for its delectable BBQ served at renowned restaurants across town. More so with its connection to blues, soul and rock 'n' roll hits. Basically, Memphis is overflowing with delights for all things music and food. Besides, this is the home of the legendary Sun Studio — the studio where Elvis Presley recorded his albums. It's also the yearly venue for the World Championship BBQ Cooking Contest, which is listed in the Guinness World Record as the "largest pork BBQ contest in the world". Plus, a simple tour around Beale Street will surely mesmerize you with all the sights and sounds encountered along the way.
Memphis City Tour with Sun Studio Upgrade

Duration: 4 to 5 hours
7. Columbus
Located about 264 mi (425 km) from St. Louis, the county seat of Bartholomew County, Columbus, is a small city known for its beautiful architecture. In fact, it's regarded as America's best displays of architecture where the skyline manifests the 20th-century masterpiece on the 19th-century buildings. Though quite a small city in its own right with only 45,000 inhabitants, Columbus still became the leading venue to witness great architectural designs. But Columbus isn't all about architecture, it's also home to pomp restaurants, cafes, and bars. Not to mention that a handful of great museums are in Columbus.
Springfield is a southwestern city in Missouri and is the third largest city of the state. It's also the county seat of Greene County and is known as the Queen City of the Ozarks. Though the city is quite big, it exudes a small-town ambiance with big-city amenities, and also hasn't forgotten its classic American Heritage. Therefore, visiting Springfield would feel like vacationing in your hometown, minus the usual sights and sounds. While you're here, you shouldn't miss checking out the Pythian Castle. This classic castle can be explored all throughout, from its tower room complete with medieval decors and items, to its dark and gloomy dungeons, and at the same time learning about the ancient history of this place. The distance between Springfield and St. Louis is 216 miles (348 kilometers) which will take around three to four hours by car.
History Tour of Pythian Castle in Springfield Missouri

Duration: 1 hour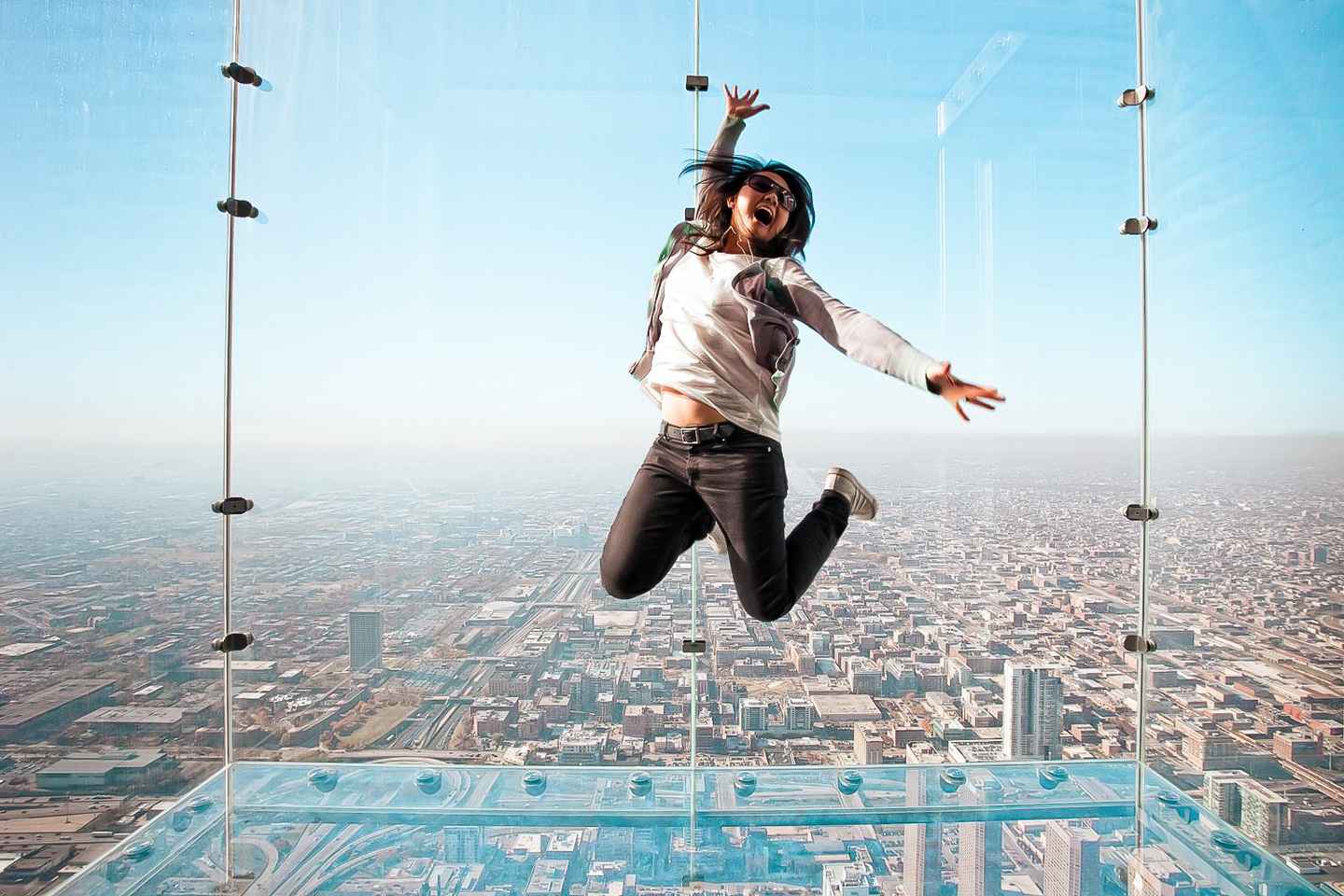 Located 300 miles (483 kilometer) northeast of St. Louis lies the city of Chicago, Illinois. This amazing city needs no introduction, testament to the fame attached to its name. Chicago is home to lavish architectural marvels, world-class museums, award-winning dining scene, and a dynamic entertainment hub you'd expect from one of the best cities in the world. The cultural attractions amid thriving commercial districts and entertainment hubs shouldn't be missed out by every visitor. Plan your next weekend getaway at Chicago by treating yourself to a bird's eye view over the Chicago cityscape atop the Willis Tower then ride a hundred floors towards the Skydeck onto the most thrilling place of the day — The Ledge.
Chicago: Willis Tower Skydeck and The Ledge Ticket
Cincinnati is one of the major cities of Ohio and is the county seat of Hamilton County. Situated at the confluence of Licking and Ohio Rivers, Cincinnati is home to plenty of historical, recreational and natural attractions. Strategically located between the Deep South and the Midwest, Cincinnati exudes a unique mix of barbecue heritage, baseball passion, and a deep sense of historical relevance. These are manifested in the city's superb museums, amid the vast swathes of greens at Eden Park and Union Station, as well as its renowned Major League sporting institutions. The best thing to do here would be to explore the beauty of the riverfront, marvel at its amazing architecture, while learning about the rich history and diverse local culture of Cincinnati. Plus, Cincinnati is 351 miles (565 kilometers) or a six-hour drive from St. Louis.
Cincinnati: 3-Hour Small Group Food Tour with a Local Guide

Duration: 3 hour
Plan the best weekend trip for yourself!
While there are many fun things to do in St. Louis, living the normal life inside the boundaries of a bustling city will eventually take a toll on your physical and mental well-being. Which is why it's important to take some time out and give yourself a break. Everyone deserves a break from all the hassles of life. Drop your staycation plans just this time and consider spending your next weekend outdoors for a well-deserved weekend trip from St. Louis, Missouri.
Disclosure: Trip101 selects the listings in our articles independently. Some of the listings in this article contain affiliate links.
Get Trip101 in your inbox
Unsubscribe in one click. See our Privacy Policy for more information on how we use your data