Also known as "Mother of States," tourism is one of the most flourishing parts of Virginia given its historical sites, museums, beaches, hiking trails. Aside from that, Virginia also serves as a focal point from where you can travel to some incredible spots. These destinations contribute to help you make the most of your weekend getaway in the US. With an abundance of relaxation as well as adventure in store for you, you will not run out of things to do during these trips. Don't worry these places are easily accessible from Virginia. If you want a more exciting escapade, then check out our list of the 10 best weekend trips in Virginia, USA.
One of the oldest cities of America and the capital city of Virginia, Richmond is located 21 miles (34 kilometers) from Petersburg and is home to some amazing attractions such as American Civil War Museum, Children's Museum of Richmond, White House of the Confederacy, Hollywood Cemetery, and Lewis Ginter Botanical Garden. During your trip here, don't forget to pose for pictures with the brick row houses as your background. Explore the trendy neighborhood of Carytown, where you will find a lot to street shop. Located close by is Virginia Museum of History & Culture, where you can learn more about the state's history. You should also explore Richmond's food and craft beer scene.
Richmond Carytown Neighborhood Food Tour with Guide

Duration: 3 hours
2. Newbern
New Bern is North Carolina's second-oldest colonial town. Just over three hours away from Virginia Beach, this town has plenty of appealing spots to cover your weekend such as North Carolina History Center, New Bern Fireman's Museum, New Bern Academy Museum, New Bern Historical Society Civil War Battlefield Park, and Island Creek Trail, to name a few. This gorgeous town is surely a feast for your eyes and offers ample opportunities for nature lovers and outdoor enthusiasts. Do visit Croatan National Forest or indulge in some waterfront activities at Union Point Park, which is at the convergence of Trent and Neuse Rivers. If you love Pepsi-Cola, then consider yourself lucky because New Bern is the birthplace of the popular soda.
3. Staunton
Nestled in the heart of Virginia's Shenandoah Valley, Staunton is 99 miles (159 kilometers) from Richmond. It has been named as one of the most distinctive places in the USA. You will find many unusual attractions in Staunton, such as Camera Heritage Museum which houses 6000 varieties of cameras; Crozet Tunnel which is considered an engineering wonder; Mole Hill which is one of the few remaining active volcanoes on the Eastern shoreline. Explore the enticing range of shops, restaurants, art galleries in downtown Staunton. Other notable attractions are Frontier Culture Museum, Artisans Center of Virginia, and Kline's Dairy Bar. Staunton is also the birthplace of Woodrow Wilson so do check out Woodrow Wilson Presidential Library and Museum.
4. Lexington
An enjoyable drive of 55 miles (89 kilometers) from Charlottesville will take you to Lexington. It is home to Virginia Safari Park, a drive-thru safari park that lets visitors feed and pet animals in their natural environment. Enjoy a drive along Blue Ridge Parkway while staring at the mesmerizing Blue Ridge Mountains or if you have kids with you, take them to Dinosaur Kingdom. If you are a thrill-seeker, then go to Poor House Road Tunnel that has a reputation for many mysterious happenings.
Over 35 miles (56 kilometers) of stunning beaches and 3 miles (5 kilometers) of oceanfront boardwalk await you in this heavenly destination. This beautiful coastal city offers fascinating activities such as ghost crabbing, boat tours to oyster farms, and kayaking amongst dolphins. Include a visit to Military Aviation Museum, Virginia Aquarium and Marine Science Center, and the magnificent statue of King Neptune. Don't forget to indulge in seafood dishes usually served at Terrapin or Waterman's Surfside Grille.
Sunset Dolphin Kayak Tours

Duration: 2 hours
Williamsburg is less than an hour's drive from Alexandria. This family-friendly destination is known for its spooky spots that's why ghost hunting is one of the most common activities here. If you wish you experience life during the colonial era, then Colonial Williamsburg is the right place to watch dramatic re-enactments of that time. Other unmissable places include Busch Gardens, DeWitt Wallace Decorative Arts Gallery, and Abby Aldrich Rockefeller Folk Art Museum. Apart from these, there is Ripley's Believe It or Not Museum, Governor's Palace, wineries, parks, and more.
Ghost Tour with Paranormal Photos, Williamsburg East

Duration: 60 to 90 minutes
If you are a foodie or a wine lover, then Charlottesville is the city you should head to. If your starting point is Richmond, then you are 66 miles (107 kilometers) away from this captivating destination. Relish the spectacular Skyline Drive through Blue Ridge Mountains and Shenandoah National Park, which is highly recommended. Take a tour of the marvelous vineyards on Monticello Wine Trail, admire the impressive art collection at Les Yeux du Monde Art Gallery, or pick your own peaches at Carter Mountain Orchard. There is a lot in store for outdoor enthusiasts too. If you wish to explore the city on foot, Downtown Mall is ideal for shopping, dining, art walks, free concerts, and more.
Virginia 5-Hour Private Wine Tour with Three Vineyards

Duration: 5 hours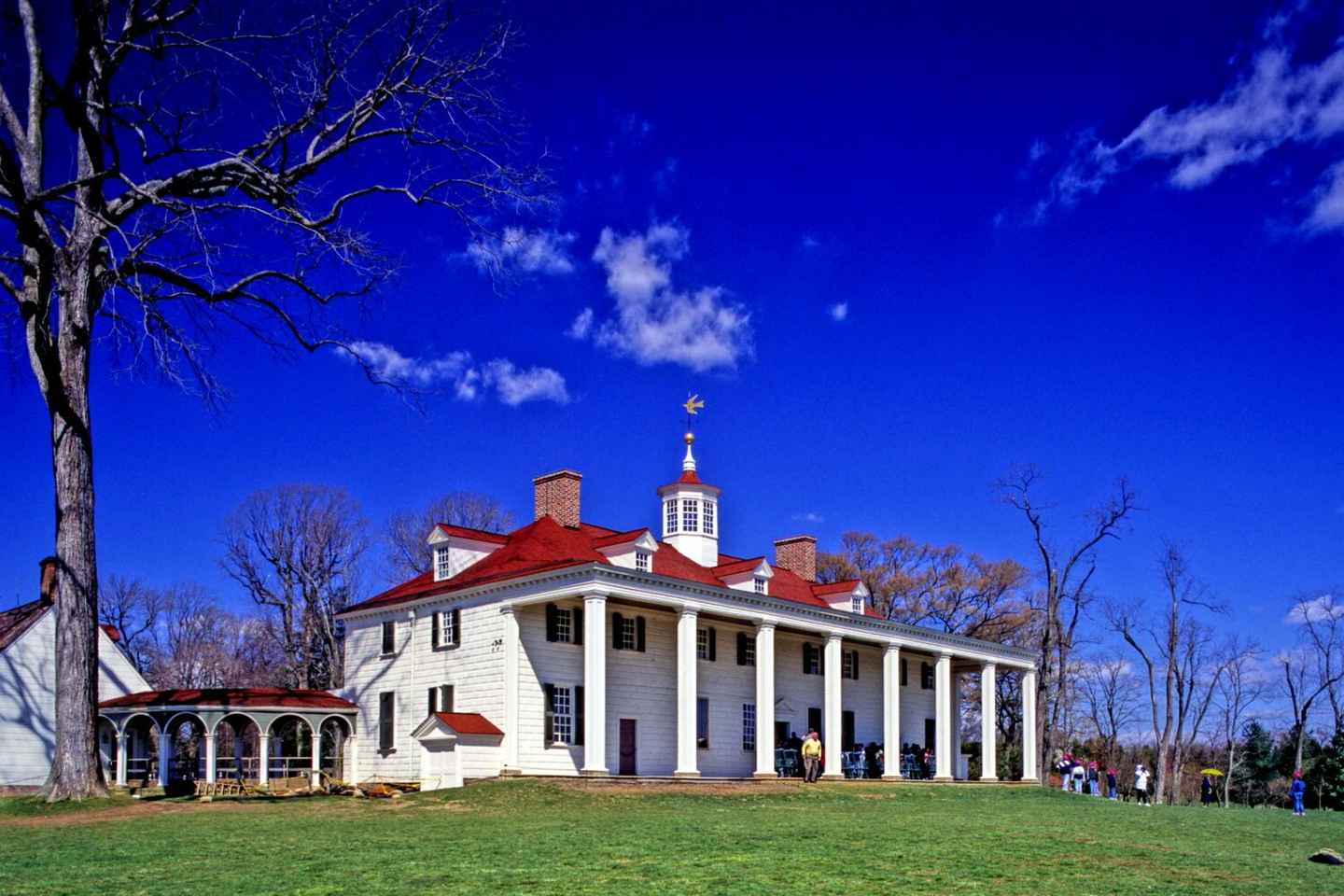 Located on the banks of the lovely Potomac River, Alexandria is mostly known for its colonial history with a modern vibe. If you are a history buff or an art lover, take a tour of the Old Town or head to Torpedo Factory Art Center that has 6 galleries and 82 studios. Your trip to Alexandria is incomplete without enjoying a river cruise and savoring some delicacies while gazing at the scenic waterfront. If you start from Richmond, you are 90 miles (145 kilometers) away from Alexandria.
Mount Vernon and Old Town Alexandria Tour

Duration: 5 hour
Dazzling sunsets, breathtaking beaches, untouched nature—all of this make this quaint island a very fascinating weekend destination. If you are starting from Virginia Beach, you can expect to be here in about two hours. Since it is on Chincoteague Bay, you get to be close to nature and wildlife. While here, you get to witness herds of ponies and a diverse range of birds at Chincoteague National Wildlife Refuge, savor local seafood preparations in on-the-water dining, go on a cruise to see dolphins, and head to Pony Center if you wish to ride one. The annual pony swim and auction is an exciting activity you shouldn't miss. After a long day, relish homemade ice cream at Island Creamery.
Paddle board tours around Chincoteague Island

Duration: 2 hours
Known for being a crucial site during the Civil War and also George Washington's childhood home, this city is two-and-a-half hours away from Virginia Beach. You must visit Fredericksburg Area Museum, Hugh Mercer Apothecary Shop, four Civil War battlefields, Fredericksburg & Spotsylvania Military Park, and George Washington's Ferry Farm. Plan a trip to the craft breweries, antique shops, art galleries, and of course, the many restaurants that welcome you to be a part of the impressive culinary scene. For nature lovers, there's Alum Springs Park and Virginia Outdoor Center where you can engage in canoeing, kayaking, and more.
Hugh Mercer Apothecary Shop General Admission Ticket

Duration: 30 minutes
An exciting weekend trip from Virginia
It is not always necessary that you have to plan a long vacation. Even a weekend trip can be equally revitalizing if you pick the right destination. So with this list of weekend trip destinations, you will surely have no problem in finding that ideal escape with your loved ones. The above weekend hotspots are replete with many exhilarating things to do and places to visit that will exceed your expectations.
Disclosure: Trip101 selects the listings in our articles independently. Some of the listings in this article contain affiliate links.
Get Trip101 in your inbox
Unsubscribe in one click. See our privacy policy for more information on how we use your data