In the last few decades, New Zealand has rocketed up people's bucket lists of must-visit countries. And whether it's the stunning peaks of the South Island or the cosmopolitan cities of the North Island, there is enough to see and do to occupy a lifetime. But even the best of holidays sometimes gets hit with a little inclement weather, and what do you do on those occasions? Well, in Auckland you are truly spoilt for choice when looking for a rainy-day activity. From the iconic Greco-Roman edifice of the Auckland Museum and its internationally important collections to natural aquatic marvels at the city's very popular Kelly Tarlton's Sea Life Aquarium - there is all manner of activities just waiting for you. What's more, many are places you'd happily spend time even when the weather is not behaving itself. Read on for just some of the top activities to do in on a rainy day in Auckland, New Zealand.
1. Play indoor mini-golf
Mini golf is a family-friendly staple of many a holiday, but Gloputt Mini Golf offers an experience with a difference - Auckland's first glow-in-the-dark variation on the popular activity. Since opening at its current site in 2009, its 16 holes of colourful glowing fairways, plants and buildings have won many a fan - indeed, it is so popular that visitors are advised to book in advance during busy school holidays to ensure they don't miss out. But, make sure you do that, and you should generate plenty of fun memories to look back on fondly at the end of your vacation. What's more, it's all indoors, so the weather will never spoil your fun.
Gloputt Mini Golf

Address: 28 Barrys Point Road, Takapuna, Auckland 0622

Website: Gloputt Mini Golf

Opening hours: 10am to 6pm (Sunday to Tuesday), 10am to 9pm (Wednesday and Thursday) and 10am to 11pm (Fridays and Saturdays)

Price: 10.17 USD (adults) and 7.45 USD (under 12)
2. Channel your inner kid by letting yourself go on a trampoline
Editor's Note: Photo taken from the establishment's official social account
Another activity that is sure to appeal to the young (and young-at-heart), Jump Trampoline Park is exactly what the name suggests. There are actually not one, but three of these popular indoor trampoline facilities dotted around the wider Auckland area - at North Shore, Avondale and East Tamaki - so you should find one reasonably close by regardless of where you're staying. And there are plenty of fun trampoline-based attractions to entertain - from classic trampoline courts to bouncy basketball lanes that let everyone experience what it's like to bag a slam dunk. Foam pits, dodgeball course and even 'ninja warrior' courses are just some of the other fun activities you're likely to find.
Jump Trampoline Park

Address: 6 Jomac Place, Avondale, Auckland

Website: Jump Trampoline Park

Opening hours: Varies. Check website for details.

Price: 11.52 USD (adults) and 5.42 USD (for under 110cm/ 3ft 6in)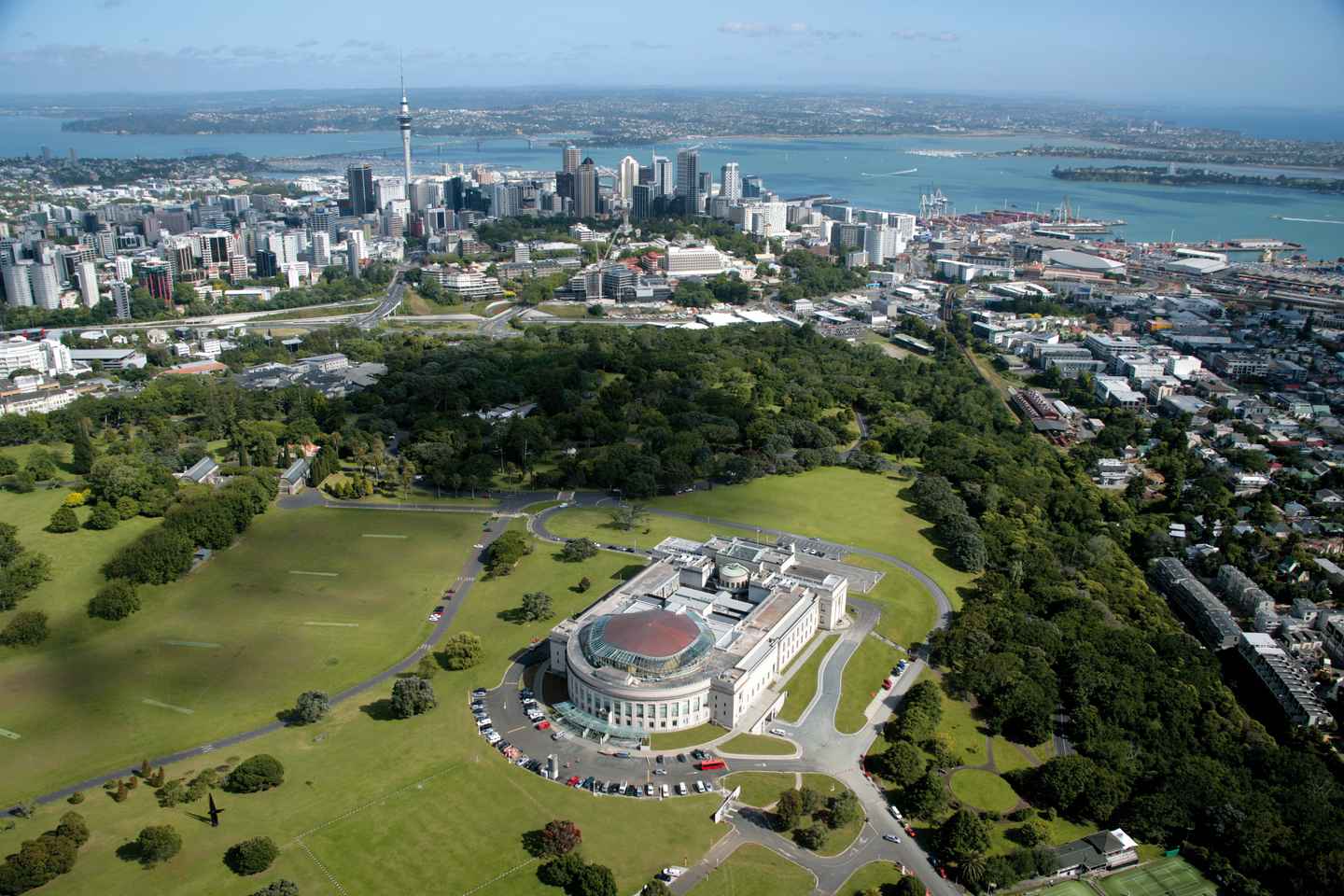 The impressive Auckland Museum mentioned back in entry number one, is a true must-see during any visit to the city - even ones where the rain stays away. Its fine collections contain a unique array of Māori artefacts and objects from the wider Pacific. As well as telling the detailed and fascinating history of New Zealand's lands and people across its three floors, the impressive museum also serves as a war memorial, with models of everything from Spitfires to Japanese Zero aircraft among the exhibits. The large copper dome on the roof of the building and its viewing platform offers an impressive vantage point from which to enjoy a picturesque city vista.
Auckland War Memorial Museum Entry Ticket
4. Visit the Massey Park Aquatic Centre
As the old saying goes, if you can't beat 'em, join 'em. So what if it's wet outside, embrace the damp conditions and head to the Massey Park Pool - with its array of wet n' wild fun for all ages. It provides everything from a wave pool to a hydroslide, and from outdoor pools to facilities for toddlers. Those looking for a more relaxing experience are also well catered for via everything from the on-site sauna and spa pool to a steam room in which to unwind and forget the stresses of working life.
Massey Park Aquatic Centre

Address: 2 Ron Keat Drive, Papakura, 2110

Website: Massey Park Aquatic Centre

Opening hours: Varies depending on day and pool. Check website.

Price: 2.71 USD (17 years and over) for general admission. Free for under 17.
5. Enjoy a thrilling and frightening experience at Spookers
Editor's Note: Photo taken from the establishment's official social account
Not afraid of things that go bump in the night? Do you enjoy the adrenaline rush of a real scare? If so, then this next entry on the list is definitely for you - Spookers. Set just 45 minutes outside of Auckland by road inside the grounds of a former psychiatric hospital, this "live entertainment" haunted house experience does its level best to utterly terrify its visitors. And I'm not joking. Some of its main attractions - such as the Freaky Forest of Fear, Cornevil and Disturbia - have an R-16 age rating because they are not for the faint of heart. But its dedicated fans swear by it - and it has developed such a cult following down the years that there has even been a documentary filmed about it. And, if you have younger adrenaline junkies in your party, fear not, as there are some attractions that are suitable for younger age groups - such as the Taste of Terror for ages eight and over, and the Amazing Maze N Maize for all ages. Simply check before you go.
Spookers

Address: 833 Kingseat Rd, Kingseat 2580

Website: Spookers

Opening hours: Varies. Check website.

Price: 10.17 USD (adults) and 6.78 USD (children)
6. Try the only indoor skiing and snowboarding slope in New Zealand
Enjoy the thrill of skiing or snowboarding all year round - whatever the weather - by opting for a visit to Snowplanet Ski Slope. The only indoor ski and snowboard slope in the whole country, it is open seven days a week and stays open as late as 10 pm on most days and as late as midnight on a Friday. So you will have plenty of time to enjoy the experience - regardless of when in the day the weather breaks down. What's more, the 8,000 square metres (86,000 sq feet) terrain park alters every week - ensuring a different challenge almost every time you visit. And those who haven't skied before need not fear - lessons are available too.
Snowplanet Ski Slope

Address: 91 Small Road, Silverdale, Auckland 0992

Website: Snowplanet Ski Slope

Opening hours: 10am to 10pm (Mondays to Thursday); 10am to midnight (Fridays) and 9am to 10pm (weekends)

Price: 31.85 USD (17 years and over) and 24.40 USD (under 17)
7. Eat out, grab a hot coffee or enjoy artful ice-cream at cosy cafes
If you'd rather while away the rainy hours in a relaxing setting with a good book or tasty treat, then you could always make a beeline for the city's wide array of cosy cafes, where good coffee and artisanal ice creams rub shoulder-to-shoulder. One such example is the Kokako Cafe. Run as a flagship cafe by Kokako Organic Coffee Roasters, it serves up a wide range of coffee options to enjoy on-site, as well as a range of coffee grounds to take away to brew up at home. What's more, there's a popular and seasonal a la carte menu which has won over hundreds of fans who praised its "very tasty meals". Alternatively, why not make a beeline for Chuffed. Set amid a stylish white-walled 'corridor' space on the High Street, it has won a strong fan base since it opened up shop three years ago - picking up fans not just for its coffees but also for the tasty local and seasonal treats on the menu.
Kokako Cafe

Address: 537 Great North Road, Grey Lynn, Auckland 1021

Website: Kokako Cafe

Opening hours: 7am to 3.30pm (weekdays) and 7.30am to 4pm (weekends)

Price: 10.84-20.33 USD
8. Go indoor go-karting, bowling or play pool
Another fun staple to enjoy during inclement weather is to hit the go-kart track for a little racing or head to ten-pin bowling alleys for some family fun on the lanes. And Auckland is well served by both. It boasts no fewer than three different karting tracks, two of which are indoor and weather-proof - Blastacars Drift Karts and Extreme Indoor Karts. Blastacars, for example, boasts a 220 metre long (722 feet) indoor track that can handle up to a dozen racers at once. And, while you wait for your fun on the track, the centre is also home to a range of party rooms and arcade areas. There's even an outdoor play area, although if it's a rainy day, you may wish to give that particular facility a miss. And, as for ten-pin bowling, there are plenty of options available - from Metrolanes in the central business district to Xtreme Entertainment in Wairau Valley, which offers everything from bowling, to New Zealand's biggest indoor playground and laser tag.
Blastacars Drift Karts

Address: 82, The Concourse, Henderson, Auckland 0610

Website: Blastacars Drift Karts

Opening hours: 12pm to 10pm (Tuesdays to Fridays) and 10am to 10pm (weekends). Mondays closed.

Price: Varies. Check website.
Going somewhere where water is a dominant theme may not seem like an obvious destination on a wet day, but Kelly Tarlton's Sea Life Aquarium is certainly a spot worth checking out - come rain or shine. This popular aquarium which has been running since the mid-80s features transparent tunnels that run through the tanks - offering a truly immersive experience (no pun intended). And if its 1500 animals and more than 50 species don't sound enticing, then why not hit the Auckland Museum or Art Gallery instead? The former's fine Greco-Roman design, houses everything from extensive Māori artefacts to military history exhibits (more on that later). While the latter boasts the country's most extensive collections of artwork from New Zealand and the wider world.
SEA LIFE Kelly Tarlton's General Admission

Duration: 1 hour
The rich Māori culture is a true symbol of New Zealand. The country's native people, who first arrived on the islands sometime around the mid to late 1200s, have a vibrant and unique culture that thrived and developed during centuries of isolation before the arrival of Europeans in the 17th century. Today around a sixth of New Zealanders identify as Māori and the culture is a key part of the country's identity. For instance, the famed haka dance is familiar to rugby fans throughout the world thanks to its adoption by the All Blacks - the New Zealand national team - as a means of intimidating opponents. So you'll likely want to catch a Māori cultural performance during your stay - and the Auckland Museum is one site where you'll be able to do just that. Those buying tickets for a visit to the museum can choose to add on a Māori cultural performance as well.
Auckland Museum Entry Ticket & Maori Cultural Performance

Duration: 1 day
The rain need not spoil your fun
Come rain or shine there's plenty to see and do in Auckland - so if the weather turns for the worse, fear not, as you'll always find plenty to keep you and the family entertained.
Disclosure: Trip101 selects the listings in our articles independently. Some of the listings in this article contain affiliate links.
Get Trip101 in your inbox
Unsubscribe in one click. See our privacy policy for more information on how we use your data