Mount Washington is one of the most sought-after destinations for alpine enthusiasts around the world. Surrounded by an endless array of fir trees and some of the deepest snowfall found on the planet during winter, it's no wonder Mount Washington finds itself flocked by a plethora of international visitors all year round. While visitors take full advantage of winter activities, Mount Washington is also known for endless hiking and biking opportunities in the summer. Being a stone's throw away from the ocean, you can certainly surf to your heart's content. If you're planning a skiing trip, check out this list of the top 10 Airbnb vacation rentals near Mount Washington, Canada. You won't regret it!
This two-bedroom apartment overlooks the majestic Mount Washington. The stylish interior décor is very warm and inviting. The apartment follows an open concept, with a modern all-white kitchen. You'll also be happy to know that there's also a hot tub in the main bathroom. Spend hours on the deck watching mountain bikers and people zip lining. On the days you wish to venture out, try going on a scenic hike at Paradise Meadows and Forbidden Plateau.
Slopeside Retreat. Mt Washington BC

Comox-Strathcona C, British Columbia, Canada

Superhost

Accommodates: 6

This modern and stylish guest suite might just be what you and your family are looking for when you visit Mount Washington. This guest suite is spacious and tastefully decorated with plenty of artwork. Guests can certainly appreciate the welcome goodies such as beers and chocolates. Try your hand at tobogganing in the hills right behind the property, or engage in downhill or cross-country skiing.
Bluebird Guesthouse, Mount Washington

Comox-Strathcona C, British Columbia, Canada

Superhost

Accommodates: 4

A beautiful, modern condo awaits you at Deer Lodge. This Airbnb vacation rental is a newly renovated two-bedroom and two-bathroom accommodation that is perfect for six. The property is tastefully decorated with great attention to detail, including personal touches such as hand warmers and hot chocolate for those really cold winter days. Enjoy views of Mount Albert Edward and Glacier Mountain range from every room. Merely steps away from the Whiskey Jack & Eagle chairlifts, your ski adventures will never end. After exploring the outdoors, you can relax with a cup of hot chocolate and watch your favourite shows, or play board games.
Deer Lodge condo @ Mt Washington "Ups & Downs"!

Mount Washington, British Columbia, Canada

Superhost

Accommodates: 6

This fully furnished townhouse is located at the base of Hawk Chair. This spacious accommodation can sleep up to eight people in its four bedrooms. All the bedrooms are on the top floor. Each bedroom is well decorated with fresh linens and tasteful art pieces. On the main floor, the kitchen follows an open concept and is well-equipped to whip up delicious meals. During winter, direct access to the Mount Washington lifts will allow you to indulge in skiing or snowboarding, without any hassle. In summer, be sure to hike up to the mesmerizing Lake Helen Mackenzie.
Stylish 4 Bedroom Ski-in/out at Hawk Chair

Comox-Strathcona C, British Columbia, Canada

Superhost

Accommodates: 8

Situated within the Mount Washington village is this family-friendly Airbnb vacation rental. This residence can sleep 10 guests comfortably. With the living quarters spread across three levels, you'll be sure to have ample privacy between you and your travel companions. With kids in tow, the bunk beds come in handy. The property also comes equipped with a selection of board games and puzzles that will keep the kids entertained. For those looking to ski, you'll have easy access to the sunrise chair and have yourself at the ski lodge within six minutes. Be sure to retire to the sauna after a whole day of skiing or snowboarding. For a quiet place to spend a few days up in the mountains, be sure to book a stay here.
Mt Washington 3 bedrooms getaway

Comox-Strathcona C, British Columbia, Canada

Superhost

Accommodates: 10

A majestic cabin perched on a hill overlooking Mount Washington could be the perfect base for you and your travel companions. Designed like a classic winter cabin with ample room for living, dining and entertaining, this property could very well be the ideal location for a great vacation getaway for family and friends. Spend all day up in the mountains skiing or snowboarding before retiring to the hot tub. Pop open a beverage of choice as you admire the mesmerizing sunset. There's nothing quite like it. Don't miss out on the view.
Chalet Meribel

Superhost

Accommodates: 12

This vacation rental, complete with modern touches and exquisite Chinese furnishings, is fit for six guests. During winter, you can go skiing. When you return, take advantage of the Asian Spa-inspired washroom that comes with in-floor heating that warms up those cold feet. Give your body a well-deserved massage on your very own full body deep tissue massage chair. If you're looking for a unique stay experience, this is the perfect place for you.
Shangri-La Massage & Spa Suite

Mount Washington , British Columbia, Canada

Accommodates: 6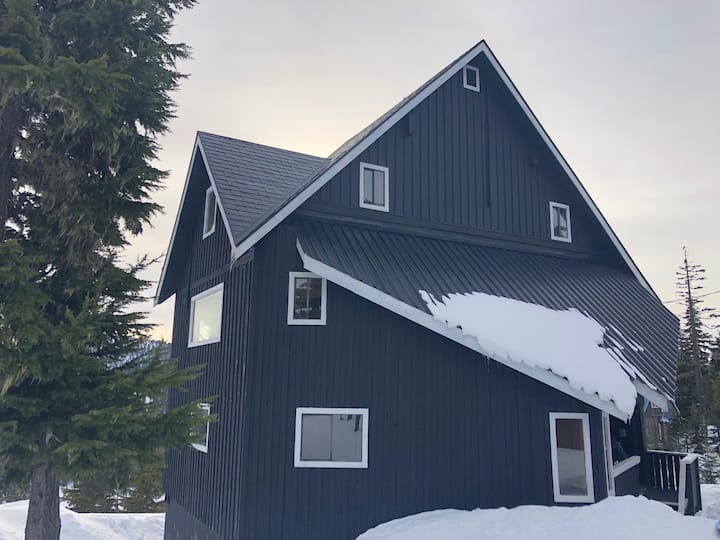 Another Airbnb vacation rental worth considering when planning a trip to Mount Washington is this lovely cabin. With unobstructed views of Comox Glacier and the entire Strathcona Provincial Park, your stay here will be nothing short of spectacular. This is an extremely spacious property that can comfortably accommodate 14 guests in 4 bedrooms. Ski down to the sunrise chair and have a wicked time on the slopes. This property also comes with a sauna that will be a perfect end to a day out in the snow.
Casa Jutland Chalet

Superhost

Accommodates: 14

This charming cabin is ideal for eight guests. This is a very well maintained property. With three bedrooms and two bathrooms, this can easily be an accommodation for two sets of families during winter or summer vacation. It certainly has all the amenities you need during your stay. Be sure to check out the sauna after an entire day on the slopes. You won't regret it!
The Mountain Perch Townhome

Superhost

Accommodates: 8


Top guest reviews

very clean and all necessities for cooking

we had a wonderful stay at natasha and dave's the place was very clean and good location

the place is very authentic really well maintained and very clean

sparkling clean rooms well laid out lots of little essentials just like at home

great hosts (super helpful kind and very responsive)

natasha and dave are great hosts

natasha is an outstanding host this trip has exceeded all the expectations mostly because of genuine host's care

amazing place super great hosts can't wait to go back

they are super responsive and extremely helpful

the location was great in the walking alpine village

amazing location right in the alpine village

enjoyed our stay good location easy walk to the lodge

Read more reviews
This three-bedroom townhouse is perfectly suited for families or groups of up to five. With a well-equipped kitchen, sundeck, grill, and sauna, this home promises a relaxing and cozy time for you and your group. Though it offers free parking on the premises, vehicle access is unavailable during winter.
The home is a five-minute drive or fifteen-minute walk to Raven Lodge where you can go hiking or skiing in Paradise Meadows Trail. Alpine Lodge and Altitude Sport and Gift Shop are also nearby when you feel like shopping for souvenirs or having a few drinks.
Welcome to Our Mt Washington Alpine Townhome

Comox-Strathcona C, British Columbia, Canada

Superhost

Accommodates: 5

With a beautiful view of the mountain and ski hill, this one-bedroom apartment is a great hub for your and your family's ski trip. Other than the basic amenities such as a queen-sized bed, a fully equipped kitchen, and many others, there is a ski locker by the entrance where you can store your equipment.
Being only a walking distance to Alpine Lodge and a five-minute drive from Nordic Lodge, you and your family will have easy access to the ski trails as well as the various shops and restaurants both lodges offer.
Clean, cozy condo at Mt Washington

Mount Washington , Courtenay , British Columbia, Canada

Superhost

Accommodates: 4

With a fantastic view of the ski slopes, this two-bedroom luxury condo offers a wide array of amenities for you and your family's comfort. There's high-speed internet, two TVs, Blu-ray DVDs, a gas fireplace, games for kids and adults, and many more. You can also access the heated outdoor pool, terrace, hot tub, and sauna when in season. Being close to ski trails, you and your family won't have to walk too far to enjoy fun outdoor activities like skiing, hiking, and biking.
Paradise Ridge 2 Bed 2 Bath Family Friendly Condo

Superhost

Accommodates: 6

At the bottom of the village in Mount Washington lies this two-bedroom apartment for up to six guests. Equipped with a gas fireplace for winter, a wax room, storage lockers, a patio, and many more, this apartment is a cozy place for you to return to after skiing or biking up in the mountain.
Being close to Alpine Lodge and Nordic Lodge, as well as hiking trails and a boardwalk, this apartment guarantees easy access to many outdoor activities that you and your family can bond over.
Mount Washington's Mountainside Lodge

Comox-Strathcona C, British Columbia, Canada

Accommodates: 6

Treat yourself to a stay in this lovely one-bedroom apartment that can sleep up to four people. It is located close to three chairlifts and offers a beautiful view of the south-facing slopes. This is a great option to consider if you're planning a ski trip with your beloved dogs as the apartment is pet-friendly. The modestly furnished living room is the perfect spot to relax after a day's adventure. For indoor entertainment, a TV and Wi-Fi are also provided.
ptarmigan ridge beautiful view of mountain

Comox-Strathcona C, British Columbia, Canada

Superhost

Accommodates: 4

Overlooking the Strathcona Park, this property is located on the top floor of Paradise Ridge within Mount Washington Alpine Resort. As you enter the property, you'll notice copious amounts of sunlight in every room. Across the property, you'll have unobstructed views of Strathcona Park. For those planning to ski, you'll have direct access to ski lifts across the road in front of the condo. If you wish to stay indoors, there's a 50-inch TV with Netflix and Amazon shows to keep you entertained. Alternatively, you can indulge in board games. This is definitely a great accommodation to stay at!
Mt Washington Condo Netflix, Wifi, pool, view

Comox-Strathcona C, British Columbia, Canada
Adventure awaits at Mount Washington
Whether you're planning to visit during winter or summer, Mount Washington has something for everyone. From some of the deepest snowfall found on the planet during winter to some of the best hiking trails in Canada, you'll be sure to have an adventure of a lifetime. The above mentioned Airbnb vacation rentals near Mount Washington are perfect to set up home base if you're planning to explore the area.
Disclosure: Trip101 selects the listings in our articles independently. Some of the listings in this article contain affiliate links.
Get Trip101 in your inbox
Unsubscribe in one click. See our privacy policy for more information on how we use your data