Get the party started in Istanbul when the sun sets. Istanbul has a rocking nightlife that spans both continents through all hours of the evening. The nighttime warmth of Istanbul allows visitors to enjoy a night full of Eastern pleasures on the Bosphorus Cruise, enjoy a drink at some trendy rooftop bars or restaurants, indulge in some shopping, and admire breathtaking views of illuminated palaces, bridges, mosques, and historical sites. Seeing and experiencing Istanbul's vibrant and dazzling night activities will definitely be an unforgettable experience. Book a night (or two) in any of the best historic hotels and amazing hotels with a sea view. Put on a pair of comfortable shoes and get ready to experience Istanbul's exciting nightlife! Scroll down to find out about the top things to do in Istanbul at night.
Wondering what to do in Istanbul at night? Immerse in an evening of traditional music and dancing over dinner. During a typical night in Istanbul, you will see brightly lit mosques but this experience is so much different, as you can watch and take pictures of a rhythmic lively dance while savoring Turkish fare. And there's more; as you get to drink great wine and enjoy a four course dinner.
Relax on your chair for an alluring and exciting show. Get ready to watch a traditional Anatolian folk group play festive music and glimmering belly dancers perform. Do not forget to record a video or snap pictures of the performances as they are uniquely Turkish and fond memories to look back on.
Istanbul by Night: Turkish Dinner and Show

Duration: 4 hours
Istanbul is home to one of the world's largest and oldest covered markets, the Grand Bazaar, locally known as Kapali Carsi. This attraction is popular among visitors and locals and is one of the best places to visit in Istanbul. There are over 4,000 shops and nearly 11 gates, with 60 streets all within the markets. Grand Bazaar stretches between the mosques of Nurosmaniye and Beyazi in the district and is located inside the old walled city. While you are here, always take note of your surroundings and if you go with a group, it's better to stay together while shopping around the bazaar. It is a very crowded place and it is easy to get lost in its streets.
Plan your time wisely if you plan to shop. Enjoy the lively bazaar as you stroll through the overwhelming impressions of smells and colors, take eye catching photographs, as well as buy all the souvenirs for which Istanbul is famous for. The Grand Bazaar is home to a wide range of items produced by skilled artists. The Grand Bazaar displays authentic Turkish goods like pottery, spices, brassware, colored glass lamps and lights, textiles, jewelry and carpet. Apart from that, the labyrinth complex is a pleasure to explore, because there is so much to see even if one is just window shopping. After shopping you can get a bite or a drink at Sark Café, which is located within the bazaar.
Grand Bazaar

Address: Beyazıt Mh., 34126 Fatih/İstanbul, Turkey

Opening Hours: Monday-Saturday (9am-7pm), Closed on Sunday and public holidays

Contact: +90 2125191248

Website: Grand Bazaar
Turkish Shopping Experience From Istanbul

Duration: 4 hours
3. Watch the Dancing Fountain at Sultanahmet
When the sun finally dips behind the minaret skyline and the moon starts to rise, Sultanahmet Park, located between Hagia Sophia and the Blue Mosque, brightens up with a colorful lightning display. When you come during the summer season, you can enjoy the shows by savoring a creamy ice cream (dondurma) by the illuminated fountain in the park. The mix of modern and ancient east and west, the friendliness of the people, and the history add to the vibrant atmosphere of Istanbul's nightlife.
The views of Hagia Sophia and the Blue Mosque, the well-kept garden (floral beds and palm trees), the magical ambience and the dancing fountains with the change of colors at night look particularly fantastic in the evening when all are lit up. The architecture is so impressive and can really captivate your soul. This attraction is modern yet it looks ancient. This rich contrast is just one of the many things that make Istanbul such a fascinating place to visit.
Dancing Fountain at Sultanahmet

Address: Binbirdirek Mh., Sultan Ahmet Parkı No:2, 34122 Fatih/İstanbul, Turkey

Website: Dancing Fountain at Sultanahmet
A visit to Turkey will never be complete without experiencing the Turkish bath known as hamam. The Turkish bath offers visitors a revelatory experience. The process includes a period of preparing the skin for bathing in a sauna like room, followed by a full body wash. Head straight to the beautiful Cagaloglu Hamami with its steam rooms and lavishly arched and domed with a decoration of tulip tiles, which date back to the Ottoman times. Besides, you can learn about the ancient tradition of hamam while in here.
During the 2 to 4 hours you will deep cleanse your mind and body. Once you are there, leave your coyness at the door and follow the locals into the bath house. You can either change into your swimming shorts or bikinis. Alternatively you can strip off completely just like the locals. Once you are ready, relax on a marble slab in a steamy bath chamber. One of the attendants will then exfoliate your body by scrubbing with hot soapy water and mitten after around 45 minutes of sweating and relaxing in the steam bath chamber. Then you will head to one of the cooler rooms to relax after you have rinsed the soapy suds off your body with hot water. After the refreshing Turkish bath, you will be transported back to your hotel.
Cagaloglu Hamami (Turkish bath)

Address: Alemdar Mahallesi, Cağaloğlu Hamamı Sk. No:34, 34110 Fatih/İstanbul, Turkey

Price: Starting from 115 USD

Website:
5. Meze by Lemon Tree (Open till 11.30pm)
Photo is only for illustrative purposes
Meze by Lemon Tree is not just a restaurant, but a unique place for you to savor the local delicacies. Be prepared to fill up your hungry stomach with a wide array of delicious meze (a collection of small platters, which are served both cold and hot). Here tradition takes on a new lease of life as Turkish favorites are prepared with specifically chosen ingredients, real flair, and clever combinations. Apart from being able to choose what you want to eat, another great thing about this place is that it's open 'til late. It is definitely one of the best places to visit in Istanbul at night. Drop by and select from the various delicious meze.
The meze will always change according to seasonal ingredients. Among the favorites are the mashed broad beans and fried sweet green pepper, filled with cheese from the Ezine region. Chef Gencay Ucok has also managed to go beyond meze with some of the most mouthwatering meat dishes found in the city that include grilled marinated beef slices on a skewer, as well as grilled lamb sirloin. If you plan to eat at Meze by Lemon Tree you need to book in advance, as the restaurant is rather small yet very popular among locals and tourists.
Meze by Lemon Tree

Address: Asmalı Mescit Mahallesi, Meşrutiyet Cd. 83/B, 34430 Beyoğlu/İstanbul, Turkey

Opening Hours: Monday-Sunday (6pm-11.30pm)

Contact: +90 2122528302

Website: Meze by Lemon Tree
6. Sortie Club (Open till 4am)
Photo is only for illustrative purposes
Istanbul at night is simply enchanting. If you feel like going out late in the evening, here is a suggestion; have some fun at Sortie Club. This restaurant offers diners quality entertainment, good food, good music as well as an amazing view. Apart from that, there are a total of seven different restaurants in Sortie for you to choose from. This is definitely a unique experience for locals and tourists likewise.
Local wines and International cuisines are served in an airy, stylish room overlooking the water. This is indeed a great place with a great view providing many choices from international cuisine during the summer. Besides that, Sortie restaurant is open during the winter season. While you are here you can enjoy the popular dancing tunes too.
Sortie Club

Address: Kuruçeşme Mahallesi, Muallim Naci Cd. Sortie No:54, 34345 Beşiktaş/İstanbul, Turkey

Opening Hours: Sunday-Saturday (6pm to 4am)

Contact: +90 2123278585

Website: Sortie Club
While in Istanbul, why not make the most of the evening with a lively 4 hour dinner cruise experience on the Bosporus Strait. Have fun and admire magnificent views of Istanbul's beautifully illuminated bridges, palaces and mosques. Besides that, tourists will get to enjoy a 3 course dinner set with various drinks. Apart from that, glittering entertainment from local artists, belly dancers and a whirling dervish show is included.
Depending on which tour you choose, hotel pick up and drop off services are also available. During this 4-hour Bosphorus Cruise between Europe and Asia, you will get to see and take pictures of waterside villas and mansions, Ottoman palaces, summer houses and historical places located on both sides of the Bosporus. You will definitely have magical moments with dinner and panoramic views of Bosphorus at night together with your loved one.
Istanbul Bosphorus Cruise with Dinner and Belly-Dancing Show

Price: From 88.56 USD (Booking required)

Duration: About 3.5 hours

Website:
Bosphorus Dinner Cruise & Night Show from Istanbul

Duration: 2 hours 30 minutes
Experience a one-of-a-kind cultural show while in Istanbul. As one of the most timelessly rich cities in the world, Istanbul boasts a rich heritage, and this includes a ceremonial dance that's part of UNESCO's list and is performed by whirling dervishes. This historic, spiritual dance is accompanied by a live orchestra playing and singing traditional Persian music. Watch in awe as the dancers gracefully twirl and skip to the beat. This experience is about an hour and a half and is performed in Hodjapasha Dance Theater.
Whirling Dervish Ceremony: Go on a Spiritual Journey

Duration: 1 hour
Have a taste of authentic Turkish culture with Istanbul's night food tour. Explore the vibrant streets of this historic city and fill your tummy with delicious street food. Enjoy sweet and savory snacks that are complemented by strong and rich Turkish coffee. Drop by the most popular night stalls and shops, and maybe buy a special treat or two as a souvenir for your loved ones. Discover yet another great reason to travel, which is the scrumptious food each country has to offer; and with Istanbul, you'll never go wrong.
Istanbul Night Food Tour

Duration: 3hrs30 Min Duration
Watch the beautiful sunsets of Istanbul while sailing past the eastern and western parts of the city. Istanbul is known as the city where Asia meets Europe and this evening sunset cruise enables you to see both sides. Cruise down Bosporus, Turkey's natural strait, and appreciate stunning architecture, breathtaking views, and fresh air. A small snack of Turkish tea and simit or sesame bread will be served to guests. Don't forget to snap some of the most memorable photos you'll ever have of Istanbul while on this cruise.
Evening Sunset Cruise in Istanbul

Duration: 2 hours
11. Ortakoy Mosque and evening walk around Istanbul
Explore the city on foot at dusk and watch it come to life with bright lights and nightlife. Despite being a very historic city, Istanbul has been at the forefront of modernity. Its classic and timeless architecture and buildings are lit-up by modern lights that will surely catch your eye. A case in point is Ortakoy Mosque as it lights up with warm glows of yellows and oranges. It has gorgeous views of Bosporus bridge and is situated right by the strait, casting its enchanting lights onto the waters. Make sure to snap a photo or two in this Instagrammable spot.
Ortakoy Mosque

Address: Mecidiye, Mecidiye Köprüsü Sk. No:1 D:1, 34347 Beşiktaş/İstanbul, Turkey

Opening hours: 4am - 10pm (daily)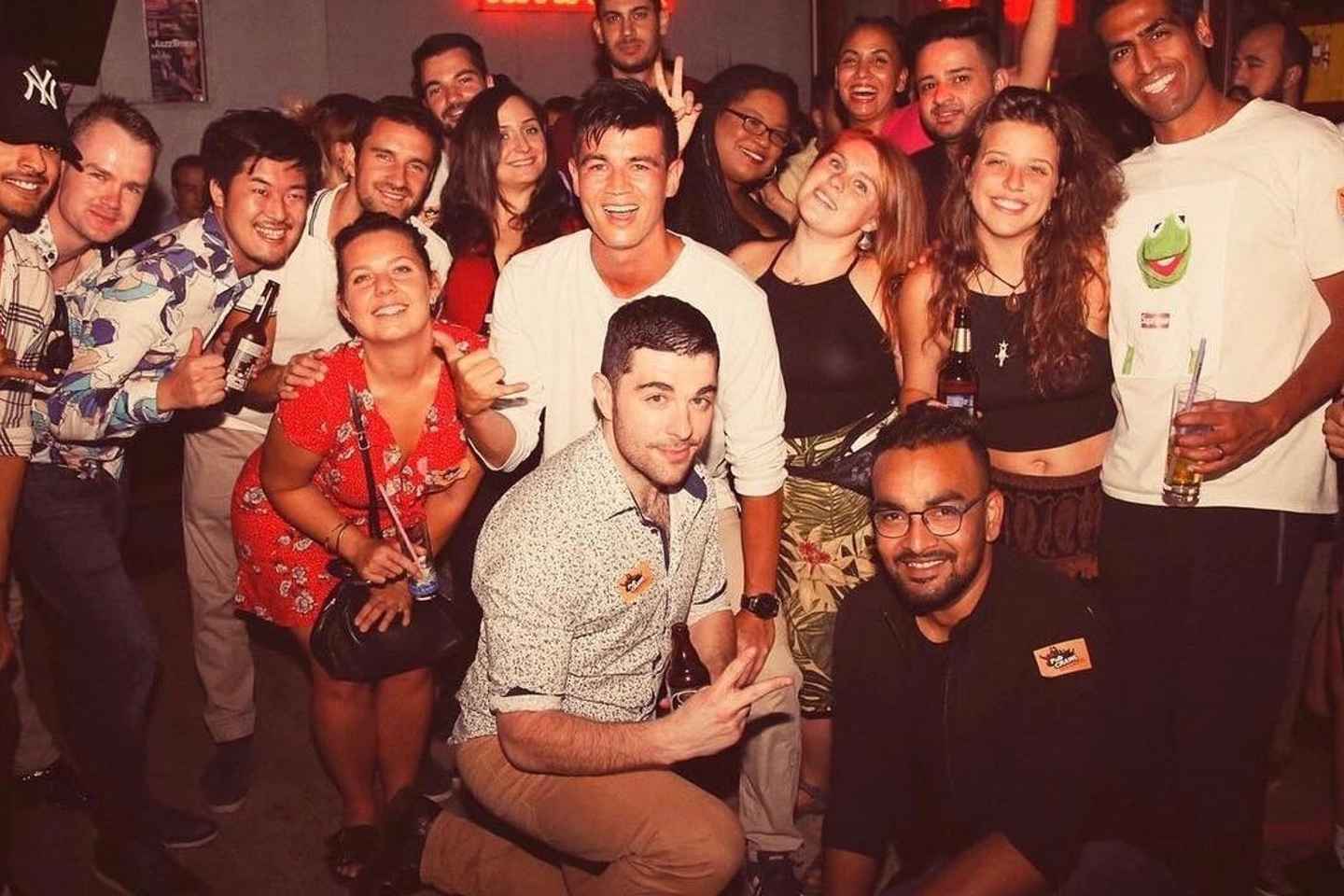 If you love partying then this activity is for you. What better way to experience a city's nightlife than to have a pub crawl. Visit the hippest pubs and bar in the area, and try out some of the best, and authentic Turkish drinks and liquor. The tour lasts for a good seven hours and is perfect for groups of friends looking to have a fun night out in the city. Have a last hurrah before leaving Istanbul and drink to your heart's content. As long as you're above 18 years old, the pub crawl is a unique tour you shouldn't miss out on - you'll surely have a blast.
Istanbul 7-Hour Pub Crawl: Big Night Out

Duration: 7 hour
A mix of ancient and modern
Istanbul is a fascinating city built on two continents divided by the Bosporus Strait. This is one of the greatest cities in the world, where you can see modernity combined with the traditional and many historical places and landmarks of the city. It's a melting pot of many civilizations and different people. The mix of east and west, history, and the friendliness of the people make this place a must-visit destination for tourists.
Disclosure: Trip101 selects the listings in our articles independently. Some of the listings in this article contain affiliate links.
Get Trip101 in your inbox
Unsubscribe in one click. See our privacy policy for more information on how we use your data