From historic museums to traditional mosques, Istanbul, Turkey has a lot more than just the attractive architecture. Known for tourist attractions such as the Hagia Sophia, Topkapi Palace Museum and Dolmabahçe Palace, Istanbul has an abundance of awe-inspiring and unique constructions that would mesmerize any tourist who is here for sightseeing. However, as one of the most populous cities in the world, it is easy for tourists to get off track and end up lost among the hustle and bustle of the city. If you're coming to Istanbul and you have not decided on the sites you want to visit, fret not! We've you covered! Here is a list of the top famous buildings in Istanbul, Turkey, that you should go to when you are in this city, as they serve as Turkey's cultural, historic and financial centers.
If you want to enjoy the city for a few more days, consider booking a room in one of the best boutique hotels and historic hotels for a great stay.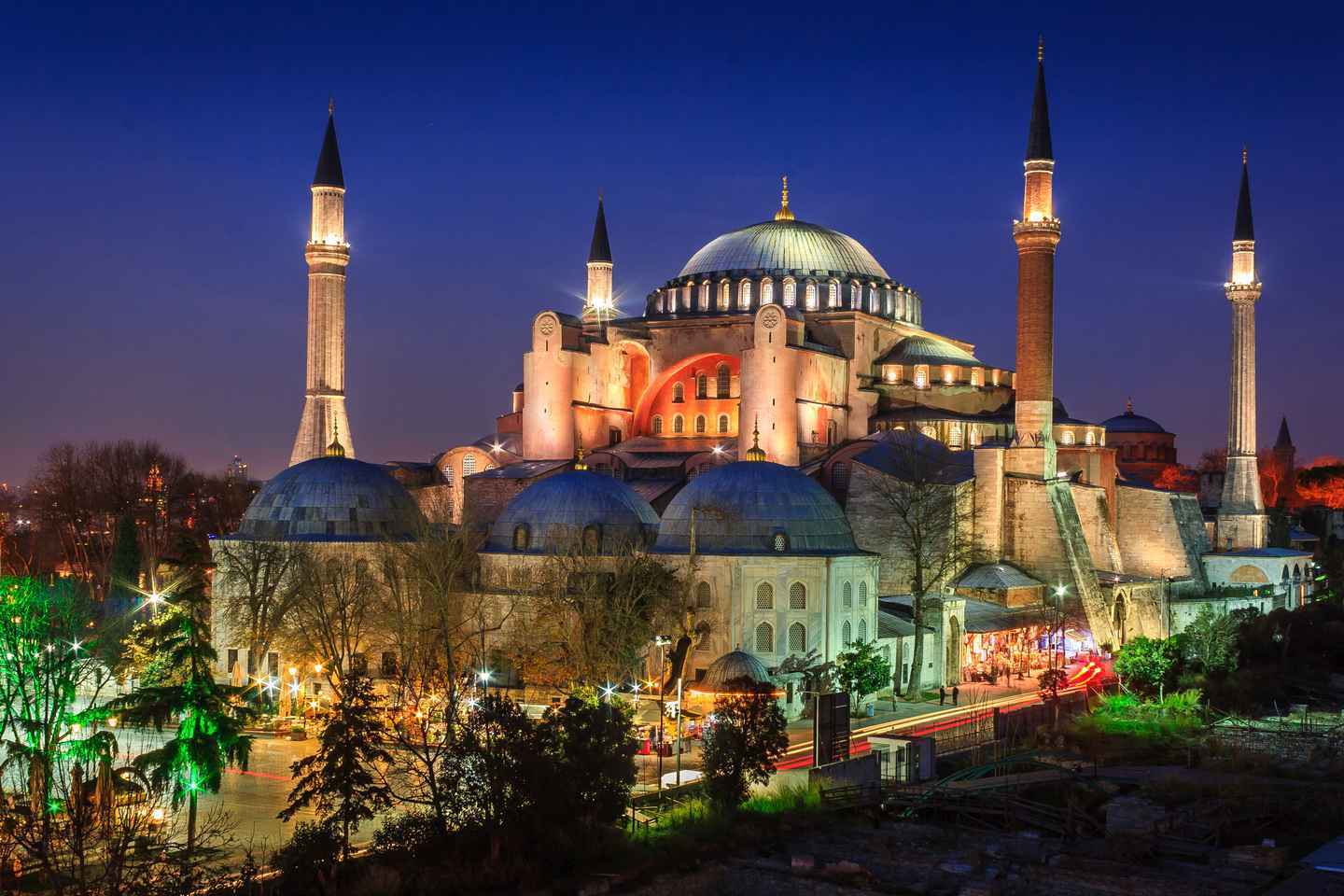 Meaning "Holy Wisdom", Hagia Sophia is a 1483-year-old structure that first served as a Greek Orthodox Christian patriarchal cathedral, and later became an Ottoman imperial mosque and finally, became a museum. Famous for its wide, flat dome, it was considered a point of interest among historians, engineers and architects because of the ingenious way it had been designed. It is now considered one of the most romantic places in Istanbul. It also held the status of being the world's largest pendentive dome until St. Peter's Basilica was built. Furthermore, the sunlight that reflects everywhere in the nave's interior gives the impression of the dome levitating above.
Duration: 1.0 hour
Located next to Hagia Sophia and also known as the Sultan Ahmed Mosque, this is a historic mosque constructed around 1616. It attracts tourists due to the interior beauty from being bathed in blue light during nighttime. Not only that, the lights would frame around the mosque's six minarets and thirteen domes. It has two stories behind its name: the first being the interior being adorned with hand-painted Blue Iznik tiles and the second was ancient sailors that had seen the blue colors of the Marmara Sea reflected in the mosque while sailing past it many years ago. The exterior is just as splendor, with the surrounding area being full of interesting sights, such as the beautiful garden in the front of the mosque.
Duration: 30 minutes
In the Karaköy quarter of Beyoğlu district lies Neve Shalom Synagogue, also known as the "Oasis of Peace". It was built in the 16th century to accommodate the increasing Jewish population in the old Galata neighborhood. If you're interested in the Ottoman culture, this is the place for you. This museum explains the origins of the Turkish Jewish community, how they have contributed to Turkish society over centuries and the insights regarding traditional Jewish life and their religion, Judaism. The synagogue has even preserved bullet holes and bomb blast damage from the terrorist attacks to commemorate those who lost their lives during these attacks and tell the story of the attack.
Duration: 4.0 hour
In the 15th century, Topkapi Palace museum served as the residency and headquarters of the Ottoman sultans. This place is the center of historical stories compared to the other museums. It has multiple areas to explore called courts, each of them contain different noteworthy attractions. Highlights include the Imperial Harem, which has more than 400 rooms, part of which is accessible to the public and was home to the sultan's family; and the Imperial Treasury, which was a museum with objects owned by the Ottoman dynasty, such as jewelry, heirlooms, money and artworks. It is recommended to take a few days to tour the whole museum.
Duration: 1.0 hour
5. Haydarpaşa Railway Station
Haydarpaşa railway station was built by German architects in 1908. It had served as the most active railway station in Turkey until 2012, being connected to bus and ferry services and functioning as a crucial rail hub within the city. In 2013, the train services offered were suspended due to the new Marmaray commuter rail line's recuperation. While it has lost its importance due to the increase in road transports and air travel, the building still can be visited and it has become Istanbul's iconic symbol. There is a restaurant nearby where you can enjoy the sunset or the view of the sea while relaxing with a drink.
Haydarpaşa Railway Station

Address:Rasimpaşa, 34716 Kadıköy/İstanbul, Turkey

Website: Haydarpaşa Railway Station

Opening hours: Currently closed (building still can be visited)

Price: Free
Lying beneath Istanbul is the biggest several hundred primordial cisterns going by the name of the Basilica Cistern. The name originates from the fact that it's lying underneath Stoa Basilica, one of the first hill's great squares. Originally it was built to help water filtration among the Great Palace and its surrounding buildings. It's currently one of the city's most popular tourist attractions due to the ceilings being supported by Medusa columns and the atmosphere where water can be felt dripping down from the ceiling and swimming the water are schools of ghostly carp.
Duration: 30.0 minute
This palace was completed in 1856 to replace an older wooden structure. As Istanbul's first European-style palace, it is enormous in size and filled with gold and crystal. Interior design was decided by the Paris Opera designer, which consisted of dazzling things such as huge Hereke carpets, ornate chandeliers and crystal staircase. The new palace also included sixteen distinct buildings with a flour mill, an ornate clock tower and stables. Separated into three sections - Selâmlık, Harem and Veliaht Dairesi - there are multiple noteworthy places to visit, such as the ceremonial hall that had 3D effect paintings, exhibition halls where valuable objects are displayed, and well-tended gardens outside the palace. Nearby this palace, there is an outdoor cafe where you can grab a quick snack and enjoy the premium Bosphorus views.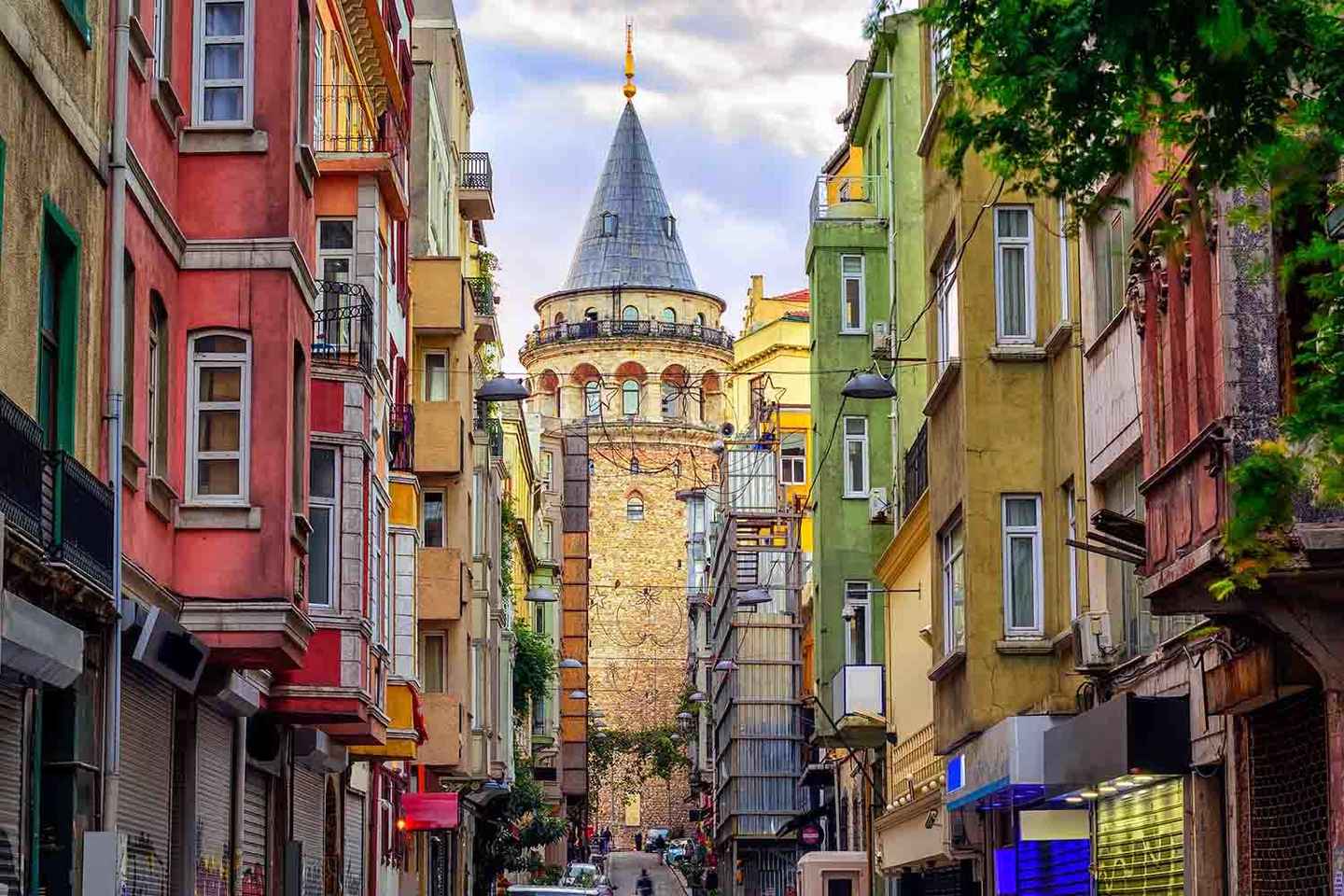 Located in the Galata/Karaköy quarter of Istanbul is the medieval stone tower, the Galata Tower. Built in 1433 as a watchtower for the city's defense, it is one of Istanbul's tallest and most historical towers. Considered as one of the best places to visit, it is a high cylindrical building capped with a cone-shaped roof that offers an all-around view of the surrounding area. It also has a restaurant and café on the upper floors and a nightclub that organizes Turkish shows for guests to enjoy. Moreover, there is a shop that sold souvenirs and gifts at reasonable prices. Elevators are available for visitors to travel between the lower and upper levels. However, there would be more floors to climb via stairs if you wish to access the panoramic terrace that is 170.6 ft (52 meters) high. Furthermore, the tower is conveniently located near other attractions, such as the Pera Museum and Galata Mevlevi House.
Duration: 75.0 minute
9. Istanbul Sapphire
Nestled among the central business district of Levent is Istanbul Sapphire, Turkey's tallest the first ecological skyscraper. Additionally, it has 64 floors. Some of the floors include private gardens, two separate glass shells and a shared living area. There is a grand total of 47 floors for residential use. Breathtaking views can be enjoyed from the gardens, and all your shopping needs can be covered by the large shopping complex in the skyscraper. Not just that, the skyscraper also features social and recreation areas such as a swimming pool overlooking the city, mini-golf course with an amazing Bosporus view and a 4D Sky Ride show.
Istanbul Sapphire

Address: Emniyetevleri, Eski Büyükdere Cd. No:1, 34415 Kâğıthane/İstanbul, Turkey

Website: Istanbul Sapphire

Opening hours: 10am - 10pm (daily)

Price: 3 USD (observation deck, regular); 2.55 USD (observation deck, students); 4.80 USD (observation deck and Sky Ride, regular); 3.90 USD (observation deck and Sky Ride, students)
10. Maiden's Tower
Also known as Leander's Tower since the Byzantine period, this tower has been the subject of a few legends. One of the stories include a king wanting to protect his daughter from a snakebite, hence this tower was built. However, a snake hiding in the fruit basket delivered to her, bit her anyway, and the princess died. Another story was a young man named Leander falling in love with a nun named Hero, who build a fire as her lover's guide to the islet. However, one night, the fire was extinguished by the storm and Leander ended up losing his way and drowned in the Bosphorus. Subsequently, Hero committed suicide out of overwhelming grief and loss. Regardless of the story behind the tower, there is no denying that the Maiden's Tower has a rich history, and it would be worth visiting just to enjoying the 360-degree view of the island around it. Not only that, there is a popular and classy restaurant that serves up traditional Turkish and international dishes. There's also a romantic cafe where you can have a meal and relish the view at the same time. There is also a museum that's free to enter and explore.
Maiden's Tower

Address: Salacak, Üsküdar Salacak Mevkii, 34668 Üsküdar/İstanbul, Turkey

Website: Maiden's Tower

Opening hours: 9:15am - 7pm (daily)
Experience the beauty of Istanbul
A city that is complemented by traditional buildings preserved from medieval times, Istanbul is a city that is full of rich history, yet it has modern industrial influence and economic development. With so many attractions in Istanbul, including shopping malls and historical places, you're spoilt for choice in terms of itinerary. Just be sure to spare time visiting the buildings listed above to really see what this cultural city has to offer.
Any must-sees we missed? Tell us about them in the comments section or write a post
here
to help out fellow travelers!
In light of the February 2023 earthquake that devastated Turkey and Syria, Trip101 urges you to be apprised of the latest news if you have any plans to travel to Eastern Turkey. Other parts of the country remain open to travelers.
Disclosure: Trip101 selects the listings in our articles independently. Some of the listings in this article contain affiliate links.
Get Trip101 in your inbox
Unsubscribe in one click. See our Privacy Policy for more information on how we use your data