Istanbul, as Turkey's most populous city, sits on both sides of the Bosphorus Strait, between the Black Sea and the Marmara Sea. It bridges Asia and Europe, both physically and culturally. Only a third of its total population lives on the Asian side, so the main activities of this city are on the European side.
You can reach Istanbul by plane from major cities around the world, or you can take boats and holiday cruise through the Bosphorus Strait. It's a melting pot of people from anywhere around the world. Istanbul is the city where the continents collide in the most beautiful way that makes Turkey great. We have collected the eight best tours in Istanbul to make you enjoy the best part of your Turkish holiday.
The landmarks are there as monuments of rich Turkish history. Take a full day classic Istanbul tour where you will visit Istanbul's stunning historic places with its complete stories. From the Hippodrome Square and the Blue Mosques to Hagia Sophia Byzantine mosaics and minarets, follow the footsteps of the sultans at Topkapi Palace and end the tour with a visit to the vibrant Grand Bazaar where the hearts of Turkish merchants lie.
Blue Mosque, Hippodrome, Hagia Sophia, Topkapi Palace Tour

Duration: 8 hours
This 2.5-hour boat ride tour along the stunning Bosphorus Strait and Golden Horn will give you the experience of three of the best Istanbul sights. The first stop is Dolmabahçe Palace for a guided tour. Explore the Spice Bazaar and visit Rüstem Pasha Mosque on the way to your boat.
Hop on your boat for a sightseeing cruise at the inlet to the Bosphorus Strait and Golden Horn, which splits European Istanbul apart and watch as the boat passes by the Bosphorus Bridge that connects European and Asian. You will stop in Asia for a delicious three-course lunch at a scenic restaurant and continue to Camlica Hill for a panoramic view of Istanbul. You will end your tour by passing Bosphorus Bridge and visiting Dolmabahce Palace.
Golden Horn, Bosphorus Cruise, Spice Bazaar, Camlica Hill Tour

Duration: 8 hours
If you are planning for a family with kids' holiday, Vialand and Jurassic Land Tour have to be on your itinerary. These two biggest theme parks in all of Istanbul will give you lots of fun activities for a whole day. Vialand is a massive fun park with restaurants, a bowling alley, cinema, and more than 200 shops and boutiques. The amusements are available, from carousels for little children to the adrenaline ones like amazing roller coasters and the famous Justice Tower that drops you from a 50-meter (165-foot) height.
As for Jurassic Land, it is a world of dinosaurs in an innovative and fun environment park. It includes 70 life-sized moving models, animated background visuals, skeletons, eggs, dinosaur reliefs and the incredible 4D cinema with six effects. So if you want to have fun times with your children in Istanbul, search no more and take this tour.
Full day private tour: Vialand and Jurassic Land

Website: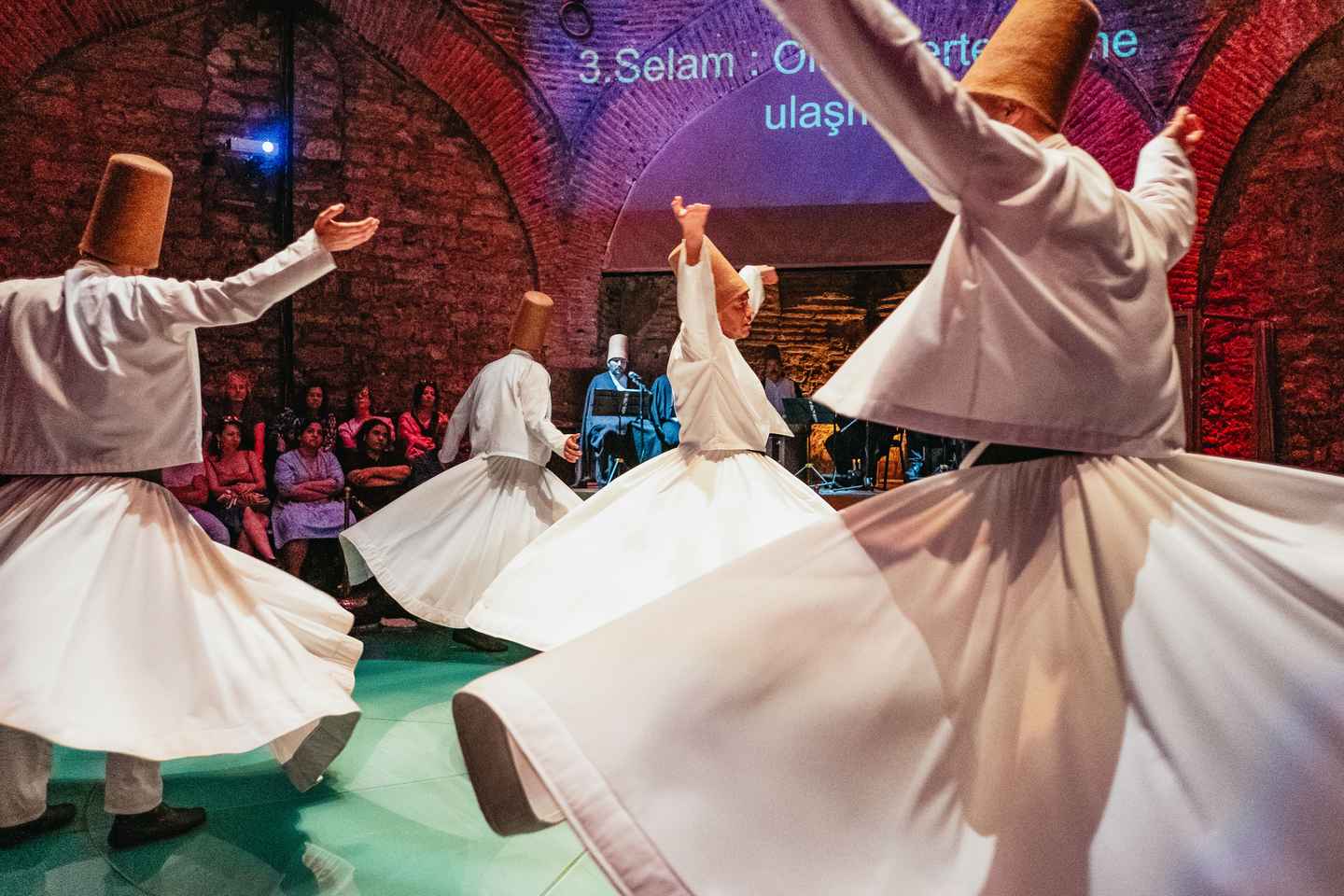 Whirling Dervishes from the Mevlevi Sema ceremony is something that you can only find in Istanbul. The show represents in thrilling fashion the idea that everything in the universe, from atoms to the solar system to the blood that circulates in the body, revolves. Mevlevi Sema is a spiritual journey that the soul makes to God as it becomes mature and attains unity by continuously praising the Prophet Mohammed.
After the journey, it returns to its life and to serve humankind again. The Sema ends with a Fâtiha for the souls of all prophets, martyrs, and believers, and a prayer for the salvation of the country. This one of a kind show takes place in the fantastic HodjaPasha Culture Centre, a restored 550-year-old Ottoman Turkish bath in Sultanahmet-Sirkeci.
Istanbul: Mevlevi Sema and the Whirling Dervishes Show

Duration: 1.0 hour
You will experience the Istanbul by Night tour on a cruise along the Bosphorus Strait. You will start with a four-course dinner meal with sweets Turkish delight as dessert, and then prepare yourself to watch the belly dance performance with the traditional Anatolian folklore music. Food and entertainment are the perfect way to enjoy Istanbul by Night.
Istanbul by Night: Turkish Dinner and Show

Duration: 4 hours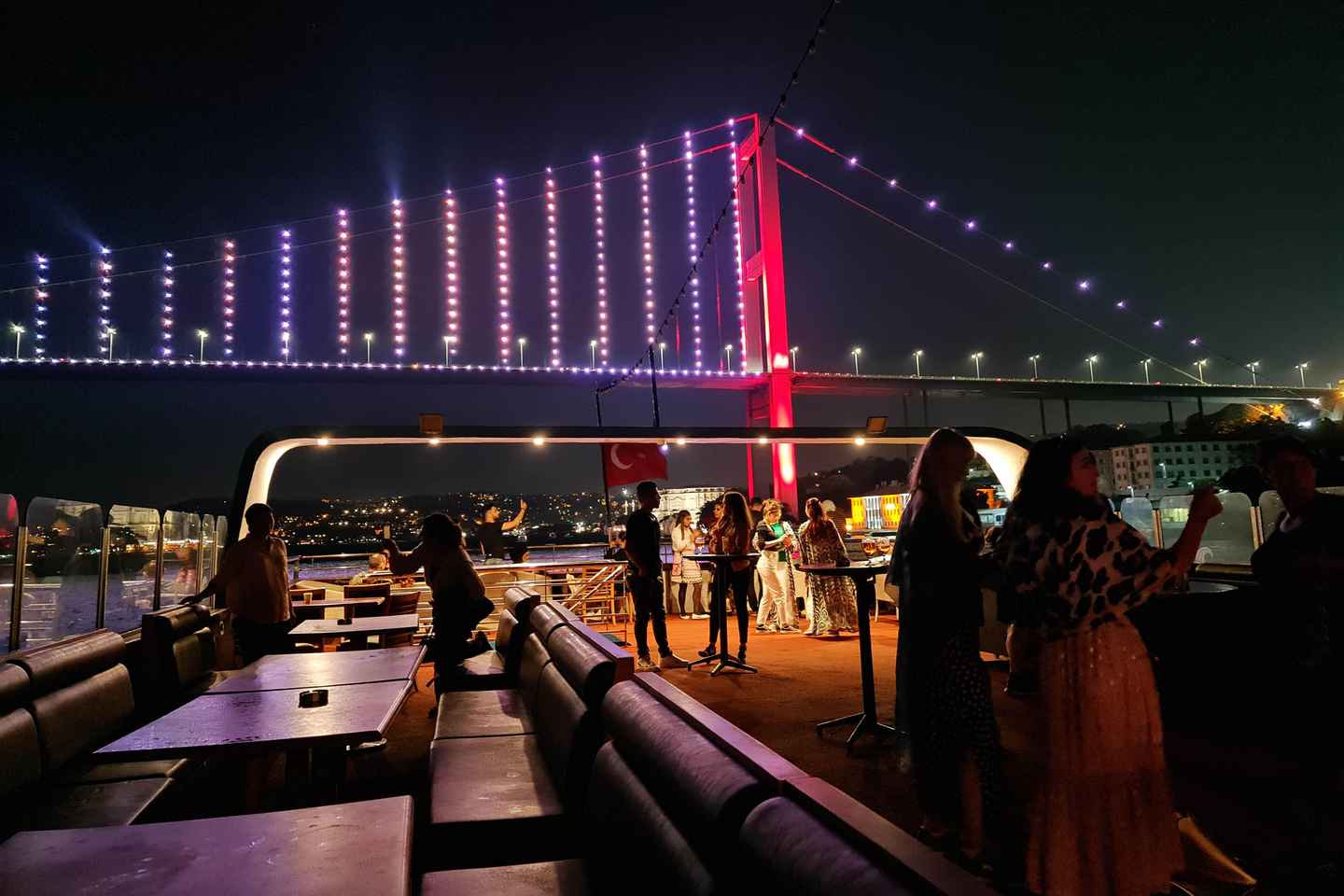 It's a party cruise! You will enjoy Bosphorus Strait by night on a luxurious cruise while enjoying some drinks and music. Cruise between Europe and Asia and see the summer palaces of the Ottoman sultans, such as Dolmabahçe Palace, Çırağan Palace, and Beylerbeyi Palace. Enjoy the Istanbul nightlife with folk dances from different regions of Turkey, belly dancers, and upbeat music from international DJs.
Istanbul: Bosphorus Music and Dinner Cruise w/ Private Table

Duration: 3.0 hour
The Big Bus Istanbul Hop-On Hop-Off Tour will give you all round ticket that is valid either one or two days. It's the most flexible way to explore the great city of Istanbul. You can just simply hop aboard the open-top, double-decker Big Bus sightseeing bus and set out to witness the landmark sights of Istanbul, and step off to visit the majestic Hagia Sophia, the ancient UNESCO-listed heritage that served as an Ottoman mosque and a Christian basilica.
Pass by the piazza and visit the Blue Mosque and the Obelisk. Make sure you pay a visit to the Basilica Cistern from the Dan Brown "Inferno" movie. Continue your journey to other landmarks like Taksim Square and Topkapi Palace, and end your tour at the ever famous Grand Bazaar and Spice Bazaar.
Istanbul Big Bus Hop-On Hop-Off One Day Sightseeing Tour

Duration: 2 hours
The real experience of Turkish heritage can be felt when you are connected with the local. This tour will make you eat like a local at a local family house with a three-course dinner meal of typical Turkish dishes. You will have a chance to chat with the locals about the food and its local wisdom of life.
Your dinner will end with the deliciously sweet Turkish delight and mint tea. Enjoy the night in Istanbul by walking through the neighborhoods with diverse cultures that make Istanbul the true east meet west. And end your night like a local, experiencing a rich puff from the shisha pipe.
Istanbul Food and Culture Tour with Dinner at Local Home

Duration: 3 hours 30 minutes
A cultural melting pot
Istanbul, with its diverse culture from both Asian and European sides, has become a lively city that will not stop being busy in the future. With its lively markets and tasty Turkish delights, you will always be amazed at what Istanbul has to offer.
Disclosure: Trip101 selects the listings in our articles independently. Some of the listings in this article contain affiliate links.
Get Trip101 in your inbox
Unsubscribe in one click. See our privacy policy for more information on how we use your data