Tarifa is a small town off Andalusia in Spain. Known primarily for its strong winds (perfect for kitesurfing), even the less sports inclined will be charmed by the beach and the incredible history of this wonderful town, just be careful not to get swept up with the winds along with the sights! 
Read on to find out about the best things to do in Tarifa, Spain.
1. Guzman Castle
Tarifa's very own fortified castle, an impressive, solidly-built Moorish structure, played an important part in early Spanish history. Recently, the castle has also been restored. As the southern-most point of the peninsula, Tarifa was an important strategic entry point into Spain and the rest of Europe for would-be invaders, so good defensive structures were essential.
Guzman Castle was originally built as an alcazar (Moorish fortress) in 960 AD on the orders of Caliph Abderraman III of Cordoba, to protect Tarifa against raids from Africa and the North (Vikings). This Caliph also constructed a number of defenses along the Iberian coast, typically square castles in the style of the official Umayyad state architecture, but the Tarifa one is trapezoidal due to the hill's contours. Guzman's descendants later became the Duques de Medina Sidonia, one of Spain's most powerful families. A stronghold and sight to behold.
Guzman Castle

Address: Castillo de Guzmán el Bueno,11380 Tarifa, Cádiz, Spain
2. Church of San Mateo
The main church of Tarifa is located right smack in the centre of the old town. Expect to see a wedding or religious festival if you swing by, because this is where ALL of them happen! The church possesses a striking 18th-century Baroque facade, with a 15th-century Gothic interior. The sculpture of San Mateo (St Matthew) is crafted by renowned master sculptor Martinez Montañez, who had previously crafted many works in Seville cathedral. Also look out for the Visigothic tombstone, which dates from the 7th-century, testament to Christian worship pre-dating the Moorish era.
Church of San Mateo

Address: Calle Sancho IV el Bravo, 8, 11380 Tarifa, Cádiz, Spain

Website: Church of San Mateo
3. Baelo Claudia
Tarifa is filled with remarkable history, including an entire ancient town located just on the outskirts of the main town. Baelo Claudia is an ancient Roman town situated on the Costa de la Luz, some 15 km (9.3 miles) north of Tarifa, next to the town of Bolonia and a stunningly gorgeous and beautiful beach. Its history lies in being key to the trade routes serving Europe and North Africa - the port town's strategic position on the coast near the Straits of Gibraltar made it a crucial stopping-off point between the two continents, allowing for plenty of people to pass through on their way to hawk their wares.
The ruins of Baelo Claudia, with its impressive temple, forum and basilica, and especially the large fish-salting factory, show how important the town was, and history and archaeological buffs will most likely be blown away by the ancient structures and endlessly curious layout.
Baelo Claudia

Address: Ensenada de Bolonia, s/n, 11380 Cádiz, Spain

Website: Baelo Claudia
4. Playa de Los Lances
This is a huge beach that made Tarifa super famous. Stretching 10 km (6 mi) across, Playa de Los Lances is located north of the town as far as the eye can see, laying claim to a small headland on which sits Torre de la Peña. The beach and the pines behind it are officially protected as a Natural Area. For the wind and surf sports enthusiasts, this is the beach that doubles as the location of the World Kite Surf Championships, so when those happen, come on down and expect to see plenty of kite surfers present and rigging their gear to catch the wind and waves, testament to the incredible gusts Tarifa is known for.
Playa de Los Lances

Address: 11380 Tarifa, Cádiz, Spain

Website: Playa de Los Lances
5. Punta Paloma
This is the headland just north of Tarifa that separates the expansive beaches of Tarifa from those of Bolonia. Playa Punta Paloma itself is an unspoiled paradise beach, lined from coast to coast, edge to edge with miles of soft golden sand that you can run on easily and enjoy. This beach is spectacular for its views from the top of the sand dunes and due to its unspoiled nature, does not offer typical Marbella services such as showers, toilets and lounge chair rentals. Only one thing is required of visitors: your towel, picnic and sunscreen, and of course, a sense of fun and adventure.
Punta Paloma

Address: Paloma Baja, S/N, 11380 Tarifa, Cádiz, Spain

Website: Punta Paloma
6. Playa de Valdevaqueros
Valdevaqueros Beach stretches from a small headland near the Hurricane Hotel, to the huge dunes which stretch across the beach at Punta Paloma. This beach is home to the annual world wind surf championships and is also popular with those who enjoy kitesurfing and sailing. The beach is also home to a beautiful, crystal clear small lagoon which lies behind the sand at the north end.
Unlike Punta Paloma, Valdevaqueros is well-equipped with public bathrooms and showers, lifeguards, a Red Cross post and first aid hut. There are also several beach bars and parking nearby where the Rio del Valle meets the sea. Playa de Valdevaqueros can be easily reached by bus services running from Tarifa.
Playa de Valdevaqueros

Address: Valdevaqueros, 11380, Cádiz, Spain

Website: Playa de Valdavaqueros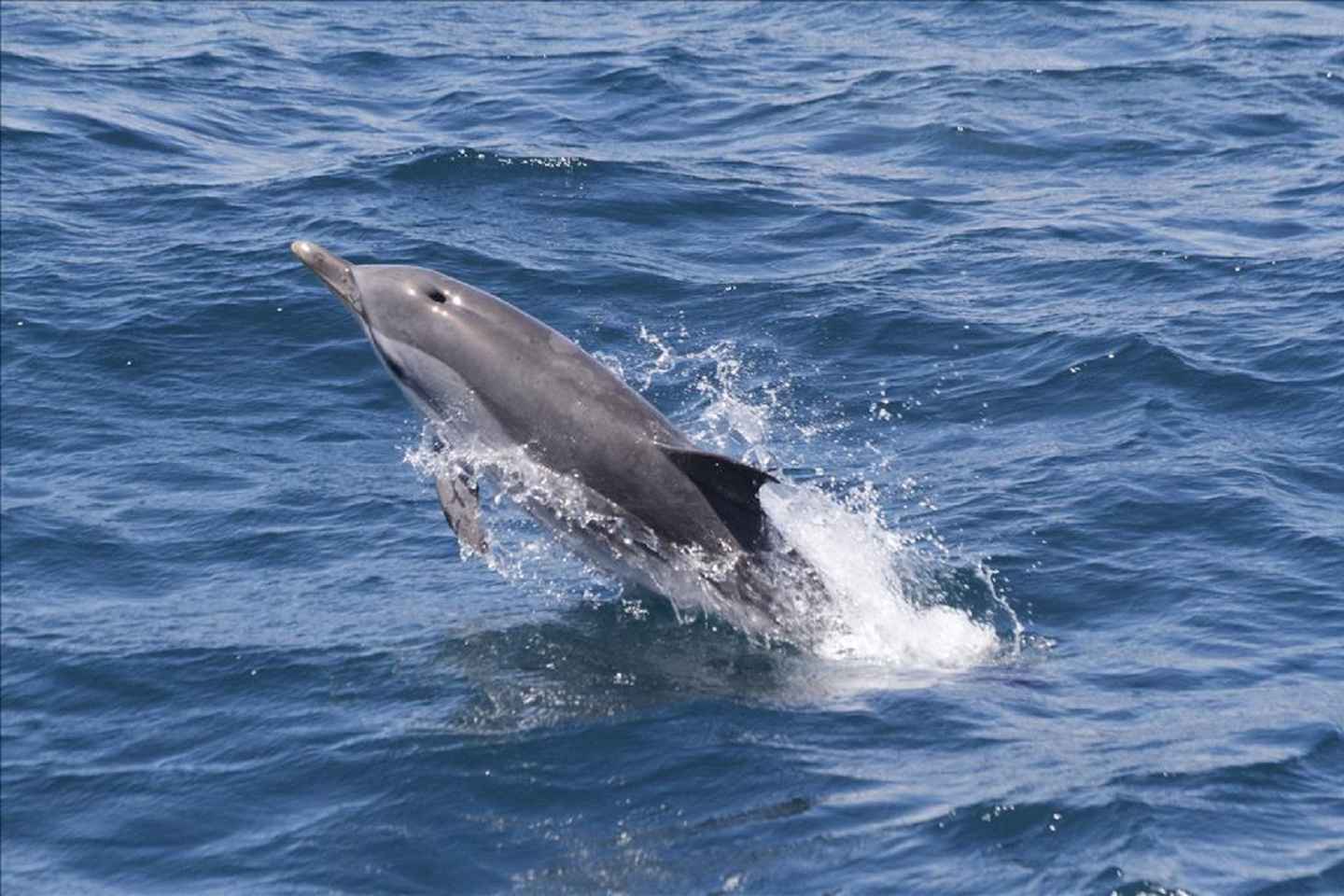 Now for something truly life-changing: whale watching on the Spanish waters. Whale watching is a tourist, as well as educational activity, consisting mainly of sailing in the Strait of Gibraltar, looking for and identifying the different types of whales and dolphins that live or migrate in this area. Tarifa has three different types of dolphins that inhabit the recently established Natural Park of the Strait of Gibraltar, and as for whales themselves, you can catch migrating Killer Whales, Sperm Whales and Fin Whales.
The boats depart from two different harbors: Tarifa and Algeciras and the meteorological conditions determine where to depart from and the boat required. Driven by professional boat captains and led by complete experts, visitors can expect to learn plenty about these fascinating creatures and catch some great photos too.
Whale Watching Tarifa

Address: Av. de la Constitución, 6, 11380 Tarifa, Cádiz, Spain

Website: Whale Watching Tarifa
From Seville: Gibraltar Dolphins Watching Day Trip

Duration: 14.0 hour
8. African Film Festival
Editor's Note: There's no photo available at the time of writing
Check out this annual film festival that was started in 2004 celebrating filmic achievement from the Africas and new film. The festival usually occurs around the end of April/beginning of May, and features plenty of thought provoking movies that expose visitors to the African people, culture and preserves history while spearheading new initiatives in the filmic world. Definitely a must-see for film buffs.
African Film Festival

Address: Around Tarifa

Website: African Film Festival
Sport enthusiast?
Wind sports enthusiasts and non wind sports enthusiasts can both find a way to derive joy from this small but intensely cultural town. Come by and fortify yourself with culture and ancient sights before ending with a view of the sunset from the expanses of sand dunes on the beach.
Disclosure: Trip101 selects the listings in our articles independently. Some of the listings in this article contain affiliate links.
Get Trip101 in your inbox
Unsubscribe in one click. See our Privacy Policy for more information on how we use your data