Although it's the fifth largest town in Botswana and the center of tourism, locals refer to Maun as being a village. Fair point, it's relatively small, the main shopping options are the Old Mall and the New Mall. There are only a few coffee shops close to the New Mall and one or two others close to the airport. But there are still a lot of guesthouses, camping options and some of the top safari lodges in Botswana. And who has heard of a village with an airport before? And a fairly busy one, at that! This is mainly because of the perfect location of Maun: a spot from where you can swim with the crocodiles and the hippos. But please don't do that! Instead, choose to indulge in one of the best things to do around Maun, Botswana.
1. Take a mokoro camping trip in the Okavango Delta
If you're looking for interesting things to do in Maun, go camping in the Okavango Delta. This is definitely the highlight of the area and a must-do for every traveler. Unlike most of the touristic options available in Botswana and particularly in Maun, camping in the Okavango Delta is one of the more affordable trips, even if you're travelling on a budget, as long as you choose the self-catering option and provide your own food. For an additional fee, you can also choose the all-inclusive version, in which case you won't need to worry about any of the logistics of the trip.
A mokoro is a small boat with a flat bottom. It used to be made of ebony (sausage tree), but given that it takes the tree one hundred years to grow, while the life span of a mokoro is about five years, these days locals the boats out of fiberglass. To move the mokoro, one has to stand and push with a pole. Since the water in the Okavango Delta is low, this is the best way to move around. Of course, you won't be able to get to the heart of the Okavango Delta on a mokoro (otherwise, you might get eaten by hippos), but you don't have to in order to see elephants, hippos, giraffes, wild beasts and other animals in their natural environment.
The quiet and calmness of the islands are perfect for relaxing. You can book your mokoro trip at The "Old Bridge" Backpackers (see number two on my list) or you can head all the way to Boro village and organize it yourself with the locals.
Okavango Delta

Address: Boro village, Maun, Botswana

Duration: at least two days required

Access:Drive from Maun, Botswana.
2. Grab a beer at The "Old Bridge" Backpackers
The "Old Bridge" Backpackers is a cool place to hang out. The hostel takes its name from its location: it is very close to the Old Bridge over the Thamalakene river. So, while you're there, you can go across the bridge. Many travelers stop at The "Old Bridge" Backpackers, as they offer both rooms and camping spots, yet it's not just a place for travelers. It's also a place for local people to hang out, drink a beer or a glass of wine, have a nice meal and interact with travelers. Don't forget your swimsuit, as there's a small pool in the yard where you can cool down after a hot sunny day. You can, of course, also book your accommodation with them and stay there the entire time. They are located on the shore of the river, a great spot to take pictures early in the morning.
The "Old Bridge" Backpackers

Address: 10 km (6.2 miles) away from Maun New Mall

Price: from 8 USD for a camping spot/15 USD dome tent and bedroll

Access: 10 minutes drive from the city center

Contact: +2676862406
3. Take a walk along the Thamalakene river and watch the sunset
One of the top Botswana tourist attractions is Thamalakene river. It provides great walking opportunities, wonderful spots for watching the sunset and sometimes even places to spot hippos or crocodiles - so make sure not to walk too close to the river and stay away from the shore when it is dark! Thanks to the trees on the shore, you can also find places to hide from the burning sun on a hot day.
Thamalakene river

Address: Maun, Botswana
4. Go for a short flight over the delta if your budget allows for it
There are many companies around the airport providing scenic flights over the delta. It's surprising how many bush pilots there are in Maun and how busy they can be. You can take a few hours to research and compare the offers each company has or you can book through your hotel. However, booking directly through the company will be cheaper. You can also negotiate a better rate, the length of the flight, the route and all other specific details.
5. Enjoy frozen flavoured ice from the small local shops at the side of the road while sitting under a tree
This goes on the list of one of the little things in life that will make you happy. Some days are really hot in Botswana, even more so in Maun, yet walking around is always a good way to discover a new place, observe the houses and the general life of the local people. If the sun gets to you, the best way to have a break is to buy an ice pop from one of the small shops or one of the ladies selling sweets and enjoy it in the shade. They come in many different flavours and if you're in Botswana for a longer time, you can try a different one each day.
The following content is contributed by Trip101 writer, Barry
6. Visit Boro-bonche Ostrich Farm
Photo is only for illustrative purposes
On your Maun sightseeing trip, don't forget to visit an ostrich farm. Travel about 9 km (5.5 mi) from Maun center, along Moremi Rd, and you'll reach Boro-bonche Ostrich Farm. This little-known destination is an unassuming spot that's home to dozens of ostriches. You can spare a couple of hours to visit Boro-bonche and enjoy learning about ostrich farming. These fascinating birds are also happy to be photographed; the scenery here makes an excellent backdrop for your pictures. While here, you'll be enlightened on how these giant birds breed and what they eat. If this is something that sparks your curiosity, then make sure you pass by Boro-bonche Ostrich Farm.
Boro-bonche Ostrich Farm

Address: 9 km (5.5mi) from Maun on Moremi Road, Botswana

Opening hours: Mon: 10am - 4pm Wed: 10am - 4pm; Fri - Sat: 10am - 4pm (closed on Tue, Thu & Sun)
7. Book a tour with Wild Ridge Bushtrails Safaris
Photo is only for illustrative purposes
A trip to Africa - Botswana, no less - wouldn't be complete without a quintessential African safari. And when you're in Maun, the best people to call for this activity are the folks at Wild Ridge Bush Trails Safaris. Having been in the safari business for years, they know everything that needs to be known about organizing tours. In fact, they tailor each tour to the needs of the individual tourist. Whether you're planning to venture into the Okavango Delta (and you should) or want to check out the animals in one of the national parks, Wild Ridge Bush Trails Safaris will make it happen.
Wild Ridge Bushtrails Safaris

Address: Maun, Botswana

Website: Wild Ridge Bushtrails Safaris
8. Explore Motsana Centre & The Arts Cafe
Photo is only for illustrative purposes
Motsana Centre is a combination of a number of outlets: an arts cafe, a curio shop, a food store, a gym, and a hair salon. This tiny complex is easy to miss as it's tucked outside the city center, along Shorobe Rd, about a 15-minute drive from the CBD. From outside, you might easily dismiss this unassuming spot; it somewhat looks like a ramshackle building. However, within its walls, there are lots of things to do for the whole family. Motsana Centre is known to host a farmer's market every last Sunday of the month. If you're here around that time, drop by to snag some souvenirs. The complex also boasts one of the best curio shops in the area - another great place to buy some unique local craft pieces! And if you love live performances, head to the theater where you might catch a performance by local artists.
Motsana Centre & The Arts Cafe

Address: Shorobe Road, Maun, Botswana

Opening hours: Mon - Wed: 8am - 6pm; Thu: 8am - 10pm; Fri: 8am - 6pm; Sat - Sun: 8am - 4pm
9. Pass by Nhabe Museum
Photo is only for illustrative purposes
Located within an old, colonial-era building, this little museum has numerous tales to narrate. From its use during World War II to its wealth of displays on Ngamiland history, your time spent here will be definitely worth it. Nhabe Museum isn't large, by any means. In fact, compared to the museums in the country's capital, Nhabe is a bit underwhelming. However, you'll learn a lot from you visit. If you're interested in gaining knowledge on the history of the Okavango region, then you should definitely check it out. There are also exhibits that showcase the area's wildlife as well as the people's culture.
Nhabe Museum

Address: Sir Seretse Khama Street Maun, Botswana

Website: Nhabe Museum

Opening hours: Mon - Sat: 9am - 4:30pm (closed on Sun)
10. Have coffee at Dusty Donkey Cafe
Photo is only for illustrative purposes
Named after a common site on Maun's roads, Dusty Donkey is a recently opened cafe that pays homage to this unappreciated animal. The cafe is found within the town center and it attracts a large number of people, both locals and tourists. Dusty Donkey's claim to fame is the fresh coffee that pairs well with their scrumptious pastries. This is a lively spot where you can interact with locals who are always more than happy to make new friends. When here, also make sure you try their burger of the day. Their breakfast options are also quite popular, so make sure you start at least one day at Dusty Donkey Cafe.
Dusty Donkey Cafe

Address: Airport Rd, Maun, Botswana

Website: Dusty Donkey Cafe

Opening hours: Mon - Thu: 8:30am - 4pm; Fri: 7am - 4pm; Sat: 8:30am - 4pm (closed on Sun)
11. Buy souvenirs at The Bushman Craft Shop
The Bushman Craft Shop is located quite close to the airport and it's where tourists get to do their last-minute shopping. This is a small store that is quite artistically decorated inside and out. If you're looking for Botswana souvenirs, you'll find something lovely at The Bushman. Their woodcarvings are made by local craftsmen and are quite unique. They also sell traditional textiles as well as books by local and international authors. Since it is a touristy shop, you might find their prices to be a bit steep. However, if you're looking for something unique, the cost is worth it.
The Bushman Craft Shop

Address: Mathiba I St, Botswana

Opening hours: 8am - 5pm (daily)
12. Book a stay at Gunn's Camp
Photo is only for illustrative purposes
If you're looking for an awesome place to stay in the Okavango Delta, then check out Gunn's Camp. This rustic accommodation is set amidst a lush landscape that's typical of the Okavango. And the area's serenity is what you need on your vacation. Enjoy a typical African game drive when here and get to see the famous wildlife of Botswana. Gunn's Camp also organizes bush walks where you'll be accompanied by a knowledgable guide. If you love cruises, opt for a canoe or motorboat ride on Boro River. And at the end of the day, take a breather at the elevated bar as you admire the enchanting sunset.
Gunn's Camp

Address: Maun, Botswana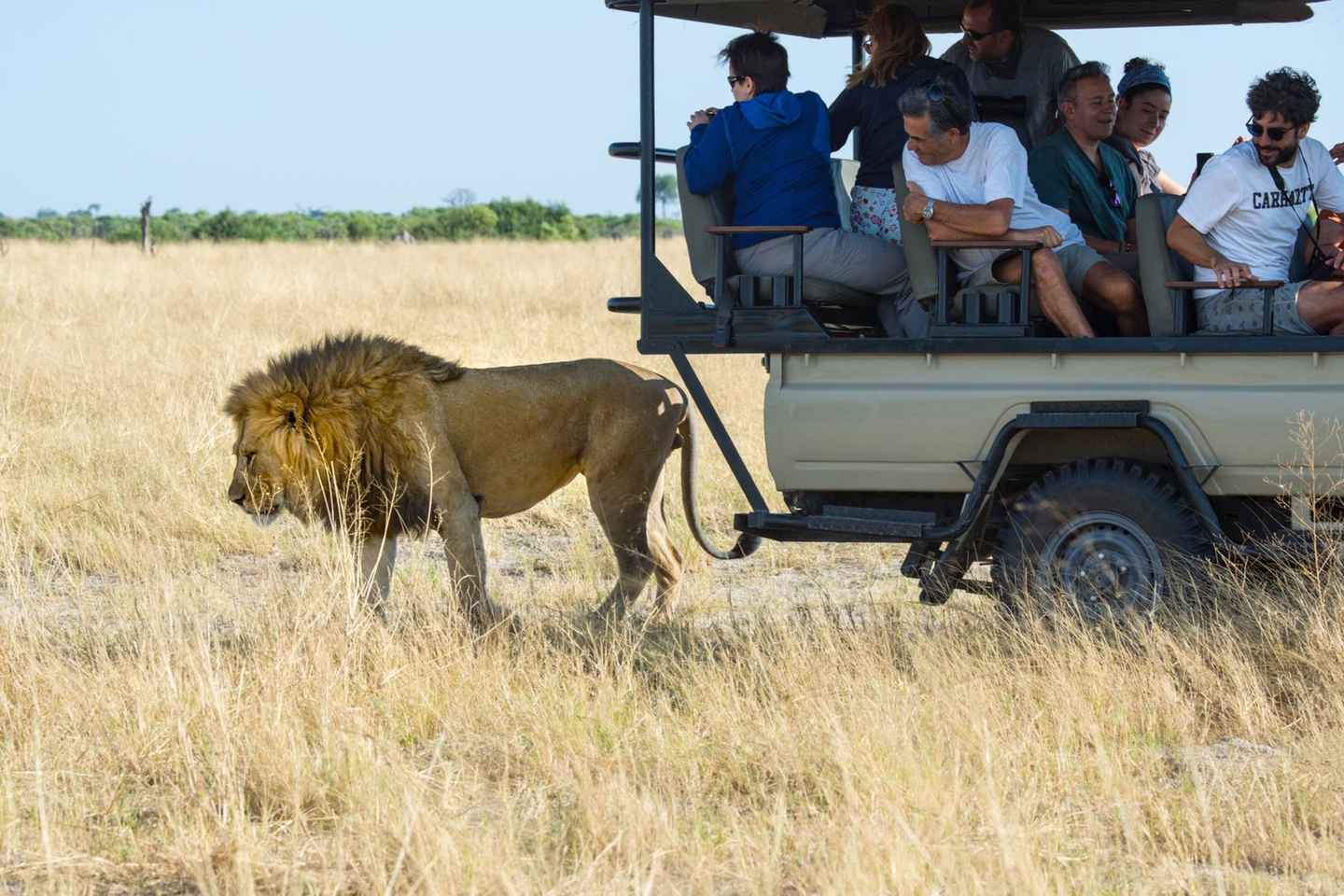 Go on an adventure to Moremi Game Reserve, located about 154 km (95 mi) from Maun. This game reserve is much bigger than Maun Game Reserve and it's a lot more scenic too. Nestled in Okavango Delta, Moremi enjoys a wealth of flora and fauna that's characteristic of the delta. Its vast landscape boasts a diverse scenery that's made up of acacia forests, mopane woodland as well as a series of lagoons. As you traverse the reserve, you'll catch sight of the area's rich birdlife; Moremi boasts almost 500 different bird species. And, of course, there are large and small animals ranging from the big cats to African wild dog.
Maun: Private Guided Day Safari in Moremi Game Reserve

Duration: 10 hour
Consider staying at Sitatunga Camp when you visit Maun. This campsite is located just 15 km (9.3 mi) from Nhabe Museum and an almost equal distance from Maun Mall. By making this your base in Maun, you will have easy access to all the area's best sites. The camp offers both luxurious and rustic accommodation. You can choose to stay in a tent and spend your nights under Botswana's starry night sky or opt for the one-bedroom chalet. Whichever option you choose, you'll still have access to facilities like a picnic area as well as an outdoor fireplace.



Sitatunga Camp

Address: Tsanekona Ward North West


Air conditioning Special diet menus (on request) Pets allowed Parking Hand sanitizer in guest accommodation and key areas Guests have the option to cancel any cleaning services for their accommodation during their stay Face masks for guests available Daily housekeeping
Being in the right spot is what matters most
Although Maun might not be the best place to spend a long time, the location of the small town (or village), gives it a lot of charm. The Thamalakene river and the Okavango delta are definitely worth the detour. Stopping in Maun can be a very relaxing and enjoyable experience, especially if you enjoy camping and flavoured ice. Don't underestimate the beauty of Maun – it might be small, but it's definitely in the right spot.
Disclosure: Trip101 selects the listings in our articles independently. Some of the listings in this article contain affiliate links.
Get Trip101 in your inbox
Unsubscribe in one click. See our privacy policy for more information on how we use your data