Kyoto, also sometimes called the thousand-year capital, is the capital city of Kyoto Prefecture. It is located in a valley in the Kansai region of Japan. This interior positioning results in hot and humid summers and relatively cold winters with occasional snowfall. Kyoto, which was for a very long time the capital city of Japan, has been Japan's cultural center. With its 2,000 religious places (1,600 Buddhist temples and 400 Shinto shrines), imperial palaces, gardens and traditional wooden houses, it is one of the best-preserved cities in Japan. It is also famous for its delicious Japanese cuisine and geisha (female entertainers often found in Gion District). Cycling is a very important form of personal transportation in the city. The geography and scale of the city allow easy navigation on a bicycle making it a great city to explore on a bike. Read on to learn about the bike tours you can go on in Kyoto, Japan.
Starting from Kyoto's NORU bicycle shop, explore a mix of Kyoto's famous attractions, hidden secrets and underappreciated scenery. Under the guidance of an English-speaking route coordinator, embark on this 'hidden' bike tour that is 4.3 miles (7 km) long and lasts for 3.5 hours. Departure time is at 9.00 am or 1.00 pm but one should arrive 15 minutes earlier. Start by seeing iconic Kyoto temples and shrines like Kinkakuji, Koto-in and Kitano Tenmagu. Continue 'off the beaten path,' to see Zen gardens and amazing backstreets only known to locals. The tour then ends at the starting point. This ride is suitable for people over 13 years at all fitness levels. Get to enjoy a safe, easy and fun bike tour.
Hidden Kyoto E-Biking tour

Duration: 3 hours 30 minutes
Limited to only 9 people, embark on this bike tour that is 9 miles (15km) long and takes 3 to 4 hours. The tour starts from Kyoto Station at 8.45 am under the guidance of an English-speaking guide. Cycle towards the Kamo River, a route that offers spectacular views of downtown and numerous traditional restaurants that line the river banks. Next, see Heian-Jingu Shrine, a religious site known for its eye-catching red torii (sacred gate) and admire reconstructions of structures from Kyoto's old palace complex. Proceed through a network of charming canals, eventually reaching Nanzenji Temple, which symbolizes many of the typical stylistic details of classic Zen Buddhist religious structure. Head down the Path of Philosophy and admire a beautiful thoroughfare lined on both sides by hundreds of cherry trees. The tour then ends back at the station. It is recommended for people above 12 years with medium level fitness ability as it can be quite strenuous.
Kyoto Sightseeing Small-Group Bike Tour with Guide

Duration: 3 hours
Enjoy the exclusivity and attention that comes with going on this solo tour with a tour guide. This tour is restricted to only 2 people above 12 years but a solo traveler can also book it, only that you will be charged the base rate for 2 travelers. The route used is similar to that in the Kyoto small group bike tour but the one on one experience ensures you get the most out of it. You will start at Kyoto Station, head towards Kamo River as you admire the scenery, go to Heian-Jingu Shrine, proceed through canals to Nanzenji Temple and finally admire the cherry trees in the Path of Philosophy. The tour then ends at the starting point.
Kyoto Private Morning Cycling Tour with Path of Philosophy

Duration: 3 hours 30 minutes
Starting from Kyoto NORU cycling tours and lifestyle, explore every corner of Gion and its surrounding area. Under the guidance of an English-speaking route coordinator, embark on this tour that is 14km long and lasts for 3.5 hours. Departure time is at 9.00 am or 1.00 pm but one should arrive 15 minutes earlier. The journey focuses on leisure, scenery, and culture while uncovering some of the best-kept secrets in Kyoto. Begin with stops at the Geisha neighborhoods and slowly proceed to secret backstreets that are quieter and see more scenery against the eastern mountains. This route takes you through tea houses, Zen temple monasteries, and Shinto Shrines. This ride is suitable for people over 13 years at any fitness level.
Secrets of Gion Bike Tour

Duration: 4 hours
On a multi-speed Cannondale bicycle, explore the beauty of bamboo, the tranquility of temples and some of the best scenic panoramas Kyoto has to offer without all the people. The tour is limited to six people. Under the guidance of a native English speaking bilingual guide, undertake this tour that starts at JR Saga Arashiyama train station at 8.00 am and takes 3 to 4 hours. You should, however, arrive 20 minutes earlier. Start by seeing attractions like Togetsukyo Bridge, the Unesco World Heritage and Tenryuji Zen Temple followed by cycling through a scenic backstreet of Kyoto's preserved historical landscapes. This will lead to the renowned bamboo forest of Arashiyama. The route is suitable for people at all levels of fitness.
Arashiyama Bamboo Bike Tour (Early Bird)

Duration: 3 to 4 hours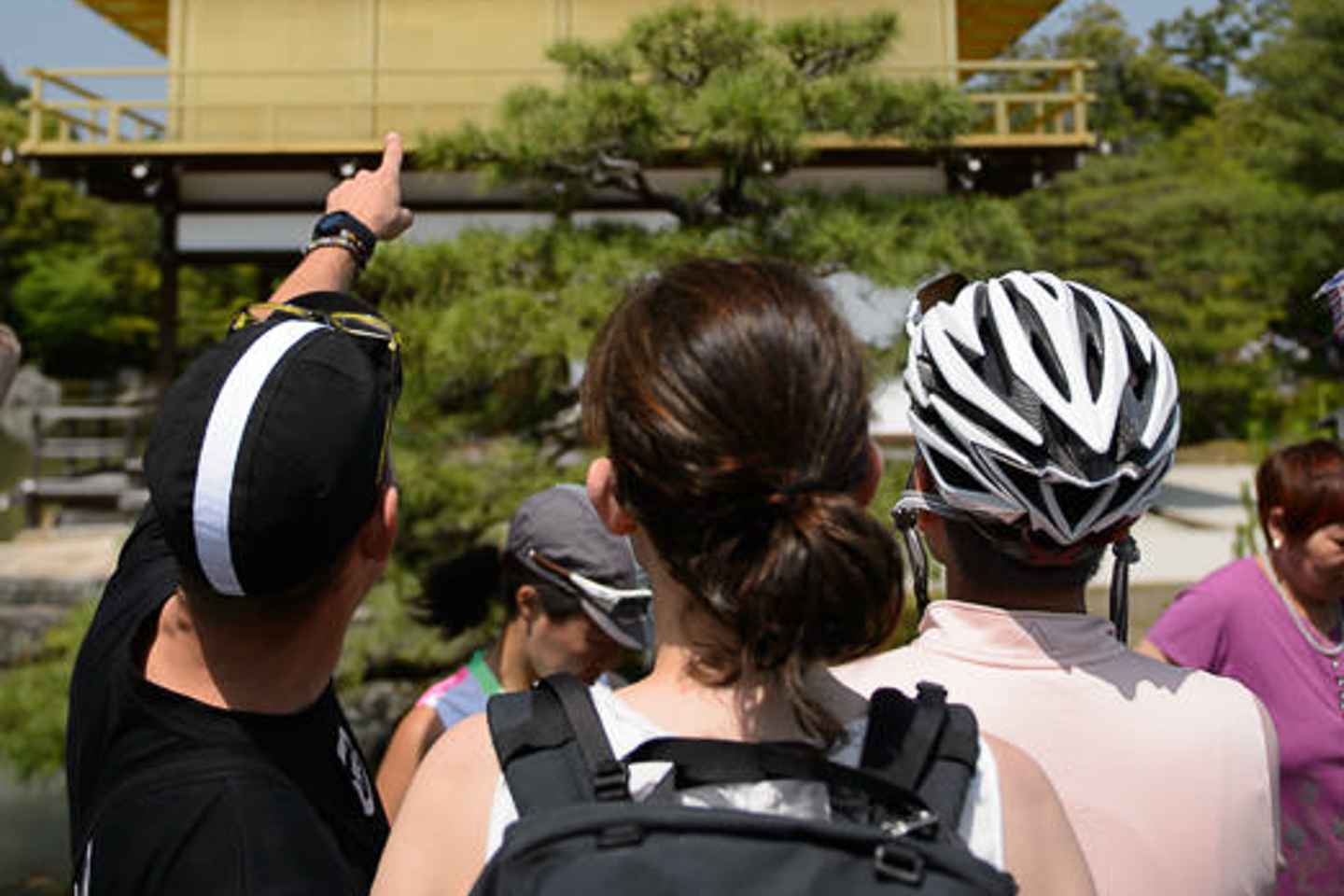 Kyoto is a city best explored through cycling. Marvel at the scenery through this tour. The tour begins at NORU, led by an English speaking guide. Visit the World Heritage temples and shrines, slowly go through quieter backstreets to the intimate Zen gardens. Explore through the beauty of the Golden Pavilion and Kyoto's oldest Geisha district. This tour is suitable for people over 13 years who can ride a bicycle. This tour provides a great opportunity to gain an in-depth understanding of Kyoto.
Kyoto: 3-Hour Cycling Tour

Duration: 3.0 hour
Explore the northern parts of Kyoto by bike. This tour starts from Cycle Kyoto at 10.00 am and it is led by a local guide. The first stop is Nishi Honganji Temple where you will get in. Have a light snack in the sanjo shopping arcade before heading to see Kitano Tenmangu Shrine. Then we proceed to the Golden Pavilion. Be treated to a mouthwatering Japanese lunch followed by going to the Imperial Palace. The lunch adds a most welcomed twist to this tour. Cycle down the gentle downhill river path towards Gion, navigate through the backstreets and cross over the Kamo River. The tour then ends at the starting point.
Bike Tour Exploring North Kyoto plus Lunch

Duration: 5 to 6 hours
Limited to only eight people, embark on this bike tour that takes approximately three hours. The tour starts from Friends Kyo at 2.30 pm under the guidance of a guide. Arrive 15 minutes earlier. Explore this water-themed Kyoto bike ride, which follows the Kamo River, and get to dip your toes in the clear river water. Then, cycle to a 2,000-year-old shrine surrounded by an ancient forest to find the source of the water for the Kamo River. Be thrilled as you see the underground headquarters of Japan's notorious crime gangs. Learn about Kyoto's water trade. Go through a former red light district and make a brief stop at the headquarters of the notorious Yakuza. Catch a glimpse of the floating world of the geishas and maikos of Kyoto. The tour then ends at the starting point where tea made from the well water you collected is served. The minimum age for this tour is 18 years.
The Hidden Water Cycling Tour of Kyoto

Duration: 3 hours 30 minutes
Unforgettable bike tours
Be a local and explore Kyoto while riding a bicycle. This city has a lot to offer with regards to Japanese culture and through one of these bike tours, you are able to explore it. An added advantage is that the tour is guided by people who are well versed in the area and they will show you secret backstreets that you would otherwise miss. Do not miss such an amazing adventure. Plan a trip to Kyoto, Japan.
Disclosure: Trip101 selects the listings in our articles independently. Some of the listings in this article contain affiliate links.
Get Trip101 in your inbox
Unsubscribe in one click. See our privacy policy for more information on how we use your data