Found stark on the pristine shores of the Pacific Ocean and stretching to the Northeast corner of Polynesia lies Hawaii, a beautiful volcanic archipelago known not only for its incredibly dramatic landscape but also for its unique culture, spectacular weather pattern, and relaxed way of life. A fascinating metropolis characterized by a plethora of attractions and an abundance of exhilarating outdoor activities, this captivating destination spells out a quintessential paradise, especially for stalwart outdoor enthusiasts with an insatiable appetite for adventure. If you have time on your hands, visit its idyllic beaches and soak your feet in the golden sand or admire it's technicolor coral reefs as you take in the ethereal feel of this incredible place. So, If you are enjoying a vacation in this magical metropolis and would love to amp up your experience, check out the best camper rentals in Hawaii, the USA, listed here.
If there's one thing Landcruiser SUV tracks are known for, apart from their sturdy off-road performance is their relatively easy navigation, especially if it features an automatic transmission. These adorably powered machines are even appreciated more for their impressive dominance on all-weather roads–it's no wonder why they've become a favorite choice among many nature travelers and adventure seekers worldwide. Perfect for an outdoorsy couple, Victor's legendary Landcruiser series from the '80s features all the necessities you might need for a remarkable adventure experience. This sweet ride comes fitted with a Tepui roof tent, which is easy to set up and spacious enough to fit two. Other amenities include a 10-gallon (38 liters) exterior shower, camping stove with two butane canisters, pots and pans, two bowls, and two sets of silverware so you can dine in style.
Get in tune with the uplifting outdoor vibes of Kahului from the comfort of this amazingly stylish Volkswagen Westfalia from 2004. An unpretentious getaway camper fitted with all the essential amenities you might need for a remarkable adventure experience, this stunning RV vehicle makes an ideal choice for a small family or group of adventure-seekers. Being the last model of the famed VW Westfalias series, this amazing ride features a chic interior with a fold-out kitchen table and a swiveling front seat for a smooth dining experience. Additionally, the back seat in this lovely camper folds down to a large queen-size bed creating more room for a comfortable night's rest.
Are you staying in or around Kihei, and you're looking for a nice camper rental to explore the off-beaten tracks of this spectacular region? If yes, then look no further than this roomy 2018 Ford Transit HD that can accommodate up to four people. This affordable camper rental from Sam comes with all the necessities you might need for your exploration. Boasting a spacious interior, this appealing camper comes fitted with a kitchenette, a cassette toilet, a full-size bed, and a single mattress on the floor for rejuvenating rest. For an easy time during your adventure, this camper also features a six-person tent, a canopy, and beach chairs so you can enjoy the blissful sights and sounds of your surroundings.
If you're you a neophyte to the elating world of camper adventures and you're willing to immerse yourself in this unique experience, then this luxurious VW Westfalia in mint condition offers you the perfect opportunity to revel in an exhilarating journey through the dramatic landscape of this incredible destination. Comfortable enough to sleep four, this well-maintained VW camper is easy to drive and features all the ingredients necessary for a nostalgic VW camping experience, including the vintage pop-top with a small full-sized bed so you can take in the scenic views of the region from its comfortable interior. With fold-out kitchen tables, a swiveling front seat, and cooking equipment, you can enjoy the freedom of sharing an intimate dinner after a day of exploration.
If you want to travel and explore the hidden gems of Maui and you're looking for a luxurious camper that meets all your basic amenities in style and comfort, then look no further than this remarkable 2018 Hymer Aktive that sleeps four. Perfect for a young family or a small adventurous group, this exciting camper rental enjoys an exquisite European design and comes fitted with all modern facilities necessary for a delightful outing. Being a campervan with a bathroom and an indoor shower, this fascinating rental offers you a blissful sense of comfort and style. What's more interesting is that it also comes fitted with 260 watts of solar power and a large bank of lithium batteries, allowing you to run the air conditioning as you enjoy seamless entertainment on the go.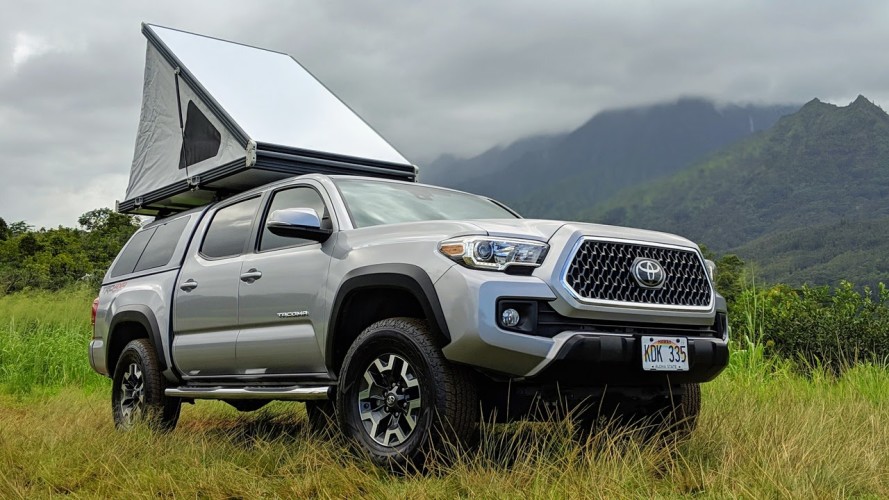 Discover the off-beaten tracks and hidden treasures of Hawaii from aborad this gorgeous 2018 Toyota Tacoma TRD Off Road Camper that's best suited for four guests, preferably an adventurous family. Widely adored among overland travelers and everyday adventure connoisseurs alike, this wheeled beast combines capability and convenience to give you a top-notch camping experience full of fun and incredible memories. This is a highly reliable performance vehicle that comes fitted with luxurious amenities for your convenience. This beautiful Toyota Tacoma TRD features a GFC rooftop tent with a 3-inch memory foam mattress for a peaceful night's rest, a dual burner stove, 5 gallons (19 liters) water can, and dining appliances so you can enjoy the freedom of making your own recipes.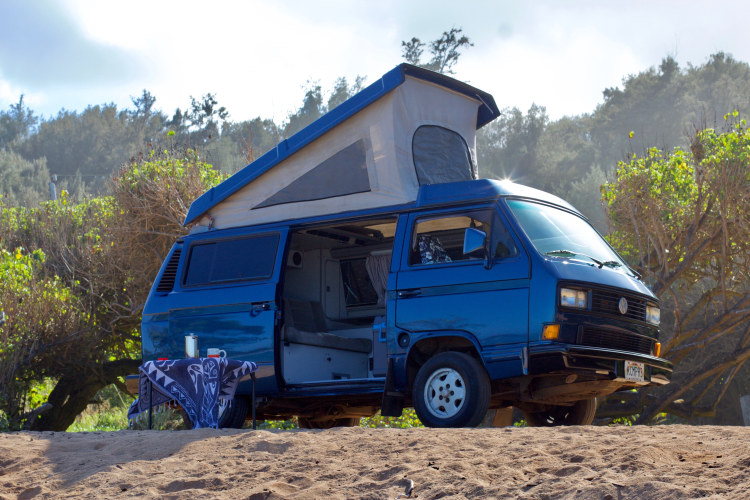 Another camper rental to consider when planning for a remarkable sightseeing excursion in Hawaii is this classic retro VW Westfalia from the '90s. With an elegant blue color that accentuates its cool and exciting vibe, this attractive camper rental with automatic transmission is just what you need for a mesmerizing adventure experience as you traverse the incredibly dramatic landscape of this beautiful destination. Among other amenities, this gorgeous rental features a mini-fridge, picnic tables, kitchen kit, two-burner stove with a pull-out table, and an adjustable awning that allows you to immerse yourself in the enchanting surroundings of your camping site.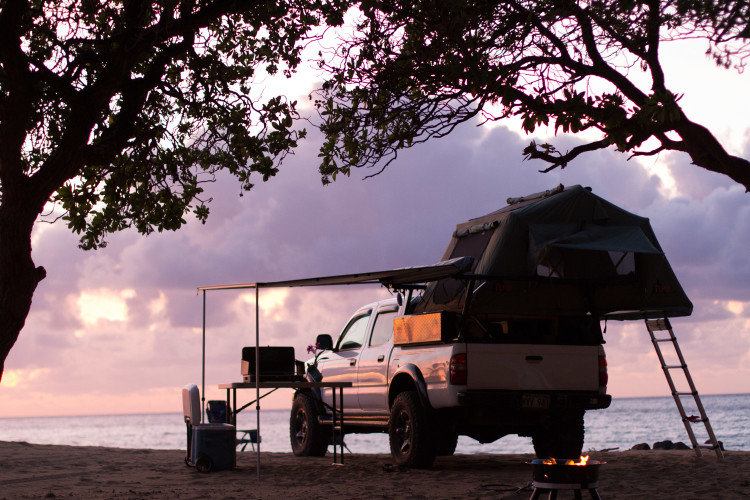 This amazing 2004 Toyota Tacoma is a beautiful beast with a relatively high performance and is just what you need to explore all the hidden gems of Hawaii. Perfectly suited for an adventurous couple, this camper rental comes with a freshly done paint job, new suspensions, and tires, making it ready for any daytime adventure or just a spontaneous night cruise across the island. For additional comfort, this cool ride features also features a signature Tepui Kukenam SKY rooftop tent with an upgraded mattress, 7 gallons (26 liters) of water in a pressurized road shower, as well as a ground tent with an air mattress and battery inflator.
This 1989 Volkswagen Vanagon is an excellent camper in Kihei featuring an array of amenities, namely, two beds with enough room to sleep four, a two-burner stove to prepare your favorite meals, and a CD player with AM/FM radio to make your journey entertaining and comfortably smooth. Offering amazing visibility with its forward seats and a retractable awning so you can take in the ravishing scenery of Maui, this nostalgic ride also features a large cooler for all your cold treats, 10 gallons (38 liters) of fresh drinking water, and everything else you'll need for camping including pots, pans, a coffee maker, beach chairs, as well as blankets and pillows.
Kihei

30.75 km (19.2 mi) from Haleakalā National Park
A lot of fun and remarkable memories await you in this exciting, brand-new 2019 model of the Winnebago Revel. An incredibly luxurious RV known for its reliable power transmission, the Revel boasts 4x4 capability, allowing you to go anywhere within the confines of this beautiful island. Packed with all the comforts of a modern home, this incredible RV sleeps three and features a cassette toilet, both indoor and outdoor showers, and a kitchen with a refrigerator, a sink, and an induction cooktop so you can have your favorite meals on the go. With plenty of ample spaces, this RV also has a backseat that folds into a small bed and it also comes with a full-sized memory foam mattress.
Wailuku, HI, US

39.5 km (24.6 mi) from Haleakalā National Park
Explore Hawaii in style
With serene sights and sounds and a host of exciting attractions and fascinating venues, Hawaii is undeniably the place to be for a relaxing sightseeing family vacation that guarantees for remarkable memories. And with this list detailing some of the best camper rentals in the area, you're spoilt for choice! So plan your itinerary and hire any of them for a delightful adventure experience.
Any must-sees we missed? Tell us about them in the comments section or write a post
here
to help out fellow travelers!
Disclosure: Trip101 selects the listings in our articles independently. Some of the listings in this article contain affiliate links.
Get Trip101 in your inbox
Unsubscribe in one click. See our Privacy Policy for more information on how we use your data