Greenville, South Carolina, has racked up a reputation for being one of America's most popular cities. In the summer, huge crowds from faraway states can be seen flocking over. This thriving city is filled with activities that have imbibed the unique Southern culture. One-of-a-kind shops, boutiques selling souvenirs, daily products, and food can be found here. You'll want to get your hands on everything you see because once you leave, you'll not get to savor these flavors. Art galleries and museums containing mind-boggling art pieces that will forever be etched in your memory can be located here. Finally, the sightseeing, a part of Greenville that cannot be replicated elsewhere. Go on a journey around one of their gorgeous lakes and rent a boat to catch a glance of their majestic waterfalls. If you're looking for an ultimate experience where you can enjoy everything above, this article is for you. Read on to find out the best campsites in Greenville.
Rider's Rest RV - Site A is located at Rutherfordton, 2.5 mi (4 km) away from the Tyron Internation Equestrian Club. The area is tranquil and easily accessible. With a camper pad that is up to 50 ft (15.2 m) long and fourteen feet wide, you will have no issues backing up your RV. Full hook-ups can be found here. Extra parking for your vehicles or trailers is provided for free too. This place is known for its cleanliness and scenery. You will want to mark this place down for future use.
Rider's Rest RV-Site A

Rutherfordton, North Carolina, United States

Superhost

Accommodates: 6


Top guest reviews

great camper spot very quiet clean and convenient to tiec

she said the space was very clean and nice

camper pads are spacious and clean with plenty of room to back in a large rv or trailer

sarah was an excellent host

very clean and sarah is a great host

Read more reviews
This newly refurbished Riverbend Lodge at Transylvania County is an area famous for its waterfalls. On the same plot of land, you'll find a restaurant and bar that offers great food and music. The restaurant offers both finger foods and hearty meals and on certain days, bands can be found playing at the bar. Staying here will allow you access to the hot tub, sauna, children's play area, and local racquet club for no extra cost. This is the lodge guests need to take note of if you've been on the road for a while and would prefer a place that can rejuvenate your tired souls. Do contact the host if you're interested in finding out which dates there will be performances by the bands.
RiverBend Lodge- PRIMITIVE CAMPING
If you're looking for a quiet and scenic area, then Rider's Rest RV at Rutherfordton will suit you. This peaceful location is filled with an abundance of greenery. Just beside the site is a goat pasture where you can watch them graze. Full and easy hook-ups for your RV coupled with the huge RV pad will ensure you have no issues with parking, making your stay an enjoyable one. Extra space for your additional vehicle or trailer is also provided on-site.
Rider's Rest RV- Site B

Rutherfordton, North Carolina, United States

Superhost

Accommodates: 6


Top guest reviews

very well-situated clean and with easy hook-ups

two extremely clean slips adjacent to her goat pasture which was an added amenity

quiet and scenic as well great spot near tryon equestrian center

Read more reviews
Popular among sports enthusiasts, Blue Jar Barn is an ideal location for those who are fans of Clemson Games. It is 20 minutes away from Clemson Memorial Stadium so you don't have to worry about traveling far and wide just to watch the games. People who prefer sightseeing will be in awe as you'll be greeted by a mountain view both during the day and at night. if shopping is your cup of tea, then you'll be delighted to know that the nearest shopping mall is just a 15-minute drive away. This campsite can contain RVs, campers, and tents. Full bathrooms with showers are available on the camping ground.
Blue Jar Barn Camping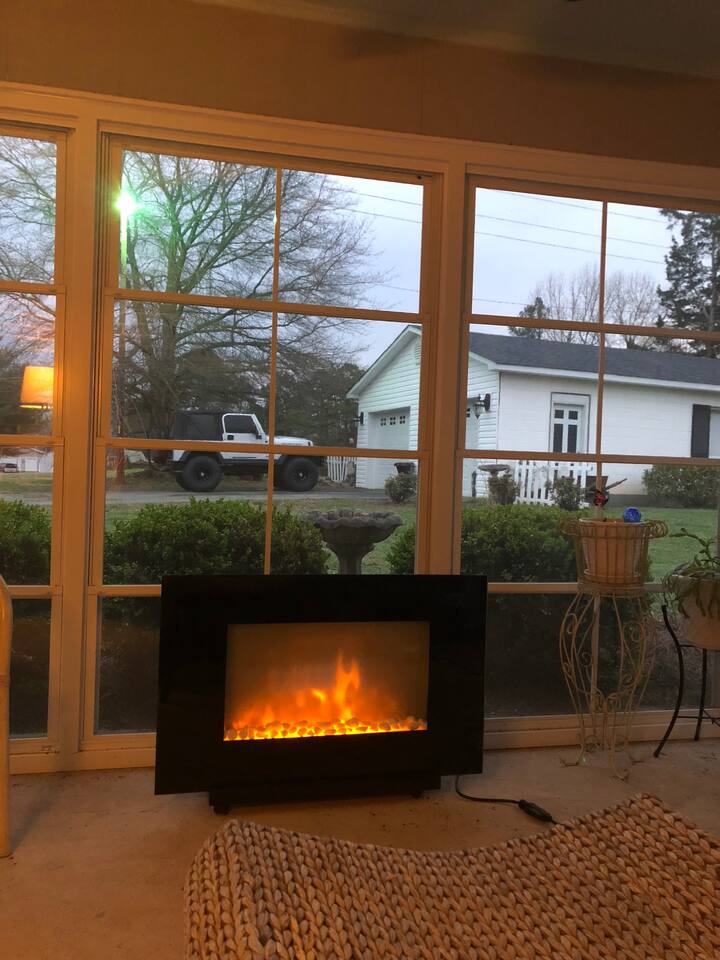 If you're a light sleeper, this secluded campsite will be what you're looking for. It is especially calming and soothing, making it great for city dwellers who are looking to claim their inner peace. Though it is hidden from the city, traveling out won't be an issue. A five minutes' drive will take you to the highway and high school. This place has the conditions needed for setting up a tent or parking your RV. There is a comfortable spot for you to set up your tent and a massive driveway for you to back up your RV. For your comfort, an outdoor table with chairs and swings are available on the camping ground.
Grassy spot for a tent or driveway for RV.
Fun at Greenville, South Carolina
Make the most out of a trip to Greenville by opting to stay in a tent or RV. Often, we choose to reside in hotels and apartments. Sometimes, we should step out of our comfort zone and try something fresh and innovative. This way, we will be able to discover new encounters and forge long-lasting memories. To find out where the best camping grounds at Greenville are, refer to the above. You'll find something you like.
Disclosure: Trip101 selects the listings in our articles independently. Some of the listings in this article contain affiliate links.
Get Trip101 in your inbox
Unsubscribe in one click. See our Privacy Policy for more information on how we use your data