Special date nights often include a gourmet dinner at a fancy restaurant. With beautiful conversations aimed at making you fall deeper in love with one another, the night does not have to end after you finished dessert. Catch a movie, walk around the city, or have a drink at a local bar. Whatever it is you choose to do, as long as it is with the right person, it becomes a romantic and memorable thing. For those planning a romantic staycation or getaway, book a stay at one of the city's famous hotels or romantic hotels. If you want to spend a special night here, read through our list of the top date night ideas in Washington DC, the USA.
1. Share some laughter at Dojo Comedy
Photo is only for illustrative purposes
Dojo Comedy is a club that provides laughter to its customers through numerous improv and sketch comedy numbers. The club is dedicated to nurture and provide opportunities to local talents on how to work with a live audience. The talent here is top-notch, and this fact alone guarantees you and your partner a night of fun and laughter. Aside from local talents, the club also showcases performers from different cities and states. Its present home is the original venue in DC that is built exclusively for improv and sketch comedy performers. This is one of the best comedy clubs in the whole country.
Dojo Comedy

Address: 3503 Georgia Ave NW, Washington, DC 20010, United States

Website: Dojo Comedy

Opening hours: Mon - Thu: 7pm – 10:30pm; Fri: 7pm - 11pm; Sat: 6pm – 11pm (closed on Sun)
2. Dance the night away at DC9
DC9 is a great spot to discover the city's nightlife, especially for couples who want to have some fun. The place has three venues where you can have so much fun with your partner. The first level has a bar where you can chill and drink. The second has a stage where bands entertain with live music. The third floor is by far, the most romantic of all three. Here you can just do anything you want like dance and drink the night away. It is a cool place to stay during the summer. In winter, enclosures are put up to keep everybody warm.
DC9

Address: 1940 9th St NW, Washington, DC 20001, United States

Website: DC9

Opening hours: Wed - Thu: 5pm - 10pm; Fri: 5pm - 12am; Sat: 3pm - 12am; Sun: 3pm - 5pm (closed on Mon & Tue)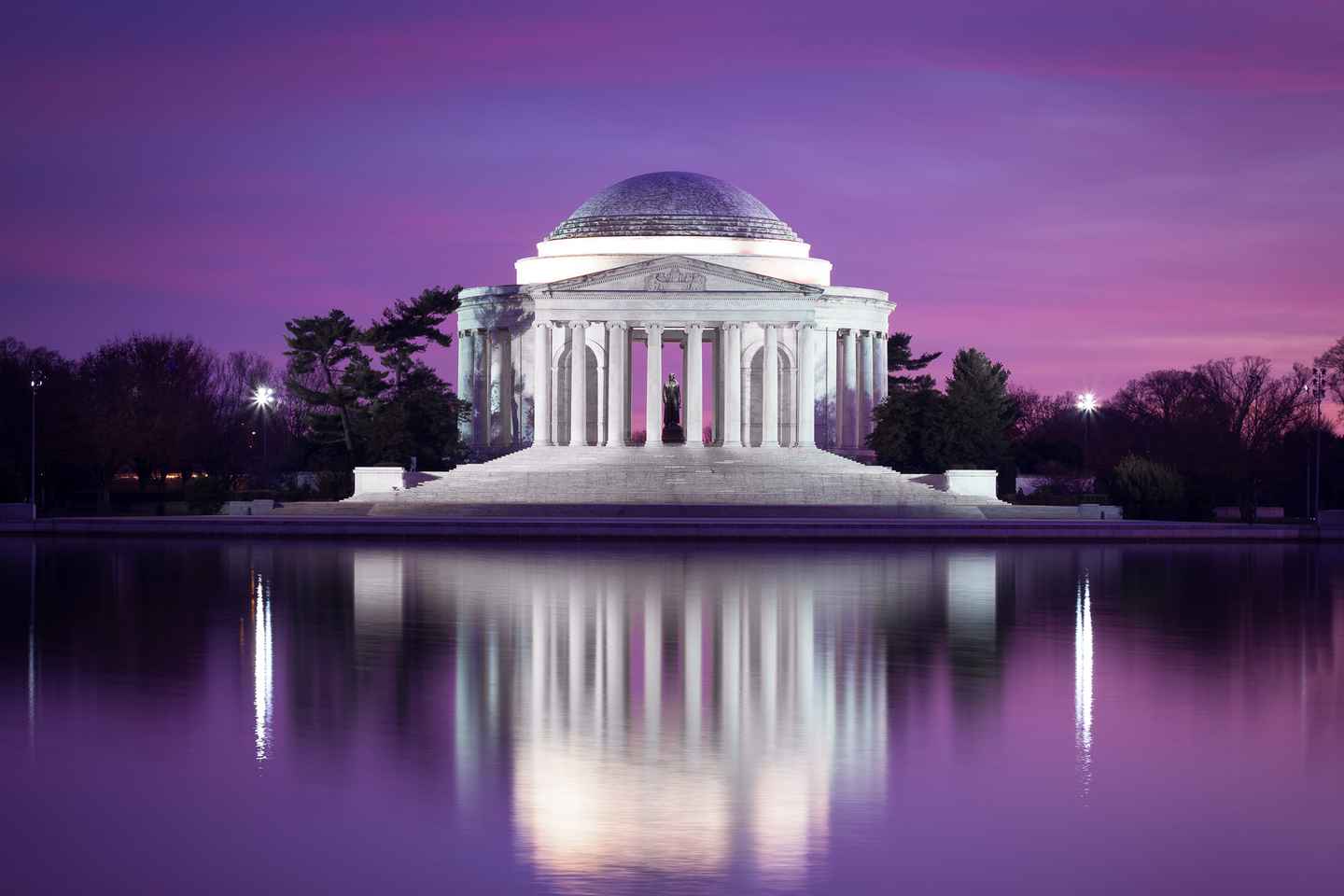 Everybody knows that National Mall of Washington DC attracts thousands of visitors by day because of its long line of memorials and museums. At night, it becomes a romantic place to spend a date night. Because it is open all day, the place becomes the perfect spot to bike or run with your partner. All you have to do is park your car nearby. This just might be one of the best date places to go to because it is free and you are in a beautiful park setting. With all the historic establishments around you, this might be one of the memorable dates you and your partner will ever have.
Washington DC: National Mall Night Bus Tour

Duration: 3 hour
4. Take a romantic walk during sunset at Tidal Basin
What is it about Tidal Basin that makes it romantic during twilight? Is it the water? Is it the sunset? Is it the memorials that surround it? One thing is for sure, there is no clear answer to this. So the best thing for you and your partner to do is find out for yourself. A walk through the reservoir path as day turns to night allows you to take in the beauty of the whole place. The best place to watch the sunset is from Jefferson Memorial. Walk the whole path so you can take photos of each other at Jefferson, Roosevelt, and Martin Luther King memorials.
Tidal Basin

Website: Tidal Basin
5. Enjoy a night of fun and learning at Story District
Photo is only for illustrative purposes
Story District is a well-known venue for performing arts. However, the shows here are unique and based on facts. These autobiographical stories are acted out by live performers who give justice to the theme. Be a part of the 300 monthly audience the place caters to. The place features eight to ten stories per night based on different themes. Story District produces original shows every year. If you and your partner are lucky enough, you may be able to watch one of these on your special night. Expect a night of fun and learning as you witness factual stories unfold before your eyes.
Story District

Address: 3329 Georgia Ave NW, Washington, DC 20010, United States

Website: Story District
6. Watch a classic musical at Keegan Theatre
Keegan Theater is the best place to bring your date if you both fancy watching musical plays. The lineup of productions features a mix of classic and new stage performances. Watching here does not come at a lofty price, and this is one of the reasons why productions here are very popular. The performances are actor-driven which means that the actors are given a free hand on how they want to tackle their roles. The directors are all participatory in this idea and encourage actors to think for themselves. For you and your partner, watching a production with this principle creates a powerful connection between you and the performers.
Keegan Theatre

Address: 1742 Church St NW, Washington, DC 20036, United States

Website: Keegan Theatre
7. Have a good laugh at Drafthouse Comedy Theater
Photo is only for illustrative purposes
Stand-up comedy at its finest is what awaits you and your date when you decide to drop by Drafthouse Comedy Theater. You and your partner will have your fill of laughter on weekends where two of the best local comics perform back to back in one night. Yes, that is two in one night, unlike other venues where only one headliner performs. The theater becomes packed these days because of the top-notch performances lined up for you. Come in early because the place easily gets crowded as it is quite small for a performance venue. Despite this, you are guaranteed to have a wonderful time watching these comics perform.
Drafthouse Comedy Theater

Address: 1100 13th St NW, Washington, DC 20005, United States

Website: Drafthouse Comedy Theater
Get on a boat and have a lavish dinner cruise on the water with the one you love. Allow this time to get closer to each other as you leave your cares on the shore even for a few hours. Potomac River becomes your canvas of beauty as you sail on it while having an extensive buffet spread. You will get to see several of Potomac's tourist sites that will leave you breathless and in awe. There is also some lively dancing with music provided by a top-notch DJ. Dinner, dancing, cruising, and sightseeing all in one night. How can you beat such a thing? You can't.
Spirit of Washington DC Sunset Dinner Cruise with Buffet

Duration: 3 hours
Taking a bus tour in the evening is one of the best ways to see the sights of Washington DC. If you are with the one you love, it would be a perfect date activity that both of you will love. These buses come in a full range of sizes, from big vans to full coaches, that can take in a big number of people. These tours are led by experienced tour guides who provide a detailed description of each and every tourist destination the buses stop at. These tours allow you to get off the buses and explore these destinations on foot. There might be some dark portions in some of the destinations, so it's best that you bring a flashlight with you.
Washington D.C. Twilight Evening Bus Tour

Duration: Wheelchair accessible
Spend a date night in Washington DC
Washington DC is not just about politics and history but also romance and love. These ideas epitomize what the city has to offer lovers and those about to fall in love. The river cruises and the amazing eateries make sure of that. During your trip here, don't forget to include some of our date night ideas in your itinerary.
Disclosure: Trip101 selects the listings in our articles independently. Some of the listings in this article contain affiliate links.
Get Trip101 in your inbox
Unsubscribe in one click. See our privacy policy for more information on how we use your data