We are sure that everyone knows at least a little bit about Hiroshima. Hiroshima today is a bustling and friendly city, one of our favorites in Japan. Every year on August the 6th, a traditional paper lantern festival is held in honor of its tragic past. No visit to Hiroshima is complete without paying respects at Hiroshima Peace Memorial Park and Atomic Bomb Dome. Looking to the future, Hiroshima is known for its exceptional food, welcoming locals and lively nightlife. Be sure to try the local Okonomiyaki, a delicious savory pancake that is made on a grill and as per your customization. Thanks to its excellent transportation, Hiroshima is also an ideal base to enjoy a few day trips. We traveled far and wide to bring you the best day trip spots from Hiroshima. With these, we're sure that you'll fall as much in love with Japan as we have.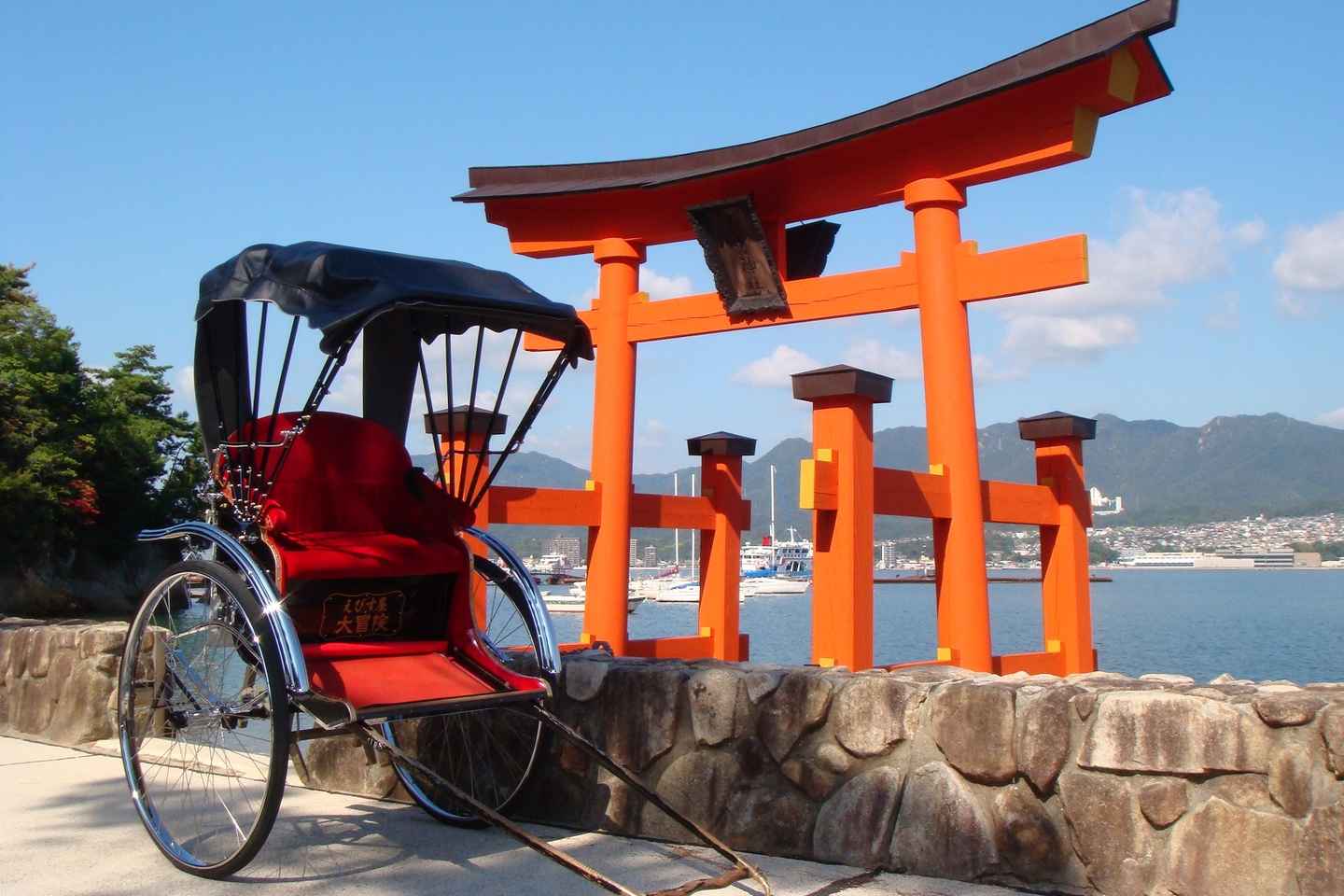 We are sure that you might have seen pictures of the infamous Itsukushima Shrine. These torii gates are unique in that they are built over the water and seem to 'float' during high tide. The adjacent shrine includes a number of buildings to explore. Visit during the day but stay until sunset when the area is lit which soft-hued lights. It's the perfect Insta-photo just waiting to be captured. For an extra special occasion why not traverse the ground on a rickshaw, it's a once in a lifetime experience.
Itsukushima Shrine

Address: 1-1 Miyajimacho, Hatsukaichi, Hiroshima 739-0588

Website: Itsukushima Shrine

Price: 5 USD

Distance from Hiroshima: 14 mi (24 km)
Duration: 45.0 minute
2. Miyajima Public Aquarium
With 15 different areas to explore, Miyajima Public Aquarium is worth spending a day at. You can get up close and personal with many different mammals and reptiles. One of the highlights is the Trilobites, of which many were existed over 250 to 500 million years ago. There are also regular shows that happen throughout the day in the open pool. Don't worry if you don't speak Japanese because the announcements are in English. It's an ideal day out for a family.
Miyajima Public Aquarium

Address: 10-3, Miyajima-cho, Hatsukaichi-shi, Hiroshima Japan 739-0534

Website: Miyajima Public Aquarium

Opening hours: 9am - 5pm (daily)

Price: 13 USD

Distance from Hiroshima: 15 mi (25 km)
3. Rabbit Island
Looking for rabbits? Cute, fluffy rabbits, in thousands? Then Ōkunoshima, also known as Rabbit Island, is for you. In fact, this area is the breeding ground for a multitude of wild rabbits that call this area home. Rabbit Island is popular with tourists because it is also only a short 15-minute boat ride from the mainland. For many cultures, rabbits also represent fertility, so visitors wishing for good luck in that will also visit the island. There are several walking trails, but it is worth noting that there is only one restaurant and one coffee shop on the island. We advise packing a bento box for lunch and snacks. Obviously, we want the rabbits to remain safe for all to enjoy, so guests are discouraged from handling or feeding them. You just have to resist the urge!
Ōkunoshima

Address: Ōkunoshima Tadanoumicho, Takehara, Hiroshima 729-2311

Website: Rabbit Island

Distance from Hiroshima: 43 mi (70 km)
4. Senkoji temple
This special and unique shrine represents the two lands of both heaven and hell. On one side of the temple, in the land of hell, you'll come face-to-face with oversized red hairy demons. Escape quickly otherwise you will be stuck in hell forever. Quite simply, this shrine is fun. You can try putting your head in stone and you'll be able to hear the sounds of hell while listening to a scary story about demons who take children away. If you survive the lands of hell, head through the pathway to heaven. Through the water-themed heaven area, you'll be able to see all of the lucky Gods. The last thing to do is get your fate card before you exit the shrine. Phew, made it safely!
Senkoji temple

Address: Japan, 〒547-0044 Ōsaka-fu, Ōsaka-shi, Hirano-ku, Hirano Honmachi, 4 Chome−12−21, Zenkoji Temple

Website: Senkoji temple

Opening hours: 8.30am - 5pm (daily)

Distance from Hiroshima: 54 mi (88 km)
5. Shimanami Kaido
If you're interested in cycling or want to experience the beautiful scenery surrounding Hiroshima, we think the perfect way to do so is to hire a bike and ride along Shimanami Kaido, also known as Nishiseto Expressway. This 37-mi (60 km) road connects Japan's main island to Shikoku passing the small island that surrounds Seto Inland Sea. You can also walk the route, but remember to pack plenty of water. Shimanami Kaido was officially opened in 1996 and is now a popular tourist route across the islands. Be sure to stop along the route to enjoy beautiful views and insta-worthy photos.
Shimanami Kaido

Website: Shimanami Kaido

Distance from Hiroshima: 71 mi (115 km)
This old fishing town is the perfect place to spend a few days relaxing and enjoying the traditional atmosphere. Thanks to its special location and scenery, Tomonoura has even been featured in blockbuster movies, such as Wolverine. The old wooden slatted facades in the front of the house are reminiscent of other popular places such as the infamous Gion area of Kyoto. For the best views of the area head to Fukuzenji Temple. From the temple, you can sit and enjoy the breathtaking scenery that spans across the bay in front of you. Another good spot to visit is Ankokuji Temple which features tropical plants and important cultural statues.
Tomonoura

Address: Tomo Tomocho, Fukuyama City Hiroshima Prefecture, 720-0201, Japan

Website: Tomonoura

Guided tour:

Distance from Hiroshima: 67 mi (109 km)
7. Sensui Island
This small island, also known as Sensuijima, is an absolute must-see if you are in the area during the summer months. Note that during winter it might seem like you are the only people on the island. During summers, there are ice creams, holidayers and yet a very peaceful atmosphere. We'd recommend walking the coastal line to enjoy all the sights of the island. There are a few restaurants and hotels on the island, so if you are looking for a romantic getaway for a few days, Sensui Island might be your ideal destination. The most popular spot on the island is the Five-Color Crag. At this geographical crag, you can see black, red, blue, yellow and white rock formations. Apparently, it is also a power spot on the island.
Sensui Island

Address: Ushiroji Tomocho, Fukuyama, Hiroshima 720-0202

Website: Sensui Island

Distance from Hiroshima: 68 mi (110 km)
8. Yamato Museum
This insightful museum will give you first-hand experience of shipbuilding and offer you the local history of Kure. The first and second floors showcase the history of Kure and the difficult lives that the inhabiting shipbuilders had. We'd recommend heading straight to Yamato Hiroba, a one-tenth scale model of the battleship. Regardless of whether you are interested in shipbuilding or not, this model which measures 26 meters (86 feet) is fascinating. The focus of the third floor is shipbuilding technology and on the fourth floor, you can enjoy the view from the observation room.
Yamato Museum

Address: 5-20 Takaramachi, Kure-shi, 737-0029

Website: Yamato Museum

Opening hours: 9am - 6pm (daily)

Price: 5 USD

Distance from Hiroshima: 15 mi (25 km)
9. Fukuyama Castle
This was one of the last castles to be built in the Edo Period. It is worth noting that the one you will see now is a postwar reconstruction. There is a small museum onsite which showcases the local history. This spot is particularly popular during the spring as many people come to see the cherry blossoms. The castle is inside a park area with many other museums and sites nearby so we think it is a great place to spend a day exploring. From the top floor of the castle you can enjoy panoramic views of the surrounding area.
Fukuyama Castle

Address: 8720-0061 1-8-8 Marunouchi, Fukuyama City

Website: Fukuyama Castle

Opening hours: 9am - 5pm (daily)

Price: 2 USD

Distance from Hiroshima: 62 mi (100 km)
10. Kintai Bridge
This historical wooden arch bridge is a popular tourist spot. Located in the small town of Iwakuni, the bridge is hundreds of years old and the five arcs cross the Nishiki River. This bridge has a special history that began with its construction under the commission of Kikkawa Hiroyoshi, the third feudal lord. It was completed in 1673 and stood proud until 1950 when a typhoon damage and neglect led to its collapse. The local residents were disheartened at the thought of their beloved bridge crumbling and so, stone by stone, wooden plank by wooden plank, they rebuilt an exact replica which was finished in 1953.
Kintai Bridge

Address: Iwakuni, Yamaguchi 741-0062

Website: Kintai Bridge

Distance from Hiroshima: 37 mi (60 km)
Plan for the top day trips from Hiroshima
These day trips are an absolute must. Hiroshima is a great base to explore further. Each of these trips can be easily completed in a day, or maybe you would prefer to stay for a few days. Pick the most enticing destination and go for it.
Any must-sees we missed? Tell us about them in the comments section or write a post
here
to help out fellow travelers!
Disclosure: Trip101 selects the listings in our articles independently. Some of the listings in this article contain affiliate links.
Get Trip101 in your inbox
Unsubscribe in one click. See our Privacy Policy for more information on how we use your data