Bergen, which translates into 'the green meadow among the mountains', is a thriving city located in Norway's Vestland county, with a history that goes back to the 11th Century. It is identified as a European City of Culture and is a UNESCO World Heritage City. It is ideally located to explore the country's famed fjords, which is why it is known as Gateway to the Fjords. The work of the Ice Age has created a paradise of gorges, glaciers, mountains, and meadows. If you're looking to escape from the city for a day, check out our list of the top day trips from Bergen, Norway.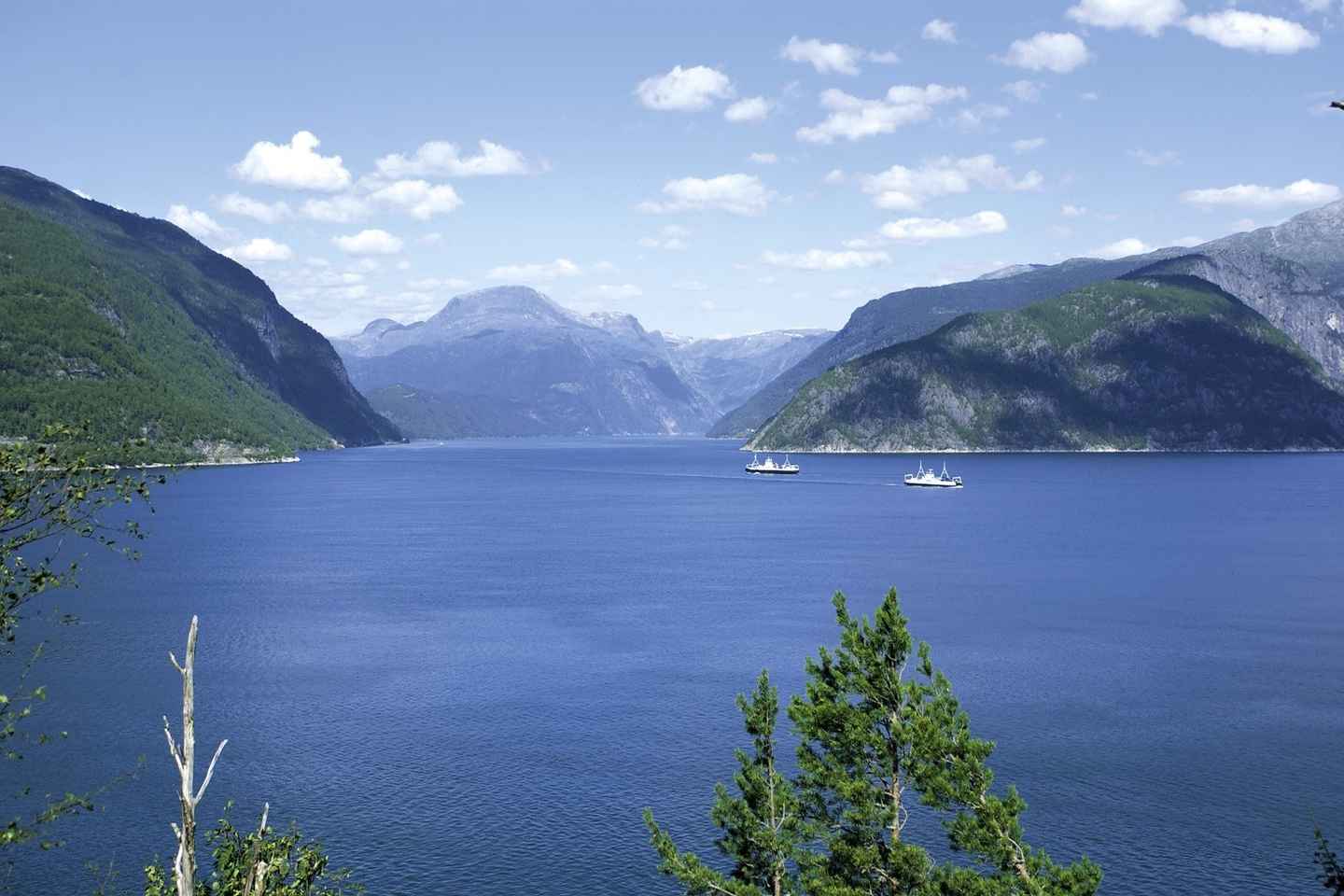 Since as far back as the 19th century, the Norwegian region of Hardangerfjord has been a popular tourist destination. Orchards, mountains, glaciers, and waterfalls, Hardangerfjord is famous for the country's second longest fjord, which spans nearly 180 kilometers (112 miles). The region also offers spectacular hikes and cultural touchstones. The area is known for its traditional fiddles and embroidery. Hardangerfjord also happens to be known for its fruit orchards and you can visit cider farms along cider routes via organized tours.
From Bergen: Private Trip to Hardangerfjord

Duration: 10 hour
2. Sundal
This village, located in Norway's Hordaland county, has only around 70 inhabitants, yet it continues to be a favored tourist destination as it has been for the last 150 years. It sits on the shores of the Maurangsfjorden and is surrounded by sheer mountains. From here, you'll want to explore the Folgefonna glacier and head into the magic of the Folgefonna National Park. You can also enjoy what the village has to offer at its inn, shop, and camping area that comes with a bathing place and barbecue space. There's also a farm museum.
3. Jondal
This Norwegian village overlooks the Hardanger Fjord, which happens to be close to the Folgefonna glacier that is a combination of three glaciers. It may be a small place, but it is nestled in spectacular landscapes that afford you the opportunity to hike, ski, or go on a horseback ride. There's even a beach, should you wish to enjoy some Norwegian sand by the sea. Hardanger Cathedral is a must visit, you'll also want to visit popular spots nearby, including the Folgefonna Summer Ski Centre and Tveddalstølen.
4. Skudeneshavn
A postcard town situated in Norway's Rogaland county, Skudeneshavn happens to the country's smallest towns, but also the best preserved. It is located on the Southern end of Karmøy island. As a port town, you'll be witness a lively harbour culture and boats of all kinds including ships, veteran boats, and old wooden vessels, not to mention handicrafts that invoke the culture. If you're there in the month of November, you can look forward to the Skudeneshavn International Literature and Culture festival.
5. Undredal
This is a small village situated in Norway's Vestland county. In fact the landscape of this area inspired the hit Disney movie Frozen. The village has more goats than people and with that kind of surplus, it's no surprise that its famous for its goat sausages and white and brown goat cheese. The area boasts UNESCO World Heritage landscape and a stave church that dates back to the 12th century and which is still in use; it is the smallest stave church in Scandinavia.
6. Ulvik
Another postcard village located in Norway's Vestland county, Ulvik is tucked away in a nook of the immaculate Hardanger Fjord. You will be tempted to kayak down the fjord, but there's more to explore: riffle through locally produced ware at Ulvikatorg, go water-skiing, roam around the Hauge Center, and you can even take a course on brewing tea from local plants or take a dip in any of the bathhouses. Again, like so many other Norwegian villages, Ulvik has plenty of orchards, so you can look forward to fueling on cider as you hike down a cider route.
7. Mount Ulriken
The city of Bergen is surrounded by seven mountains, the highest of these is Ulriken. While the seven mountains of the massif group may be hard to distinguish, since it was the fancy of a local playwright inspired by Rome's seven hills, seven mountains can certainly be identified: Lyderhorn, Rundemannen, Sandviksfjellet, Damsgårdsfjellet, Fløyfjellet. Løvstakken, and Ulriken. The top of Ulriken can be reached via aerial tramway. There's a restaurant waiting for you at the top and a bunch of telescopes to take in the view from the vantage point. The local Hiking Association organizes a hike across all seven mountains.
8. Lysøen Island
If you're looking for a Nordic fairytale island, look no further than Lysøen Island. Lysøen was once the site of a 17th-century farm, but it is now more famous for being the home of the erstwhile Norwegian composer, Ole Bull. His villa, which has since been donated to the society for The Preservation of Norwegian Ancient Monuments, is inspired by Swiss chalet and Moorish styles. The property has several kilometers of walkways that help visitors admire the scenery of Lysøen, and there is an occasional concert conducted in the villa during July and August.
The Norwegian village of Flåm takes its name from a Norse word meaning a flat piece of land. It is located in the Vestland county. It is been a popular tourist destination since the 19th century and boasts one of the world's steepest railway lines. Take a fjord cruise on the UNESCO World Heritage listed Nærøyfjord, hop on to the Flåm Railway and view the stunning Stegastein.
Bergen to Flam Cruise -The King of Fjords

Duration: 13 hours
Described as the 'world's most iconic destination' by the National Geographic magazine, Sognefjord boasts the country's deepest and longest fjord, which took form way back in the Ice Age. Mountains, valleys, fjords, and glaciers, this area has much to offer by way of natural attractions. You may also want to walk through the picturesque villages and orchards and admire some old stave churches, one of which is on the list of UNESCO's most protected heritage sites. Don't forget to take a trip on the Flåm Railway and take a jaunt to the Jostedalsbreen and Jotunheimen National Parks.
Self-Guided Full Day Round Trip From Bergen To Sognefjord With Flam Railway

Duration: 10 hours
Roam the green meadows
If you're headed to the land of fjords, you can't do better than to start your adventure in the gateway city of Bergen. While there's a lot to explore and experience in Bergen itself, a day away is a welcome break, especially to the above-mentioned spots.
Disclosure: Trip101 selects the listings in our articles independently. Some of the listings in this article contain affiliate links.
Get Trip101 in your inbox
Unsubscribe in one click. See our privacy policy for more information on how we use your data