Plan a trip to Guangzhou, a beautiful city found along the Pearl River. Take a walk in the city and marvel at buildings showcasing innovative, avant-garde architectural style. These include Canton Tower in the shape of a thin hourglass, and Guangzhou Opera House, which looks like two stones on Pearl River's edge. Marvel at the city's panoramic views from Canton Tower's rooftop viewing deck that spirals at 604 meters (1,982 feet). Art and history lovers can admire Cantonese art and nature, culture, and history artworks at Guangdong Museum. Guangzhou has efficient subways and buses, making it easy to explore the city. If you are up for some adventure, scroll down to find out more about the top day trips from Guangzhou, China.
1. Foshan, Guangdong
Foshan is about 45 minutes' drive from Guangzhou. This city is known to be the home of ceramic art and Cantonese opera-like singing, martial arts, and acrobatics. Visit Xiqiao Mountain National Forest Park, which features breathtaking natural scenery making it a haven for nature lovers. It is home to Mount Xiqiao, an extinct volcanic mountain with a statue of the Guan Yin Buddha at its summit. Enjoy hiking in the park's scenic routes with unique rock formations, freshwater springs, waterfalls, and caves. Foshan also has exquisite gardens such as the Sanshui Lotus World and Qing Hui Yuan. Other attractions include Foshan Ancestral Temple and Chuanlord Holiday Manor.
2. Zhuhai, China
Zhuhai is a city with a lot to offer. From museums to amusement parks, this city is worth visiting. Admire the unique architecture of A-Ma Temple that was built for the Chinese sea-goddess, Mazu. History lovers can explore Monte Fort, which was Macau's historical military center. For some fun and adventure, visit Chimelong Ocean Kingdom, a theme park that has amusement rides, animal shows, and a huge oceanarium. This city also allows easy access to islands such as Taipa and Coloane. Xianglu Bay's coast offers scenic views of Zhuhai Delta and Fisher Girl Statue, a major landmark of this city.
3. Huizhou, China
Huizhou is a city that is rich in natural landscapes. From mountains to hot springs, this city has it all. Explore picture-perfect scenery at the sacred mountain, Mount Luofu. See its Taoist relics, Daoist temples, grotesque peaks and rocks, lush vegetation, shimmering lakes, surging waterfalls, hot springs, and caves. Daya Bay has almost 100 islands and reefs. Soak up the sun at the beach or explore their terrain. At Ibis Styles Huizhou Xunliao Bay, you can relax on the beach or hot spring, go fishing, and eat tasty seafood. Reconnect with nature in a fun way.
4. Jiangmen, China
Jiangmen is a city known for its cultural treasures and has a significant amount of historical heritage sites dating back to before World War II. Visit the UNESCO World Heritage Kaiping Diaolou and Villages. Marvel at the unique architecture of its fortified multi-story towers known as Diaolou that reflect a fusion of Chinese and Western architectural styles. Explore the residential, communal, and watchtowers and get to learn about their historical significance. Other attractions include Guifeng Mountain, Xiachuan Island, and Shangchuan Island.
5. Mount Danxia
Visit this beautiful area that boasts a picturesque mountainous landscape. Erosion of the sandstone in this area over many years resulted in the formation of unique rocks encircled by cliffs. Marvel at their beauty, which makes a stunning backdrop for photos. Go on a scenic stroll around the mountains and see the temples there. Take in breaths of fresh air while you also admire the flora and fauna in the area. Get on board a boat and enjoy a peaceful and scenic ride along the river that winds around the mountains.
Conquer your fear of heights by going on this tour that takes approximately 10 hours. It includes transportation, a guide, tickets that allow you to skip the line, and lunch at a local restaurant. Hike on the walkways that wound over Gulong Gorge to the scenic nine waterfall. Feel the adrenaline rush as you walk on the glass bridge that runs 1,080 feet (329.1 meters) across the canyon. Stand on the cantilevered glass platform towering at 236 feet (72 meters) above the gorge and take in the waterfalls' spectacular scenery. Capture those epic photos for keepsakes.
Private Day Tour to Gulong Canyon Glass Bridge from Guangzhou

Duration: 10 hours
7. Dongguan, China
Dongguan is home to the world's largest shopping mall measured in terms of gross leasable area. Enjoy walking around the New South China Mall and seeing its various retail and non-retail shops. Using a detailed plan, this mall was designed and constructed with zones representing seven different regions popularly visited by tourists such as Amsterdam and Egypt. With the variety of items available, you will surely find something you will love. The mall also has several restaurants to dine in, an indoor-outdoor roller coaster, and an IMAX-style cinema. Other attractions you can visit in this city include the scenic Songshan Lake, Keyuan Garden, and The Opium War Museum.
Pump up your adrenaline as you walk across the glass bridge that is 500 meters (1,640 feet) above the gorge. Take in the breathtaking views of Huangteng Gorge and the natural landscape from this vantage point. Do not forget to bring your camera to capture some amazing shots of the stunning scenery that will be the envy of anyone who sees them. This is a great way to conquer your fear of heights if you are up for it.
Huangteng Gorge Sky Corridor Ticket in Qingyuan
9. Corridor of Peaks in Western Yingde
Photo is only for illustrative purposes
Head out to Corridor of Peaks in Western Yingde, which is located between Jiulong and Huanghua. This scenic area features beautifully shaped limestone peaks, lush tropical forests, a river flowing through the valley, and karst hills in the background. You can go around the human-made pond on a raft. You will also get to see a small hidden underground cave, bamboo forests, and farmhouses. Plan a day trip to this destination and get to explore this exemplary and scenic attraction.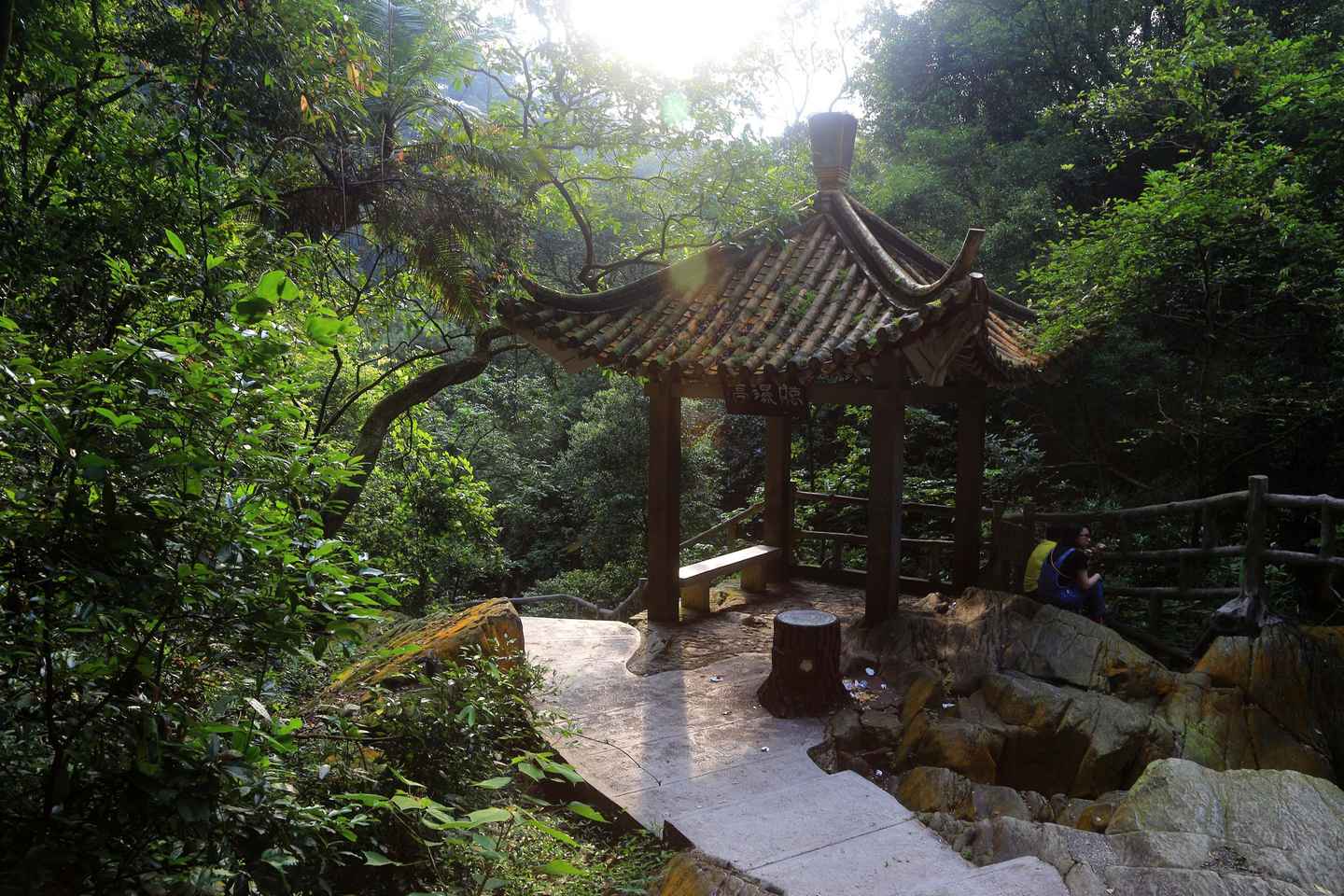 Discover the beautiful city of Zhaoqing on this tour that takes an entire day. Learn how the Dinghu Mountain was named and even get to climb it. From the peak, take in the breathtaking views of the waterfalls, historical buildings, and vegetation. Then, proceed to Seven Star Crags, where you will see limestone rock formations around Star Lake. The crags are strategically located to offer stunning views of the lake and its migratory birds. The tour then ends with a drop-off at your hotel.
From Guangzhou: Zhaoqing Full-Day Private Tour

Duration: 12 hour
Discover the scenic beauty of China
Day trips to spectacular locations is always a fun way to spend your day. Go sightseeing and explore breathtaking scenery, museums, and unique architecture. Have immeasurable fun when you do decide to go on these day trips from Guangzhou, China.
Disclosure: Trip101 selects the listings in our articles independently. Some of the listings in this article contain affiliate links.
Get Trip101 in your inbox
Unsubscribe in one click. See our privacy policy for more information on how we use your data