In the northern part of Alabama, you will find the charming city of Huntsville which is located in the Appalachian region. This city is beautiful and famous for space research. It also features a number of great accommodations, ranging from vacation rentals to hotels with indoor swimming pools. Huntsville may be more suited for those who love to learn about space, but it is a great starting point to explore some day trips to the neighboring regions. If you happen to be in Huntsville and you covered most of its attractions, then, it's time to extend the fun and adventure by visiting other towns near it. Check out this article and discover the best day trips from Huntsville, Alabama!
1. Birmingham, AL
With just one-and-a-half hours from Huntsville, Birmingham is another city that can complete your escapade. Situate in the north-central part of Alabama state, Birmingham is Alabama's fifth-biggest county, which means more things to do and things to see. This gorgeous place is packed with historical highlights which gives the opportunity to learn more about the history of Alabama. If you happen to be in Birmingham, don't miss their excellent shopping scene. Bullring & Grand Central presents diverse fashion, restaurants, and unique shops. Overall, Birmingham is worth your time.
2. Childersburg, AL
Childersburg is about 163.24 km (101 mi) driving distance from Huntsville, and it is another great place for day trips. Childersburg is a good choice to take some break from the world, as it is packed with natural wonders like Desoto Caverns. Caverns Family Fun Park offers ample exhibits and rides. If you want to extend your nature trip, enjoying a scenic ride in Talladega National Forest is a good way to relax and reflect on the beauty of this side of the country.
Chattanooga is another fantastic option for a day trip destination from Huntsville. It is a charming place that presents plenty of highlights. Chattanooga Segway tour is a must if you want to explore the beauty of the city in just a short time. Consider this tour as your short course to Chattanooga's rich history as the guide will shed some light on the culture and history of the city. Famous attractions like Tennessee Aquarium, Tivoli Theater, and Miller Plaza are included on the itinerary.
Duration: 2 hours
4. Pigeon Forge, TN
Ah, Pigeon Forge! This wonderful mountain town is considered as one of the most favorite vacation spots in the eastern part of Tennessee. It is the home to the famous Dolly Parton's Appalachian-themed park, which features plenty of fun, and could be the highlight of your day trip in Pigeon Forge. Though it is almost four-and-a-half ride from Huntsville, this place is worth your time. Attractions like Dolly Parton's Dixie Stampede (dinner theaters) and Smoky Mountain Opry are also worth a try.
5. Guntersville, AL
If you want to be close to the water, Guntersville is a real pick. Within almost a one-hour drive from Huntsville, you have direct access to Guntersville. It is situated in North Alabama and surrounded by Lake Guntersville, which means wherever you turn your sight you can see the water. This is where you can expect a lot of physical activities. Guntersville State Park offers fishing, Screaming Eagle features an exciting zipline adventure - these are just a fraction of the action that Guntersville has to offer.
6. Tuskegee, AL
History and nature - that's what Tuskegee offers. Known to be the largest city in Macon County, Tuskegee is blessed with natural beauty that has lured visitors from different parts of the country. It is almost three-and-a-half hours' drive from Huntsville. For those who love history, you would love to drive down to Tuskegee. This town presents some wonderful museums like George Washington Carver Museum and Commodore Museum. If you want to be close to nature, Tuskegee National Forest is waiting for you.
Memphis is approximately four hours away from Huntsville, and this place never runs out of choices to wow its visitors. If you want to explore the beauty of the city in a limited time, then there's no better way than to join this awesome discovery tour, plus admission to the Smithsonian's Rock 'n' Soul Museum. Famous attractions like Beale Street (home of the blues) and Lorraine Motel, the place of assassination of Martin Luther King Jr., are included in the tour. What else? A trip to Peabody Hotel's March of the Ducks which allows barbecue tasting that adds up to your day trip.
Duration: 2 to 3 hours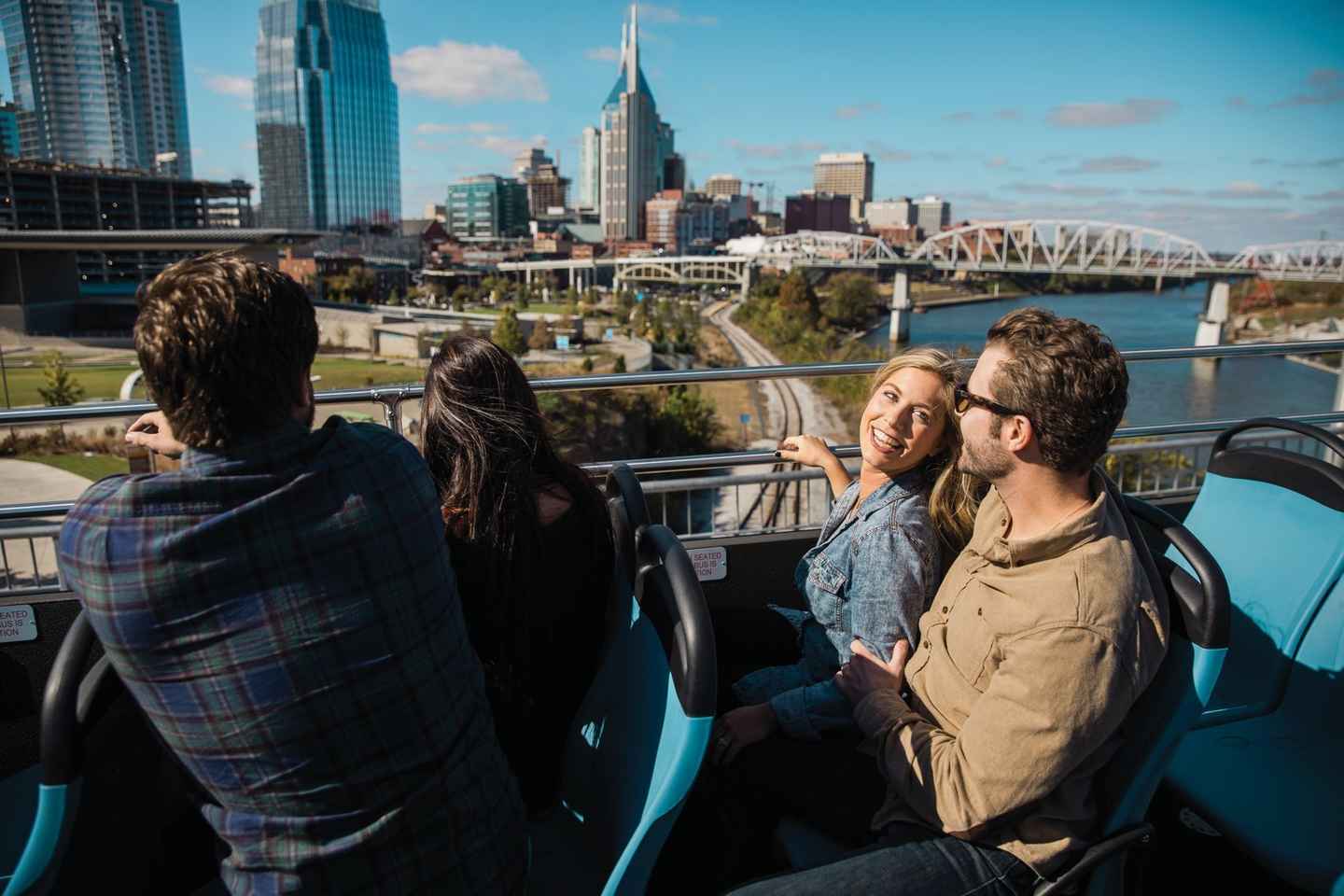 If you are looking for a place to escape Huntsville for a short time, Nashville is another day trip that will take away your stress. For about two hours' drive from Huntsville, you can get to Nashville in no time. Get a new perspective from above by joining this wonderful Nashville double-decker city tour. During your one-hour tour, you'll get a glimpse of the city's best offers, from attractions to landmarks like Centennial Park and Nissan Stadium. Of course, a knowledgeable tour guide will accompany you while giving information about the city's history and culture.
Duration: 1.0 hour
9. Tuscumbia, AL
Tuscumbia is part of Colbert County and just less than one-and-a-half-hour drive from Huntsville. Tuscumbia features plenty of parks and beautiful sceneries which makes this place a great spot to reflect on life and escape the hustle and bustle. Spring Park is one of the most beautiful parks in Tuscumbia. It features a gorgeous waterfall and pond. The water spray adds up to its wow factor, where you can get lost for a moment and enjoy the beauty in front of you. If you want more, a short visit to Ivy Green (Helen Keller's birthplace) is a great idea too where you can learn more about the history of the town.
Huntsville and Atlanta are approximately three hours apart. Choosing Atlanta as your day trip destination is a great idea and much better if you join this amazing electric car guided tour. Discover the town's trendy neighborhoods, from Midtown to Inman Park, and of course, the Old Fourth Ward. This sustainable and comfortable electric car brings you to some of the city's famous attractions like Martin Luther King Jr National Historic Site, CNN, and Coca-Cola Museum. No tour is complete without exploring the rich culinary scene of Atlanta. Indulge in some delicious fare around Midtown which is home to tons of bars and restaurants.
Duration: 1 hour 30 minutes
Explore wonderful day trips from Huntsville
Huntsville is a charming city famous for its space research. It also offers plenty of shopping malls to explore and other things to do. If you are done enjoying the best of Huntsville and want to extend the fun and adventure, there are plenty of wonderful day trips from the city that could become an unexpected highlight of your escapade.
Disclosure: Trip101 selects the listings in our articles independently. Some of the listings in this article contain affiliate links.
Get Trip101 in your inbox
Unsubscribe in one click. See our Privacy Policy for more information on how we use your data