Lake Como is located in Northern Italy in the Lombardy region. This resort region is popular for its breathtaking sceneries along the foothills of the Alpine Mountains. The beautiful Italian landmark is the third largest lake in Italy with an amazing area of 56 square miles(146 sq km) with the city of Como lying to the Southwest. Apart from the attractive lakeside villas, Lake Como is a famous tourist destination full of fantastic natural attractions, famous hotels, and luxurious villa rentals that bring several visitors to its shorelines throughout the seasons. With its exceeding beauty, the lake is a famous destination for outdoor activities such as windsurfing and sailing. Plan your perfect tour with the help of our list of the best day trips from Lake Como, Italy.
Lugano is a city located in the Southern parts of Switzerland in the Italian speaking region bordering Italy. Considered as the best tourist destination in Switzerland, Lugano is a blessed city with several historic sites and museums including beautiful and attractive natural sceneries set along Lake Lugano. Lugano is a place worth your time as a day's visit here will expose you to several picturesque scenes around Lake Lugano. Just 30 minutes' drive from Lake Como, set off your tour with a walk along the waterfront with spectacular views of the lake as you enter into the old town. Explore the lovely shops, restaurants, and the gorgeous cathedral just across the railway station. Visit the Grand Café al Porto for a bite, a perfect place for architectural and history lovers as you will come to notice.
Lake Como, Lugano, and Switzerland 1-Day Tour from Milan

Duration: 10 hours 30 minutes
Welcome to Lake Maggiore, Italy's second-largest lake considered the most peaceful of all. The best attraction here is the Borromean Islands, with a worthy visit to the stunning Palace Museum and Garden. With relatively less crowded shores, it's a perfect place to tour any time of the year. The delightful shoreline is dotted with beautiful villages planted with palms and cypresses. In the neighborhood of the lake, explore Stresa, a famous town with marvelous galleries, cafes, and hotels. A summer visit here may just reward you with an enjoyable moment in a musical event called Settimane Musicali. End your tour with a fresh and delicious dinner of seafood on Fisherman's Island also called Isola Superior.
Stresa to Isola Bella Hop-On Hop-Off Boat Ticket

Duration: 1 to 6 hours
Jump on a day tour of Locarno, a 12th-century town found in the Southern parts of Switzerland. This town has numerous interesting sights that attract visitors throughout the year. It's a cool adventure to explore a city you don't know yet on a walking tour with great meals in between. One thing you can't forget to bring on this tour is your camera as the surrounding area is very picture perfect. Among the landmarks here are the 14th-century castle of the Dukes of Milan, now converted into a museum; the Pretorio or the law court where the famous Pact of Locarno, a peace agreement in Western Europe, was made in 1925; and the pilgrimage church of Madonna del Sasso founded in 1480.
Skip the Line: Falconeria Locarno Ticket

Duration: 1 hour
Bergamo is a medieval town of art and architecture in Northern Italy. The town is divided into two interconnected centers, upper and lower city. The upper city is surrounded by 16th-century walls forming the historical part of Bergamo with notable medieval buildings such as the Cittadella, Piazza Vecchia, Palazzo della Ragione, and Basilica di Santa Maria Maggiore among others. The lower city forms the modern Bergamo featuring sites like Accademia Carrara, an art gallery and a fine arts academy considered as one of the oldest in Italy, and the Galleria d'Arte Moderna e Contemporanea, a gallery of modern and contemporary arts.
Cooking Class with a Local Chef in Bergamo

Duration: 3 hours
5. Monza
The city is located in the northern part of Italy and it is the home of Monza Cathedral, an architectural wonder with a 16th-century bell tower housing the Theodolinda Chapel. Other notable landmarks here include the Royal Villa of Monza and the enclosed Monza Park, the largest urban park in Europe which was a former hunting reserve and home of Formula 1 racetrack for the Autodromo Nazionale.
6. Borromean Islands
This picturesque setting on Lake Maggiore consists of a set of three small islands-Isola Bella, Isola Madre, and Isola Pescatori. In the 14th century, these islands were owned by a wealthy Borromean family from the area, who transformed them by building palaces and planting formal gardens creating breathtaking beauty. Isola Bella, the most famous of all, features the stunning Borromean Palace built in the shape of a water vessel and a marvelous attraction worth exploring even if to just marvel at the masterpiece of human talent set on a lake. A lazy walk through the botanical gardens of Isola Madre will undoubtedly relax your mind, offering unrivaled peace with nature. Finally, trek along the ancient paths of Isola Pescatori on your way to one of its restaurants for a delicious meal, to sum up your tour.
7. Lake Orta
Italian lakes are undoubtedly popular destinations for many visitors, however, this Italy's hidden gem is yet to be discovered by many. The sleepy Lake Orta or Lago di Orta seems to have been bypassed by many for its most famous neighbor Lake Maggiore. Nonetheless, it is still charming and attracts those keen on getting away from touristy destinations. This beautiful lake has a tiny island right at the center called Isola San Giulio, home to a medieval basilica worth exploring. A day tour to the lake is a fantastic break for the whole family, just strolling the shorelines. Lake Orta and the surrounding area are just picture perfect, so be sure to bring your camera for memorable photos.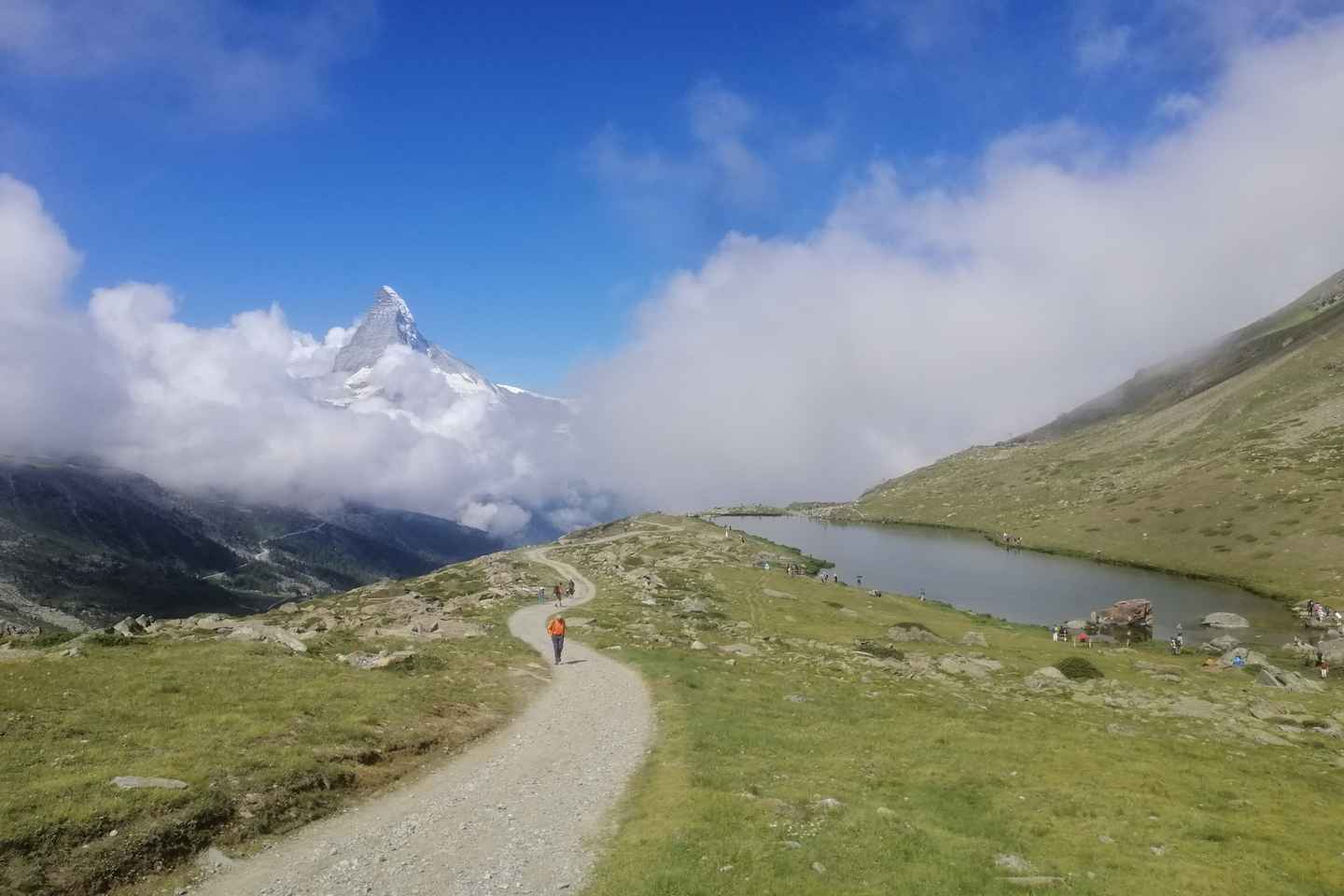 Zermatt is a scenic high altitude town with a background of the highest mountains in the Alpine range. The village features sprawling ski slopes which no doubt can only be perfect for outdoor snow activities. Lovers of skiing from around the world visit Zermatt throughout the year to experience the best skiing moments on the stunning slopes with miles of snow. Climbing and hiking are another reason why visitors flock to this marvelous town whose main street Bahnhofstrasse is home to shopping outlets, boutiques, hotels, and restaurants catering to the many visitors throughout the seasons. Being a car-free destination, it's a perfect and peaceful place to enjoy all that nature has to offer.
Zermatt: Full-Day Guided Hike

Duration: 8 hour
Second only to Rome in popularity in Italy, Milan is a city that should be on your list of vacation destinations at least once in your lifetime. This cosmopolitan city has a lot to offer in terms of fantastic fun activities whether indoors or outdoors, thanks to its museums and art galleries. With a guided tour of the city, you will discover marvelous landmarks that will make your tour completely enjoyable and memorable. While here, you will no doubt enjoy the story of "The Last Supper" at Santa Maria delle Grazie, a major work by the world-famous Leonardo Da Vinci.
Milan: Walking Tour of the City Center & Last Supper

Duration: 3 hours
Need some serious shopping? Well, make a simple journey to Foxtown, a shopper's paradise just 15km (9.3 miles) out of Lugano for an all-day shopping adventure at the famous Foxtown stores. Explore the over 160 shopping outlets where you will be sure to find the best deals on fashion brands by Gucci, Prada, Versace, Addidas and many more. Do not be bothered about the language barrier as you will find assistance from multilingual staff to make your shopping adventure a memorable one. Take a shopping break, or perhaps when done with the shopping, have a relaxing drink at any of the numerous bars and restaurants or just enjoy a delicious meal or snacks at the eateries around.
Foxtown Outlet Shopping Tour

Duration: 8 hours
Picturesque sceneries
Italy is a destination full of picturesque sceneries to behold. When here, Lake Como is the perfect place to begin with, as it features numerous attractions and offers perfect spots for recreational things to do that are bound to keep you engaged throughout your vacation.
Disclosure: Trip101 selects the listings in our articles independently. Some of the listings in this article contain affiliate links.
Get Trip101 in your inbox
Unsubscribe in one click. See our privacy policy for more information on how we use your data