From Sabang to Papua, Indonesia makes the largest archipelago in the world. That is why when you have made up your mind to visit Southeast Asia for your next vacation, you would not want to miss Indonesia. Comprising a lot of provinces from the west to the east, Indonesia offers an array of destinations that are equally astonishing. It may be difficult for you to choose what places to stop and see and what places you can skip this time and save them for next time. If you are looking to admire popular buildings, you have come to the right place. Keep reading to learn more about the best famous buildings in Indonesia.
You might need a few days to explore all the must-visit attractions and famous buildings in Indonesia. In that case, consider staying in one of the top hotels and popular dive resorts.
1. Maimun Palace, Medan
The first province that you need to visit in Indonesia is North Sumatra because, in this province, you will find the city of Medan in which the magnificent Maimun Palace nestles. As one of the most well-known landmarks in Medan, Maimun Palace is the Sultanate of Deli's royal residence. The palace was built back in 1888 and it showcases an excellent blend of Mogul, Malay and Italian architecture, making it one of the best places to visit. After admiring the architecture, you can enter the main room that houses a collection of kerises, antique furniture and royal portraits, among others.
Maimun Palace

Address: Jalan Sultan Ma'moen Al Rasyid No.66, A U R, Kec. Medan Maimun, Kota Medan, Sumatera Utara 20151

Opening hours: Sat - Thu: 8am - 5pm; Fri: 8am - 12pm, 2pm - 5pm

Price: 10,000 IDR (0.7 USD)
2. Lawang Sewu, Semarang
Moving on from Medan, you should make a stop at Semarang, the capital city of Central Java province. There are plenty of top-notch attractions in Semarang such as Sam Poo Kong Temple and Immanuel Church, but it is Lawang Sewu that is the heart of the city. When you look at the architecture of the building, you will be reminded of the buildings commonly seen in the Netherlands. During the colonial era, the Dutch ruled Indonesia and left much Dutch heritage, including Lawang Sewu. For some fun things to do, take a guided tour to gain insights into the history and culture of the city. Although the landmark is known as a haunted building, worry not because the government has rebranded it.
Lawang Sewu

Address: Jl. Pemuda, Sekayu, Kec. Semarang Tengah, Kota Semarang, Jawa Tengah 50132

Opening hours: 7am - 9pm (daily)

Price: 10,000 IDR (0.7 USD)
3. Bogor Palace, Bogor
Situated in West Java Province, Bogor Palace can be found and enjoyed in the city of Bogor. Bogor Palace is among the six presidential palaces in Indonesia and currently, the incumbent president Joko Widodo resides in the palace. You will not be able to enter and tour the palace except during special occasions when the public is invited to come to the palace for free. But, you can still admire the stunning architecture from afar and please your eyes with the scenic views of the surrounding botanical gardens that have deer as their permanent inhabitants.
Bogor Palace

Address: Ir. H. Juanda No. 1, Kelurahan Paledang, Kecamatan Bogor Tengah, Kota Bogor, Jawa Barat

Opening hours: Special occasions

Price: Free
4. Istiqlal Mosque, Jakarta
You may have mosques in your home country, so what is the reason to make a visit to the Istiqlal Mosque that is situated in the capital city of Indonesia, Jakarta? The most compelling reason is that the Istiqlal Mosque is the largest mosque across Southeast Asia. The mosque is especially crowded during Islamic celebrations such as Eid al-Fitr and Eid al-Adha, with prominent public figures like the president and other officials dedicating their prayers here. Enjoy the peaceful atmosphere as you take a stroll in the mosque that was built to commemorate the independence of Indonesia.
Istiqlal Mosque

Address: Jl. Taman Wijaya Kusuma, Ps. Baru, Kecamatan Sawah Besar, Kota Jakarta Pusat, Daerah Khusus Ibukota Jakarta 10710

Opening hours: Mon - Fri: 4am - 12pm; Sat: 4am - 11pm (closed on Sun)

Price: 5,000 IDR (0.4 USD)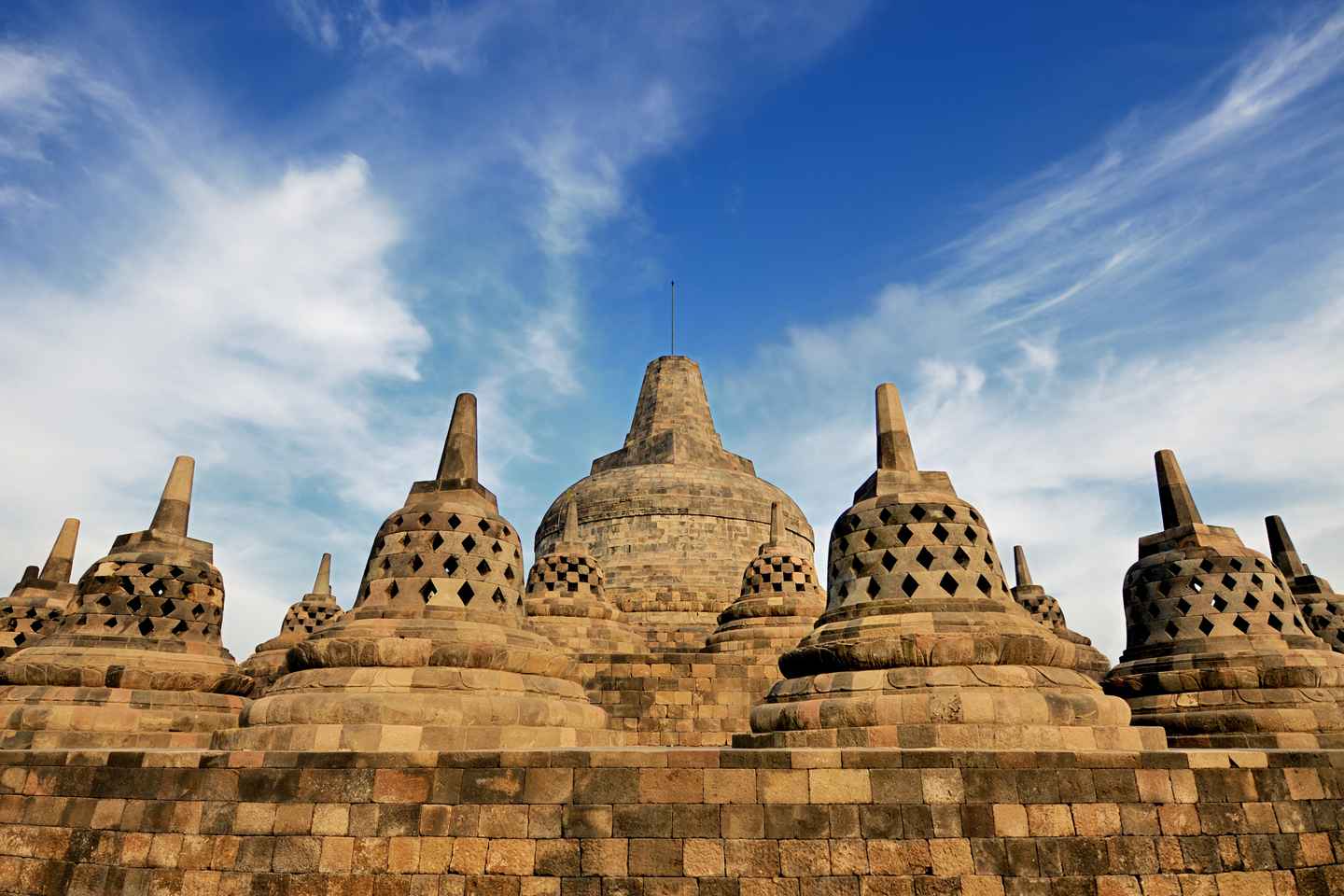 As one of the iconic temples and historical places in Indonesia, Borobudur Temple is an attraction that you do not want to miss. Situated in Magelang, Borobudur Temple is the largest Buddhist temple on Earth. If you watched Java Heat, you may already be familiar with the temple because the shooting also took place at Borobudur Temple. Be prepared to be blown away by a collection of more than 2,000 relief panels and over 500 Buddha statues.
Borobudur Temple: Half Day Guided Tour From Yogyakarta

Duration: 6.0 hour
6. Pagaruyung Palace, West Sumatra
In West Sumatra province, there used to be a kingdom named Pagaruyung. Now that there is no more kingdom in Indonesia, what is left of the Pagaruyung Kingdom is Pagaruyung Palace. The royal residence showcases unique architecture that is typical West Sumatran. When traveling in the province, you will be able to see a myriad of buildings with roofs that look exactly like those of Pagaruyung Palace. Sneak a glimpse of the unique Indonesian traditions by renting a traditional costume here.
Pagaruyung Palace

Address: Jl. Sutan Alam Bagagarsyah, Pagaruyung, Tj. Emas, Kabupaten Tanah Datar, Sumatera Barat 27281

Opening hours: 8am - 6pm (daily)

Price: 25,000 IDR (1.8 USD)
7. Gama Tower, South Jakarta
When soaking up the vibrant atmosphere of Jakarta, be sure to stop by Gama Tower to take pictures of the tallest building not only in the city but in Indonesia. The tower serves as a building for office and residential purposes. The tower is also known as Cemindo Tower or Rasuna Tower.
Gama Tower

Address: Menara Sel., 22, Jl. H. R. Rasuna Said No.2, RW.5, Karet Kuningan, Kecamatan Setiabudi, Kota Jakarta Selatan, Daerah Khusus Ibukota Jakarta 12940

Opening hours: Mon - Fri: 8:30am - 5:30pm (closed on Sat & Sun)

Price: Free
8. Gedung Sate, Bandung
Many tourists, both international and domestic, come to Bandung for one purpose only, that is to indulge in the culinary journey. Yes, Bandung is well-known for its delectable cuisines, but it should not be the only reason for you to visit the city. When in Bandung, making a stop at Gedung Sate is a must. Similar to Lawang Sewu, Gedung Sate was also built by the Dutch and used to be the seat of the Dutch East Indies during the colonial era. Featuring a combination of neoclassical design and native Indonesian elements, Gedung Sate is most popular for its tusuk sate (satay skewer) ornament right in the middle of the building, thus the name Gedung Sate.
Gedung Sate

Address: Jl. Diponegoro No.22, Citarum, Kec. Bandung Wetan, Kota Bandung, Jawa Barat 40115

Opening hours: Mon - Fri: 8am - 4pm (closed on Sat & Sun)

Price: 5,000 IDR (0.4 USD)
9. The Palace of Yogyakarta, Yogyakarta
If you want to learn more about the Javanese culture, you should come to its center, which is The Palace of Yogyakarta. This is a palace complex of the city and the palace is used as the seat of the reigning Sultan of Yogyakarta along with family members. In addition, you will also find a museum where you'll marvel at the impressive collection of royal artifacts.
The Palace of Yogyakarta

Address: Jl. Rotowijayan Blok No. 1, Panembahan, Kecamatan Kraton, Kota Yogyakarta, Daerah Istimewa Yogyakarta

Opening hours: 9am - 2pm (daily)

Price: 7,500 IDR (0.5 USD)
10. Wisma 46 (Bank Negara Indonesia), Central Jakarta
Last but not least, Wisma 46, also known as Wisma BNI, completes the list of the best famous buildings in Indonesia. The skyscraper sits at number two as the tallest building in Jakarta, after Gama Tower. Situated in the heart of Jakarta, Wisma 46's construction was completed in 1996 and it comprises 48 stories that are used for office purposes.
Wisma 46 (Bank Negara Indonesia)

Address: Jl. Jenderal Sudirman Kav. 1, Jakarta Pusat

Opening hours: Mon - Fri: 8:30am - 4pm (closed on Sat & Sun)

Price: Free
Create wonderful memories
Now that you have read through the entire article, you can see why Indonesia is the right place for a wonderful vacation. Apart from visiting the most beautiful beaches and climbing the great mountains, do stop by the best famous buildings mentioned above and wonderful memories will automatically be created. Enjoy the best of Indonesia!
Disclosure: Trip101 selects the listings in our articles independently. Some of the listings in this article contain affiliate links.
Get Trip101 in your inbox
Unsubscribe in one click. See our Privacy Policy for more information on how we use your data