Are you aware that Indonesia is home to more than 17,000 islands? Be it the capital city of Jakarta, the tropical rainforests, or the alluring beaches, or the delectable cuisine, Indonesia's fame as a tourist destination has been attracting massive footfalls from all corners of the globe. This dynamic country has a very exotic and fascinating culture coupled with numerous historical wonders. In fact, this country is home to eight UNESCO world heritage sites, which makes it totally worth the visit for history buffs. Travelers can stay in glamping spots and beach resorts that offer amazing amenities. Coupled with spell-binding diversity and numerous bewitching attractions, especially the historical landmarks, Indonesia is undoubtedly worth coming back again and again to. To make things easy for you, we have listed the top historical places in Indonesia.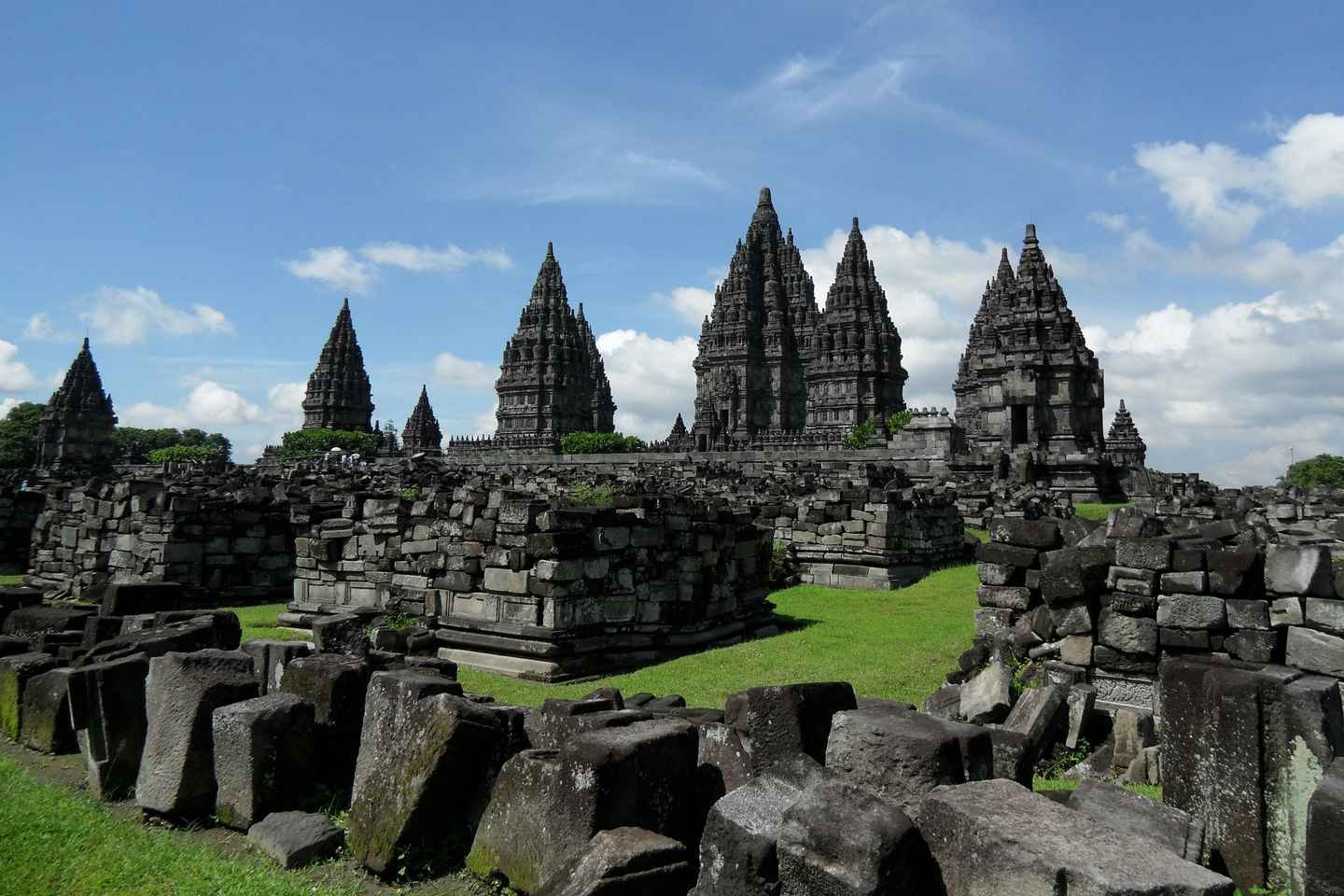 For some interesting things to do, see the most gorgeous and tallest Hindu temple in Indonesia at your own pace. Located in central Java, it is about 17 km (11 miles) from Yogyakarta. Constructed between the 8th and 10th centuries, the splendid temple celebrates both Buddhist and Hindu beliefs. The temple complex is so impressive and huge that there is a small train to take you around. Dedicated to the Trimurti, the temple is also one of the largest in Southeast Asia and a UNESCO World Heritage Site, too.
Prambanan Temple: 1-Hour Guided Tour With Admission Ticket

Duration: 1 hour
2. Admire the architectural wonder - the Menara Kudus Mosque
Not only Indonesian visitors but tourists from all over the globe flock to this architectural wonder located in Kudus, Central Java. Also referred to as the Al-Aqsha Mosque, the Menara Kudus Mosque is one of the oldest mosques here and conserves the tomb of Sunan Kudus. It is a very famed pilgrimage site of Indonesia and the unique feature is its style of construction. Adored with Vietnamese-style architecture, the mosque also is a culmination of Hindu and Buddhist architecture. The tower and the gate are made of red rock blocks which enhance the overall look.
Menara Kudus Mosque

Address: Jl. Menara, Pejaten, Kauman, Kec. Kota Kudus, Kabupaten Kudus, Jawa Tengah 59315, Indonesia
3. Witness the grandeur of the Gowa Kingdom at Fort Rotterdam
The magnificence of the Fort Rotterdam has been captivating the interest of the tourists for several years now. Built in 1545 during the era of the 10th king of Gowa, the fort was originally referred to as Ujung Pandang or Benteng or Fort Jumpandang. Later it was renamed as Fort Rotterdam. The shape of the fort is unique and resembles a sea turtle. Standing impressively and overlooking the harbor, it is located at the western coast of Makassar. It is considered to be one of the best examples of Dutch Military architecture in this country.
Fort Rotterdam

Address: No.Road, Jl. Ujung Pandang, Bulo Gading, Kec. Ujung Pandang, Kota Makassar, Sulawesi Selatan 90171, Indonesia

Opening hours: 6am - 6pm (daily)

Price: Free entry
4. Visit the Big Ben of Indonesia – Gadang Clock
Did you know that no mortar or iron peyangga was used to build this clock tower–only white sand, egg white, and lime? Located in the heart of Bukittiinggi, West Sumatra, Indonesia, is this big and iconic clock tower. It is undeniably one of the major landmarks of the city and is called the Jam Gadang, which means a 'big clock'. The surrounding market is a very busy square with many shops from where you can purchase souvenirs having an image of this clock.
Gadang Clock Tower

Address: Jam Gadang, Benteng Pasar Atas, Guguk Panjang, Bukittinggi City, West Sumatra 26136, Indonesia

Opening hours: 24 hours (daily)

Price: Free entry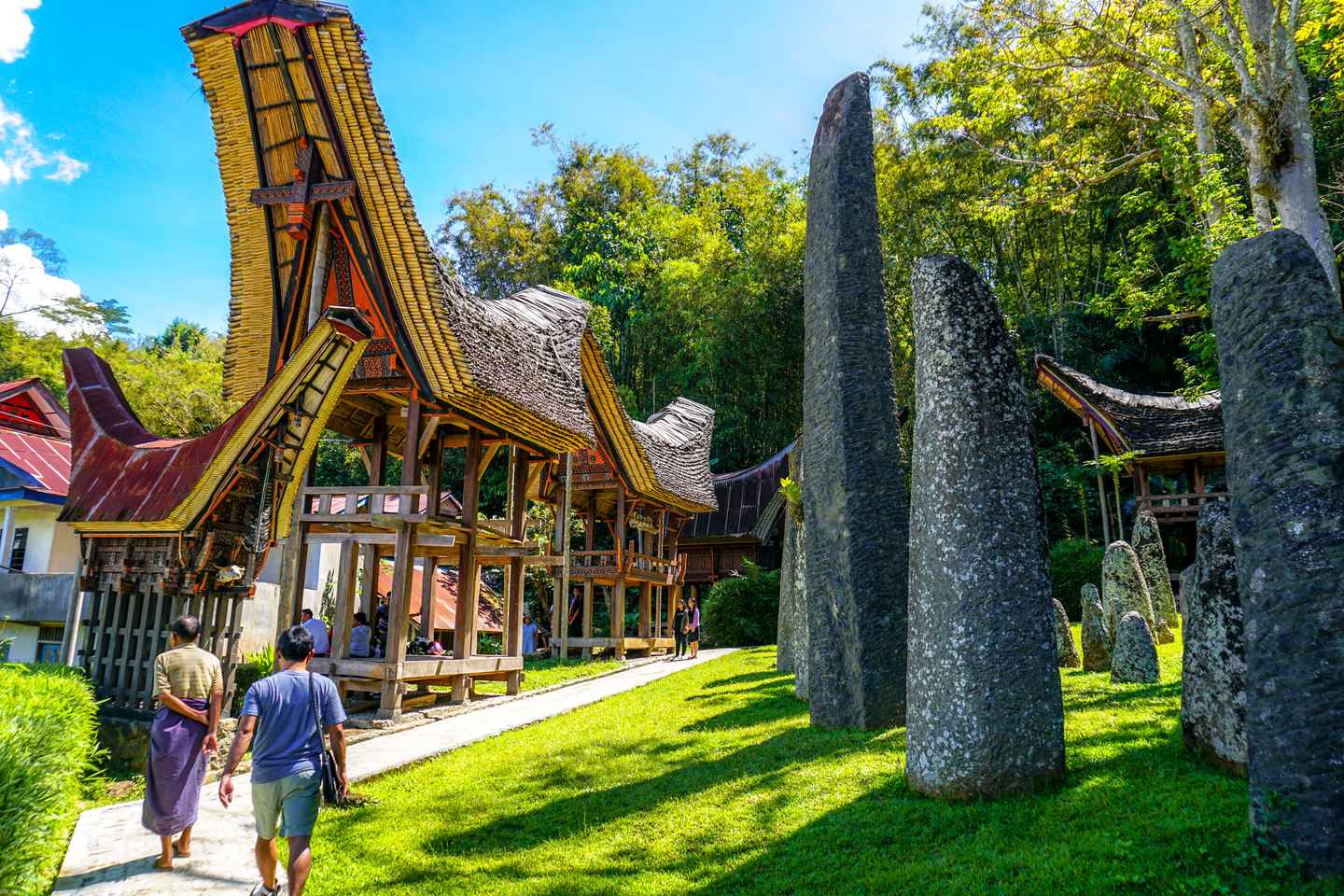 In this three-day tour, you will be witnessing a wide spectrum of interesting places such as: the Village of the Dead in Tana Taroja; the Kete' Kesu village known for its one-of-a-kind, beautiful wooden Tongkonan houses along with the rice barns; the hanging graves at Lemo; the megalithic stones at Bori that have been there for more than thousands of years; and so much more to cover in these three days. A professional guide is there to help you understand the rich and unique culture of all these mysterious points of attraction.
From Bali: Private 3-Day Tour of Tana Toraja

Duration: 3 day
In this tour to the city of Semarang, your guide will take you to some of the most visited and iconic tourist attractions here. One of the landmark structures is the Lawang Sewu, a building having about thousand doors and which was previously the headquarters of the Dutch East Indies Railway Company. The interior and exterior of this famous building are extremely fascinating. Along with this, you will also be visiting places such as the Great Mosque, the Blendug Church, and the Sam Poo Kong Temple. Relish a fabulous lunch at a local restaurant.
Semarang private city tour - excursions

Duration: 5 to 7 hours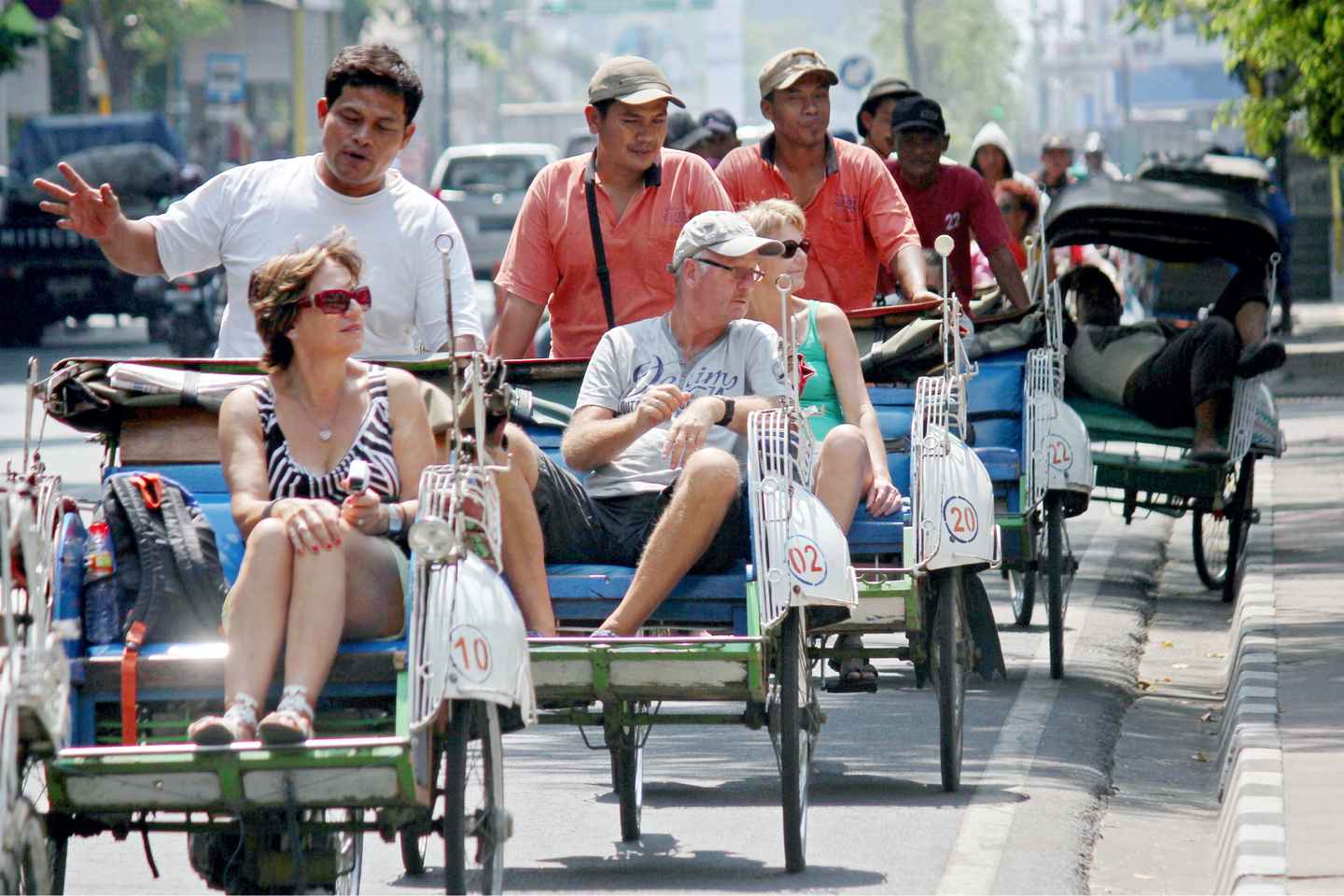 Enjoy the hustle and bustle of the Javanese life through this tour which includes visiting the most happening part of Yogyakarta, witnessing the exotic royal baths at the Taman Sari Water Castle, visiting an ancient park, learning about the well-known local industry of Batik, and much more. This exquisite city is also referred to as the educational center of Java. A unique way to enjoy this is to take a tour in a local rickshaw, which is called a becak. This is a three-hours tour during which you visit the most prominent landmarks and attractions. A private guide shares fascinating stories about the city.
Yogyakarta: 3-Hour Guided Rickshaw Tour

Duration: 3 hour
Witness the magnificence of this gorgeous temple located in south Bali. From the Uluwatu Temple, you get breathtaking views of the Indian ocean, and a fabulous sunset, while enjoying the sacred Kecak Fire Dance. This is a full-day tour during which you will visit beautiful beaches like Dreamland Beach, Padang-Padang Beach, Labuan Sait Beach, and several such fantastic places. Swimming, surfing, or canoeing makes it an unforgettable experience. The tour ends at with a dinner at the Jimbaran Bay which is known for its seafood restaurants.
Private Tour: Uluwatu Temple & Southern Bali Highlights

Duration: 8 to 10 hours
The royal palace of Deli Sultanate, the Maimun or the Maimoon Palace was built during the reign of the king or sultan of the Deli Sultanate in 1887 to 1891. In this five-hour tour, a guide will take you some of the key sights including this palace that is being maintained as a museum. Discover the palace grounds while admiring the exceptional interiors which is an amalgamation of Indian and Islamic architecture as well as the Malay cultural heritage. Adorned with Italian and Spanish furniture and fittings, there is a wonderful collection of keris daggers. Also, do not miss to get a photo in a traditional costume.
Half-Day Medan City Sightseeing Tour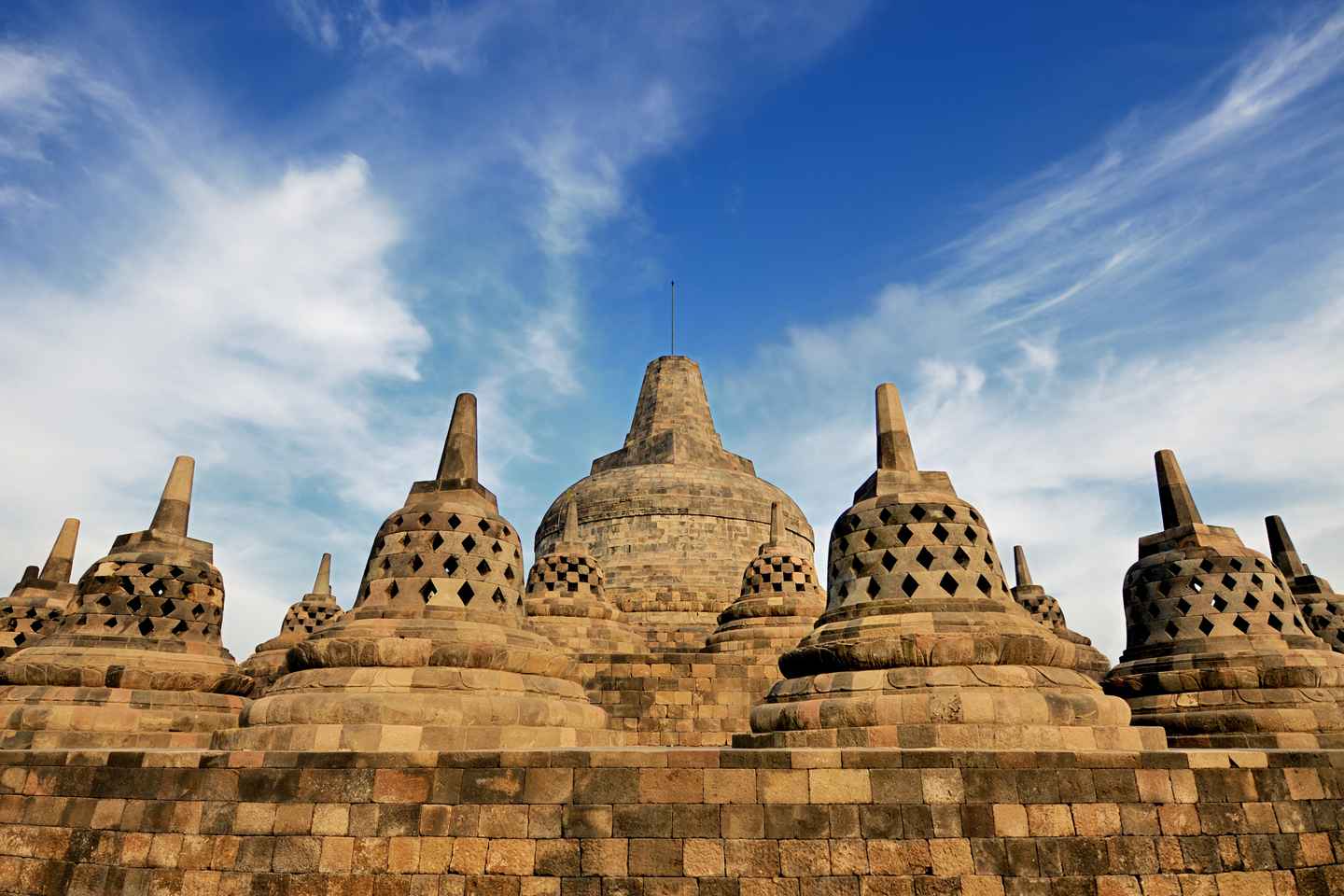 The beauty and uniqueness of the Borobudur Temple is unmatched. Listed as a UNESCO World Heritage Site, this is the largest Buddhist temple in the world. There are 504 life-sized statues of Buddha, each one of them carved from a single stone, as well as 2,672 relief panels with teachings of Buddha. Get undivided attention of a private guide, who will tell you the interesting stories related to the temple's construction. Although you need to climb steep stairs, the majestic views of the distant hills, volcanoes, and green fields make it totally worth.
Borobudur Temple Half Day Private Tour

Duration: 6 hour
A visit to the historical miracles of Indonesia
When thinking about vacation, Indonesia is undeniably one of the top names that come to our minds. The culture and history of this place can surprise you more than you can think of. There are numerous islands to visit and unique traditions to experience. More specifically, visiting these above mentioned historical marvels will definitely make it an unforgettable experience for you. So, put on your explorer shoes and discover this fabulous destination that will surely ignite your soul.
Disclosure: Trip101 selects the listings in our articles independently. Some of the listings in this article contain affiliate links.
Get Trip101 in your inbox
Unsubscribe in one click. See our privacy policy for more information on how we use your data