Beautiful Barcelona in Spain is an internationally renowned destination for tourists to explore this landscape. With numerous recreational areas, one of the best beaches in the world, moderate and warm climate, historical monuments (including eight UNESCO World Heritage Sites), Barcelona has a lot to offer even for the pickiest tourist. A place so beautiful and peaceful that it is regarded as the 15th safe city in the world by Business Insider. If you are heading to Barcelona as your next holiday destination, you must be wondering where to go and what to see. Let our guide to the famous landmarks in Barcelona guide your itinerary.
1. Basilica of the Sagrada Familia
This beautiful Roman Catholic church in Barcelona, designed by Spanish architect Antoni Gaudí is a designated UNESCO World Heritage Site. Gaudi started working on in 1883 and worked on it until he died. Many of his ideas on architecture and engineering can be seen artfully executed. War, lack of funds, has hindered the construction of this church, but that does not make the site any less stunning. The magnificent spires of the building is a sight to behold.
Basilica of the Sagrada Familia

Address: Carrer de Mallorca, 401, 08013 Barcelona, Spain

Website: Basilica of the Sagrada Familia
2. Palau de la Música Catalana
The Palau de la Música Catalana is a concert hall designed in the Catalan modernista style by the architect Lluís Domènech i Montaner. It was built between 1905 and 1908 with the help of funds from the public as well as Barcelona's elite. A UNESCO world heritage site, musical performances are held here, performing anything from symphonic and chamber music to Catalan song.
Palau de la Musica Orfeo Catala

Address: C/ Palau de la Música, 4-6, 08003 Barcelona, Spain

Website: Palau de la Musica Orfeo Catala
3. Casa Batlló
A house that was refurbished by the architect Antoni Gaudi, the building is a testament to his brilliant architectural style. The architect converted the interior into a stunning masterpiece, with elements of architecture from the late 20th century, even though it was built between 1904-1906. The house is fully functional, and while privately owned now, the owners have opened it up to the public for viewing.
Casa Batilo

Address: Passeig de Gràcia, 43, 08007 Barcelona, Spain

Website: Casa Batilo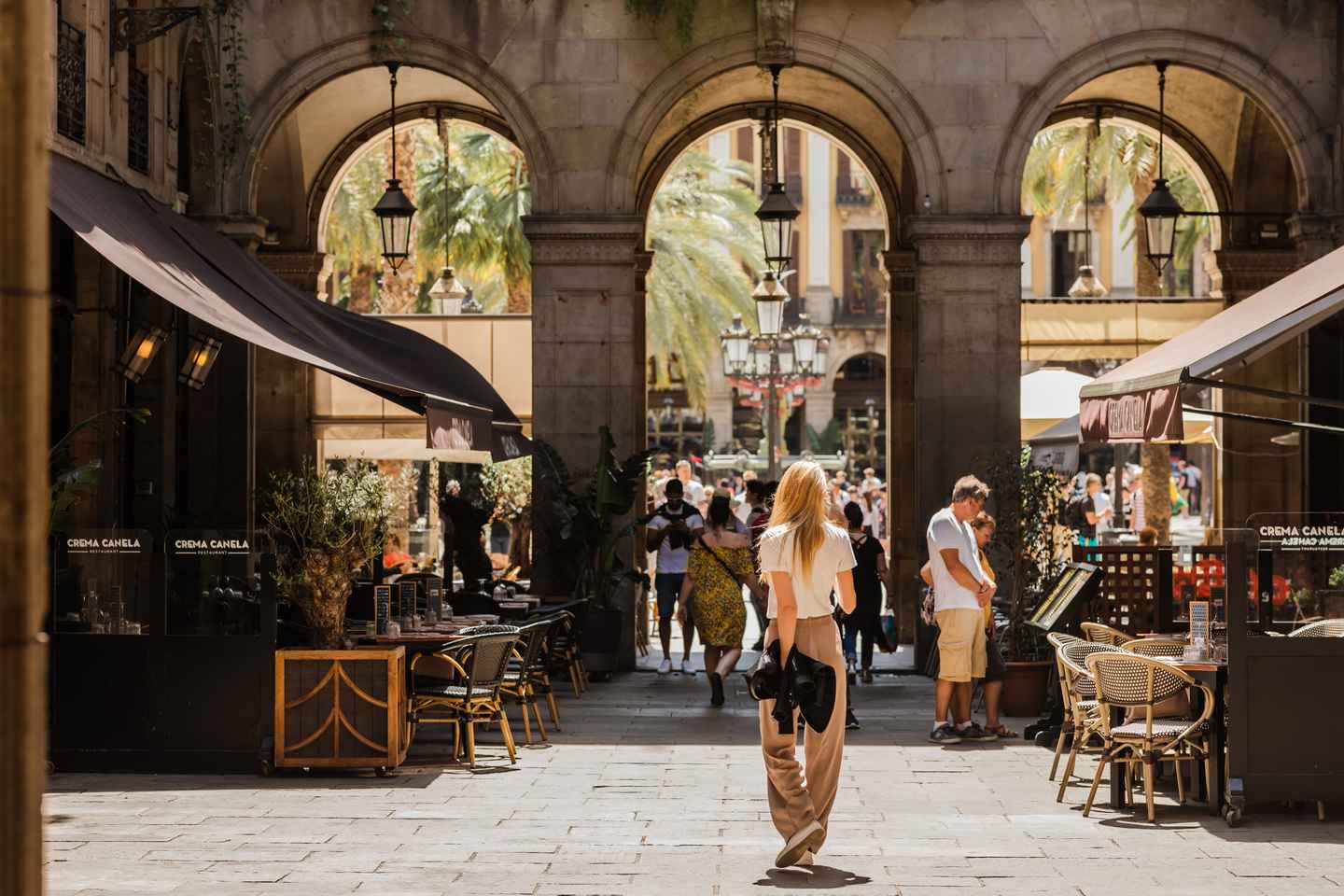 The beautiful neighbourhood known as the Gothic Quarter used to be a Roman village and visitors can see the remnants of its past beside new buildings that have sprung up alongside old buildings. Narrow, winding streets create a labyrinth where you can easily find shops selling curios. Many peaceful squares are located within the quarter for you to relax and enjoy, but the best part is the heart of the district where a stunning courtyard and a huge Cathedral stands. Nightlife is lively with many restaurants and cafes all around, so be ready to spend a whole day browsing in the Gothic Quarter.
Barcelona: Explore the Gothic Quarter with a Local

Duration: 3 hour
5. Magic Fountain
The Magic Fountain was designed by Carles Buigas in 1929. A spectacular display of colour, light, motion, music and water acrobatics, it was thought too ambitious when it was first proposed. But less than one year later, the fountain stands, a must-see sight when you come to Barcelona. The best time to go to watch the display is at night. The free performance plays every Thursday, Friday and weekend nights, usually from 9 to 11 pm.
Magic Fountain

Address: Plaça de Carles Buïgas, 1, 08038 Barcelona, Spain

Website: Magic Fountain
6. Basilica de Santa Maria del Mar
Santa Maria del Mar is an imposing church built in the Catalan Gothic style. Located in the quiet Ribera district, the medieval church is a surprise in its simplicity of style. Within its interior are many secret corners that allows one to rest peacefully. The best times to go is Sunday morning when it's quiet and visitors should allocate about one hour to tour the place. Free entrance on weekdays is from 9 to 1 pm, and 5 to 8 pm. On weekends, it is from 9 to 2 pm and 5 pm to 8:30 pm.
Basilica de Santa Maria del Mar

Address: Plaça de Santa Maria, 1, 08003 Barcelona, Spain

Website: Basilica de Santa Maria del Mar
7. Barcelona FC Museum in Nou Camp
If you are a soccer fan, or even if you are not, you will want to drop by the official museum of FC Barcelona, Spain's famous football club. Supporters of the football club both own and operate this club, so expect the self-funded museum to be interactive and educational. You can view the 23 Liga and five Champion League tropics won over the years, and find out more about the history of FC Barcelona, otherwise known as Barça.
Barcelona FC Museum

Address: C. d'Aristides Maillol, s/n, 08028 Barcelona, Spain

Website: Barcelona FC Museum
8. Picasso Museum
The great works of Pablo Picasso are revealed through the permanent collection in this museum. Opened in 1963, it also reveals the deep connection the artist had with Barcelona. The museum will help art lovers to understand his formative years, showcasing works from 1917 all the way to his death. Free entry is on Thursday afternoons from 6 to 9.30pm, and the first Sunday of each month, from 9 am to 7 pm On 12th February, 18th May and 24th September there will be free open door entry.
Picasso Museum

Address: Carrer Montcada, 15-23, 08003 Barcelona, Spain

Website: Picasso Museum
9. Montjuic Hill
A prominent hill that overlooks the Barcelona harbour, Montjuic is one of the city's natural elevations. From the top of the mountain, you can enter the castle to revel in the breathtaking views of the Barcelona harbour. Exhibitions within the castle also help visitors to understand its history. Visitors can also take a cable car from the mountaintop to the beach to take in the view of the seaport.
Montjuic Hill

Address: Avinguda del Castell, Barcelona, Spain

Website: Montjuic Hill
10. Palau Guell
The Guell Palace is a UNESCO World Heritage site situated on the Carrer Nou de la Rambla. A mansion designed by architect Antoni Gaudi for the industrial tycoon Eusebi Guell from 1886 to 1888m, it is a peek into the elite of Barcelona in those times. The iron-fist gates are an entrance for guests in horse-drawn carriages. The ornate walls and ceilings of the receiving room have small viewing windows high on the walls where owners of the homes could peek at their guests from the upper levels to see if they needed to adjust their attire to receive the guests. Entrance fees are at 12 euros (USD 13).
Palau Guell

Address: Carrer Nou de la Rambla, 3-5, 08001 Barcelona, Spain

Website: Palau Guell
Visit the wonderful sites of Barcelona today
Barcelona in Spain is a bustling city, full of surprises at every turn. World-renowned for its cultural heritage, architectural wonders and of course, the lively night scene, Barcelona, Spain is the best holiday spot for those who are looking to revel in historically rich, breathtaking landscapes.
Disclosure: Trip101 selects the listings in our articles independently. Some of the listings in this article contain affiliate links.
Get Trip101 in your inbox
Unsubscribe in one click. See our privacy policy for more information on how we use your data