London is one of the world's major cities, and is the capital and largest city in England, with around nine million people calling it home. It's a city that's rich in history, dating back to AD 47 when the Romans started settling along River Thames. Today, the city is a hub for many industries, including entertainment and finance. It also houses a number of five-star hotels and Airbnb vacation rentals to cater to travelers' accommodation needs. And there's a wide range of activities for tourists to enjoy. Check out some of the world-famous museums like British Museum or head to some of the historic sites in the city like Tower of London and the London Bridge. The King's Cross station is also a must-visit especially if you're a Harry Potter fan. And if you're a foodie, then London is the perfect place to be! Not only does the city have restaurants with food from all over the world but it's also got a rich history of street food stalls, food trucks and street food vendors that serve delicious food. Brick Lane, Cucumber Alley and Bang Bang Oriental Foodhall are only some of the top areas. We've created a list of the best street food markets in London, UK, so keep on reading to check out the options.
First on our list is Broadway Market, located in east London. The market, in a way, dates back to Roman times, when it was located along a supply route and in the late 1800s became a traditional fruit and vegetable market. By the early 2000s, this amazing food market was at risk of closing, but a Saturday food market was launched in 2004 that revitalised the area. Today, the market is home to more than 100 stalls as well as shops and restaurants which line the street. If you're keen to experience more of the food in the area, you can take an East London food tour. Your guide will take you around Broadway Market and share some information about the area's history and culture.
East London Food Tour

Duration: 3 hours
2. Berwick Street Market
Berwick Street Market has been around since the 18th century. Located in the neighbourhood of SoHo, this is one of the favourite street food markets as it is full of amazing stalls with plenty of great food to try. There are about different types of stalls in the market, selling cuisine ranging from Tex-Mex to the Caribbean. And if you're after some fresh produce to make your own meals, there are still a number of individual stalls around that sell seasonal fruit and vegetables.
Berwick Street Market

Address: Berwick St, Soho, London W1F 0PH

Website: Berwick Street Market

Opening hours: Mon - Sat: 8am - 6pm (closed on Sun)
3. Venn Street Market
Located in Clapham, in south-west London, Venn Street Market is an amazing food market open every Saturday. The market works directly with farmers and independent producers, so the community can meet face-to-face with the people who are supplying them with food. If you like to cook, this is the perfect place to pick up fresh ingredients. There are vegetable stalls, vendors selling fish, amazing stalls with baked goods, and a few cheese sellers too. It's a great way to experience the local community in Clapham while also picking up some fresh food.
Venn Street Market

Address: Venn St, Clapham Town, London SW4 0AT

Website: Venn Street Market

Opening hours: Sat: 10am - 4pm (closed from Sun - Fri)
4. Maltby Street Market
Opened in 2010 in south-east London, Maltby Street Market is a small outdoor market and the creators have carefully curated a select list of vendors and food traders. At this market, you'll find seasonal fresh fruit and vegetables, delicious coffee, and plenty of street food, including food from Venezuela, Japan and several vendors offering modern takes on British classics. Plus, the market is situated under railway arches, providing a charming and picturesque experience as you try out the food.
Maltby Street Market

Address: 37 Maltby St, London SE1 3PA

Website: Maltby Street Market

Opening hours: Fri: 12pm - 2:30pm; Sat: 10am - 5pm; Sun: 11am - 4pm (closed from Mon - Thu)
5. Southbank Centre Food Market
Located along River Thames, Southbank Centre Food Market is open every Friday, Saturday and Sunday. This market has more than 40 stalls ready to serve up some delicious street food. From sweet treats and Korean barbecue through a juice bar to tacos, there's plenty to try here. There's also fresh produce to pick up if you want to cook at home. And with its excellent location, you can walk off all that yummy food with a stroll along the river.
Southbank Centre Food Market

Address: Southbank Centre, Belvedere Rd, Bishop's, London SE1 8XX

Website: Southbank Centre Food Market

Opening hours: Fri: 12am - 8pm; Sat: 11am - 8pm; Sun: 12pm - 6pm (closed from Mon - Thu)
6. Whitecross Street Market
Up next, we have Whitecross Street Market located in central London. This is another market that's one of London's oldest. It's been around since the 17th century, when it was a Sunday market. Today, it does the bulk of its trading during the week at lunchtime, providing nearby office workers with yummy meals. There is a wide range of dishes, including food to try from Brazil, Italy and Mexico. It does get quite busy, especially on a sunny day, so plan for long queues if you're heading there during peak lunchtimes.
Whitecross Street Market

Address: Whitecross St, London EC1Y 8JL

Website: Whitecross Street Market

Opening hours: Mon - Fri: 10am - 5pm (closed on Sat & Sun)
7. Brockley Market
Situated in south London, Brockley Market is an excellent place to do your grocery shopping. The market has a focus on seasonal and locally sourced foods, so you can pick up some fresh produce to make a couple of meals with. There are plenty of meats, cheeses and produce to choose from. And if you get hungry while shopping, don't fret because there are vendors selling prepared foods as well. You can enjoy doughnuts and coffee or grab a pizza to cure your hunger pangs.
Brockley Market

Address: Lewisham College Carpark, Lewisham Way, London SE4 1UT

Website: Brockley Market

Opening hours: Sat: 10am - 2pm (closed from Sun - Fri)
8. Leatherlane Market
Last but certainly not least on our list is Leatherlane Market. Located in central London, it has been around for 400 years. As you might guess from it's name, it was once a market dedicated to clothing and shoes. But today, it's all about street food. From falafels to burritos, there's plenty to munch on at this market. And there are other types of stalls that have fresh produce, seasonal fruit, clothing, flowers and bric-a-brac to peruse as well.
Leatherlane Market

Address: Leather Ln, Holborn, London EC1N 7TJ

Website: Leatherlane Market

Opening hours: Mon - Fri: 10am - 3pm (closed on Sat & Sun)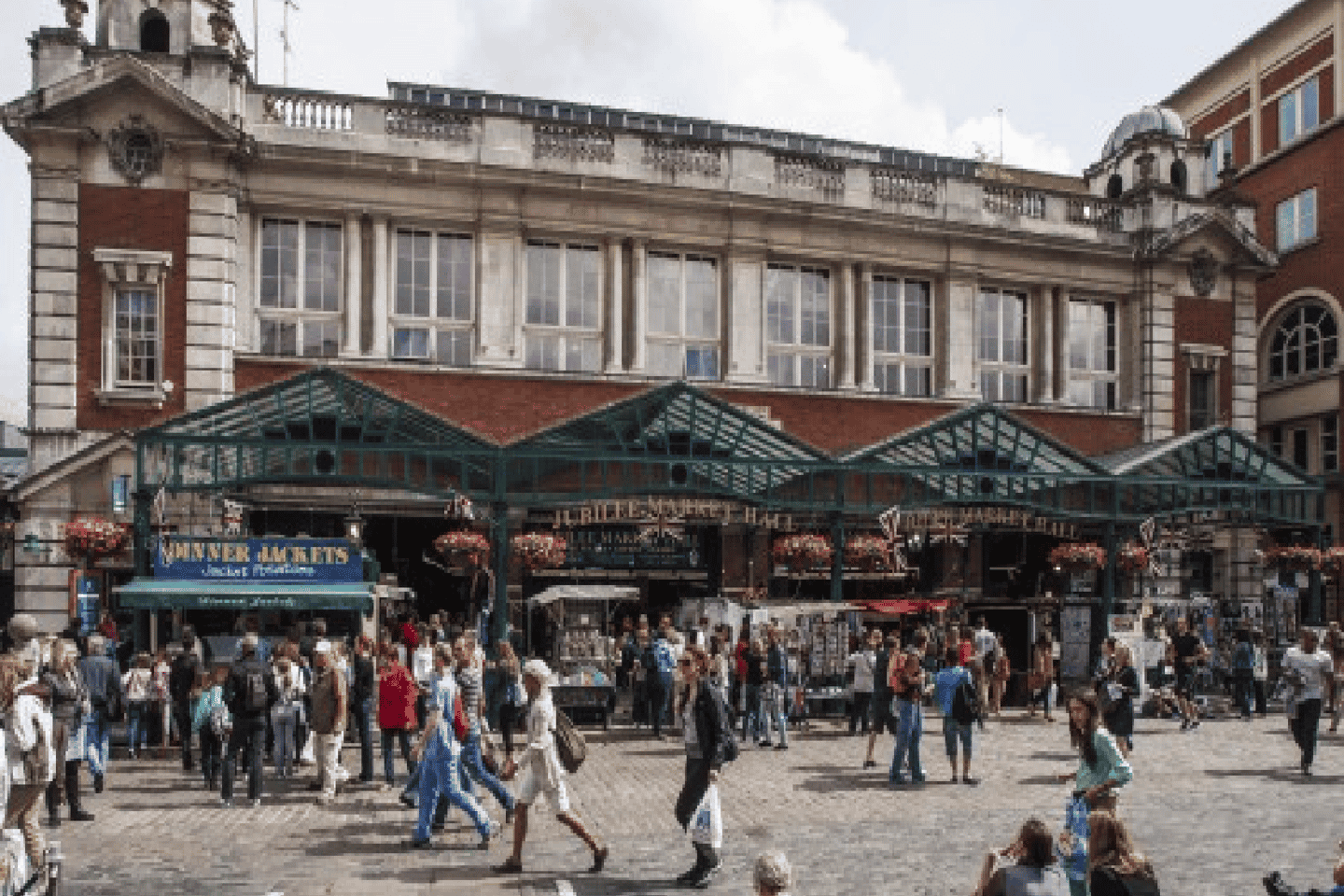 Camden Market is one of London's most famous markets; in fact, it's the fourth most visited attraction in the city. Located in North London along Regent's Canal, it got its start as a small fruit market in the early 1900s. More stalls began to be added over time. In the 1980s and 1990s, the area was a community hub for alternative subcultures, with goths and punks flocking to the individual stalls to pick out clothing. Today, the market boasts more than 1000 stalls, stores, cafes and bars. You can get just about anything here, including second-hand goods, clothing, and of course, food. Culinary options range from British classics like fish and chips to Indonesian street food to loads of sweet treats. If you'd like to learn more about this historic food market, you can take a guided tour of Camden Market, where you'll have the chance to sample food and explore the area.
London Street Markets: 3-Hour Private Guided Tour

Duration: 3.0 hour
Borough Market is one of London's oldest and biggest markets, making it a popular spot for locals and tourists alike. This food-focused market dates back to the 12th century and has several types of stalls - from cheesemongers to olive oil stalls and pastry sellers to stalls with preserves. If this sounds up your alley and you want a more personalised experience, join a private tour of Borough Market. A food expert will guide you through a six-course meal, while providing you with information about this historic market. It's a great way to fill up while gaining some knowledge along the way.
Private Borough Market Food Tour in London

Duration: 3 hours
Loads of markets to check out in London
London is full of excellent markets with various types of stalls; whether you're looking for hip street food, fresh produce or accessories and clothing. Plus, you can choose between a busy, popular market or one of the more local, neighbourhood options with communal tables. Don't forget to check out the best Christmas markets and night markets as well. So, pick the one that sounds best and start dreaming of all that food to try!
Disclosure: Trip101 selects the listings in our articles independently. Some of the listings in this article contain affiliate links.
Get Trip101 in your inbox
Unsubscribe in one click. See our Privacy Policy for more information on how we use your data