Istanbul is a major Turkish city, nesting on the Bosphorus Strait. While the city has a modern side, the Old City features several attractive and iconic buildings from each cultural empire in the city, including Roman, Egyptian and Byzantine. One of these is the beautiful Hagia Sophia that dates back to the Byzantine era and stands in the Sultanahmet district of Istanbul. With its rare and lovely Christian mosaics and impressive 6th-century dome, this is one of the most spectacular attractions in the city and is a must-visit for anyone interested in history and architecture. Scroll below to check out our guide to Hagia Sophia in Istanbul.
Things to do / highlights
Learn about the history
Hagia Sophia is an important monument in the Sultanahmet area of Istanbul, both for the Byzantine and Ottoman Empires. The building was once a church and then a mosque, but it is now a museum. Hagia Sophia is located close to Topkapi Palace and is within easy walking distance of hotels in the area. The structure was designated as a UNESCO World Heritage Site in 1985.
Hagia Sophia was rebuilt by Emperor Justinian in 537 and has been at the center of Orthodox Christianity for 900 years. In 1453, the city was seized by the Ottomans and for 500 years after the conquest of the Muslims, it became the grand mosque of the sultans. The building was converted into a museum in 1935 on the orders of Ataturk and has become one of the most significant monuments in the city.
Admire the mosaics
During the Byzantine period, Hagia Sophia was decorated with beautiful mosaics, which can still be seen today. These include Jesus, the Virgin Mary and a number of emperors and empresses.
When the Latin Crusaders entered the city in 1204, during the fourth crusade, many of the Byzantine buildings were sacked, with many mosaics removed and sent to Venice. Other mosaics were covered or whitewashed when the Hagia Sophia was turned into a mosque in 1453. However, during a restoration in 1846, the mosaics were uncovered.
Photograph the Hagia Sophia dome
Hagia Sophia is mostly famous for its impressive dome which sits at the center of the building. On either side are two half domes. The dome measures 102 ft 6 in (31 m) in diameter and is 182 ft 5 in (55.6 m) in height.
Explore the tombs of Hagia Sophia
The Hagia Sophia houses five tombs in the adjacent historic buildings, belonging to the Ottoman. While the tombs were named for the Sultans, they were found to also contain members of their families including their wives.
Venture into the tunnels of Hagia Sophia
There were many secrets hidden in the Hagia Sophia, including hidden tunnels. The tunnels start from Hagia Sophia and run to the Princes Islands (Kinaliada) and they covered the original city of Constantinople. One tunnel is so big, a galley could sail through it, while others were used for secret writings and treasures, protected during sieges.
Travelers' tips
Evening visits
While most people say visitors should head to Hagia Sophia in the mornings, as it is quieter, locals suggest an evening visit, around two hours before it closes. It is also worthwhile heading to the Hagia Sophia area at night as the building and the neighboring Blue Mosque are magically lit up.
Avoid visiting on Fridays
Fridays see prayers in the Blue Mosque and often Hagia Sophia is used for the overspill of worshipers, making it difficult to visit.
Ramadan
Visitors should note that the Hagia Sophia is closed over the Ramadan holidays.
Restoration underway
Restoration works are ongoing at Hagia Sophia, so be prepared to see scaffolding and barriers in some places.
Photography
Photography is allowed at Hagia Sophia, however, visitors are banned from using tripods. If you have one with you, security will look after it until you leave.
Weeping Column
Close to the ramp to the galleries in Hagia Sophia, you will often see a queue of people, waiting in line. They are queuing to view the Weeping Column. Legend says that should you insert your thumb into the column and fully rotate in a clockwise direction, if it is wet when you remove it, any ailments you are suffering from will be cured.
Heat in Istanbul
Bear in mind that it gets very hot in Istanbul and it is a good idea to always have something to drink with you when visiting Hagia Sophia.
Wheelchair-friendly
There is disabled access on the ground floor of the Hagia Sophia. However, the upper floor is not accessible due to steps and a rough cobblestoned path.
How to get there
By car
To drive to Hagia Sophia from Downtown Istanbul, the fastest route is via Divan Yolu Cd, which takes 18 minutes to drive the 2.2 mi (3.6 km). Head to Google Maps for directions from other parts of the city.
Take Tatar Beyi Sk. and Lüleci Hendek Cd. to Kemeraltı Cd. in Müeyyedzade.
Continue on Kemeraltı Cd.. Take Galata Köprüsü, Reşadiye Cd. and Ankara Cd. to Şeref Efendi Sk. in Alemdar.
Take Divan Yolu Cd. to Atmeydanı Cd.
You will reach your destination.
Parking
There are three parking garages convenient for Hagia Sophia – Naz Otopark in Zeynep Sulcan Cami Sk, Sports Car Park at Salkim Sogut Sk. and Dalbasti Parking in Zeynep Sultam Cami Sk. All are close to the Basilica Cistern.
Public Transport
Hagia Sophia can be accessed by Metro or Light Tramlines. The closest tram station is Sultanahmet station. When leaving the station, Hagia Sophia is a short walk away.
On foot
If you are already in the Old City, the Hagia Sophia is a convenient walk. However, ensure you carry a bottle of water in the heat.
Taxis
Uber has been banned in Istanbul as it was considered to cause unfair competition with the city's taxis. However, taxis are readily available in Istanbul.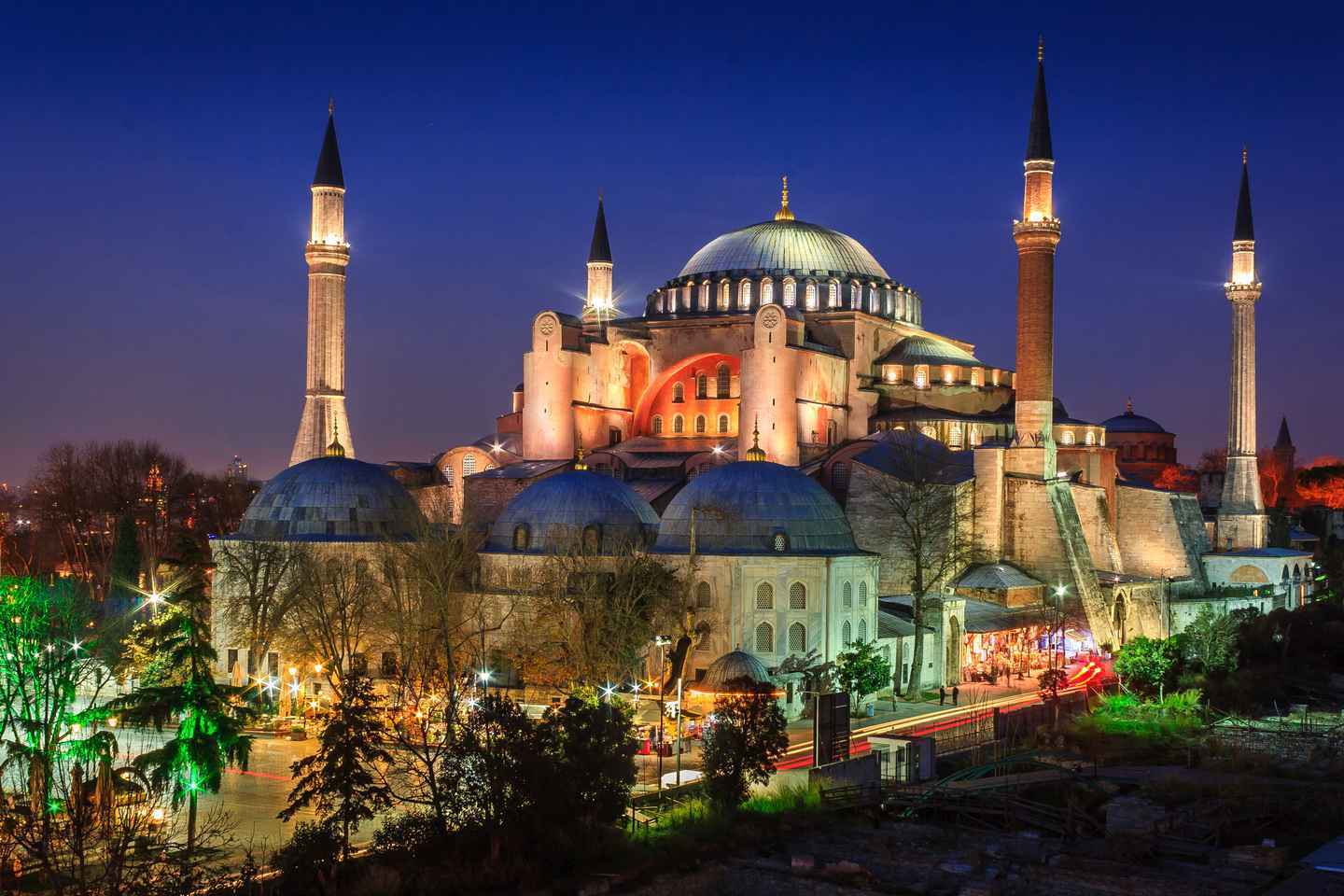 Tickets can be purchased at the door. However, for convenience, tickets can be booked on the official website. Alternatively, you can buy a skip-the-line ticket with a private tour.
Duration: 1.0 hour
Hagia Sophia information
Address: Sultan Ahmet, Ayasofya Meydanı, 34122 Fatih/İstanbul, Turkey

Opening hours: Tue - Sun: 9am - 5pm (closed on Mon)

Cost: 14 USD

Official website: Hagia Sophia

Department of tourism: How to istanbul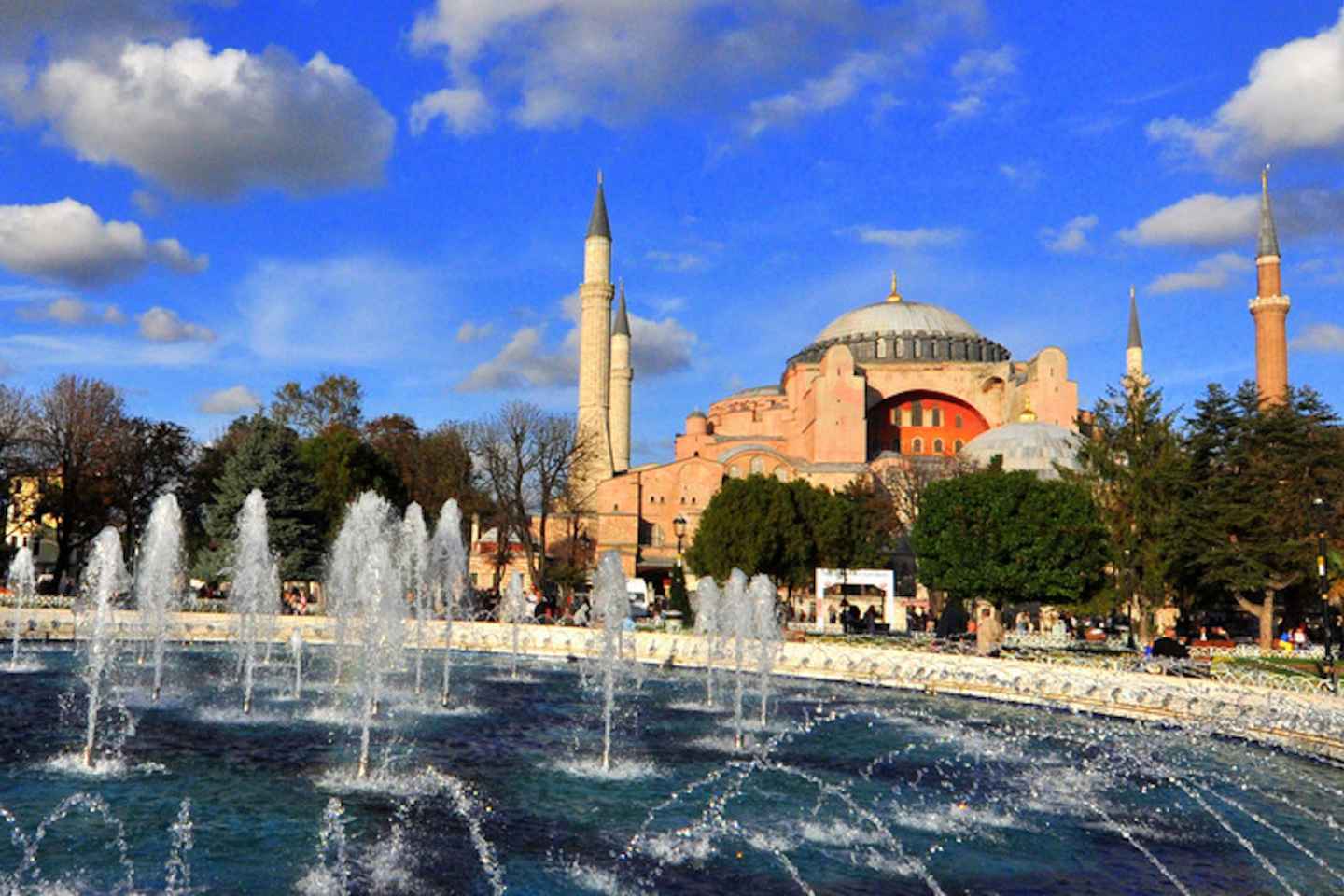 Duration: 4.0 hour
In light of the February 2023 earthquake that devastated Turkey and Syria, Trip101 urges you to be apprised of the latest news if you have any plans to travel to Eastern Turkey. Other parts of the country remain open to travelers.
Disclosure: Trip101 selects the listings in our articles independently. Some of the listings in this article contain affiliate links.
Get Trip101 in your inbox
Unsubscribe in one click. See our Privacy Policy for more information on how we use your data