Italy oozes with romance, which is probably why it's the leading honeymoon destination in the world. With its elegant buildings, romantic squares, and exquisite views, no place on earth compares to Italy when it comes to supreme romantic settings. Captivating cities and gorgeous regions abound in Italy, and for newlyweds, Italy can be the perfect place to explore during one of the most exciting periods in your lifetime. So if you're looking for honeymoon ideas, read on to discover the best places in Italy that inspire amore!
1. Walk across Ponte Vecchio Bridge in Florence
Ponte Vecchio Bridge is the oldest bridge in Florence and a historical landmark. No trip to this city is complete without a walk across this ancient medieval stone-arched bridge situated over the lovely Arno River. Ponte Vecchio Bridge is a delightful place for a romantic stroll. Once lined with butcher shops long ago, today Ponte Vecchio Bridge's tenants include art dealers, jewellers, and souvenir sellers. Ponte Vecchio Bridge is a wonderful area to browse and take in the beautiful surroundings. Time your visit in the evening, so you can admire the pretty reflections on the Arno River.
Ponte Vecchio Bridge

Address: Ponte Vecchio, 50125 Firenze FI, Italy

Website: Ponte Vecchio Bridge
Colourful and vibrant, every honeymooner must experience a romantic Amalfi Coast boat tour in order to appreciate Italy's true essence. The Amalfi Coast is without a doubt one of the most romantic places to visit in the country, especially for newlyweds. Prepare to get lost in the dazzling Amalfi Coast. Witness the rugged beauty of the Sorrento Coast along the way, as you and your significant other cruise the waters of this breathtaking area. To enhance the adventure, disembark and enjoy a walking tour of the town and relish the warm hospitality of the locals.
Duration: 8 to 9 hours
Experience la dolce vita by taking a wonderful walking tour of Rome. Enjoy an espresso in an intimate cafe, or toss coins in the glorious Trevi Fountain. Rome is surrounded by jaw-dropping sights and beautiful antiquities, and there's always a hint of romance in the air. A stroll through Rome is sure to set off a romantic spark or two. From the Colosseum to the Spanish Steps, from Vatican City to the Pantheon, Rome is a must-see for newlyweds. Don't miss the opportunity to explore Trastevere, the most romantic neighbourhood of the Eternal City. The area is filled with brightly coloured buildings, small piazzas, and an absolutely charming atmosphere.
Duration: 3 days
If you and your sweetheart want to venture off the beaten path in Rome, then a visit to Aventine Hill is the right place. One of the Seven Hills on which ancient Rome was built, Aventine Hill is mesmerising and only a 15-minute walk from the Colosseum. Aventine Hill features fabulous vantage points to admire the city and there are lovely gardens offering plenty of tranquillity. The must-see attraction, however, is The Keyhole of the Knights of Malta. Look through the keyhole of the green door in the cul-de-sac and get a great view of the Dome of St. Peter's! Another highlight is taking your turn putting your hand in the Mouth of Truth, a mythological stone carving of a man's face!
Duration: 3 hours 30 minutes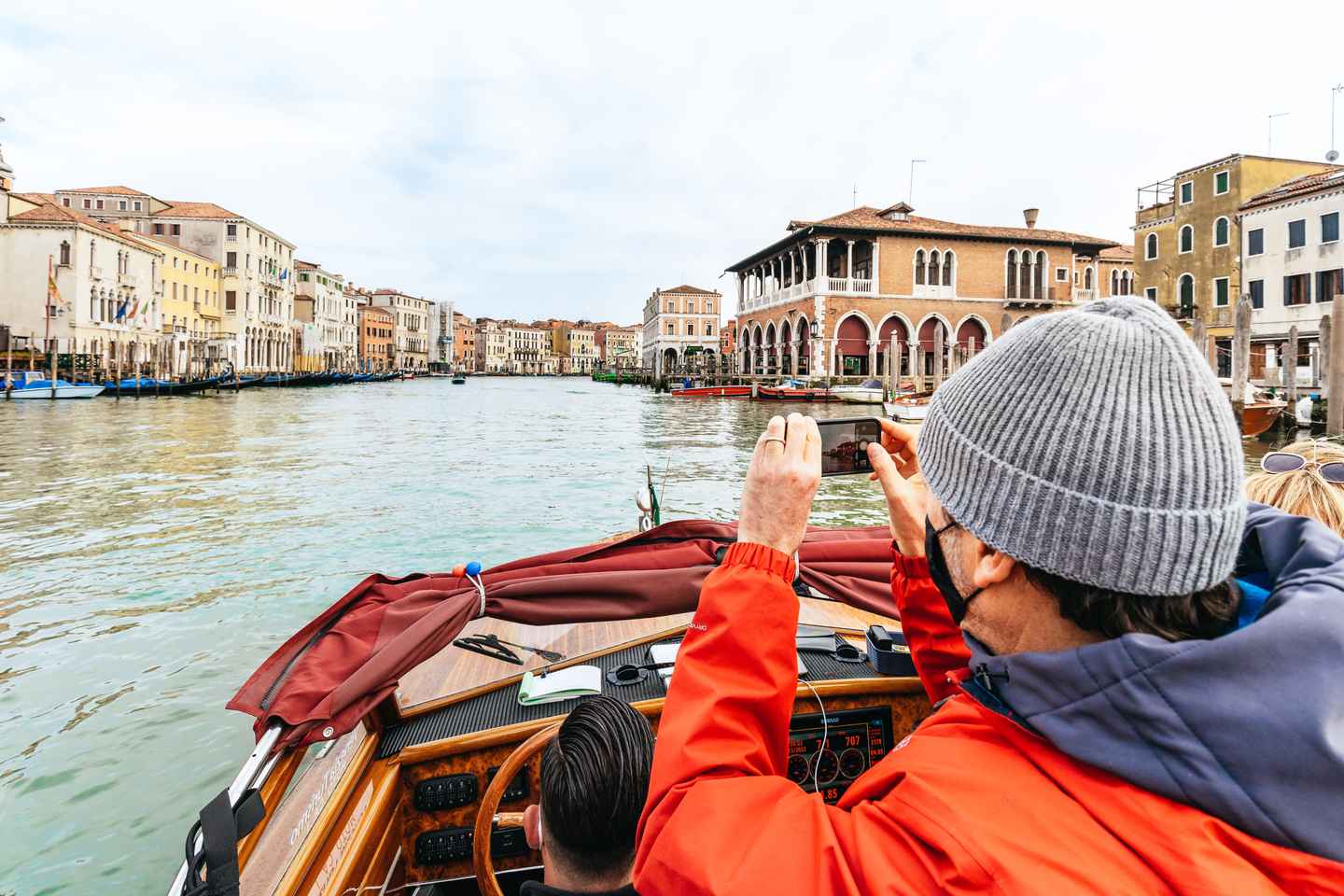 If you're in Venice celebrating your honeymoon, you'd want to admire this beguiling city from its most unique vantage point: the water of course. Gondolas may be the most romantic way to ride the waterways in Venice but it's not the most affordable. A boat ride on the Grande Canal is a great way to discover the allure of Venice without bruising your wallet and you cover far more territory. One of the major water-traffic corridors in the city, the Grande Canal snakes through the city of Venice in a large S shape, and a boat ride affords intimate views of early Byzantine-Romanesque architecture, palatial palaces, and churches. Boat rides will also ensure you and your new spouse will cruise under delightful bridges, like the famous Rialto Bridge.
Duration: 1.0 hour
Located along the banks of the Arno River, Uffizi Gallery in Florence is Europe's first modern museum. Established in the 16th century, Uffizi Gallery is known worldwide for its outstanding collections of ancient sculptures and paintings. Uffizi contains some of the most renowned and romantic works of art, including Botticelli's "Birth of Venus" and Titian's "Venus of Urbino". Roaming Uffizi Gallery's extensive art collection, showcased in more than 45 halls, is an art lover's dream. Viewing Uffizi Gallery with your beloved is one of the best memories you can share.
Duration: 1 hour 30 minutes
Nestled in the foothills of the Alps and dotted with charming villages, Lake Como is known for its dramatic scenery. Don't let Lake Como's posh surroundings scare you away from discovering the romance of this idyllic honeymoon destination. Shaped like an upside-down Y, Lake Como is beguiling and home to fabulous Renaissance architecture. There's also a funicular that travels up to the pretty mountain town of Brunate. Honeymooners who trek to Brunate are rewarded with spectacular bird's-eye views of Lake Como below. Lake Como boasts dreamy Victorian gardens and inviting lakeshore restaurants, the ideal surroundings for romance.
Duration: 3 hours
Spend a perfectly romantic afternoon picnicking at Villa Borghese Garden. A green landscaped oasis, Villa Borghese Garden is a pleasant escape from the bustling pace of Rome. A former vineyard, Villa Borghese Garden was developed in 1606 and is comprised of 80 hectares (197.6 acres) of intriguing buildings, fine museums and attractions, and, of course, lots of natural beauty. Even though it's the most popular park in Rome, honeymooners can still find a nice quiet spot under a shady tree to enjoy a lovely Tuscan-inspired picnic.
Duration: 5 hours
It doesn't get more romantic than a gondola ride through the picturesque waterways of Venice. Gliding through serene waters while serenaded by a gondolier, and set against the stunning backdrop of Baroque buildings, a gondola ride is a genuine Venetian delight. A gondola ride is the number one item on tourists' list of things to do while visiting the city, particularly honeymooners. The meandering pace of a gondola ride is a surefire gateway to romance, allowing couples to drink in the unique ambience and beauty around them. Breezy piazzas, alluring canals, old palaces, and gondola rides, you can't ask for more to create the ultimate romantic rendezvous.
Duration: 30 minutes (Approx.)
You and your new spouse's heart will ache at the beauty of the Sistine Chapel. Housing some of the most compelling and exciting pieces of artwork by world-famous artists, it's no wonder the Sistine Chapel is the most-visited attraction on earth. Walk hand in hand with your loved one while admiring works by Michelangelo, Caravaggio, and so many more. Revelling in the Sistine Chapel's towering ceiling and the beautiful Renaissance art can only bring you and your partner closer together.
Duration: 2 hours 30 minutes
What comes after "I do": Italy of course
Dance at midnight in Venice, motor through Tuscany, or feed each other gelato in a lively Florence piazza. Italy is the perfect place for newlyweds to begin their lives together. A staple of romance and love, it is fitting that couples flock to Italy to celebrate their newly formed union. No way you can go wrong with a honeymooning adventure in Italy.
Any must-sees we missed? Tell us about them in the comments section or write a post
here
to help out fellow travelers!
Disclosure: Trip101 selects the listings in our articles independently. Some of the listings in this article contain affiliate links.
Get Trip101 in your inbox
Unsubscribe in one click. See our Privacy Policy for more information on how we use your data