Known as the "Blue City," Jodhpur is the official metropolitan city in the state of Rajasthan, India. As you take a walk around the city, you'll see stunning old buildings that are painted in a light blue shade. If you want to get the best views of the city's calming blue paintings, head to Meherangarh Fort's battlements. Jodhpur is a huge city filled with magnificent temples, forts, and palaces. Numerous bazaars also abound the city so you'll never run out of stuff to buy for your souvenirs. If these descriptions don't pique your interest just yet, read through our list of top things Jodhpur is famous for.
1. Adventurous activities (paragliding)
If you're an adrenaline junkie, Jodhpur is the place for you. This city is home to numerous adventure sports including paragliding. In case this adventurous activity is something you have not tried yet, paragliding entails a canopy that looks like a parachute being attached to your body and is being manned by a pilot for safety. Paragliding lets you enjoy stunning views of Jodhpur from a bird's eye perspective. SkyVentures is one of the most booked paragliding experiences in the city because they have proven that flying with them is safe and their pilots are friendly. You'll fly within their adventure park where you can see the habitat of animals and birds.
2. Jaswant Thada
Built in the 19th century, this historical cenotaph is definitely a stunner. Jaswant Thada is a white marbled structure that features a small lake, carved gazebos, paintings, and portraits of the Maharajas and rulers of Jodphur. You can stroll the grounds to appreciate this iconic architecture, or you can take numerous pictures that serve as your souvenir. If architectural wonders inspire you, don't forget to drop by at this memorial.
Jaswant Thada

Address: Lawaran PB# 65, c/o Mehrangarh Fort, Mehrangarh Museum Trust, Rajasthan 342001, India

Website: Jaswant Thada

Opening hours: 9am - 6pm (daily)
3. Mehrangarh Fort and Museum
One of the largest forts in India, Mehrangarh Fort should be on your itinerary when you explore Jodhpur. Several palaces inside this fort will surely impress you because these palaces have artistic and detailed carvings. Here, you can go on a museum tour as well and admire the collection of paintings, arms and armors, textiles, and various decorative arts. If you want a keepsake of your visit to Mehrangarh Fort when you go back home, you can purchase some at the museum shop inside the said fort. There are also coffee shops here, so you can unwind after touring this historical site.
Mehrangarh Fort and Museum

Address: P.B # 165, The, Fort Rd, Jodhpur, Rajasthan 342006, India

Website: Mehrangarh Fort and Museum

Opening hours: 9am - 5:30pm (daily)
4. Ghanta Ghar
Ghanta Ghar or Clock Tower is one of the most interesting and popular attractions in Jodphur. Aside from the picturesque view of the said tower, the area is also a great place to shop for spices, handicrafts, vegetables, textiles, and a lot more. Also, while exploring this area, you could also feast at Jodhpur's local restaurants in the area. Order some tasty and crispy shahi samosa and creamy makhania lassi.
Clock Tower

Address: Nai Sarak, Ghantaghar Market, Jodhpur 342001, India

Opening hours: 10am - 6pm (daily)
5. Jodhpur street food
Jodhpur is not just home to captivating historical buildings and adventure sports. It also boasts mouthwatering street food every tourist should experience. In the alleys of Blue city, you'll find a variety of sweets, spicy treats, creamy drinks, a variety of omelets, and many more. The most popular places where you'll find the street food here are Sardar Market and Jodhpur Railway Station. Laal maans is one of the most popular street food in the city, and your street food trip here will not be complete if you won't try it. It is a delectable mutton curry recipe infused with hot spices.
6. Mandore
If you want to see more eye-catching monuments in Jodhpur, visit Mandore. Head north of Jodhpur to explore this town filled with fine pieces of architecture. Mandore is the site of Mandore Gardens, a historical monument where you'll find charming cenotaphs of ancient Jodhpur's rulers and gorgeous natural sceneries. Additionally, you can also go museum hopping in Mandore by heading to Government Museum. Mandore also hosts entertaining festivals such as The Rao Festival and Hariyali Amavasya, so if you've visited the town while these events are ongoing, you'll be able to interact and have fun with the locals.
Mandore

Address: Jodhpur, State of Rājasthān, India
7. Umaid Bhawan Palace
Located in Circuit House Road, Umaid Bhawan Palace is dubbed one of the largest private residences. The appearance of this lovely palace is a combination of western and eastern architecture. The palace has 64 rooms and suites that have bathtubs and shower. It has cool amenities such as an indoor and outdoor pool, spa, and world-class fitness facilities. If you're running out of ideas, book a room now and be one of the thousands of travelers who have experienced a luxurious stay here.
Umaid Bhawan Palace

Address: Circuit House Rd, Cantt Area, Jodhpur, Rajasthan 342006, India

Website: Umaid Bhawan Palace
Have you ever wanted to experience riding a camel? Then, book this self-guided full-day Camel Safari tour and witness the sunset in the Thar Desert. Your tour will begin from Osian all the way from Jodhpur. Also, you'll get a chance to visit Sachiya Mata Temple, a hilltop temple frequented by tourists in Osian. Other tour inclusions are jeep safari, dinner, and hotel or airport pickup.
Camel Safari Day Tour in Jodhpur

Duration: 6 to 7 hours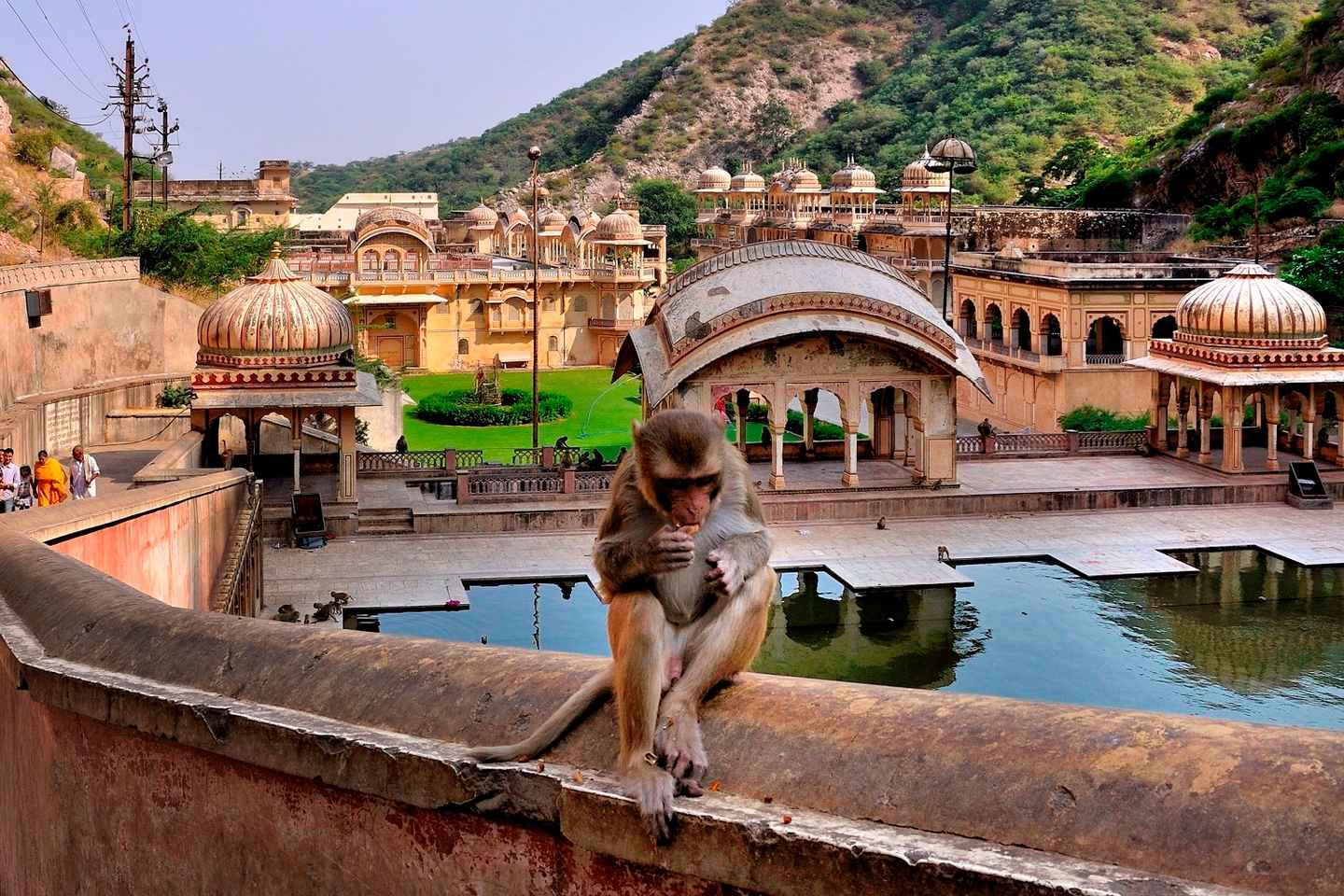 Since Jodhpur is called the Blue City, your trip here would not be complete without taking a walk to see the blue buildings. Book this exciting Blue City walking tour and enjoy the views and structures. In this tour, you'll also have the time to dig deeper into Jodhpur's rich culture. Unlike other tours, this won't get you bored as the approach is infotainment style, wherein the guide walks you through the city while delivering info about it in an entertaining manner. Be sure to book this tour first as you will also learn the tricks of saving money while exploring Jodhpur.
Jodhpur: Blue City Walking Tour

Duration: 2.0 hour
Discover all the things that make Jodhpur a wonderful city
We hope that you are able to finalize your itinerary in Rajasthan, now that you've read about the things Jodhpur is famous for. Aside from these, you may look for nearby destinations and learn more about this Indian state.
Disclosure: Trip101 selects the listings in our articles independently. Some of the listings in this article contain affiliate links.
Get Trip101 in your inbox
Unsubscribe in one click. See our Privacy Policy for more information on how we use your data